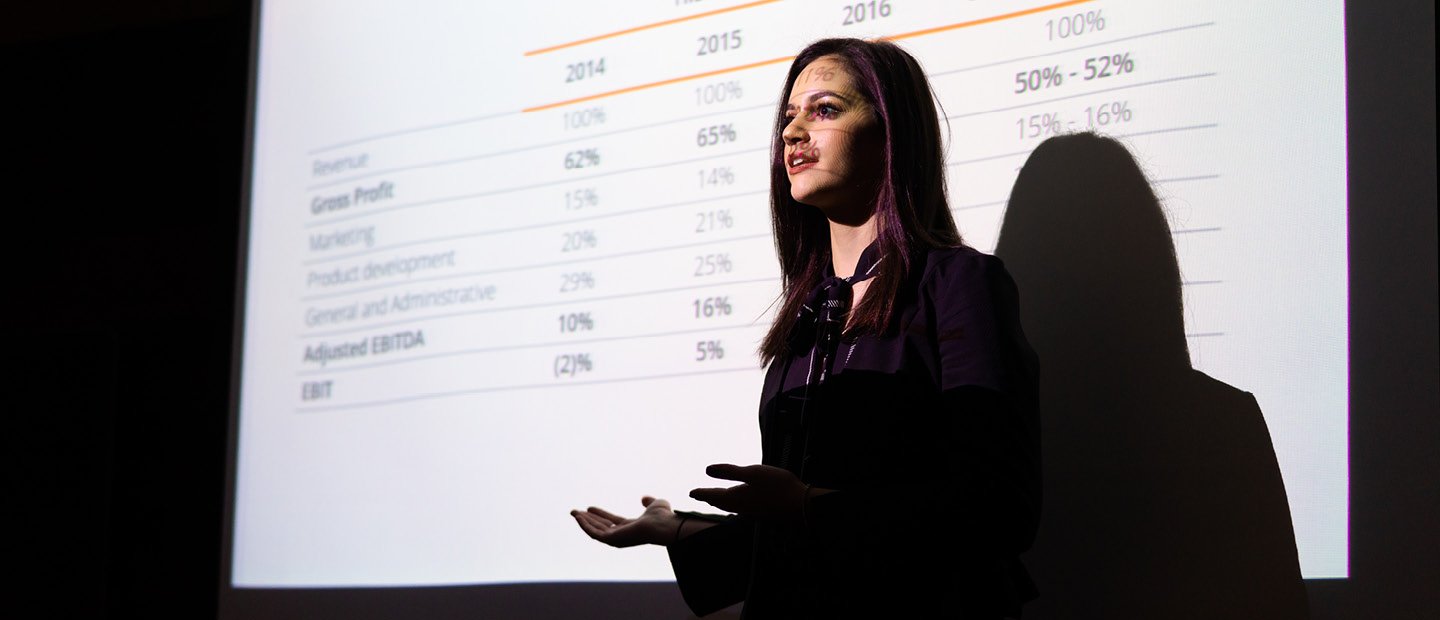 Business Scholars Program
Motivated business students strengthen core business competencies in the competitive Business Scholars program. In the elite Business Scholars program, Oakland business students push the boundaries to expand their education and master professional competencies through:
leadership development
case competitions
mentor/mentee relationship
community involvement
Contact Us
Joy Jiang
(248) 370-2832
jiang@oakland.edu
Meaghan Cole
mcwalter@oakland.edu
Program Highlights
Through the OU Business Scholars program a select group of OU business students take advantage of career-enhancing activities to further develop their problem-solving, decision-making and leadership skills.
Leadership Development
Leadership development is based on the Lorminger Leadership Competencies that are selected specifically for the level of the students based on their progression in the program.
First-year Scholars
Presentation Skills
Conflict Management
Second-year Scholars
Negotiating Skills
Process Management
All Scholars
Annual challenge course team building event
Case Competitions
Three Saturdays per academic year devoted to case competition training
Scholars work in teams (lead by senior-level students) to analyze and present a solution to a specific business challenge to a panel of  faculty and business professional judges. Prizes are awarded to the winning team. Previous prizes have included tuition credit, iPads and Microsoft Surfaces)
Mentorship
Each Scholar has an opportunity to receive mentorship from a business professional in various capacities.
Community
Each year, Scholars decide what community project or organization they want to engage to support.
Meet the Scholars
Business Scholars
Erin

Major: Marketing and Management Information Systems with Business Analytics

specialization



Campus involvement: Business Ambassadors, Business Scholars and Business Transfer Students

Why Oakland University: I chose Oakland University for its academics, transfer student program, and campus involvement.

What makes Business Scholars interesting: Its focus on professional growth through its mentorship program and case study competitions.
Mariella

Major:

Finance


Minor:

Spanish, Data Analytics



Campus involvement: Honors College, NCAA Women's golf team, Student Athlete Advisory Committee and Business Scholars

Why Oakland University: I chose Oakland because of the outstanding golf program and its medium-size, beautiful campus!

What makes Business Scholars interesting: Competing in case competitions and being under the pressure with my group. Receiving feedback on our performance and creativity is always helpful, and I enjoy watching us improve each time.

Why major in business: I have always had an entrepreneurial mind and I enjoy problem-solving and critical thinking about how to make a business more efficient.
Nick

Major:

Accounting


Minor:

Finance



Campus involvement: Business Scholars

Why Oakland University: I chose OU because I really liked the layout of the campus and everything OU has to offer.

What makes Business Scholars interesting: The mentorship program.
Hannah

Major:

Operations Management with Project Management

specialization


Minor:

Writing



Why OU:"I knew [Oakland University] was the place for me. The small, personalized classes of the Business Honors Program combined with the culture of the campus felt right."

More: Lauren appreciates how business students help each other succeed.

Additional experiences: Honors College
Matthew

Major:

Finance



Why OU: "I love the area, the campus and was impressed with the business programs, including Scholars and the Business Honors Program. I've seen first-hand how much the Business Career Services team cares about students. There are just so many opportunities."

More: Attending Oakland allowed Matthew to move his athletic career to the collegiate level with an offer from OU coaching staff to paly on the D1 ACHA Hockey team.

Why Scholars: It allows students to be creative in real-life scenarios. "The ability to apply our ideas and collaborate ultimately prepares us for the professional world."
Kayla

Major: Human Resource Management

Motivation: Kayla chose Oakland University because it allowed her to stay close to family. Enrolling in the Business Honors Program also opened the door to develop more supportive relationships.

"The [Business Honors] Program offers so many opportunities for students to use toward their career. From mentorship to leadership, Oakland makes sure every student has the ability to be more in life, and that's why I chose to come here."

More: Kayla is building strong connections through involvement in Project Big Sister and the OU Women in Business organization.

"Each one of us wants to improve our professional skills and make use of it in our future. What better way than improving with [the help of established] professionals?"
Jaymie

Majors:

Accounting and Management Information Systems with a Business Analytics specialization



Motivation: After stepping foot on campus, Jaymie knew Oakland University was for her. She declared her majors following an accounting class she "loved."

"I chose Oakland because I fell in love with the campus when first visiting."

More: Jaymie is building connections across campus through Phi Sigma Sigma, Emerging Leaders, Alpha Lambda Delta and Women in Business at OU.
Leandro

Major:

Finance


Minor:

Business Analytics



Motivation: Oakland University checked off all his boxes when looking for a college home.

"I liked the location a lot, beautiful campus, vicinity to my new house, vicinity to so many big businesses. It has a great alumni network, and [the] International Students Office is very helpful."

More: Branching out, Leandro is gaining experience as the vice president of the OU Financial Management Association and as a mortgage loan processor intern at Zana Financial and Equity Group.

"When you work in the mortgage industry, you become an essential part of one of people's most important transactions, financing their dream house. Doing this, I find true meaning in the work I do and it is very rewarding."
Marcelo

Major:

Accounting



Why OU: Smaller class sizes, affordability and quality of the undergraduate business program fueled Marcelo's decision to attend Oakland University.

More: The university and business school provide great resources to those who seek them.

"A business degree allows you to take a variety of classes, meet great people and develop skills that can translate in the workforce."
In the News
Business Scholars tackle post-pandemic strategy in latest case competition
March 8, 2022
In its latest case competition, Business Scholars tackled the challenge facing most organizations today: resetting strategy for a post-pandemic world.
---
Business Scholars demonstrate advantages of teamwork in November case competition
December 10, 2021
For this competition, the Scholars transported themselves into planning crucial expansion for the mock "Learn Play Grow" educational game startup in southern Europe.
---
Scholars test growth strategy skills in first case competition of the year
November 4, 2021
In its first case competition of the academic year, five teams of OU Business Scholars faced off to develop strategies to support a Canadian company's post-pandemic retention and growth.
---
Business Scholars practice change management in case competition
February 13, 2020
Oakland Business Scholars team members put their change management skills to work in a case that challenged them to examine the relationship between organizational culture and morale.
---
Business Scholars focus on marketing strategies in latest case competition
December 12, 2018
In their most recent case competition, teams of Business Scholars developed and presented marketing strategies to grow annual sales for Detroit Bikes.
---
Business Scholars case competition puts strategy and leadership skills to use
October 23, 2018
Scholars were challenged to create a case for complimentary service offerings in the evolving the business strategy of Banff Aspen Lodge.
---
Business Scholars present strategies, learn by doing
April 10, 2018
Three OU Business Scholar teams faced-off in their final case competition of the year.
---
OU Business Scholars place second in prestigious international case competition
May 11, 2017
After a demanding 12 weeks of competition in the two-part International Collegiate Business Strategy Competition (ICBSC), the OU Business Scholars placed second for overall performance in their world.