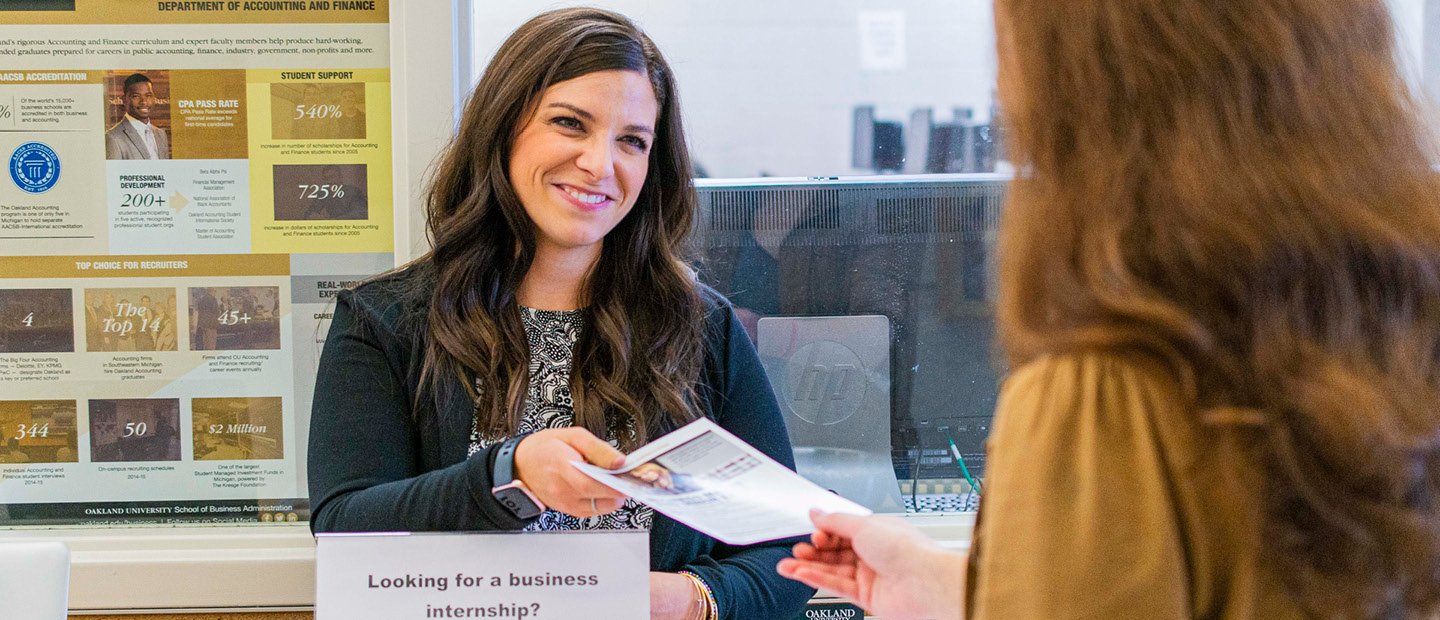 School of Business Administration
Elliott Hall, Room 427
275 Varner Drive
Rochester, MI 48309-4485
(location map)
Boost your resume with quality internship experiences. As an OU business student, you will work closely with dedicated business staff to prepare for this important step.
Internships are key to preparing you for your professional career. Students make connections through internships that help to build their professional network. Some students even receive offers for full time employment as they near graduation.
With Oakland's location in the heart of Automation Alley and connections to thousands of large and small companies, the right internship experience is ready when you are.
The Career and Life Design Center at Oakland University offers a wealth of tips and information about internships.
It is never too early to begin exploring internship opportunities and we encourage you to start as early as possible in making connections with employers. The School of Business and the Career and Life Design Center provide many opportunities to network with employers and ask questions to learn more about their companies and the internship opportunities they offer.
Many companies recruit on campus once per year or do their heaviest recruiting during one specific semester. Some mainly recruit in the fall, for example. So if a student does not attend the fall career fair or take other opportunities to connect with an employer in the fall while they are on campus, they may not have another opportunity to connect in person with this company for a full year.
Even if you feel you aren't ready to apply for internships yet, it is still important to network to begin making those connections now.
Contact us
ACHIEVE Program
School of Business Administration
232 Elliott Hall
207 Varner Drive
(248) 370-3128

Troy Nelson
Interim ACHIEVE Program Manager
nelson5@oakland.edu
How can meeting with the Internship Coordinator benefit you?
You may have heard the word internship and have a basic understanding of what this is. Regardless of how prepared or unprepared you feel you are, the Internship Coordinator will work with you and get started.
In your meeting with the Internship Coordinator, you will:
Discuss your internship goals and areas of interest
Discuss internship structures and employer and SBA expectations
Prepare your resume to reflect skills and experience to help you pursue your first internship
Explore resources to use to apply for internships
Review how you can use LinkedIn to support you in your internship quest
Review how to demonstrate professionalism and effectively communicate with employers about internships
Discuss importance of networking events such as Career Fairs and Meet & Greets to engage with employers about internship opportunities
Benefits of completing internships:
Gain valuable career-related skills in your area of study
Learn professionalism and business etiquette in a an actual work environment
Gain industry knowledge
Gain confidence in your skills and future job prospects
Build your professional network
Learn about business operations and global partners
Gain an advantage over applicants who don't have internship experience
Gives you the chance to try a career path or specific type of position to see if it is right for you
Apply classroom knowledge
Helps you transition from student to full time employee
As part of the business school's ACHIEVE program, students participate in many career and professional development activities and events. ACHIEVE aims to prepare students to be day-one professionals. Many students have a goal to complete an internship or two before graduation to help prepare them for the professional world. Students at any phase of the ACHIEVE program, can meet with the Internship Coordinator to discuss employer expectations and how to search for and prepare for an internship.
With Oakland's location in the heart of Automation Alley and connections to thousands of large and small companies, the right internship experience is ready when you are. Build your resume with quality internship experiences. Listed below are some of the employers who hire OU students for internships:
American Axle & Manufacturing, Inc.
BAE Industries
Blue Cross Blue Shield of Michigan
Brose
Comerica Bank
Deloitte
Ernst & Young
Flex-N-Gate
Ford Motor Company
Forvia
General Motors
KPMG
Northwestern Mutual
Plante Moran LLP
PriceWaterhouseCoopers
Rehmann
Rocket Companies
Sedgwick
Stellantis
UHY International
UWM (United Wholesale Mortgage)