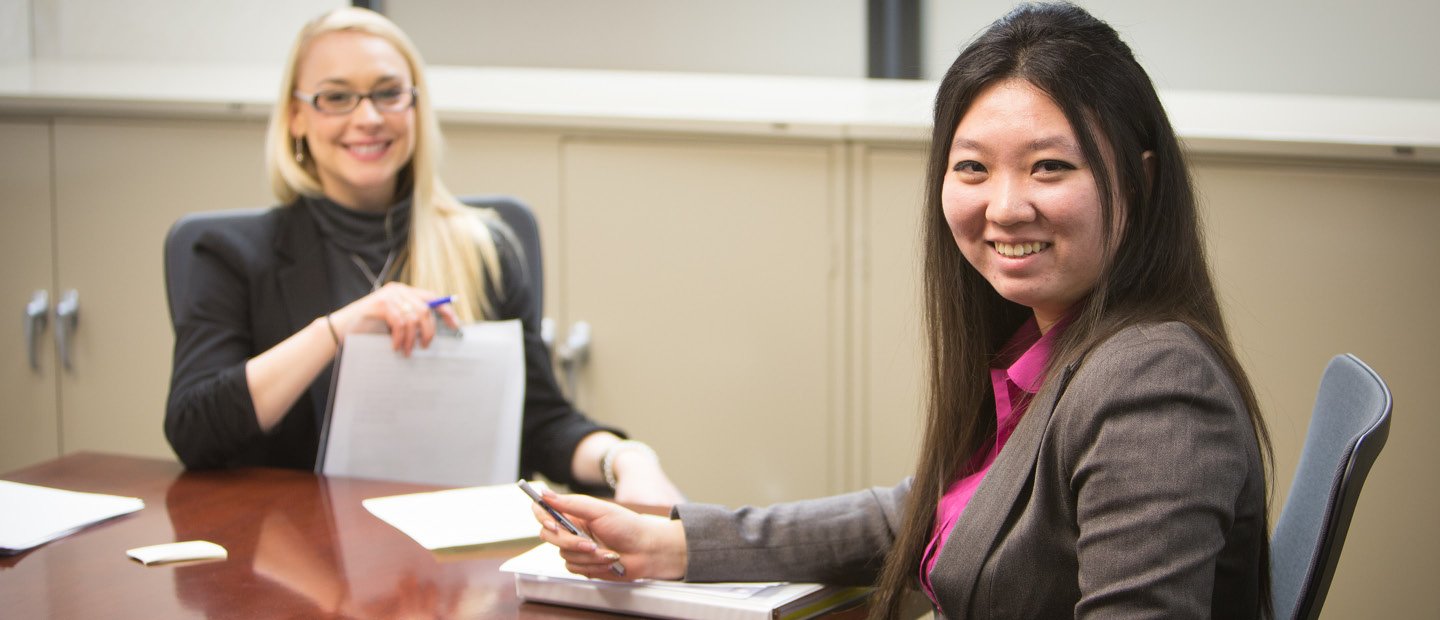 Career Services for Employers
At the Oakland University School of Business Administration, the embedded Career Services team collaborates with employers to find the best Grizzly talent for their recruitment needs. Through networking and recruiting events, on-campus interview opportunities and the job-posting platform, Handshake, employers can discover confident OU talent with real-world experience.
Employers will benefit from the dedicated Career Services staff, which offers an unparalleled resource in the search of prepared, enthusiastic recruits. The team takes the responsibility of connecting bright minds to opportunities seriously.
Why OU Business School Students
There's a reason Oakland business graduates are employed by a wide variety of organizations across many sectors including accounting, automotive, tier one, aerospace, defense, health care, financial services, entertainment, education, information services, manufacturing, staffing, and more.
The major and minor programs at Oakland's business school integrate theory, research and experience, giving students a unique combination of solid academic preparation and the practical skills necessary to succeed professionally.
This focus on integrating real-world knowledge into the business curriculum is reinforced by a school-wide commitment from faculty and staff members. It means OU business students make connections, build their network, get hands-on experience and learn how to turn their passion and knowledge into career-ready skills.
Whether you are seeking to fill internship, co-op or full-time positions, we're excited to introduce you to Oakland business students.
How Can I Recruit
The Oakland University Career Services staff offers a variety of options for employers to connect with business students and alumni, including
Handshake to post openings
Fall Career Fair (held in late September)
Engineering & IT Career Fair (held in late September)
Etiquette Dinner (held in November)
Winter Career Fair (held in late January)
Speed Networking (held in February)
Internship Mixer (held in February)
Government Mixer (held in March)
Employers also can schedule individual opportunities to meet business students through:
Employer meet and greets
Employer information sessions
On-campus interviews
Sponsor or participate in career-directed programs
Student organization events
If you would like to invite Oakland University business students to company career fairs or other off-campus recruiting events, the OU Career Services team is happy to get the word out to students via targeted email announcements and its social media network.


Staff and Services
SBA Career Services Employer Contact:
Ian Caullay
SBA Director of Employer Relations
(248) 370-4311
caullay@oakland.edu
SBA Career Services Office: 232 Elliott Hall
Career Services Main Office:154 North Foundation Hall

Regular Hours
Monday-Friday, 8 a.m. - 5 p.m.
---
Career Services offers a wide range of resources for employers and recruiters interested in meeting, interviewing and hiring Oakland University students and alumni. Some employer services include:
Career fairs
Job postings on Handshake
Sponsorship of career-directed programs
Connection with academic departments and relevant student organizations
Access to candidate resumes
Employer information sessions
On-campus interviews
Resume referrals
Targeted e-mail announcements
24/7 web-based services
Employer meet and greets
Employers Say
Employers seek Oakland University business graduates for openings in their organizations. Representatives from hundreds of companies come to campus each year to meet and interview OU business students during career fairs, mixers and other professional events.
Oakland business school graduates are employed by a wide variety of organizations across many sectors including aerospace, automotive, tier one suppliers, defense, education, entertainment, finance, health care, information services, staffing and more.
Employers say
"Oakland University graduates from finance, operations management, and management information systems have all come well prepared and eager to make contributions at Meritor day one. I believe what sets Oakland apart is the ability to engage local companies and industries into their business school curriculum so the students are well prepared for graduation and the start of their career."
Richard Marciniak
Program Manager- University Relations &Lean Implementation
Meritor
"Oakland University students have proven to be a valuable asset for Fastenal. We have found that Oakland has provided them with the educational tools necessary to make a positive impact on our bottom line. We will continue to recruit Oakland students because of the characteristics they possess coming out of school."
Steven Carpenter
District Manager, Southeast Michigan
Fastenal
"Employees who graduate from the Oakland University business school come to us with more than just a four-year degree, rather a level of professionalism and preparedness that we haven't seen from other academic institutions."
Rob Wicker
Director of Recruitment Operations
Reliance One
Who employs OU School of Business Administration graduates
You'll find Oakland University business school alumni organizations within and outside of Michigan, including at:
Beaumont Health System
Blue Cross Blue Shield of Michigan
Chrysler
Compuware
Continental
Crain Communications Inc.
DTE Energy
Faurecia
Flagstar Bank
Ford Motor Company
General Motors
Gongos Research
Honda Manufacturing
Improvement Path Systems
KUKA Systems Aerospace
Lear Corp.
Meritor
Navistar Defense
Oakwood Healthcare
Penske Automotive
Plante Moran
PwC
Quicken
State Farm Insurance
Takata
UHY
Fast Facts
Oakland University's business is school is one of only 180 business schools – out of 13,000 worldwide – to hold elite AACSB International accreditation for its business and accounting programs. Oakland University is one of only five universities in Michigan to hold separate AACSB accreditation in accounting.

All business students take part in a required professional and career development program that ensures our graduates gain a real understanding of how business works and prepares them to succeed from day one of their professional career.

In the business school:
More than 2,500 students
About 40% are female; approximately 10% are African American
Nearly 500 students of color help you achieve diversity in hiring
66% of students surveyed take part in out-of-classroom experiences, including internships, co-ops, study or work abroad, volunteer work, research projects, and more
Incoming freshmen average GPA 3.4
Oakland University was ranked one of the nation's most underrated schools in the last edition of "The Unofficial, Unbiased Guide to the 328 Most Interesting Colleges," published by Kaplan Publishing/Simon and Schuster. Oakland appears on a list of the 20 most underrated schools in the United States, according to a national survey of public and private high school guidance counselors. Universities were judged on classroom experience, campus environment and student life. The list also includes the University of Arizona, Duke University and the University of Chicago, among others.

U.S News and World Report consistently recognizes Oakland in its annual report about "America's Best Colleges." Oakland has been listed among national-doctoral universities since the 2002-03 edition. Prior to appearing on the national list, U.S. News and World Report ranked Oakland among the top universities in the Midwest.