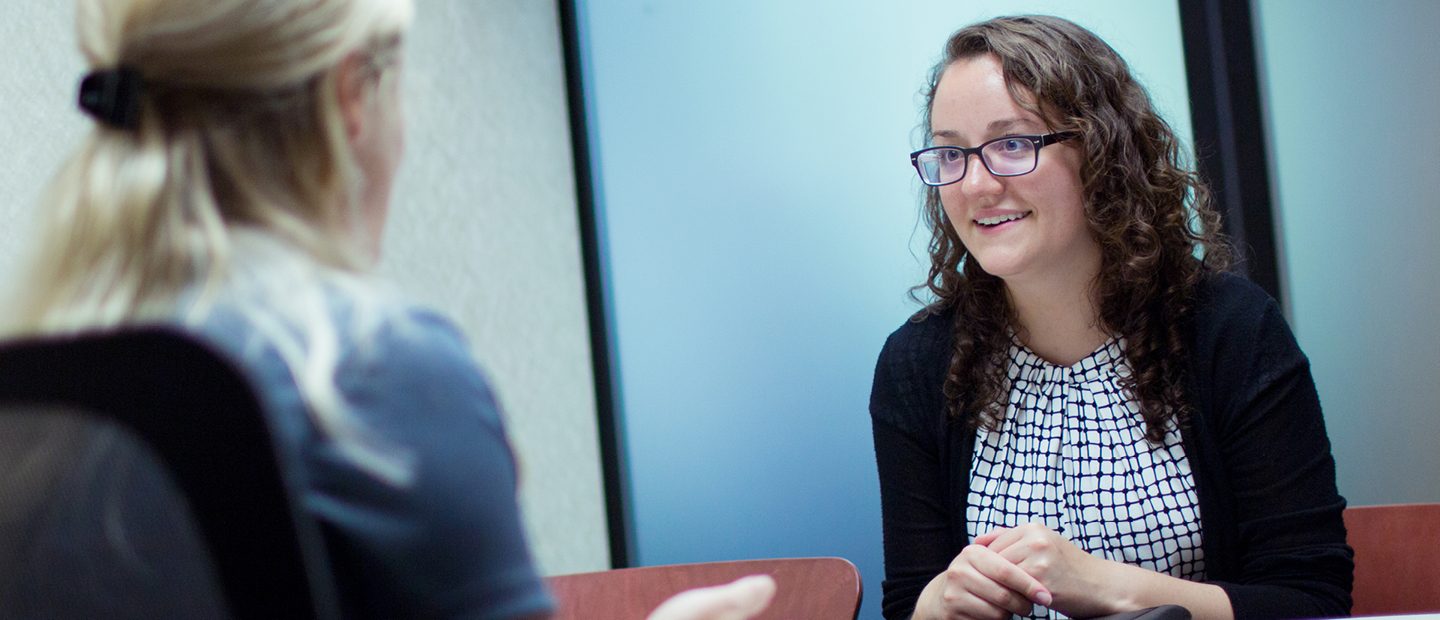 School of Business Administration
Elliott Hall, Room 427
275 Varner Drive
Rochester, MI 48309-4485
(location map)
In business, mentorship makes a difference. Through one-on-one business and career mentoring with undergraduate and graduate business students, the Executives in Residence (EIR) program at the Oakland University School of Business Administration bridges the gap between theory and practice.
Connect with an Executive in Residence

Mentee spots are available to all OU business students. The program will run through the Fall and Winter semesters each academic year. In the event that there are a greater number of applications than available mentee positions, your application will be retained for consideration in the following year's cycle.
Applications of interest for the EIR program are accepted on a rolling basis. However, we encourage students to apply by the priority deadline of October 6, 2023 in order to get the full benefit of the yearlong program with an Executive in Residence mentor.
Dr. Mariana Atanasovski
Founder and Owner
Modern Dermatology

Dr. Mariana Atanasovski

is an entrepreneurial Dermatologist who decided that after a decade in practice that it finally time to start her own Dermatology practice. Modern Dermatology opened its doors April 2021.

Dr. Atanasovski loves getting to know her patients and understanding how she can help their skin, in the way that works best for them. Building rapport and supporting her community is her favorite aspect of her profession.

Dr. Atanasovski enjoys all aspects of Dermatology, including complex medical, surgical, cosmetic and pediatric Dermatology.

Scott Cieslak, FIN '96
Chief Financial Officer
Detroit Manufacturing Systems

Scott Cieslak

is an accomplished business leader with over 24 years of Tier 1 automotive experience. He has developed a broad expertise in strategic planning, operational excellence, financial leadership, and talent development through analyzing business situations and crafting plans based on strong financial practices and unwavering principles. As CFO for DMS Scott is responsible for the financial and strategic leadership of a $1.3B Minority Business Enterprise.

Prior to DMS, he held multiple roles at Faurecia with increasing responsibility including VP of Finance, North American Seating Division, and CFO, North America.

Scott earned a bachelor's degree in finance from Oakland University, and an MBA from the University of Michigan. He is Board Member of the Financial Executives International and a member of the Detroit Athletic Club.

Mike Gluhanich, MBA '10
Managing Director of Business Advisory Practice at Huron Consulting Group

Mike Gluhanich

is a Managing Director and co-leads the Industrials vertical in the Business Advisory practice at Huron, a global management consulting firm. Mike provides operational leadership and insight to companies and their stakeholders facing growth, strategic transition, or financial distress challenges.

He has over 20 years of experience managing and advising manufacturing businesses, driving performance improvement and operational turnarounds, and leading strategic business development, revenue growth, cost reduction, and liquidity enhancement initiatives. He also has significant experience with acquisitions and divestitures, product launches and plant start-ups, and operational wind-downs and consolidations. Mike has worked for companies or advised clients in the automotive, metal fabrication, aerospace and defense, heavy truck, oil and gas, construction, plastics, consumer goods, and food manufacturing industries, among others.

Judy Hegelund, ACC '95
U.S. Policy Strategy and Compliance Leader
Deloitte

Judy Hegelund

is a proud alum of OU. She graduated from OU in 1995 with a BS in accounting and was also in the Honor's College. After graduating, she began her career at Deloitte. During her 27 years with Deloitte, she has served large public companies in Audit and M&A and held leadership positions including Finance Managing Director, Chief Talent Officer, and Chief Inclusion Officer. She currently serves as the Leader of Policy Strategy and Compliance.

Judy has a lot of passion for OU and currently serves as the Chair of the Oakland University Alumni Association Board of Directors.

Judy is involved in the community with most of her involvement revolving around opportunities to help elementary, high school and college students reach their full potential.

Amy Helner
Director, People Success
Solarwinds

With 20+ years of experience in Human Resources,

Amy Helner

is a results-focused leader who delivers HR strategies and solutions that help companies harness the full power of their most valuable assets – their people. Amy's efforts in aligning HR strategies with overarching business goals have resulted in considerable increases in recruitment speed, improved overall onboarding experience, employee development, quality of employee experience, improved engagement, and retention. She has experience across multiple industries including education, banking, automotive and software.

Amy is an active member of National SHRM and is Director of Student Relations for the OakMac SHRM Chapter (Oakland and Macomb counites). She is also married with three children, enjoys anything outdoors and loves staying active. She also enjoys volunteering with various youth extracurricular activities.

Jeff Hix, SEHS '05, '10
Manager and Human Resource Business Partner
Blue Cross Blue Shield Michigan

Jeff Hix

is a proud alumnus of Oakland University graduating with his Bachelor's in Human Resource Development in 2005 and Master's in Organizational Development in 2010.

He has been a leader in the Human Resource field for over 17 years working for large, global organizations as well as start-up companies. He is currently a Manager, Human Resource Business Partner for Blue Cross Blue Shield of Michigan. Previously he worked as an HR leader for Amazon, Stellantis (then Fiat Chrysler Automobiles), McDonald's Corporation and Kava Restaurants, LLC. On a personal side, he enjoys spending time with his wife, Sandy, and their son.

Jody Guastella Jones
Diversity and Inclusion Manager
Mercedes-Benz Financial Services

Jody Guastella Jones

provides a range of consultation services to managers and supervisors on the development and implementation of strategies for creating and sustaining a culturally competent and diverse workforce. With a focus on developing and maintaining an inclusive culture, she serves as an internal consultant to leaders as they recognize, identify and resolve issues throughout the organization.

She also manages corporate wide D&I programs including six Employee Resource Groups and the D&I council. She also leads the development of cultural events and dialogues designed to educate and enhance employee engagement.

Jody holds a bachelor's degree in Economics from the University of Michigan Ann Arbor and an MBA in Finance from Wayne State University. She is also a Certified Diversity Professional (CDP).


Rajan Nagarajan
Digital and Process Transformation Professional

Rajan Nagarajan

presently serves as a strategic advisor helping clients in driving operational excellence and digital transformation. Rajan is committed to sharing his learning and experience towards helping next generation leaders effect impactful change. He also mentors entrepreneurs through SCORE.

Rajan's career spans four decades in a diverse range of industries and global environments – Ford Motor Co. (Director, Process Reengineering & Enterprise Integration), Kellogg (CIO), Philips Medical Systems (CIO), Kraft Foods - (VP Business Process Excellence), JBS Swift (CIO), CTI Foods (SVP Supply Chain Management), and Centria Healthcare (CIO). Rajan has a BS in Mechanical Engineering from BITS, Pilani, India, an MBA from IIM, Kolkata, India, and an MS in CIS from Oakland University. He has completed executive leadership programs at Harvard, University of Michigan, and Duke.

Rhonda Patterson
North American Platform Planning and Strategy Manager
Stellantis

Rhonda Patterson

is an experienced Global Propulsion Planning Lead with a demonstrated history of working in the automotive industry. She is skilled in Value Stream Mapping, Root Cause Analysis, Continuous Improvement, Kaizen, and Leadership. A strong operations professional, Patterson graduated from Kennedy Western University.

Travis Peterson, ECN '12
Director of Sales and Program Management
Lear Corporation

Travis Peterson

is a 2012 graduate of Oakland University's School of Business, majoring in Business Economics. He has gone on to obtain his MBA from Wayne State University and pursued Executive Education at Kellogg School of Management as well as the Eli Broad School of Business.

Travis is currently the Director Sales & Program Management, North America & Japan, for Lear Corporation's textile division. He is a Principal at CPT Capital, a commercial real estate investment group. Travis is also a Venture Partner at Chapter 1 Group, a Detroit-based venture capital firm. Additionally, he advises start-ups and companies in various industries including automotive, industrial, and tech.

He is the President of the Michigan Chapter for the Cheetah Conservation Fund, a board member of the Economics Board of Advisors for the OU SBA and an ACHIEVE volunteer.

Ingrid Tighe
President
Michigan Manufacturing Technology Center

Ingrid Tighe

is President of the Michigan Manufacturing Technology Center (The Center). She joined the organization at the beginning of 2023 after serving as Director of Economic Development for Oakland County where she was responsible for leading 200 staff members in four divisions focused on business development and international business attraction; community development and planning; and the county's workforce development and veteran services. Prior to working at Oakland County, Ingrid served as the Executive Director of the Birmingham (Mich.) Shopping District.

She also worked for the State of Michigan, Michigan Veterans Affairs Agency, overseeing veteran employment, developing and implementing policy and statewide initiatives to improve veteran employment, and the Michigan Economic Development Corporation as a Business Development Manager promoting business investment and job growth in Michigan working with the private sector, local economic developers and government organizations.

Ingrid attended Vanderbilt University on a four-year R.O.T.C. scholarship and was commissioned as a U.S. Army Signal Corps officer upon graduation. She served from 1998 to 2005 with the 1st Infantry Division in Germany participating in NATO peacekeeping operations in Macedonia and Kosovo and later with the 1st Cavalry Division leading troops in 2004 to 2005 in the combat zone of Baghdad, Iraq. After honorably separating from the Army, Ingrid used the post 9/11 G.I. Bill to obtain her Master of Public Administration from the Gerald R. Ford School of Public Policy at the University of Michigan.
Through the Executives in Residence program, OU business students are paired with accomplished business leaders. EIRs will enrich and enhance the OU business education by bringing the real-world knowledge directly students.
Driven by student interest, EIR mentor-mentee meetings focus on business and career elements, such as:
Resume and cover letter development and refinement
Career exploration and career path planning from first post-graduate job and beyond
Job search and interview strategies
Navigating career-related challenges
Guidance on internships and extracurricular activities that will enhance career development
Professional networking advice
Contact: OUSBAExecinRez@oakland.edu
Because of the support from their Executive in Residence mentor, business students reported:

91% feel they received valuable advice and guidance for individual growth and career goals.

91% feel they gained unique insights or information about working in business fields.

91% feel more confident to communicate and share ideas with executives and leaders in business.

91% can see themselves as a member of the business community in southeast Michigan.

As reported in May 2023.
Read more about the Executive in Residence program in InSight Magazine.