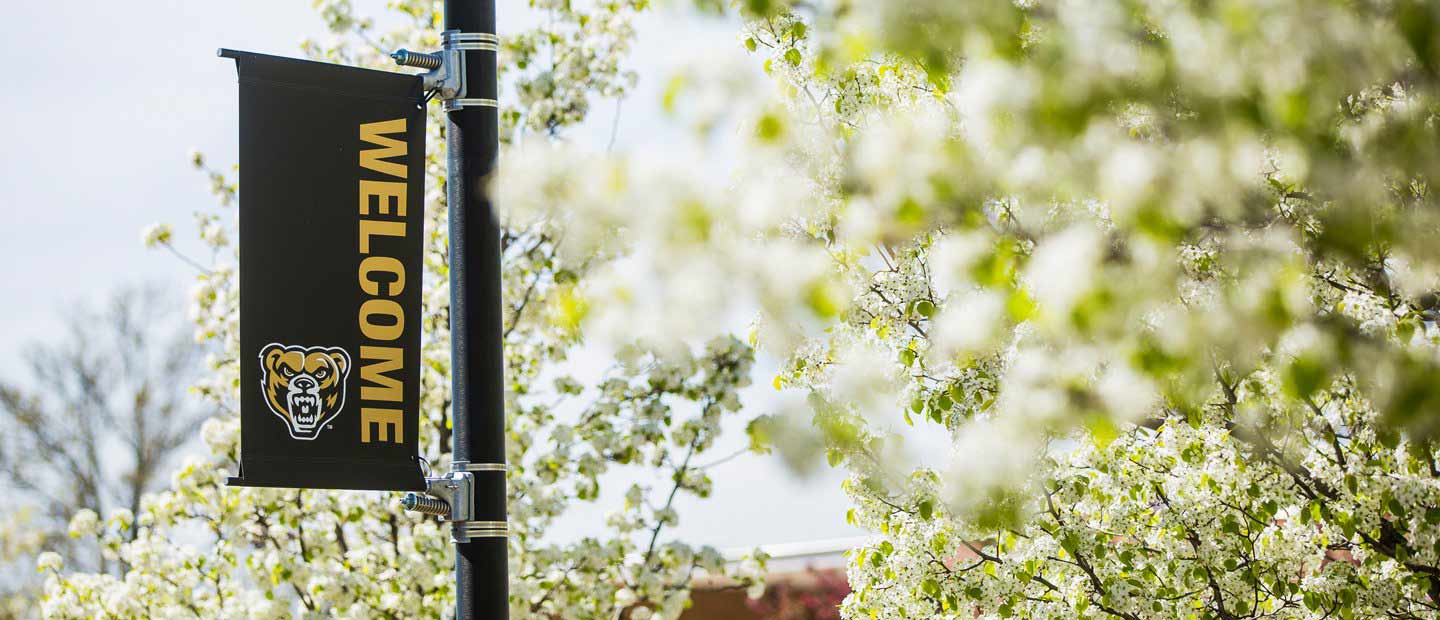 Go for the Gold
High school students, transfer students and their families will meet Oakland University faculty, staff and students and learn more about OU's 140 undergraduate majors. You'll also learn about scholarships and financial aid, the admission process, and how to make a successful transition to college.
Sign up for the sessions you're interested in — attend multiple ones if you are interested in several academic disciplines! Go for the Gold is held twice a year — once in the spring and once in the fall. Register for Go for the Gold now.
In-person Campus Tours
We offer student-led tours of the OU campus nearly every weekday. Check our calendar for the full schedule. During the college visit you will:
Tour Oakland University's academic buildings.

See laboratories, design studios, and other hands-on learning facilities. 

Visit the Oakland Center, which houses our bookstore, coffee shop, food court, and student organizations.

Meet a current student and learn first hand about life on campus at OU!
The campus tour includes plenty of opportunities to connect with our community. You'll meet students, faculty, admissions advisers, and other people who shape the character and values of OU's campus.
It only takes a few seconds to register for a college visit. We look forward to seeing you on OU's campus.
Precautions in the midst of COVID-19: 
It is important to us to keep you, your guests and our campus community safe. Though campus buildings that are open to the public are subject to change as needed, we are excited to show you as much of campus as possible. While visiting campus, please observe the following safety measures:
If you are fully vaccinated, you do not need to wear a mask indoors.
If you are not fully vaccinated, we ask that you continue following existing MiOSHA and MDHHS guidelines, including wearing masks and practicing social distancing while indoors on University property. 

Masking and social distancing requirements no longer apply to individuals who are outdoors, regardless of vaccination status.

All visitors must continue to complete online Daily Health Screening Form as this process remains useful in efforts to prevent spread of the virus. 
Live Guided Virtual Tour
We offer live guided virtual tours by calling (248) 370-3360 or emailing visit@oakland.edu. During the virtual visit you will:
Hear a brief presentation about admission and financial aid. 

Virtually tour Oakland University's academic buildings.

Learn about laboratories, design studios, and other hands-on learning facilities. 

Meet current students and learn first hand about life on campus at OU!
The tour includes plenty of opportunities to connect with our community. You'll meet students, faculty, admissions advisers, and other people who shape the character and values of OU's campus.
Academic Visit Days
If you know what major(s) might be of interest to you, plan to visit the OU campus during one of our academic-themed events. Each academic day is hosted by one of our undergraduate schools, enabling you to learn about the specific program(s) and career opportunities that interest you most. You can visit Oakland University during:
Transfer Student Events
Transfer Student Open House
Attend our Transfer Student Open House to receive an immediate admission decision and credit evaluation. OU staff will answer questions about general education requirements, transfer credit procedures and financial aid.
Virtual Transfer Student Information Sessions
Want to transfer to OU? Want the ease and convenience of connecting with us virtually? Join us for a live admissions and transfer credit presentation. OU staff will answer questions about the admissions process, general education requirements, transfer credit procedures and transfer tools for students to utilize. Participants will have the option to submit questions by phone or chat at the conclusion of the presentation, and will be connected with an admissions adviser for further assistance. View future dates and register.
Transfer Tuesdays
Want to transfer to Oakland University? Make an appointment to meet with an admissions adviser for an admissions decision and get an evaluation of credits completed while you wait! Please bring two copies of each transcript for every college or university you have attended. This program is by appointment only.
Register
for a Transfer Tuesday now.
Admitted Student Events
Congratulations! You're well on your way to becoming a Golden Grizzly. Check out these special events created just for you and your family.
Welcome Receptions
During these receptions for admitted students and their families, OU grads and current students talk about their experiences at OU. Academic officials will also share information and answer questions about the curriculum and student services.
Register
for a Welcome Reception now.
Transcript

Hi everyone and welcome to the Oakland University Undergraduate Admissions Virtual Admitted Student Session for incoming freshmen. My name is Shane Lewis and I'm the Director of Undergraduate Admissions here at OU joining you from Oakland's virtual campus and I'm so excited to welcome you all as new members of our Golden Grizzlies family. We're a community of 120,00 alumni, 1,500 faculty and staff and over 19,000 current students. A four year Oakland education is the best investment that you can make and now we hope it's within reach. I'm so humbled to be able to speak with you all today and that, despite the current state of affairs that you're all doing well and staying healthy. I'm hopeful that we'll be able to share this beautiful campus with you this fall. At Oakland University we are here for you every step of the way and in light of current pandemic and social distancing guidelines, we've made it a priority to be there for you virtually as well. Many of you may be wondering what your next steps are as the state of Michigan has. now ended all face-to-face learning in schools and we want to make sure that you have the tools to continue to get any transcripts, test scores, or other necessary items that you may need. Today two of our Admissions Advisors, Kayla Jones and Drew Huff will be joining me to give you guidance, walkthrough your next steps, and give you some great resources to take advantage of both now and when you arrive on campus all from the comfort of your own home. Again, this presentation is geared towards admitted high school students, so, if you're watching this and you haven't yet been admitted, we're still accepting applications so you can go to oakland.edu/apply and begin your application today. If you need help with any part of the application process please, don't hesitate to reach out to our team. We're doing our best to accommodate all students in light of our current circumstances and we recognize that SAT and ACT testing have been suspended for the time being. Therefore we will be accepting updated test scores through the start of the Fall 2020 Semester for scholarship consideration. You can always send digital copies of your official score report to oakuniv@oakland.edu that's O-A-K-U-N-I-V-@oakland.edu. Eventually, you will want to be sure to send your final high school transcript after your official graduation. Though many high school counselors are working remotely, if you need copies of your transcripts, you can also request them directly from Parchment or Score. Additionally, students who have taken AP or IB coursework should request that their scores be sent directly to OU. We will accept AP test scores taken online through the College Board this year. IB will be assigning subject scores to students and we will still award credit as we always have in the past. You can find all of our course equivalencies for both AP and IB coursework at oakland.edu/collegecredit. Again, thank you so much for joining us virtually. I promise I will keep you updated as soon as we know any other information about New Student Orientation or other university updates. Please know that we are hard at work behind the scenes to do what's best for our future students and our community. I will now turn the presentation over to Kayla Jones who will tell you more about what's new at Oakland as well as give you some advice and statistics about financial aid and other services available here at OU. Congratulations again in your admission and Go Grizzlies!

Thank you, Shane. I am Kayla Jones an Admissions Advisor and alum of Oakland University. I am extremely excited to welcome you all into our Golden Grizzly family and help you prepare for your upcoming transition. Within the last few years, many additions have come to campus and have expanded opportunities for both student engagement and involvement. Now we are looking to add more classroom space. An additional 25,000 square feet will be added onto South Foundation's existing 35 classrooms with updated technology and collaboration spaces for both students and faculty. Wilson Hall will have an additional wing added overlooking our wonderful Bear Lake. It is set to house the office of Undergraduate Admissions, our Tutoring Center, and Disability Support Services as well as more classroom space. I would like to now address the question that many of you are asking as you prepare to start your college career and that is, "How can I afford this?". Let me assure you that investing in higher education is the very best decision you can make. Especially when the demands of the marketplace make a college degree more important than ever. As you can see, many of our students qualify for scholarships and aid making their average net cost to attend Oakland significantly less. With nearly $4,000 in aid awarded per student, you can see our commitment to making this an affordable investment. Perhaps most significant in terms of financial aid, is that we have eliminated loans for incoming freshmen who have demonstrated financial need for tuition thanks to the Golden Grizzlies Tuition guarantee award. Eligible, incoming freshmen can attend Oakland University tuition-free for four years. That means you can focus on your degree and your future without worrying about how to pay for it. When you fill out the free application for federal student aid, the FAFSA, an analysis of your financial situation is complete. Then the federal government determines how much you and your family are expected to contribute towards your education. This is called your expected family contribution or EFC. If your EFC is less than $8,000 then you have financial need. After your EFC plus Gift Aid excluding housing awards, Oakland will then cover the remaining cost of tuition through this award. So you can attend OU loan free! The last point I would like to make on this topic is that it is very important to remember that OU does not charge its students any hidden fees. For example, most universities charge mandatory fees such as a recreation fee, a general service fee, a technology fee, and of course any fee that accompanies a specific class. And every other public university in Michigan except Oakland University charges non-mandatory fees such as parking, orientation, and registration fees. As you can see this is not the case for Oakland University students. The additional cost and fees can be significant averaging over $500 per year and this is why OU's no fee policy is so significant. At this time I would like to turn the presentation over to Drew Huff, and Admissions Adviser, so he can walk you through your next steps of becoming a Golden Grizzly.

Thank you, Kayla, and hello everyone. I will be walking you through your next steps in the enrollment process. These steps are important to the continuation of your journey to become a Golden Grizzly this fall. First I would encourage you to activate your accounts at oakland.edu/activate. Activating your accounts will allow you to choose your NetID which will act as your OU email address. You will want to check your OU email a couple of times a week to learn of any updates from orientation or student financial services. It will also give you access to the following resources. First, you will also want to accept your scholarships. If you are already an OU scholarship recipient, go online to accept your scholarship. You can visit oakland.edu/scholaraccept and you will need your login to use your NetID and your Grizzly ID number. If you have any questions about completing the FAFSA, your financial aid award package, or paying tuition, we will have student financial services advisers available to meet with you and I will talk about that in just a moment. You'll also want to register for an orientation after you get your account set up. This can be done at oakland.edu/orientation and reservations are now available. You'll want to do that as soon as possible because our orientations do start at the end of May and just a quick note, based on the current state of our COVID-19 pandemic, we have decided to move all of our orientations to an online format. Orientations will still occur on the same days as originally scheduled, so those who have registered for a date may keep the same date and those who have not will select from the available dates that are still remaining. Correspondents will be sent to you in regards to that change and what each student will need to do as part of this change so definitely continue to check your OU email frequently especially after signing up for your orientation. It is at this orientation where you actually meet with your academic adviser for your first year and set up your classes for your fall semester. If you plan on living on campus we also want you to apply for housing. Students interested can complete their housing contract at oakland.edu/housing/apply and we encourage you to do that as soon as possible as housing is first come, first serve. If you haven't been on campus to tour the halls you can visit oakland.edu/housing for a video tour and to submit your housing application. Live on campus and get involved in everything from fulfilling leadership roles, to building student organizations, staging events and shaping OU's future. I'd like to share with you a couple of the student support offices that we have on campus that you will be able to connect with now that you are an enrolled student and going to be enrolled this fall. Student financial services is available to answer your questions that you may have about completing your FAFSA or any other financial questions that you might have. If you have not done this FAFSA or if you have more questions about how to pay for school or other topics on that subject, Student Financial Services is taking virtual appointments to support you in your preparation to be an OU student. You can visit their website at oakland.edu/financialservices or you can send them an email at finservices@oakland.edu. Student Financial Services is also available to answer any questions that you have about your financial aid award letter, which you will receive by mail or email after you have been admitted. Some of you may have already received that. All updates to your student aid are available to view in your Mysail account which you would use to log in with your NetID and password that you created. They also provide planning tools like the Net Price Calculator for you to use on their website. Students can review and ask questions about payment plans with the financial services office as well. In addition to financial support, we offer a variety of additional support services for incoming students including First-Year Advising. Whether you are decided on your major or still exploring your options, the First Year Advising Center provides academic advising for all first-year students. Students who are undecided or redeciding their major past their first year as well as undecided transfer students. At your scheduled orientation your assigned adviser will introduce you to helpful resources and tools to assist you in developing a balanced schedule and making informed decisions about your major and future career. After the successful completion of your first year, you will begin meeting with an academic adviser from your major area. The Golden Grizzly Guide is also a great tool that we offer for you and your family to help you walk through the first year of your college experience from admissions all the way to the end of your second semester of your first year. For more information about the Golden Grizzly Guide and how you can find that you can go oakland.edu/ggg. Once you have activated your accounts you will also have access to FOCUS2 OU. This is an extremely helpful tool to assist you with major and career exploration. Each of the assessment results will be directly linked to a specific OU major for you to view and career opportunities surrounding your unique interests and can help you find what you would like to do in the future. To visit that you can go to oakland.edu/careers/focus2v. We also provide a wide variety of career guidance support through our Career Services office. Career Services provides access to career counselors, resume help, cover letter building, mock interviews and Handshake. Which is our specialized job board designed specifically for OU students and alumni. Disability Support Services is an office on campus that provides resources and support to any student that may need disability assistance. Students who may need assistance should reach out to this office a few weeks before the semester begins this way we can accommodate any individual needs that the student might need accommodated. The Center for Multicultural Initiatives or CMI provides support for underrepresented students' success and fosters an appreciation for campus-wide diversity. CMI offers a number of student services to connect students to mentors, achieve academic success and positive social experiences including a peer-mentoring program and CORE which are both focused on helping students achieve their academic best. The Tutoring Center provides academic support and preparation at no cost to students. Students can utilize walk-in tutoring sessions or schedule a one-on-one appointment for specific classes. Tutoring is also a great opportunity for on-campus employment if you would like to someday become a tutor. Veteran Support Services offers several resources and services that connect veterans and active-duty students and their families across campus and ensures academic success across the board. If you have any questions throughout this process you will be put in touch with one of our Admissions Advisers like myself or Kayla, who can virtually walk you through your next steps and answer any questions that you might have while living and learning at OU. If you would like to find a specific adviser to chat with, you can go to oakland.edu/visit/meet-the-staff and you can send us emails or call us and we would be happy to assist you in any way that we possibly can. If you would like to meet with us virtually, you can make an appointment with one of our Advisers by emailing oakuniv@oakland.edu or calling our main number 248-370-3360 to get in touch and set up a time that works best for you. Keep in touch with us to get the latest updates from Oakland on social media. Take a moment to get your smartphone and like us today to learn more about important deadlines and take part in contests to win some free swag. Please stay in touch with us during these exciting times leading up to your first days at Oakland as we look forward to giving you a warm Golden Grizzlies welcome when you arrive on campus. We are proud to offer you an affordable, highly sought-after education in South-Eastern Michigan. Thank you again for watching all of our Virtual Admitted Student Presentations and please do not hesitate to reach out to our office or any OU staff member if you have any questions at all. Be sure to stay tuned for a special message. Congratulations again, and Go Grizzlies!
Welcome Receptions for Presidential Scholars
During these receptions to honor and welcome Presidential Scholarship recipients and their families, academic officials will share information and answer questions about the curriculum and student services. Reservations are required.
Register
for a Welcome Reception for Presidential Scholars now.
Golden Grizzly Fridays
Are you a newly admitted Grizzly? Attend one of our Golden Grizzly Fridays where we will provide you with a specialized "next steps" presentation, a current student panel and a Q&A with our Admissions Advisers. Optional campus tours will be provided along with a Golden Grizzly Giveaway!
Register now
.
FAFSA Workshop
This program is for admitted students who would like assistance in filling out the Free Application for Federal Student Aid (FAFSA). By selecting a 90-minute appointment time, students and their parents will fill out the FAFSA online with the assistance of an OU financial aid adviser. Please bring your FAFSA PIN number. The office will contact you with details on what other documents to bring with you. Make an appointment
here
.
Golden Grizzlies Celebration
You've worked hard. Now it's time to play hard. Congratulations on your acceptance to Oakland University. Now it's time to show your OU pride by joining fellow admitted students as they cheer on the Golden Grizzlies men's basketball team. You may bring up to two guests.
Honors College Information Session
Interested in joining OU's Honors College? All students who automatically qualify (3.7 GPA) must attend one of our
HC New Student Information Sessions
 to be admitted to the Honors College. These group sessions will explore and provide more detailed information about the Honors College, including ways in which it enhances your overall college experience as well as your resume, and how the Honors College works alongside your major. Parents are also welcome to attend.
Special Events
Want to learn more about everything Oakland University has to offer? Special events are a great way to find out how we establish relationships, build community, and support our students' success. For a more in-depth look at the OU campus, schedule a college visit during:
Group Visits
At this time, Group Visits are offered virtually on select Monday - Thursday mornings at 9:30 a.m. and not offered on Fridays or on weekends. 
To schedule a group tour for your school or organization, complete the group visit request form. Reservations are required.
Detroit Events
First and Focused
Navigating college as a first-generation college student can be quite the task. Connect with your Admissions Adviser, Kay, to stay on track and focus on the finish line! This experience will introduce you and your influencers to college lingo, resources and support services to ensure your success as a Golden Grizzly.
Virtual Onsite Admissions
Haven't applied to OU yet? That's okay! Join your Admissions Adviser, Kay, for a virtual onsite meeting to receive an on-the-spot admissions decision and learn more about our golden opportunities. 
College Conversations
This is the perfect opportunity to connect with your Admissions Adviser, Kay, about everything college. Learn about your next steps, college culture, student opportunities, and much more!
Envision Your Future
Have you been thinking of the future? Wondering what your next steps are and how you will get there? Well, let us help!

Join us for a highly interactive opportunity to design the life you've always dreamed of. Through this engaging experience, you will receive an introduction to Career Services and define a vision for success at Oakland University and beyond.


Financial Aid Events
Student Financial Services offers a variety of financial aid events to help students and parents learn about the financial aid process, get free professional help completing the Free Application for Federal Student Aid (FAFSA), and evaluate award offers from any college or university.