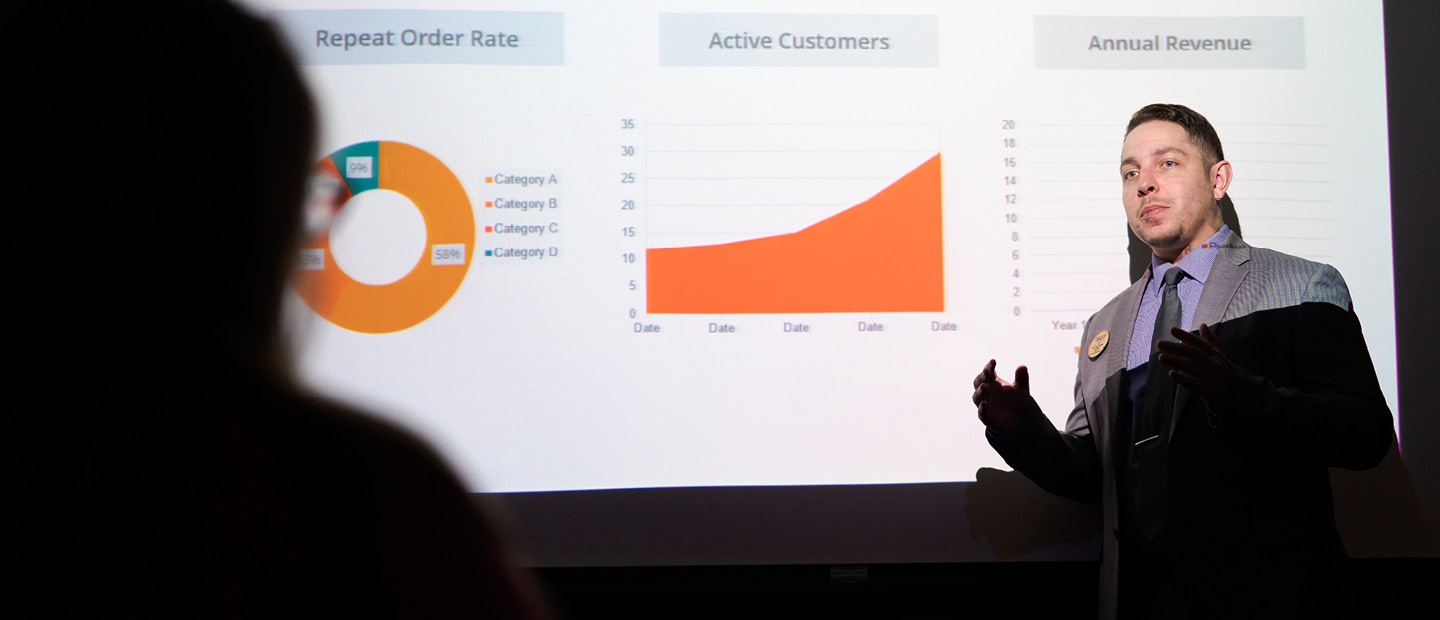 Marketing Graduate Certificate
Gain essential expertise in designing marketing strategies to successfully position your products and brands in the marketplace with a Graduate Certificate in Marketing from Oakland University. With this graduate-level marketing knowledge, you will be equipped to develop innovative marketing plans that address complex business challenges and improve performance.
Request Program Information Program RequirementsApply Now
This 15-credit certificate program is tailored for professionals across disciplines who are seeking to expand their business expertise with marketing skills. Through the core requirements, students develop an understanding of marketing research and consumer behavior, and marketing strategy. From there, students select from a range of electives to customize the program to match their career aspirations.
Benefits
Full-time students can earn this graduate credential in as little as eight months, while part-time students can complete the program in one calendar year.
Evening courses mean students can balance earning the certificate with their current personal and professional commitments.
Learn directly from expert faculty and industry professionals in an AACSB-International accredited program.
Earn credits that can be applied toward an Oakland University MBA.
Contact Us
Graduate Business Programs
oakland.edu/business/grad
(248) 370-3287
The program is ideal for students holding a bachelor's or master's degree who are interested in:
pursuing a career in the marketing or advertising field.
earning graduate-level credentials to advance their career.
expanding their business expertise in the marketing arena.
In-Demand Skills
The Southeast Michigan region boasts a thriving economy with a wide range of employers, from dominant global brands to fast-rising newcomers, government agencies, non-profits and small businesses. Combined, these organizations regularly post hundreds of marketing positions. Many of these positions require experience or an advanced degree.
Application Requirements
Applicants must hold a bachelor's degree or equivalent from a regionally accredited undergraduate institution.
How to Apply
The application process requires submission of the following:
Online

Application for Admission from the Graduate School
Curriculum Vitae or Resumé - uploaded after online application is submitted
Two email addresses for individuals who will write your recommendations - added after online application is submitted
Official transcripts from all previous colleges and universities attended sent to OU
International Students who have not earned a baccalaureate degree from a U.S. college or university or at least 24 credits from a U.S school, will have additional application requirements:
A transcript evaluation (for transcripts from a college or university outside of the United States)
TOEFL Exam Scores (for non-native English speakers unless they have a baccalaureate degree from a U.S. college or university or at least 24 credits from a U.S. school)
School of Business Administration
Elliott Hall, Room 427
275 Varner Drive
Rochester, MI 48309-4485
(location map)