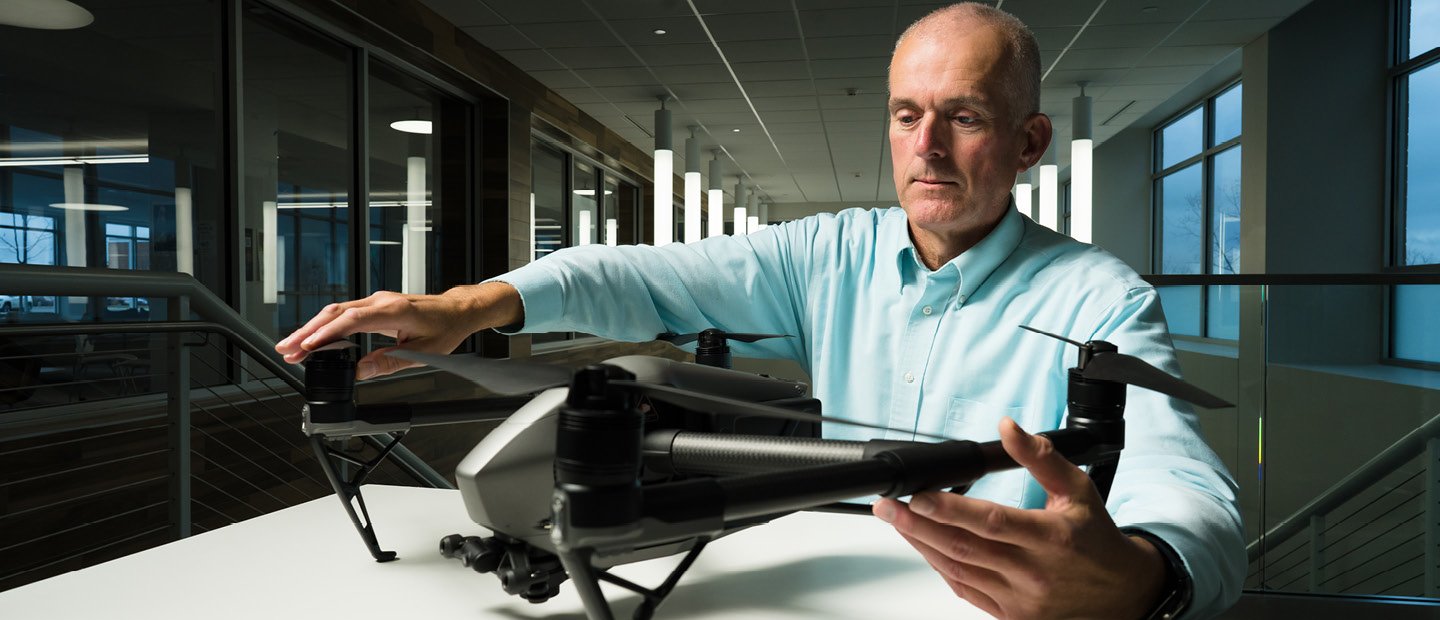 Business has no boundaries, it is cross-disciplinary. Expert faculty from Oakland's School of Business Administration have long recognized the importance of examining cross-disciplinary and societal issues through the business lens. Oakland business faculty members consistently publish their research in high-level academic journals on topics that advance the understanding of critical issues. In addition to providing insight to fellow academics, their research offers actionable data for professionals and influences classroom discussions.
Featured Research
Investigating COVID-19 Impact: Resiliency is key to hospitality survival
Through his research into the impact of the pandemic on the hospitality industry, Henry Aigbedo, Ph.D., associate professor, production operations management, gained a clear understanding about how companies can position themselves to successfully respond and operate during a crisis.
Strategic Influence: Researching the intersection of politics, economics and management
Through his professional expertise and his research interests in corporate political activity (CPA), corporate social responsibility (CSR), stewardship theory, and agency theory, Assistant Professor Michael Greiner's research work focuses on practical insight that can help businesses large and small plan for success.
Investigating technology innovations in accounting and auditing
Emerging technologies transform the way the world works. Robert Nehmer, Ph.D., professor of accounting and finance, has dedicated his research to examining the effects and applications of technology in accounting and auditing. For example, he has investigated how apps are freeing business professionals and small-business owners from mechanized work, allowing them to focus on growth and innovation.
Leadership across the lifespan
Management Professor Gregory Thrasher studies the psychology of leadership, diversity and work-life balance. His aging-at-work research highlights the efficacy of using the more tailored approach, offering employees a reasonable amount of autonomy to craft their own work roles.
Leadership Evolution Investigating Whole-Person Leadership
Oakland University Assistant Professor of Management Michelle Hammond, Ph.D, has spent much of her career focused on the process of leadership development, including how people grow to become confident individuals who are comfortable taking the reins, whether on the job, in their communities or in their own homes.
Innovative study yields unexpected results about CEO pay ratios
A study conducted by Dr. Sha Zhao, assistant professor, accounting concluded that higher CEO-to-employee pay ratios can mean a more successful business. Zhao says the increasing CEO pay ratio is a key catalyst of controversial policy debate over income inequality in the U.S. The study was conducted along with Professors Qiang Cheng of Singapore Management University and Tharindra Ranasinghe of the University of Maryland.
Strategic sustainability focus delivers competitive advantages
An analysis by Dr. Ravi Parameswaran, Ph.D., professor of marketing at the Oakland University School of Business Administration, shows how marketing can help organizations strategically transition from environmentally aware to genuinely sustainable by leveraging marketing's unique dual role within organizations: function and business orientation.
Educating, empowering patients improves health
A recent study by Xiaodong Deng, Ph.D., professor of management information systems at Oakland University's School of Business Administration, examined how empowering chronic disease sufferers to use information technology could help them better manage their illnesses.
Study examines best leadership styles for entrepreneurial startups
In a recent study, assistant professor of entrepreneurship at Oakland University Jae Kang, Ph.D., examined the relationship between CEOs and managers by comparing transformational versus transactional leadership styles. The study focused on relatively small and young organizations that had innovative managers in an entrepreneurial organizational setting. View the full story here.
Money market mastermind decodes industry secrets
In a recent study Ranadeb Chaudhuri, PhD, found that the performance of investment products managed by firms where asset managers hold Ph.D.s is superior to that of products managed by similar firms that do not hire Ph.D.s. However, talent trumps training when it comes to the success of Ph.D. money managers. Innate ability matters more than field specific training among asset managers holding a doctorate degree.
Oakland University assistant professor of management Caitlin Demsky, Ph.D., is studying how workplace aggression, whether physical or psychological, is making employees stressed, sick and unhappy. It's also spilling over into personal lives, creating work-family conflicts. She offers actions to help individuals and organizations address this.
In his research paper, Timothy Hodge, Ph.D., assistant professor of economics, observes that Neighborhood Enterprise Zone homebuyers do not often reap the financial benefits associated with the program.
---
Featured Summaries
Oakland University School of Business Administration faculty regularly publish articles in high-quality journals in their areas of expertise. Following is a selection of summaries from articles published in top-tier journals.
Research Centers
Cybersecurity
This center focuses on advancing interdisciplinary collaborative research and technology solutions by leveraging the partnerships and resources of the university. With strong research and scholarly direction, the center provides opportunities for student research and internships. Integration with the University's incubators and their business connections serves as a strong nexus in engaging the community. Through community partnerships, the Center assists in providing solutions, training and talent.

Co-Director: Xiaodong Deng, Ph.D., MIS professor
oakland.edu/research/centers/cyber-security
Data Science and Big Data Analytics
Through its collaborative approach, this center facilitates multidisciplinary data science research. The center combines the expertise of scientists from biological and biomedical sciences, and researchers in mathematics/statistics, engineering, business and finance. These experts use cutting-edge analytics, informatics and computing methodologies to conduct research and develop innovative solutions to address high-impact problems across disciplines. Experts are also available to consult with external industries and businesses. The research focus is on healthcare operations analytics, industrial and financial analytics, genome and evolutionary biology research, sensor networks and the internet of things. The center also partners closely with industry and other institutions to address current and trending issues.

Co-Director: Vijayan Sugumaran, Ph.D., MIS professor and chair, Decision Information Systems
oakland.edu/research/centers/datascience
Southeastern Michigan Economic Data Center
Oakland's Southeastern Michigan Economic Data Center (SEMEDC) uses cutting-edge technology to deliver up-to-date analysis and statistics on the local economy, including labor market, employment and earnings, real estate, consumer prices and key industries. Data compiled from a wealth of sources is available all in one convenient site. As the real-world data changes, the data and displays are updated automatically, so the information provided is always current.

Director: Jonathan Silberman, Ph.D., professor, economics
Senior Research Associate: Timothy Hodge, Ph.D., assistant professor, economics
oakland.edu/semedc