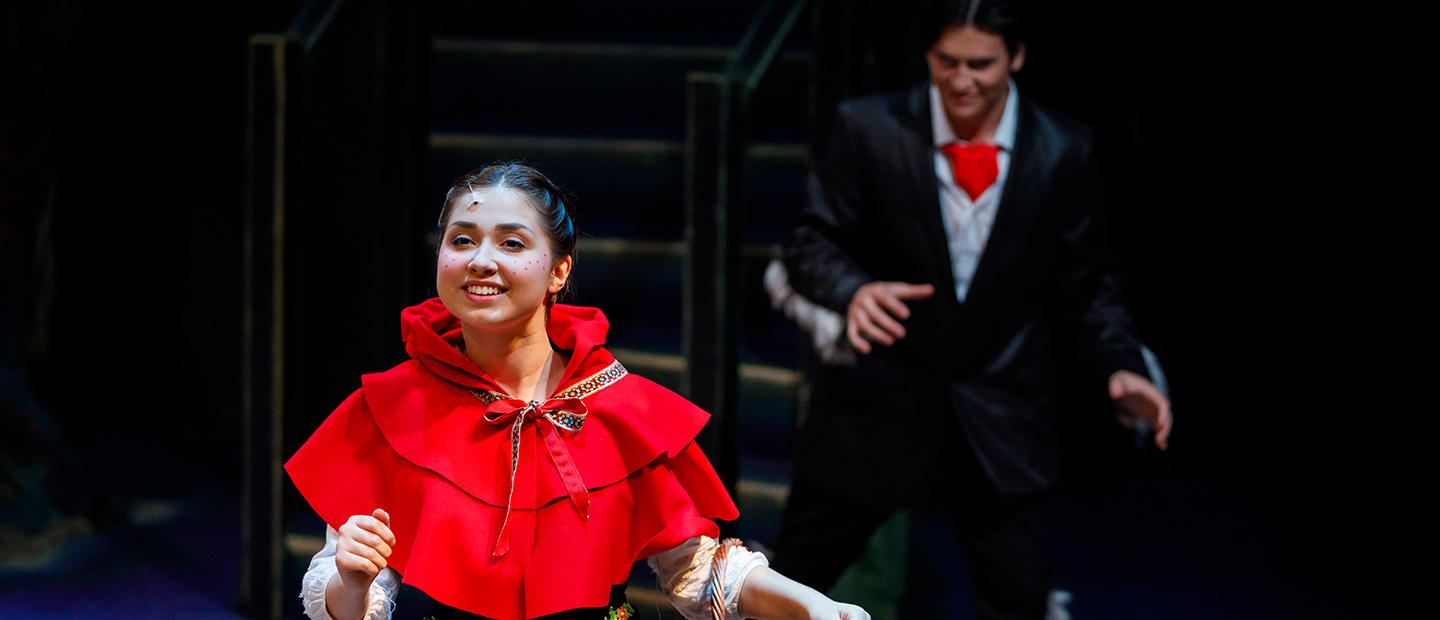 Ticket Information
Due to COVID-19 restrictions during the 2020-21 performance season, please check our events calendar for the most up-to-date event information. You can direct questions to our box office manager, Megan Herald, at smtdboxoffice@oakland.edu.
We hope you'll join us for many performances this season, and we've made doing so even easier with the elimination of service charges for all tickets.

Events are subject to cancellation or change, please be sure to check our website calendar for current performance information. Many of our shows sell out, and only an advance ticket purchase guarantees your seat. Tickets are nonrefundable.

Varner Hall, on the OU campus, is surrounded by ample free parking.

Please be advised: due to the nature of the Varner Studio Theatre setup, patrons cannot be admitted or re-seated while a show is in progress. 

How to Order

Phone and Online
Advance general admission tickets are available through Etix at (800) 514-3849 (24 hours) or the Varner Hall box office Tuesday-Friday, 3-6 p.m. at (248) 370-3013. To purchase tickets online without a service fee, visit etix.com. Tickets purchased by phone or online will be held at will call at no additional charge. Everyone must show their ID when picking up tickets.

In-person sales are suspended at this time.

Group sales
Discounts are available to groups of 20 or more who pre-book their visit to any Music, Theatre or Dance performance. You are strongly encouraged to make reservations well in advance, as many of our shows sell out. For information call the box office manager at (248) 370-4578.

Box office hours
The Varner Box Office is currently closed. 

Many of our events sell out, so please call the box office for information about same-day availability.
Maps and Parking
Oakland University is located in southeastern Michigan between Flint and Detroit. The 1,441-acre campus actually extends into two cities — Auburn Hills and Rochester Hills, between Adams Road and Squirrel Road, just south of Walton Boulevard.
Take I-75 to exit 79 and go east on University Drive to the main entrance of campus. Or, take M-59 to the Squirrel Road exit and go north to the main entrance of campus at the corner of University Drive. 

Varner Hall, which is located on Pioneer Drive in the southwest quadrant of campus.
For more information, see the online campus map.

If you wish to use your smart phone map to find us search for "Varner Hall."  
 
Parking
Free parking is available in several lots adjacent to Varner Hall, including lots 36, 26 and 24. Request a printable map.