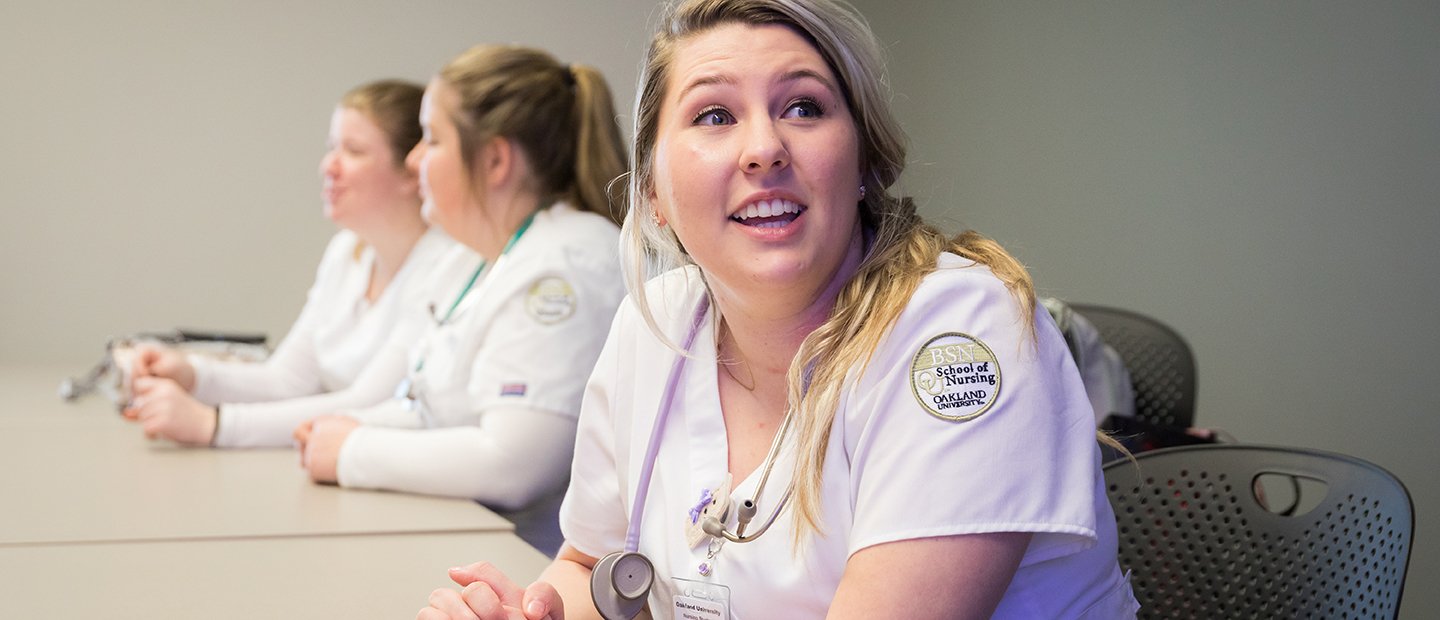 Accelerated Second-Degree BSN track (pre-licensure)
The Oakland University School of Nursing Undergraduate Accelerated Second Degree (ASD) BSN is an intensive, full-time, four-semester track for students who have already successfully attained a minimum of a Bachelor's degree in any field outside of Nursing.
If you graduated with a Bachelor's degree from a foreign university, a course-by-course evaluation from a NACES-approved provider must be completed to demonstrate the equivalence of a U.S. Bachelor's degree. Please note that a first professional degree (e.g., Doctor of Medicine) is not the equivalent of a U.S. Bachelor's degree unless an evaluation explicitly states it as such. Several applicants have experienced success using SpanTran for their course-by-course evaluation, as they typically provide this equivalency statement for those who have earned professional degrees.
Designed to provide students with a diverse range of clinical experiences throughout Southeastern Michigan, the ASD track graduates baccalaureate-prepared nurses who:
Prepare students to be successful on the NCLEX-RN

Facilitate clinical decision-making skills based on ethical, legal, and cultural perspectives
Engage in critical thinking
Use evidence to develop, implement, and evaluate patient-centered care
Advance into nursing leadership, educator, and administrator roles are healthcare systems throughout the state of Michigan and beyond
Please visit our Information Session page for upcoming opportunities to learn more about the program.  Click here to view a detailed Plan of Study.
Program Overview
Transfer
Scholarships
Request Information
Plan of Study

Admissions Process and Requirements
Step 1: Admission to Oakland University
Prospective ASD students must be admitted to Oakland University and have their Oakland email account set up before they may submit the ASD application. Contact the OU Admissions Office at (248) 370-3360 for information or apply online at oakland.edu/apply.

Once the Office of Undergraduate Admissions receives all of your materials (application and official transcripts sent directly from your school) they will forward your file to the School of Nursing. The School of Nursing will complete an official transcript evaluation within 48 hours and mail the official plan of study to your home address. This plan of study will reflect what courses have transferred and what courses remain outstanding.
Step 2: Completion of prerequisite coursework
Prerequisite Coursework
Course

Credits

BIO 1200 - Biology I

4

BIO 2006 – Clinical Anatomy and Physiology (formerly
numbered 1006)

5

CHM 1040 – Introduction to Chemical Principles

4

CHM 2010 – Introduction to Organic and Biological Chemistry

4

PSY 1000 – Foundations of Contemporary Psychology

4
These five classes comprise the prerequisite GPA, which is the sole criterion in admission decisions. All courses must have a grade of B- or higher with a minimum prerequisite GPA of 3.0 to be eligible for admission. Additionally, applicants must have taken a Philosophy course and Elementary Algebra and earned a grade of B- or higher in each. These two grades are not included in the prerequisite calculation. The math requirement is waived for applicants who receive an SAT math score of 490 to 540 (440 to 510 prior to March 2016) or an ACT math score of 18 or higher. Higher level mathematics coursework or the Oakland University math placement exam can also satisfy the requirement.
Step 3: Admission to the ASD BSN
Prospective students may submit the ASD application upon admission to OU and completion of all seven prerequisite courses. Admission to the School of Nursing is competitive and satisfactory completion of the prerequisite courses does not guarantee admission.  
The School of Nursing conducts a holistic admission review process. Additional factors beyond pre-nursing GPA will be considered in admissions decisions. Applicants will be required to submit an essay, a professional reference form, and complete a character assessment. These additional materials will be reviewed and scored by SON faculty and combined with the pre-nursing GPA to create a composite score for each applicant which will be used to determine admission to the ASD track.  
The professional reference form is to be submitted by a supervisor or professor and speaks to character, ethics, and the essential skills associated with the nursing profession.
Future cohorts may see further revisions to the holistic admission review process.  Prospective students are encouraged to monitor this page for updates.
Deadlines
The ASD track admits in the fall, winter, and summer semesters.
Applications are available:
August 1, 2022 until October 1, 2022 for winter 2023
November 1, 2022 until January 5, 2023 for summer 2023
March 1, 2023 until June 1, 2023 for fall 2023
All prerequisite coursework must be complete and supplemental materials, official transcripts - including any applicable AP or CLEP test scores - received by the deadline for the application to be considered.
Previously admitted into a nursing program
Any applicant who has been dismissed from a nursing program or has ever received two or more nursing course grades of B- or lower must first obtain approval from the SON to apply to the ASD track. To obtain the Student Academic Standing Inquiry Form, visit the Forms page.
Step 4: After admission
Health Requirements

Admitted students will need to submit their clinical health requirements prior to starting the program. Please visit the Health Requirements page for additional information.

Anton/Frankel Center
Didactic coursework in the ASD BSN is taught at the Anton/Frankel Center in Mt. Clemens. Please visit Oakland University's Macomb Maps page for driving directions.
Denied Admission
Applications to the Accelerated Second Degree BSN track are for a single term only and do not carry over to subsequent application cycles. Students denied admission to the program may apply to the SON for the next application cycle if they meet the minimum eligibility requirements. Students whose prerequisite grades do not meet eligibility requirements or students who are otherwise considering repeating prerequisites to raise their prerequisite GPA are strongly encouraged to schedule an academic advising appointment to discuss their plan of study.  Contact 248-364-8733 or nrsinfo@oakland.edu to schedule an appointment.