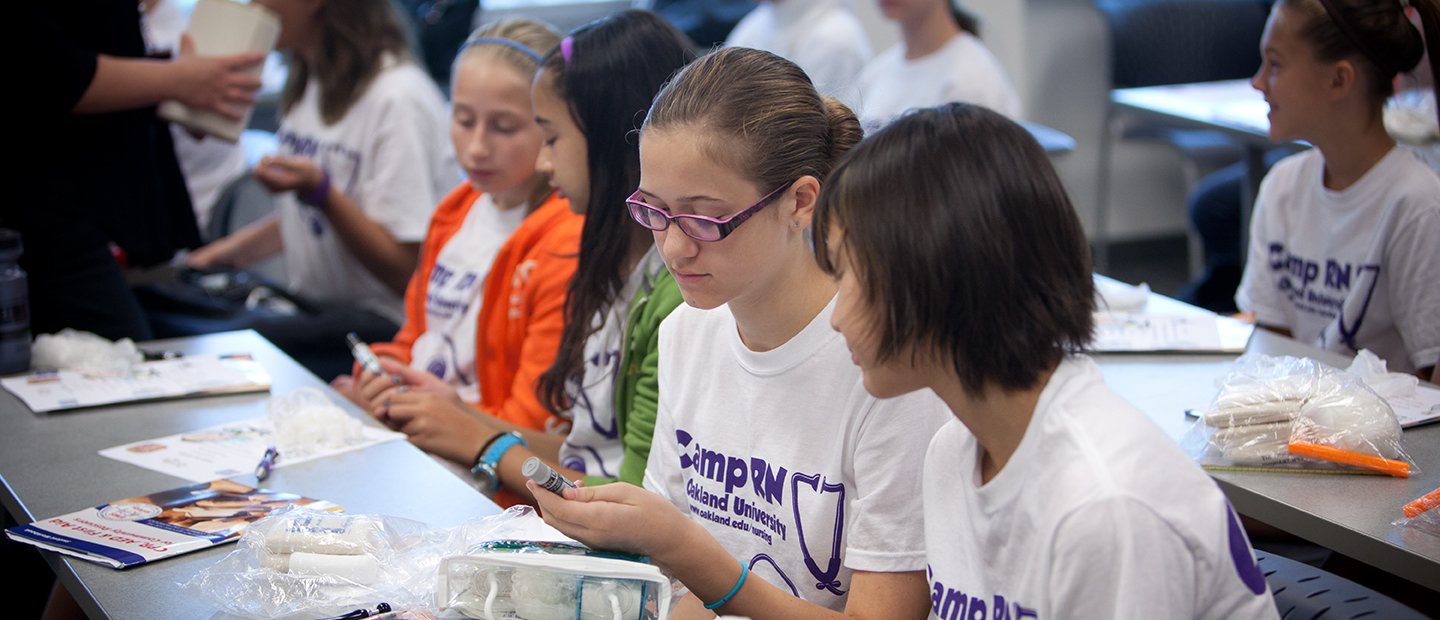 We will not be offering CampRN this summer.  Please check back in 2024.
Eligible 6th, 7th and 8th graders can get a dose of what the nursing profession has to offer through the CampRN at OU program.  
This two week pre-college summer program designed to educate middle school students of the opportunities available through a nursing career. This inspiring and innovative, entertaining and educational camp exposes students to biology, chemistry and the mechanics of the nursing profession.

Participants are actively engaged in nursing forensics, biology, math, and chemistry workshops, while learning nursing fundamentals including CPR and First Aid. Participants tour Oakland University and utilize our new physical assessment laboratory to learn about the human body.

With such expressed interest in this program, CAMP RN will only accept 25 participants for the 2023 Summer program. All interested applicants are encouraged to apply as soon as possible.

If you are aware of any students who may be interested in being considered for this excellent opportunity please submit the application by the deadline. If you have any questions regarding CAMP RN@OU, please feel free to contact Patrina Carper at (248) 364-8766 or email camprnou@gmail.com.

Patrina Carper
Program Director
Date: TBD 2024
Cost: $500
Application Deadline: TBD
Testimonial
"My daughter had the most wonderful time ever. I can't tell you how happy I am that you held Camp RN @ HFC in Dearborn. It really was amazing how much she learned. Every day she returned to grandma and grandpa's home and regaled them with stories about diagnostic robots as well as her CPR, AED and First Aid skills. She enjoyed the research project and presentation. Job shadowing a nurse at a hospital was the perfect end to a great experience. She really liked the direct patient contact. The camp definitely opened her eyes to a world of lucrative employment opportunities that would allow her to help others.
Again, thank you so much. The camp was a fantastic success!"