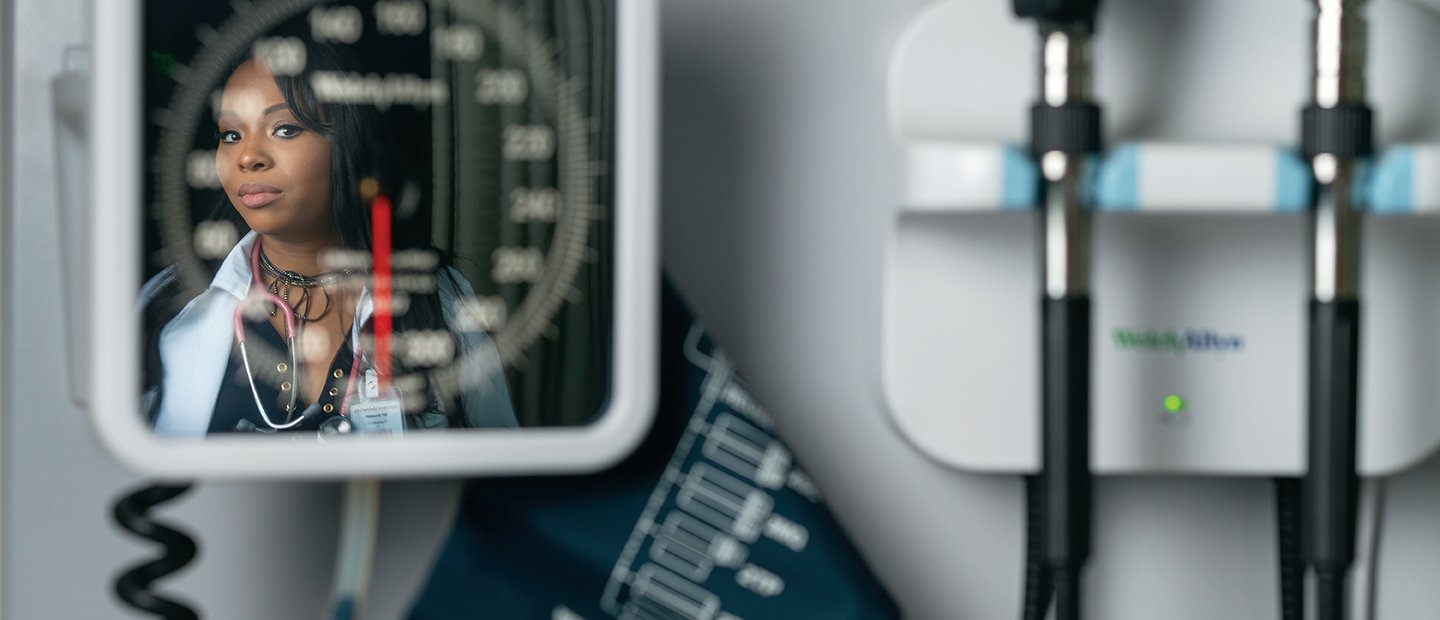 Nurse Practitioner Program
The Master of Science in Nursing (MSN), Nurse Practitioner (NP) Program, prepares nurses to be leaders in an advanced practice in a clinical specialty area.  Clinical specialties offered include Adult-Gerontological Nurse Practitioner: Acute Care, Adult-Gerontological Nurse Practitioner: Primary Care, and Family Nurse Practitioner. 
Oakland University's NP program offers excellence as well as flexibility. Didactic courses are offered as online and hybrid.  Clinical courses offer the opportunity to engage with experienced, practicing faculty and preceptors.  
The MSN program prepares graduates to:
Integrate theories and scientific findings from nursing, biopsychosocial fields, genetics, public health, and organizational sciences using translational processes to improve evidence-based nursing practice across diverse settings.
Describe concepts from organizational leadership, systems leadership, and information technology in the promotion of quality improvement and safety.
Synthesize requisite knowledge of legal and regulatory processes, health policy, ethics, and advocacy to improve health outcomes of diverse populations at the organizational, local, state, and federal level.
Formulate intra/interprofessional collaborative strategies integral to the design and delivery of evidence-based health promotion and disease prevention interventions to improve health outcomes in individuals, families, communities, and populations.
Integrate professional standards and guidelines in the provision of nursing practice in a specialty area.
Adult/Gerontological Acute Care Nurse PractitionerAdult/Gerontological Primary Care Nurse PractitionerFamily Nurse PractitionerPreceptor Resources
NP Program Points of Pride
CCNE Accredited
No Hidden Fees
Support with Clinical Placement
Experienced NP Clinicians as Faculty
Faculty Certified in Online Education
Opportunities for Scholarly Work
Standardized Assessment for Certification Success
High Certification Pass Rates
MICNP Student Chapter
Clinical Placement
The School of Nursing (SON) provides clinical placement assistance. The SON has relationships with many agencies and facilitates new placement opportunities. All placements through the SON consider the quality of the experience and students work closely with the NP Program leadership and Department of Clinical Services to secure quality placements.
Many questions related to clinical placement can be answer by attending an information session.  Please register for an information session to learn more about clinical placements. For assistance, registering, please contact Emily Stepanian-Bennett, Academic Adviser, at fox2@oakland.edu
Consensus Model
The Consensus Model is a document defining Advance Practice Registered Nurse (APRN) practice and defines specialty roles. Each specialty of the NP Program at Oakland University educationally prepares students for competency in primary care or acute care. There are four APRN roles and four elements of the Consensus Model.
Four APRN roles defined in the Consensus Model:
certified nurse practitioner
certified registered nurse anesthetist
certified nurse-midwife
clinical nurse specialist
Four elements of APRN regulation within the Consensus Model: licensure, accreditation, certification and education (LACE).
Licensure is the granting of authority to practice.
Accreditation is the formal review and approval by a recognized agency of educational degree or certification programs in nursing or nursing-related programs.
Certification is the formal recognition of the knowledge, skills, and experience demonstrated by the achievement of standards identified by the profession.
Education is the formal preparation of APRNs in graduate degree-granting or postgraduate certificate programs.
For specific questions about the Consensus Model, please contact Dr. Carolyn Tieppo, Director of the Nurse Practitioner Program at cktieppo@oakland.edu.
Admission Requirements
FNP and AGNP Nurse Practitioner Requirements:
Applicants for admission to the Master of Science in Nursing program must have completed a Bachelor of Science in Nursing degree with an overall undergraduate cumulative grade point average of B (3.0) or above from an institution accredited by the National League for Nursing or the Commission on Collegiate Nursing Education. The School of Nursing uses a centralized application system (NursingCAS).
Applicants must submit all transcripts from previously attended institutions.
Proof of a current unrestricted Registered Nurse license in the United States or its territories.
Unrestricted R.N license to practice in Michigan.
Two (2) letters of recommendations are required and must be completed by healthcare professionals in nursing, leadership, administration/management, or education who can attest to the applicant's work and/or educational experience, as well as the applicant's potential for graduate study. Professional statement of 750 words or less. The professional statement should focus on the consensus model within the APRN scope of practice, the applicant's career goals after completion of the program, how recent clinical experiences have prepared him/her for an advanced practice role, and plans for professional development.