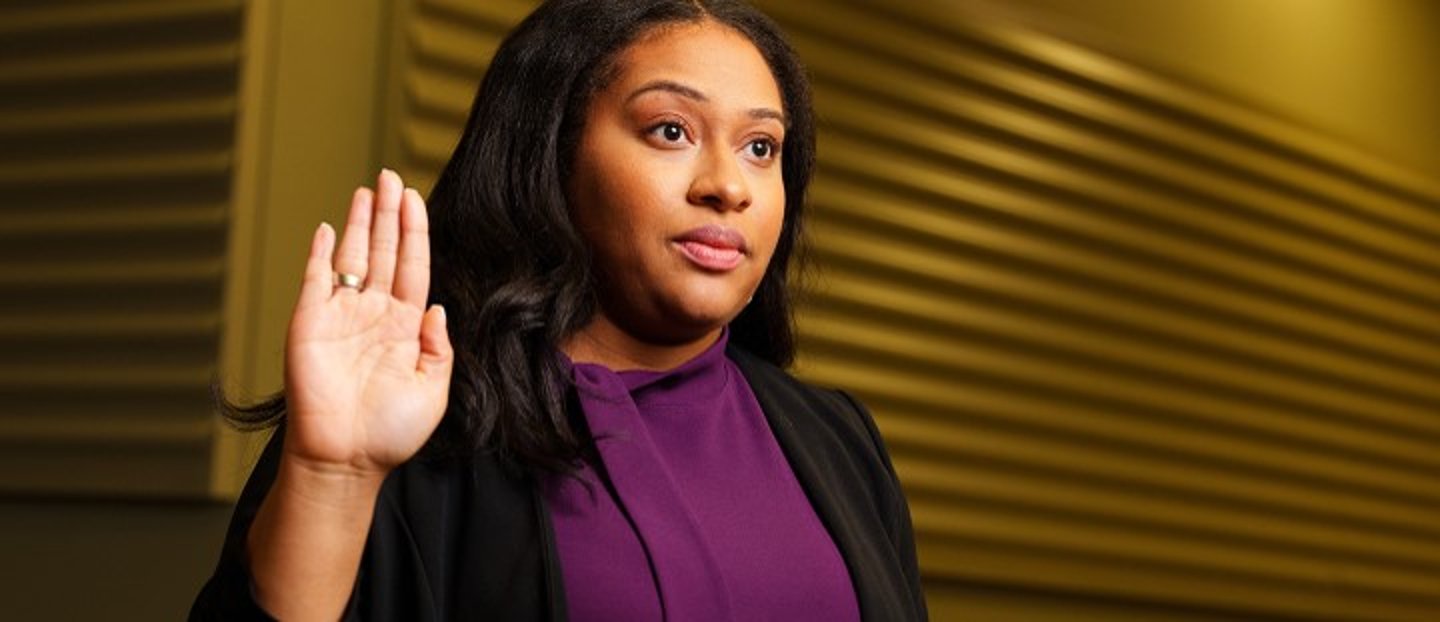 Photo: Oakland University School of Nursing, Forensic Nursing Alumnus: Chantel H., MSN, RN, AFN-C, SANE-A, SANE-P
The Forensic Nursing (FN) Program at Oakland University is the first and only FN program in the state of Michigan and one of only a handful in the nation.  Endorsed by the Founder of Forensic Nursing as a Scientific Discipline, Virginia Lynch, the FN program prepares graduates for professional practice in the role of the forensic nurse through the application of knowledge and principles foundational to nursing and forensic science.
Curriculum emphasizes interprofessional education related to the diverse roles and responsibilities of the forensic nurse as an independent practitioner.
Students learn how to act as a collaborator within the multidisciplinary forensic team while providing specialized care and services to individuals, families, communities, populations and systems that have experienced trauma, violence, and maltreatment.
Graduates are prepared to serve as leaders in forensic nursing, paving the way for the advancement of the specialty.
Only program to meet AACN recommended 500 clinical hours.
Available tracks include: 
MSN - Forensic Nursing (39 credits- 28 month plan of study)
Graduate Certificate in Forensic Nursing (18 credits- 16 month plan of study)
Please visit our Information Session page for upcoming opportunities to learn more about the program. 
Transcript

My name is Chantelle. My name is Jessica. My name is Karen. My name is Natalie. My name is Karen. <all> And I'm a forensic nurse.

Within forensic nursing my sub specialty is in advance forensic nurse examiner.

My area of practice is legal and risk management.

Emergency medicine and Correctional nursing.

My area of specialty is quality improvement.

Within forensic nursing my area of practice will be in sexual assault medical forensic examination.

Forensic nursing is a specialty that involves nursing anytime Health Care in the legal system intersect so a patient is need of health care because they are a victim suspect or perpetrator of either trauma violence or maltreatment and because of this their health care has actual or potential legal implications trauma violence and maltreatment is very very Broad and so forensic nurses can be trained to practice in that comprehensive broad role or they could sub-specialize in a very specific unique area of forensic nursing or a sub-specialty sexual assault nurse examining intimate partner violence working as a death investigator involving emergency preparedness or disaster management or even Correctional nursing to name a few

I have experience caring for patients throughout the lifespan who have been impacted by sexual and domestic violence I practice as a forensic nurse specialist for the International Association of forensic nurses in addition I have experience as a forensic nurse educator and clinical consultant clinical Consulting really came from just my experiences at OU and just my work experiences I started to just get requests about program management Court testimony and reviewing cases specifically non-fatal strangulation cases forensic nursing education and building curriculum and really how we can advance the forensic nursing practice to be more Equitable for patients such as trainings on how to identify injuries in patients of color so that's really where the clinical consultant came from of just my experiences brought on so many different requests and I really care about this population

As a clinical risk specialist, I investigate the medical care into legal matters for the health system from both outside attorneys and government agencies the forensic nurse practices at the intersection of healthcare and the legal system as a clinical risk specialist my role exemplifies both this program has prepared me with both the confidence and the versatility to practice in both areas

In my sub-specialty of emergency medicine and Correctional nursing on a day-to-day basis you're pretty much caring for the same kind of population those underserved those vulnerable populations emergency medicine really connected to Correctional nursing in that It prepares you for what your patient looks like with limited resources in a correctional facility so that definitely pairs with forensic nursing in dealing with those High Acuity patients that you don't have resources to care for and the vulnerable populations that we serve my degree helped a step away from the bedside from the ER to leadership in Correctional nursing it helps with policy and procedure placement moving the department ahead when you're caring for special and vulnerable populations and giving more empathy to those in need that are underserved so that you can better Equip to medically take care of them

 

I'm a clinical outcomes nurse specialist that means that I'm able to help our care team deliver best patient care with the best outcomes for our patients I monitor quality metrics I help track Adverse Events in our hospital and develop policy and procedures that allow us to give patient-centered care with the highest quality I chose the postgraduate certificate program in forensic nursing at Oakland University because of its reputation for high quality programs I also chose it because of its hybrid learning format which allows for in-person and online class participation and it caters to my learning style these small class sizes are beneficial because you can get personalized attention and it also allows us to have friendships developed from not only across our state but across our whole country

I chose OU because this program offered a Hands-On approach to learning while also enabling me to grow as a distance learner throughout my time in this program I've lived in Virginia Florida and Alaska now and it's been smooth every step of the process it's been through the ease of access to online course materials along with the help of my clinical faculty in setting up local clinical placements where I live which has been incredibly helpful

Whether practicing comprehensively or in one of the sub-specialty roles these are all forensic nurses and fortunately the program here at Oakland University prepares our graduates in both ways to practice comprehensively or in one of the sub-specialty areas importantly graduates can take this education move into a forensic nursing role or they can use this education in their current practice no matter the population of patient the setting or the level of care the reason for this and what we know is that statistically many people in society have experienced some form of trauma violence or maltreatment from sexual violence to intimate partner violence or suffering at adverse childhood experience all of these things are going to impact a person moving forward including their Ultimate Health Care

I am a forensic nurse.

I'm a forensic nurse.

I am a forensic nurse.

I am a forensic nurse.

I am a forensic nurse.
Why choose Oakland's FN Program
With the changing landscape of graduate nursing education and the evolving needs in healthcare today, the Forensic Nursing Program at Oakland University allows students the opportunity to complete a clinically-focused master's degree that meets the needs of vulnerable populations in all levels and settings of healthcare.

Forensic Nursing students are educated and trained to care for patients who are victims of intentional and unintentional trauma as well as all forms of violence and maltreatment.  They have the ability to conduct medical-forensic exams, perform specialized exam techniques, collect evidence, and testify in a court of law- all which contributes to quality patient health and legal outcomes.

The Forensic Nursing Program prepares graduates to practice globally as a forensic nurse with the ability to sub-specialize in a specific area of forensic nursing, if desired. Graduates may practice in a variety of forensic nursing areas such as:
Sexual Violence
Intimate Partner Violence
Human Trafficking
Child or Elder Maltreatment
Death Investigation
Organ and Tissue Donation
Quality Improvement/Risk Management
Legal Consulting
Emergency Preparedness and Disaster Management
Injury and Violence Prevention
Trauma (assault, attempted suicide, stabbings, GSW, MVA)
Please visit our Information Session page for upcoming opportunities to learn more about the program.
Program Highlights
First and only forensic nursing degree program in the state of Michigan and one of only a handful in the nation
Flexible curriculum allows for distance learning
Program arranges/secures clinical placements
Students have the ability to work full-time during the program, contributing to work-life balance
Key community partnerships contribute to unique and innovative clinical placements and future job opportunities
Clinical Partners and Scholarship
Students may complete clinical experiences in a variety of agencies including:
Forensic Nurse Examiner Agencies
American Red Cross
Domestic Violence Shelters
Child Advocacy Centers
Area Hospitals – ED/Trauma Programs
Emergency Medical Services
Human Trafficking Organizations
Prosecutors' Offices
Crime Lab
Courts of Law
Agencies for at Risk Youth
Elder Legal Services
Elder Emergency Centers
Community Coordinated Councils on Aging
Medical Examiner Offices
Organ and Tissue Donation Agencies
Suicide Prevention Organizations
Local and Federal Emergency Preparedness and Disaster Response Agencies
Public Health Organizations
Quality Improvement and Risk Management Departments
Law Firms
Forensic Nursing students have the opportunity to enhance professional advanced nursing practice through the development of a graduate project and dissemination of scholarly findings. Previous Projects:
Evaluating the Effectiveness of a Critical Incident Stress Management Program for Nurses Following a Workplace Violence Incident
Using Trauma Informed Interview Techniques to Avoid Victim Re-Traumatization While Taking a Patient History
The Need for Traumatic Brain Injury Screening for Persons Involved in Intimate Partner Violence
The Forensic Nurse as an Expert Witness
Improving Elder Abuse Screening and Reporting in the Hospital Setting
Mandatory Reporting Laws: Nursing Knowledge and Awareness
The Importance of Accurate Wound Identification and Documentation Among Trauma Patients
Neurobiology of Trauma and Mindfulness for Children
Post-traumatic Stress Disorder: Recognizing Signs and Symptoms of Trauma in Children
Neurobiology of Trauma- Understanding Behavioral Changes as a Result of Trauma
Digital Camera Use by the Forensic Nurse: A Protocol Proposal
Program Testimonials
Virginia A. Lynch, MSN, RN, FAAFS, FAAN, Founder of Forensic Nursing
"The Oakland University School of Nursing is poised to make a vital contribution to quality forensic nursing education worldwide. Graduates of your Forensic Nursing program will be uniquely qualified to serve in a variety of forensic nursing roles in both public and private agencies and will be prepared to enhance the current level of forensic nursing practice. The demand for services of nurses with forensic expertise is great as we confront clinical issues related to global human violence. Oakland University School of Nursing will be distinguished as the forensic nursing pace-setter for decades to come."
-Virginia A. Lynch, MSN, RN, FAAFS, FAAN, Founder of Forensic Nursing
Dr. Bill Smock, MD, Police Surgeon, Louisville Metro Police Department
"Oakland University's Forensic Nursing program is the only program of its kind in the world. I am extremely impressed with the program's comprehensive education in forensic nursing and for providing the students with a strong foundation in both forensic and nursing science. The forensic nursing program at Oakland University prepares its graduates to address the healthcare and forensic needs of our vulnerable populations."
-Dr. Bill Smock, MD, Police Surgeon, Louisville Metro Police Department
Kathleen Walker
I was initially interested in forensic nursing because it sounded so cool to be a part of solving crimes, but what I found out instead is that it is the epitome of nursing. I get to provide patient care in a private setting without other distractions, and I get to spend as much time with a patient as they need. I work autonomously and use my specialized training to make decisions about the services I provide, plus I educate the patient and other community partners regarding topics few other nurses know about.
Another irony from my journey is that I thought the master's program would help me work in the community instead of the hospital, but now I can find many reasons why every hospital should have a staff of forensic nurses. Forensic nurses can treat trauma patients, help identify victims of child, partner, and elder abuse, and act as legal nurse consultants. We can also investigate deaths and testify in court as an expert witness, which sounds scary but really isn't as intimidating after you have received specialized training and education.
I worked as a SANE (Sexual Assault Nurse Examiner) for several years before I applied to the forensic nursing program, and I have found the graduate level courses to be particularly useful for writing grants and when working on the accreditation process for our children's advocacy center. Many of my co-workers who were going to nurse practitioner or anesthesia programs thought I was crazy, but I work from home a lot and I just wrote my own job description with a new grant proposal. How many of them can say that?
- Kathleen Walker, BSN, RN, SANE-A, SANE-P
Christina Boyland
I had entertained the idea of earning an advanced degree at different times throughout my career. However, nothing grabbed at me in a way that I was able/willing to dedicate the time, effort, and money to pursue until I was introduced to the Graduate Forensic Nursing Program at Oakland University.
My original attraction to the program did not prepare me for the utterly profound impact receiving education in forensic nursing had on my career, my life, and who I am as a person. I believe every nurse, in any specialty, in any clinical setting, would benefit from a forensic nursing education. I feel it is the truest example of providing holistic care to my patients and community. The hands-on, behind-the-scene, clinical experiences prepared me to provide comprehensive, trauma-informed care to our most vulnerable patient populations, patients who are victims of trauma, violence, and maltreatment.
Clinical Experiences
Death Investigation: The death investigation clinicals were a great opportunity to understand the care and management of a decedent. I had the opportunity to spend time in the morgue with the pathologist. I even held a brain! Going out on the death scenes prepared me to conduct a scene investigation. Having a nursing background allowed me to better understand health circumstances that could contribute to a death. Pairing my nursing knowledge with an understanding of forensic implications allowed me to provide a more comprehensive view during the scene investigation.
Emergency Preparedness: I had the opportunity to go out into the community and educate children on the importance of emergency preparedness. I was a guest speaker at local elementary schools which allowed me to educate grade-school children on how to be safe during potential weather emergencies such as tornadoes, thunder/lightening storms, and fire safety. I also guided them on grounding techniques to practice and prepare for when in a stressful situation and helped them prepare an emergency "go-bag." I also participated with the Red Cross as part of the Disaster Action Team to respond to people who experienced the devastation of a fire in our community. Having an understanding of how a person responds to trauma greatly helped me understand how to best respond to them to assess what their greatest need was.
In Practice

My nursing background is in Maternal Child Health, specifically in Labor and Delivery. During my very first semester in the program, an assignment helped me identify a critical gap in education and practice surrounding Intimate Partner Violence (IPV), particularly during pregnancy. First, I learned that almost one in three women experience violence by an intimate partner. Secondly, that a leading cause of maternal mortality was related to violence, with homicide and suicide being leading causes of death. This was profound as I worked on a busy labor and delivery unit and had never received education or training on this topic. I made it my goal to decrease this gap and was successfully able to bring education on IPV to my nursing unit. This education helped nurses understand the dynamics of IPV, red flag indicators, screening, and how to respond.
Whitney Lambert
I could not be more proud to have earned my Masters in Forensic Nursing (FN) in December of 2019 from Oakland University (OU). Because of it, my outlook in nursing has forever changed for the better. When I was admitted into the FN program, my goal was to become the ultimate advocate for my patients and I knew that a degree in this specialty would help me to accomplish that. The program has allowed me to assess my patients, in addition to their families, more holistically than I ever thought possible.
Many would think that forensic nursing would have little relation to where I currently am employed - a level II neonatal intensive care unit. That being said, I was determined to use this education to positively impact my practice there and in the general neonatal patient population. During the course of the program, I knew I was interested in fetal-infant mortality, but did not have the opportunity to gain hands-on clinical skills in this very specific area. Although this was the case, I was able to use my FN knowledge and expertise in my current staff nurse role to increase safe sleep awareness and to identify human trafficking victims with a decrease in stigmatism for the mothers of neonatal patients who are drug dependent. Near the end of the program, I was honored to have a preceptorship with a legal nurse consultant in a birth injury law firm. It was there that I was able to build on my FN legal and neonatal knowledge, enhance cultural competence, and share my experience as I co-presented a lecture with future FNs at OU.
As for my future as a forensic nurse, I am happy to share that this degree has great impact in any practice, no matter if the title specifically states "forensic nurse". I plan to continue in my role as a staff nurse with goals to eventually transition into the role of a legal nurse consultant with specialty in the neonatal population or to specialize in fetal-infant mortality review. Whatever the journey, I am confident that I will make a difference that would have not otherwise been possible without the education I have earned as a master's prepared forensic nurse.
Jessica Vanbiesbrouck
The forensic nursing program at Oakland University is exciting, challenging, and ever-evolving. The program curriculum, at every semester, has been carefully developed and the consideration put forth into planning each course to properly prepare students in the field of forensic nursing shows. The faculty, students, and alumni are motivated, approachable, and passionate in making contacts, disseminating information, and advancing the field. I am honored to be involved with this program and to join the vital, growing specialty of forensic nursing!
- Jessica Vanbiesbrouck, BSN, RN (current student)
Likitia Balogun
When I started the Forensic Nursing program I did not know what to expect. I will say that it exceeded my expectations in more ways than one. I had the opportunity to learn the importance of and how to conduct a thorough medical-forensic exam. I had the opportunity to work with detectives, the health department, medical examiner's office, Forensic Nurses, Gift of Life, and even the Red Cross. I learned the importance of being part of a multidisciplinary team in order to accomplish a common goal- the health and well-being of the patient-victim. Being a survivor of domestic violence and sexual abuse, a pivotal part of my education was completing my graduate project on identifying injury in the dark-skinned patient who was a victim of violence. Being able to comfort and advocate for victims of abuse while making sure their exams were conducted in a safe and effective manner was a highlight of my journey! I appreciate Dr. Berishaj for partnering with Virginia Lynch (who I taught how to do her first selfie), the pioneer of forensic nursing, and developing such a strong program! It has truly changed my life and my perspective of patient care!
Warmly,
Likitia Balogun
A Day in the Life of a Forensic Nurse
Video loading...
Transcript
[Nurse]
Hi, my name is Kathleen and I'm a forensic nurse. People often ask me what it's like to be a forensic nurse, so let me show you. During my shift I have to keep my phone with me at all times so that I can take calls from law enforcement, hospitals, or the crisis line, in case a patient who is a victim of violence needs treatment. Although usually I expect the calls to come when I'm at the grocery store, at my son's soccer game, or sleeping, but those calls have to be answered too if someone is in crisis. I contact the patient and the advocate to arrange for a meeting at our site. I see patients of all ages, races, and from many walks of life. Anyone that's been a victim of violence.
Once I'm at the site, I prepare the equipment and the supplies so that it is ready when the patient arrives.
Hi Erica, my name is Kathleen. I'm one of the forensic nurses. I'm here to do your medical forensic exam. Are you familiar with what that is?
[Patient]
No
[Nurse]
Well what we do is we take a look all over. We look for any injuries that need to be treated or further examined. We also document the injuries that we find. While we're doing that, we collect evidence for the police department and then we can give you medications to prevent STDs.
After I get the patient's consent we go through all the paperwork. I try to give the patient choices so they can maintain control of the situation and then we go in and do the physical exam. The exam begins with the patient history. The history of the assault and answering any questions the patient may have. It is vital that we collect as many specimens as possible before the patient has had a chance to shower. I look for bruises on the face, neck, arms, legs, or any injuries that may need treatment. I brush the patient's hair to collect DNA to be able to separate it from the perpetrator's DNA. I will also draw blood for toxicology to test for drug induced sexual assault and get a urine sample to test for pregnancy. The exam room is full of specialized tools like the colposcope to identify things that are not seen by the naked eye which research says makes up between twenty-five and seventy-five percent of the evidence. The patient will receive any necessary medications, instructions for follow up, and discharge paperwork ensuring that follow up care instructions are in place. Afterwards, I secure the evidence by sealing the kit and making sure it is stored in a locked cabinet. The kit remains locked up until it's given to law enforcement. Following the chain of custody allows for the evidence to be used in court. You may be called as an expert or fact witness depending on your level of experience. You may be asked to testify as to your role in the evidence collection and patient care which can be as far out as two years later.
Every patient situation is different but this is a typical day for me. If this is something that interests you, Oakland University offers a certificate and master's degree in Forensic nursing. Just visit oakland.edu/nursing