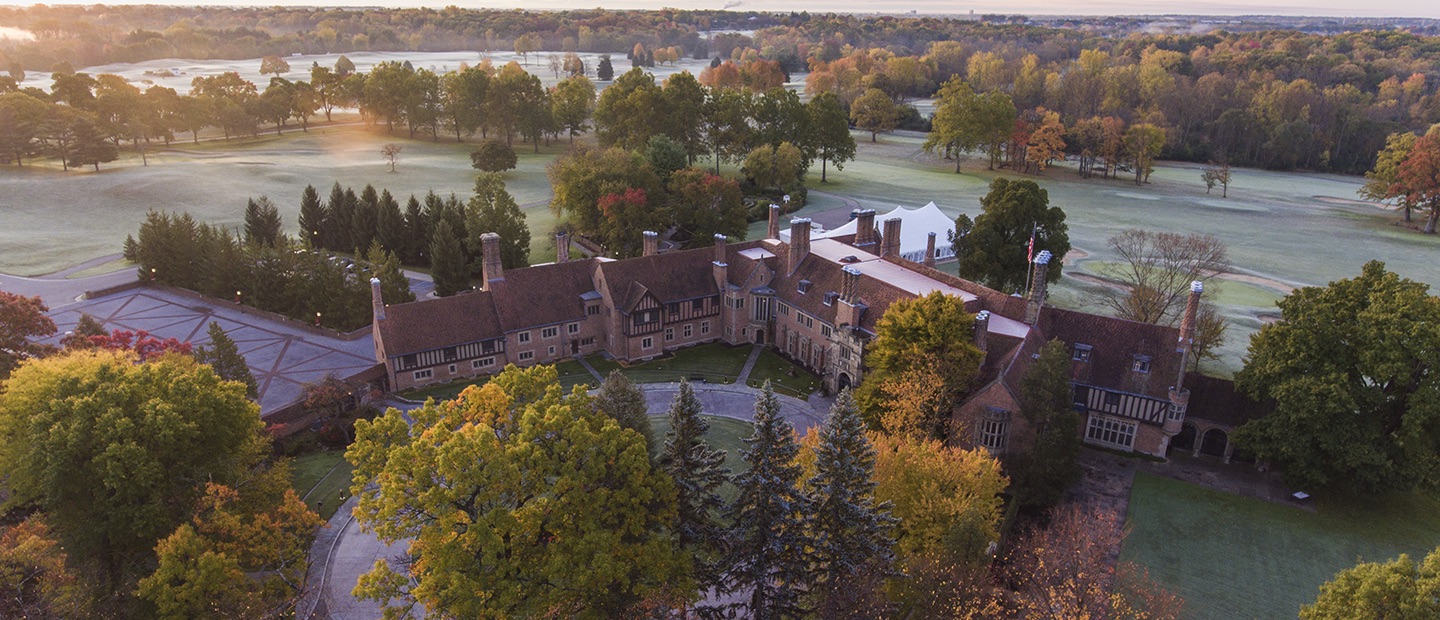 Wilson & Human Relations Awards
Every university has an award they bestow on the most deserving students — awards that evoke the prestige and virtue reminiscent of a university's mission and goals. At Oakland University, those awards are the Wilson Awards and the Human Relations Award.

Winners enjoy a monetary award and a formal dinner at Meadow Brook Hall. Below you can learn more about these prestigious awards, how you can nominate someone, and view a complete list of award recipients.
Wilson Awards
Established in 1965, the Alfred G. and Matilda R. Wilson Awards recognize a senior who has given significant contributions as a scholar, a leader, and a responsible citizen of the institution. Interest in the social issues of our community and our society is of special significance.

Each recipient receives a $1,000 award.

Undergraduate students who have completed their academic work in summer or fall 2023 and those who will complete their academic work by winter 2024 are eligible for nomination. Nominees must have an academic record of 3.5 GPA or higher.
Human Relations Award
Established in 1986, the Human Relations Award recognizes an Oakland University graduate or graduating senior who has displayed significant leadership in advancing intergroup harmony. These contributions include conflict resolution within or among groups and an increased understanding of cultures, groups and nations.

Recipients receive a $500 award.

The major consideration of the award is the individual's service to the campus community.

Undergraduate students who have completed their academic work in summer or fall 2023 and those who will complete their academic work by winter 2024 are eligible for nomination. Nominees must have an academic record of 2.5 GPA or higher.
Recipient Profiles
David Baker Lewis
1966 Alfred G. Wilson Award Recipient

Attorney David Baker Lewis has been a Fellow of the American Bar Association and a member of the board of trustees of Oakland University and the Oakland University Foundation. David remembers being honored and moved in receiving the Wilson award. "You don't know, as an individual, how other people view you and what qualities and characteristics they see that would lead them to nominate you," David said, admitting he was very surprised by the nomination. "One never knows what honors will fall in their path."
David began his college education at Oakland in the fall of 1962, sharing the campus with no more than 1200 fellow students. He became involved in the University's chorus, student government, athletic program and business club. Living on-campus, David took full advantage of all the opportunities OU offered. "I remember just reflecting on the enjoyment I had as a student at Oakland University, how much it contributed to my own individual growth and development."
While a student at Oakland, David recalls the campus consisting of North and South Foundation Hall, Kresge Library, Fitzgerald House, Anibal House, the Lepley Center and Dodge Hall of Engineering. His continued involvement with his alma mater has provided him with the joy of watching it grow. 
"There is a great deal of enthusiasm and excitement about growing this institution to its rightful place among four-year universities," David said. "The 50-year anniversary of these awards is another point in time to take note of the progress we've made in realizing the vision of Alfred and Matilda Wilson."
Colleen Jennings-Roggensack
1975 Matilda R. Wilson Award Recipient

Colleen Jennings-Roggensack has been presenting the performing arts for the past 35 years. She is currently Executive Director of Arizona State University Gammage and Assistant Vice President for Cultural Affairs with artistic, fiscal and administrative responsibility for two cultural facilities, along with additional responsibility for Sun Devil Stadium and Wells Fargo Arena for non-athletic activities including concerts as well as commencement and convocation exercises.
Colleen has previously held positions at Dartmouth College and Colorado State University. She was Director of Performing Arts and Professional Development at the Western States Arts Federation and has served on numerous NEA, regional and state panels, as well as being an invited speaker at national conferences. She was an adviser to the National Dance Project, Africa Exchange Advisory Council, The Japan Foundation and its performing arts program, and a contemporary theatre partnership with the US/Netherlands Project. 
Formerly a dancer and choreographer, she is married to Dr. Kurt Roggensack, volcanologist at Arizona State University, and has a 23-year-old daughter, Kelsey, a recent graduate of Williams College and a four time All-American swimmer.
Christina (Landry) Grabowski
1993 Matilda R. Wilson Award Recipient
Christina (Landry) Grabowski is an assistant dean for Admissions and Financial Services at Oakland University William Beaumont School of Medicine. "One of the most touching parts of my job is when I get to call students to tell them they have been admitted to medical school. When my call is their first admission and they can breathe a sigh of relief that they have 'made it,' I feel privileged to be a witness to that special moment," Christina said.
Christina was given the opportunity to learn and grow as a student at Oakland. She spent time in Student Congress, meeting new friends among the fellow student leaders and advisers. The experience allows her to collaborate with others while learning from both her accomplishments and mistakes. 
Christina felt humbled when receiving the Matilda R. Wilson award, impressed by the prestigious recipients who preceded her. "To be given consideration for such an honor, let alone to be selected, was most definitely humbling," she said. "It made me even prouder to have selected OU for my undergraduate education."
Amy Ann (Rickstad) Wilczynski
1995 Matilda R. Wilson Award Recipient

Amy Ann (Rickstad) Wilczynski is president and owner of Wilczynski Public Relations. As a public relations professional, Amy is constantly learning and adapting while working with a variety of clients. "For someone who is continually curious about things, this was the perfect career path for me," Amy said.
Oakland University prepared Amy for her role as public relations specialist by providing small class atmospheres and quality professors who challenged her. She found that what helped her succeed was strategic thinking, energy and passion. As president of University Student Congress, Amy had unique leadership and learning experiences that she says contributed to her professional success.
Amy was honored and humbled to be a recipient of the Matilda R. Wilson award. "To this day, it still has great meaning to me," she said. "When I think of that award, I think of the time I spent on campus and all of the dedicated professors and administrators I worked with along the way."
Mychal Thom
2000 Alfred G. Wilson Award Recipient

Mychal Thom is the principal for Concordia Lutheran High School in Fort Wayne, Indiana, serving approximately 700 students in grades 9 - 12. While attending Oakland University, Mychal was taught the importance of time management and relationship building. As a member of the men's basketball team, Honors College and biology student, he needed to effectively plan his time to ensure his tasks were completed accurately and efficiently. "As a school administrator, the most important skill I use on a regular basis is effectively managing my time," Mychal said.
Mychal's time spent representing OU on the basketball court was "invaluable." He was taught how to work with people in order to accomplish a common goal, a lesson that proved priceless in his work as an administrator. As captain of the team, Mychal was exposed to a leadership role that has served him well throughout his professional career. 
"Winning the Wilson Award was such a cool experience for me," Mychal said. He found that being recognized as a positive role model in the OU community was both gratifying and humbling. "The medal currently sits in my office," Mychal said, "and I often look upon it with a true sense of accomplishment!"
Steven D. Townsend
2005 Alfred G. Wilson Award Recipient

Steven D. Townsend has always had a love of academic research and student mentoring. He currently works at Vanderbilt University as an assistant professor of chemistry. 
During his time at Oakland, Steven assisted new students during summer orientations and worked as a resident assistant, where he was able to mentor and work with the younger students at the university. "During my time at OU, I maintained a focus on service to the community by being an active citizen and service to myself by working hard in all academic endeavors," Steven said.
His hard work and dedication was honored with the Alfred G. Wilson award, a proud and unforgettable moment for Steven. "The biggest lesson I learned while at Oakland was that we are all a work in progress," he said, "and that it is important to try to be a little bit better, whether that be at your job or in your personal life, every day."
Past Award Recipients
| | | | |
| --- | --- | --- | --- |
| Year | Alfred G. Wilson Award | Matilda R. Wilson Award | Human Relations Award |
| 1965 | Anthony Richard Cornellier | Christine Rose Marie Kifer | |
| 1966 | David Baker Lewis | Ann Elizabeth Parkinson |   |
| 1967 | William Thomas Peters | Maureen Frances McClow |   |
| 1968 | Patrick A. Gibson | Carol S. Freeman |   |
| 1969 | Ingo Rolf Dutzmann | Cynthia Lou Attwood |   |
| 1970 | Jerome Dalton Hill | Christine Hamil |   |
| 1971 | Joseph Taylor Davidson  | Kathleen Mary Gibson |   |
| 1972 | Robert Ellsworth Anson | Sharon Rebecca Backham |   |
| 1973 | Earl Johnson | Deborah Kalcevik |   |
| 1974 | Donald E. Johnson | Augustine Elviora Wright |   |
| 1975 | Craig H. Woodward | Colleen Jennings |   |
| 1976 | Daryl Gregory Porter | Susan Mary Cischke |   |
| 1977 | John M. Shacklett | Annivory Calvert |   |
| 1978 | Dale Martin Carpenter | Jean Ann Miller |   |
| 1979 | Lawrence L. Stebbins | Marily L. Morrow |   |
| 1980 | Michael E. Zielinski | Mary Sue Rogers |   |
| 1981 | George Mark Doyle | Mary A. Schaefers |   |
| 1982 | James Edward Green | Dawn Marie Santy |   |
| 1983 | John Edward Rhadigan | Margaret Ann Plant |   |
| 1984 | Alan R. McMann | Jean Chagnon-Royce |   |
| 1985 | Robert John McClory | Linda Marie Nicholson |   |
| 1986 | Matthew Tomilo | Ann Giacomazza | Geraldine Graham |
| 1987 | Dennis Charles Washington | Mary Beth Tierney | Lonnel Coats |
| 1988 | Sean Michael Higgins | Kimberly Ann Romanchuk |   |
| 1989 | Anthony C. Boganey | Melinda Suzanne Alessi |   |
| 1990 | Gary Bernard Stachnik | Lisa Stamps |   |
| 1991 | Michael Alan Poll | Sara Joy Pastoor | Esther Martinez |
| 1992 | David E. Nykanen | Lynn M. Waroway | Reginald McCloud |
| 1993 | Kenneth Dwight Johnson | Christina Janette Grabowski | Dawn Aubry |
| 1994 | David Michael Martin | Lisa Simone McRipley | Cher Coner |
| 1995 | James Haviland | Amy Rickstad | Catina Mitchell |
| 1996 | David Smyth | Kelly Schehr | Michael A. Simon |
| 1997 | Garrick B. Landsberg | Rachel Yank | Christy Hicks |
| 1998 | Bryan Barnett | Tierra Stamps | Bridget Green |
| 1999 | Darrin Hanna | Becky O'Connell | Barry Gray |
| 2000 | Mychal Thom | Mychal Thom | Michelle Guy |
| 2001 | Charles Archer | Cristina Kapustij | Natasha Vanover |
| 2002 | Adam Kochenderfer | Lani Morgan | Napoleon Harrington |
| 2003 | Dennis O'Connor | Ashley McGhee | Ashli Bobo |
| 2004 | Bradford Whitmer | Rhonda Hanna | Genafer Hintz |
| 2005 | Steven Townsend | Laura Cowham | Jonathan Parks |
| 2006 | Timothy J. Doig | Kathleen M. Hill | LaTorya Ann Ellison |
| 2007 | Peter S. Halabu | Jianna L. Hair | Nerissa K. Brown |
| 2008 | Christopher M. Fecek | Nicole Piggott | Mia C. Evans |
| 2009 | Jeffrey D. McDonald | Renee Marie Blackburn | Matthew J. Kelly |
| 2010 | Waseem Samaan | Tawnee Serena Milko | Norris Nathaniel Chase |
| 2011 | Stephen S. Parker | Marta L. Bauer | Jasmine I. Rudolph  |
| 2012 | Maxwell M. Van Raaphorst | Emily Renee Tissot | Shakita Ann-Marie Billy |
| 2013 | Benjamin Eveslage | Subha Hanif | Nicholas Kristock |
| 2014 | Trpko Blazevski | Caymen Novak | Christopher D. Keemer |
| 2015 | Christian Marentette | Kayla Fike | Brittany Hall |
| 2016 | Phillip A. Johnson | Jacqueline Wan-Jeng Yee | Aukury Jaci Cowart |
| 2017 | Jack K. Sicheneder | Abigail L. Godwin | Aaron W. Helander |
| 2018 | Zachary Walker | Carlie Austin | Caroline Wolber |
| 2019 | Alex Currington | Natalia Boyko | Ashley Chillis |
| 2020 | Christopher Russell | Camila Joy Ramos | Eric Henckel |
| 2021 | Jack Andrews  | Sydney Torres | Jai Carrero |