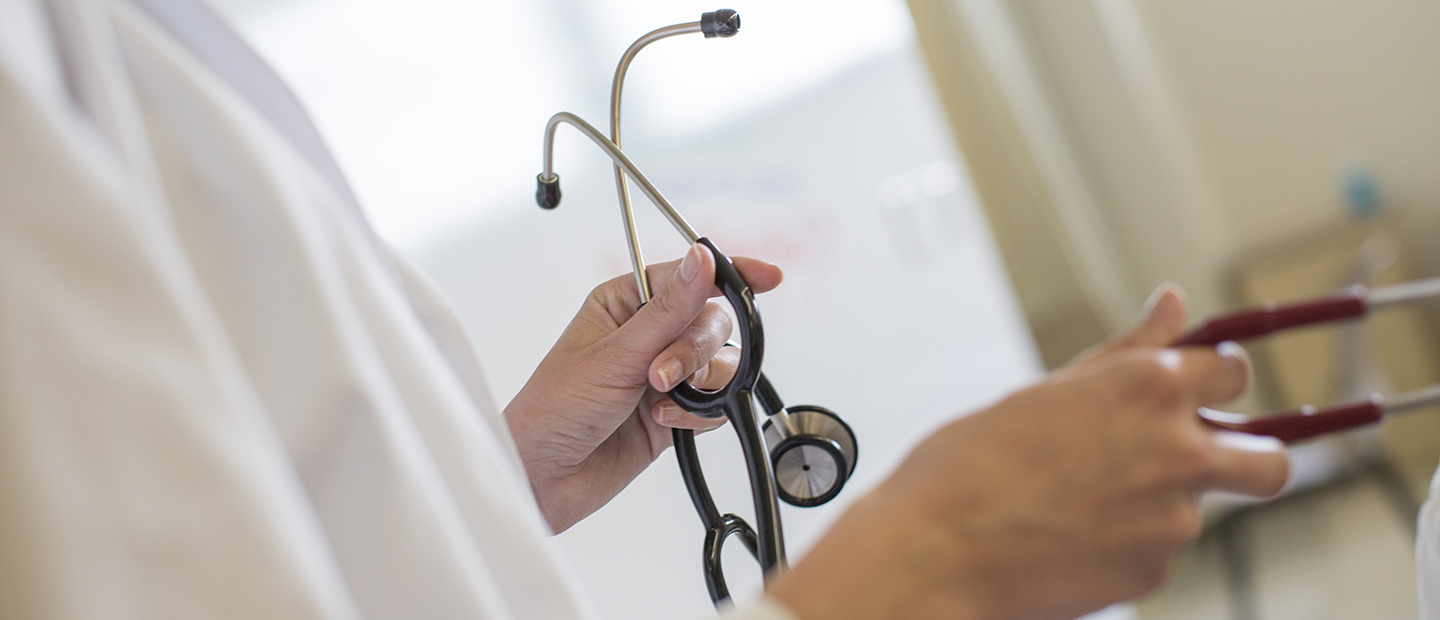 Master of Physician Assistant Science
Master of Physician Assistant Science (MPAS) is a professional graduate program in the Department of Clinical and Diagnostic Science which prepares individuals for licensure and entry into the physician assistant profession. As a PA, you will diagnose illness, develop and manage treatment plans, prescribe medications, often serve as a patient's principal healthcare provider, and be committed to improving healthcare access and quality.
Physician Assistant ranked number four in 100 Best Jobs of 2023 by U.S News & World Report. The profession also ranked second on U.S. News' list for Best Health Care Jobs and fourth for Best STEM Jobs. The rankings take into account the most important aspects of a job, including growth potential, work-life balance and salary.
Consider this position if you:
have a passion for working with others
want to be involved in team-based, patient care
have a strong aptitude for science
Oakland University has applied for Accreditation - Provisional from the Accreditation Review Commission on Education for the Physician Assistant (ARC-PA). Oakland University anticipates matriculating its first class in October 2024, pending achieving Accreditation - Provisional status at the June 2024 ARC-PA meeting. Accreditation - Provisional is an accreditation status granted when the plans and resource allocation, if fully implemented as planned, of a proposed program that has not yet enrolled students appear to demonstrate the program's ability to meet the ARC-PA Standards or when a program holding accreditation-provisional status appears to demonstrate continued progress in complying with the Standards as it prepares for the graduation of the first class (cohort) of students.  
General Program Information
Mission Statement
To prepare high quality physician assistants, exceptionally trained to practice evidence-based medicine and embrace culturally diverse and inclusive environments, who will serve each person with compassion and professionalism.
Vision Statement
To transform students, through rigorous academic preparation and excellence in clinical skill development, into leading members of collaborative health care teams, providing empathetic and inclusive care and leaving lasting impacts on the patients and communities they serve.
Program Goals
Be granted and sustain a nationally accredited Physician Assistant program that meets or exceeds the standards set forth by our accrediting body.
Recruit a pool of highly qualified applicants from a variety of backgrounds that reflects our diverse patient population.
Have a 100% student retention rate by offering all students the necessary support and resources to reach their academic, technical and professional goals.
Prepare students to practice cultural competency through didactic education, clinical placement and community engagement.
Students will demonstrate collaboration and a team-based approach to the practice of medicine through a variety of learning modalities.
Prepare our students to be PA advocates and leaders by providing opportunities for growth and development of the necessary skill sets and by faculty and staff example.
Develop proficiency in all manners of communication through interprofessional experiences, early patient experiences and guidance from faculty.
Develop an environment that encourages an interest in lifelong learning and exceptional clinical decision making.
Diversity, Equity and Inclusion (DEI)
The OU MPAS program is committed to the promotion of a diverse student body representative of the patient populations we serve. In support of our mission, we recognize and embrace that diversity promotes excellence in education, research, professionalism and health care. Through holistic admission policies and recruitment and retention strategies, we strive to ensure that no student is denied access to an Oakland University education based on their gender, gender identification, race, religion, national origin or economic status. A diversified and inclusive student body provides opportunity for the development of enhanced communication skills through social and cultural immersion and shared experiences with others from a broad range of backgrounds and experiences. This further supports our goals of excellence in clinical decision making, advanced interpersonal skills and competent, quality patient care.
For further information on Oakland University's DEI initiative, visit the Office of Diversity, Equity and Inclusion's website.
Curriculum
The MPAS program includes theoretical, clinical practice, and research courses and experiences to prepare graduates to function in a variety of settings. 
The MPAS program is a 27 month, full-time, year-round program
Students will need to complete 100 credits to graduate from the program
The didactic year is 15 months (from October to December of the next year)
The clinical year follows the didactic year for 12 months (from January to December)
Curriculum Outline
Didactic Courses - 4 semesters, 60 credit hours
Semester 1 - Fall 2024 (15 credit hours)
PAS 5010: Anatomical Science (5 credits)

PAS 5020: Foundations in Medical Science (4 credits) 

PAS 5030: Medical Interview and Documentation (2 credits)

PAS 5040: Psychosocial Factors in Medicine (2 credits)

PAS 5050: Public Health Science (2 credits)
Semester 2 - Winter 2025 (15 credit hours)
PAS 5110: Clinical Medical Science and Reasoning I (5 credits)

PAS 5120: Pharmacology I (2 credits)

PAS 5130: Patient Assessment Across the Lifespan I (4 credits)

PAS 5140: Diagnostic Sciences I (2 credits)

PAS 5150: Ethics and Evidence Based Medicine (2 credits)
Semester 3 - Spring/Summer 2025 (15 credit hours)
PAS 5210: Clinical Medical Science and Reasoning II (5 credits)

PAS 5220: Pharmacology II (2 credits)

PAS 5230: Patient Assessment Across the Lifespan II (4 credits)

PAS 5240: Diagnostic Sciences II (2 credits)

PAS 5250: Trends in Medicine and Wellness (2 credits)
Semester 4 - Fall 2025 (15 credit hours)
PAS 5310: Clinical Medical Science and Reasoning III (5 credits)

PAS 5320: Pharmacology III (2 credits)

PAS 5330: Patient Assessment Across the Lifespan III (2 credits)

PAS 5350: Clinical Transitions and Advanced Documentation (2 credits)
Clinical Courses - 3 semesters, 40 credit hours
Clinical Year - Winter 2026 through Fall 2026* (40 credit hours)
PAS 6100: Family Medicine Clinical Practicum (4 credits)

PAS 6200: Emergency Medicine Clinical Practicum (4 credits)

PAS 6300: Internal Medicine Clinical Practicum (4 credits)

PAS 6400: Surgery Clinical Practicum (4 credits)

PAS 6500: Pediatrics Clinical Practicum (4 credits)

PAS 6600: Women's Health Clinical Practicum (4 credits)

PAS 6700: Behavioral Medicine Clinical Practicum (4 credits)

PAS 6810: Clinical Elective I (4 credits)

PAS 6820: Clinical Elective II (4 credits)

PAS 6900: PA Science Capstone I (1 credit)

PAS 6910: PA Science Capstone II (1 credit)

PAS 6920: PA Science Capstone III (2 credits)
*Note: Each course is one month in duration, assigned in any order based on Preceptor availability, with the exception of the Capstone courses.
Capstone I: semester 1 of Clinical Year (Winter 2026)

Capstone II: semester 2 of Clinical Year (Spring/Summer 2026)

Capstone III: semester 3 of Clinical Year (Fall 2026)
Information Session
We invite you to attend one of our Information Sessions that will cover prerequisite requirements, application instructions, and application timeline. Registration is not required to attend.

Virtual Information Session - October 17, 2023 at 5:30 p.m.
In-Person Information Session - November 14, 2023 at 5:30 p.m.
Virtual Information Session - December 19, 2023 at 5:30 p.m.
In-Person Information Session - January 9, 2024 at 5:30 p.m.
*Link for online sessions will be provided on the day of the event.
Please note: The Information Sessions are not designed to go through each person's transcripts to determine equivalencies and qualifications.
For more information, please email pascience@oakland.edu.
Career Information
Physician assistants are versatile and collaborative medical professionals. PAs practice in every medical setting in all 50 states and the District of Columbia. They work in hospitals, medical offices, community health centers, nursing homes, retail clinics, educational facilities, workplace clinics, federal government agencies, and correctional institutions.
Job Outlook
According to the U.S. Bureau of Labor Statistics (BLS), employment of PAs is projected to grow 28% from 2021-2031, much faster than the average for all occupations. As demand for healthcare services grows, PAs will be needed to provide care to patients.
Average Salary
The BLS reports that the median annual salary for PAs was $121,530 in May 2021.
About Preceptorship
Program Overview for Potential Preceptors
First and foremost, thank you for your interest in support for the PA program at Oakland University. We are in the process of program development with plans to welcome our first cohort of students October 2024, pending accreditation. Without community involvement and leadership, clinical education would not be possible. Our goal with the clinical year is to provide our PA students with exceptional clinical experiences with a diverse pool of clinical preceptors. Ultimately, we seek individuals who are committed to preparing our students for clinical practice. This is not only done through fulfillment of program requirements, but also through the individual expertise and wisdom taught by our outstanding clinical preceptors. 
Program Overview
27 months in length. The first 15 months consist of didactic education in the classroom setting, followed by 12 months of clinical year.  

First student cohort incoming October 2024.

*pending accreditation

 

First clinical rotation January 2026.

100 credit program. 

Program to be housed at Oakland University-West Campus (OWC) located at 1500 University Dr, Auburn Hills, MI 48326.
Clinical Year
Clinical year consists of rotations in 7 core disciplines (Internal medicine, family medicine, pediatrics, emergency medicine, general surgery, Women's health, and behavioral medicine) in addition to 2 elective specialties.  Elective specialties in areas such as cardiology, pulmonology, gastroenterology, etc.

Each rotation is 4 weeks in duration.
Preceptor Responsibilities
At the time of student rotation, Preceptors will be provided with rotation objectives in addition to a Preceptor Handbook to guide the education of our students in fulfillment of our program requirements. 

Preceptors will supervise, teach and observe the PA student while providing feedback during the course of the clinical rotation.  

Preceptors will be asked to complete a student evaluation upon completion of the rotation, to ensure the student has met program learning outcomes and successfully passed the rotation.  

Objectives/ evaluations may be rotation specific and will always be provided by our program to the Preceptor prior to receiving student.  
Physician Assistant (PA) Student Responsibilities
PA students are expected to perform detailed history and physical examinations, formulate differential diagnoses, and develop accurate assessments and plans within the scope of practice and through communication with their Preceptor.  

PA students assist/ perform/ interpret diagnostic laboratory studies and procedures, as assigned/supervised by their Preceptor.

PA students are expected to document patient encounters with accuracy and responsibility, as reviewed by Preceptor.

PA students educate and counsel patients on various healthcare issues.

PA students are expected to follow the working schedule of their Preceptor for the assigned month, as determined on the first day of rotation. (40 hours/week is minimal requirement)
Benefits of becoming a Preceptor
Great opportunity for personal/professional growth. 

Earn CME credit. 

Personal satisfaction of "giving back" to medical education, shaping lives of future providers.

Preceptors often state that students help them keep current in their respective fields with latest trends/innovation. 

Compensation for your time and support of the program is available.  
How to become a Preceptor
As a developing program we need to show supporting documentation of clinicians willing to Precept, this is done through a "Letter of Intent". We provide this form which simply documents how many students a Preceptor is willing to take in a Clinical year and in what discipline.  The "Letter of Intent" is NOT a binding contract but rather a show of support for our students. This document may change based on availability of the signing preceptor.  It gives the program an idea for student placement. 

Once we have a "Letter of Intent", there must be an Affiliation Agreement executed between the university and the sponsoring institution associated with the preceptor. This agreement specifies responsibility between the university and sponsoring institution (clinical site), in addition ensures that each PA student is fully covered for liability insurance by the PA program/university.  

Prior to the start of student rotation Preceptors will be provided with an orientation of both preceptor and student expectations.

Please reach out to the Clinical Coordinator (details below) for further information.
For more information about Preceptorship, please contact:
Christopher Davis, MPAS, PA-C
Assistant Professor and Clinical Coordinator
School of Health Sciences, Oakland University
Master of Physician Assistant Science Program
Office: Oakland University - West Campus
Phone: 248-364-8652 (office) | 586-675-3787 (cell)
Email: cdavis7@oakland.edu