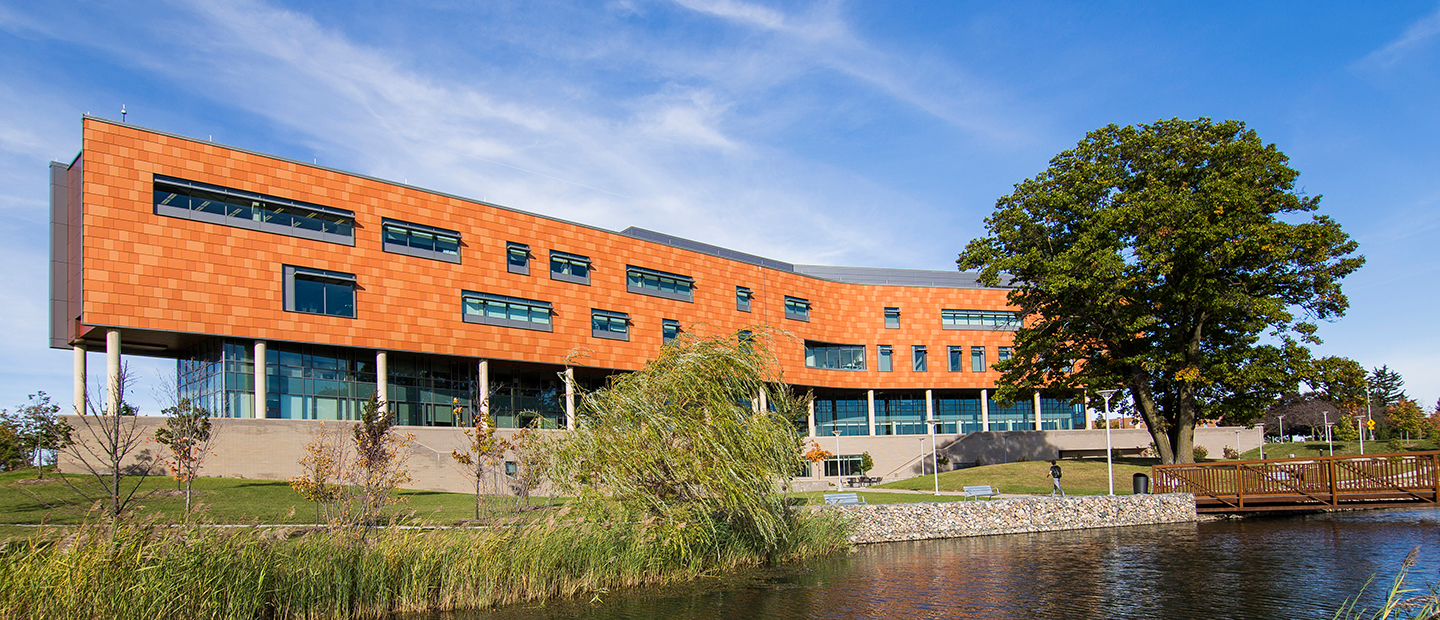 About School of Health Sciences
Oakland University's School of Health Sciences provides an exceptional environment of collaborative, academic and clinical learning to nearly 1,800 undergraduate, master's, doctoral, and post-professional students. Deeply rooted in a foundational model of the natural and behavioral sciences, our mission is to help transform students into leaders and impact the needs of our communities in diverse wellness and health-related practices.

Housed in the 172,000 square-foot Human Health Building, the School of Health Sciences is organized into four core academic departments: Interdisciplinary Health Sciences, "where life and health interests intersect;" Clinical and Diagnostic Sciences, "serving the sciences of clinical determination;" Human Movement Science, "advancing and restoring physical function;" and Public and Environmental Wellness, "pursuing society's big health challenges."
Welcome to the School of Health Sciences at Oakland University. I invite you to explore our website to learn more about our interdisciplinary academic programs.
We describe our journey in the School of Health Sciences as "upstream" - helping to enhance positive steps toward vibrant health for all people and communities. Through thoughtful nutrition, physical vigor, safe environments, mindfulness, and a focus on diagnostic, clinical and rehabilitative sciences, we aim to celebrate life while preventing health concerns before they require downstream attention. This philosophy is deeply embedded across our school, and in everything we do.
In a highly supportive, inclusive and stimulating environment, our dedicated faculty are engaging health-enthused students in cutting-edge research and practices, and we are pursuing knowledge through meaningful engagement with public, professional and clinical partners.
The School of Health Sciences is leading the way toward better upstream health and better downstream care, in our school, our communities, and in our world. I invite you to join us – in purpose for health.
Kevin A. Ball, Ph.D.
Dean and Professor
School of Health Sciences
kevinball@oakland.edu
(248) 364-8673
Mission:
The School of Health Sciences provides an exceptional environment of collaborative, academic and clinical learning that helps transform students into leaders impacting the health needs of our communities in diverse wellness and health-related practices.
Vision:
The School of Health Sciences is passionate about providing students with the best science-based health education, high-quality academic preparation, interdisciplinary teaching and excellence in instruction in the classroom and clinical laboratory.
Values:
Student education will focus on:
science-based education
high-quality academic preparation
interdisciplinary teaching
excellence in instruction in the classroom and laboratory
Faculty commitment is at the heart of our school and will be driven towards:
collaboration and teamwork
innovative teaching
state-of-the-art knowledge
faculty-student research collaborations
intellectual integrity
Leadership will set the example for both our faculty and students to:
be diverse in intellectual, racial, social and cultural endeavors
strive and struggle to improve while embracing change
support interdisciplinary goals, technological advances and quality instruction
The School of Health Sciences Board of Advocacy and Resource Development (BOARD) brings together a diverse group of health leaders from across Southeast Michigan in support of academic, research and community engagement. Each member is committed in his or her own career to help bring about positive change in community health and well-being. Collaboratively, the BOARD is instrumental in supporting the school's transformative learning and innovative outcomes in health. The BOARD meets quarterly with an annual retreat.
Mission and Vision
Mission: In purpose for health

Vision: Supporting transformative learning and innovative outcomes in health
Strategic Goals
The Board's strategic goals include:
Program and Resource Development
Community Engagement and Leadership
Board Structure and Sustainability
Visibility, Marketing and Growth
Innovation, Integration and Transformation
Committee Information
Development Committee
Perform strategic financial planning, recommend fundraising activities and identify fundraising opportunities that support the Schools vision and campaign goals.

Program and Resource Development Committee
Support activities such as the Healthology Symposium and other relevant activities related to SHS.

Healthcare Innovation Committee
Identify initiatives related to the health of the OU campus, surrounding communities, and beyond and work with the SHS and OU faculty and staff as needed.

Board Member Development and Succession Committee
Execute the nomination process for a BOARD candidate and create policies and procedures as to:
how candidates are evaluated for BOARD membership;
how candidates are elected/appointed to the BOARD;
create and implement onboarding process;
how ineffective Board members are removed; and

develop a basic succession policy.
Every gift makes a difference
Your generous gift to the School of Health Sciences can make a meaningful impact in the lives of our students by providing scholarships, enhancing academic programs, and improving labs and other learning spaces. With a planned gift, you can create your own personal legacy in the School of Health Sciences and help further our mission for many years to come.
Thank you
We are extremely grateful for the generous support of our alumni, donors and friends, whose significant contributions over the years have helped the School of Health Sciences continue to thrive and grow.
Aspire. Advance. Achieve.
The School of Health Sciences is proud to be part of the Aspire. Advance. Achieve. fundraising campaign that supports: student success; teaching, research and discovery; community collaboration; campus expansion; and innovative programs.
For more information about the variety of ways you can help support the School of Health Sciences, please contact Sarah Brown, director of philanthropy, at (248) 364-8798 or sarahbrown@oakland.edu.
Created in 2017, the Health Achievement Leadership Legacy (HALL) Award honors individuals associated with OU who have made outstanding health science contributions, helping to advance leadership, community service, research, practice or teaching. Nominations are sought annually, with final selections made by the Dean and members of the Board of Advocacy and Resource Development (BOARD). Awardees are widely respected and recognized as role models to peers in health fields.
HALL Award Recipients
2023

Dr. Ewa Matuszewski — Founder and CEO of Medical Network One, SHS BOARD founder and member
2022
Dr. Chris Stiller — Physical Therapy faculty member and program builder, owner of Pediatric Health Consultants, leader of PT in schools

2020
Dr. Brian Goslin — founder of exercise science programming, mentor
Dr. Robert Jarski — physician assistant, scientist, research leader of holistic health, BOARD founder
Ms. Teresa Stayer (posthumous) — physical therapy alumna, school champion, BOARD founder
2019
Dr. J. Lynne Williams — first faculty, program builder, 40 years of diagnostic sciences leadership
2018
Mr. Arthur Griggs — administrative leader, instrumental in founding of school, BOARD founder (retired)
Dr. Alfred Stransky — visionary founder of Meadow Brook Health Enhancement Institute
2017
Dr. Moon J. Pak — international physician innovator, founder of our school, BOARD founder (retired)
School of Health Sciences