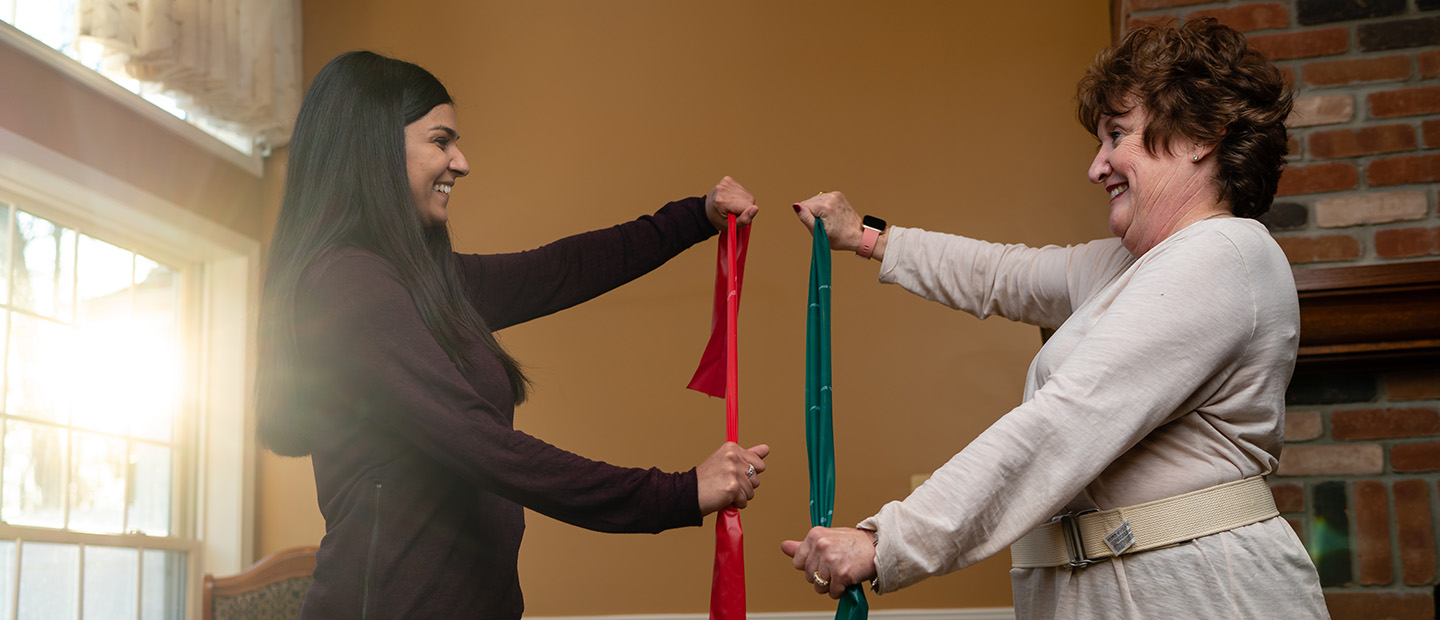 Home-based Older Person Upstreaming Prevention Physical Therapy (HOP-UP-PT)
Committed to community health in people of all ages, Physical Therapy faculty in the Oakland University School of Health Sciences have created the Home-based Older Person Upstreaming Prevention Physical Therapy (HOP-UP-PT) program. HOP-UP-PT is designed to provide early preventative interventions to senior citizens at risk of being homebound by facilitating partnerships between community centers and local physical therapists.

The growing health care demands of an aging population have created an urgent need to develop and examine the impact of novel preventative health care and referral models for community-dwelling older adults.

For more information: (248) 364-8682 | hopuppt@oakland.edu

The program has been supported by a 2016 School of Health Sciences Research Award ($4,500), 2017 Michigan Department of Health and Human Services Innovation Grant ($23,300) , 2018 Michigan Health Endowment Fund- Healthy Aging Award ($201,558), and 2020 Michigan Health Endowment Fund- Healthy Aging Award ($321,075). The Michigan Health Endowment Fund works to improve the health and wellness of Michigan residents and reduce the cost of healthcare, with a special focus on children and seniors.
Mission and Goals
The mission of HOP-UP-PT is to provide early preventative interventions to senior citizens at risk of being homebound by facilitating partnerships between community centers and local physical therapists.
A method that has demonstrated the ability to reduce an older person's health, environmental and behavioral risks is the use of prevention strategies. When healthcare resources are aimed at providing preventative investments for health it can bring about cost savings with associated positive health outcomes. Evidence shows that being able to age-in-place is multifactorial and requires a holistic, cohesive approach. In addition to physical limitations, the capacity of older adults to remain safely in their home includes factors such as social support, nutrition, medication management, home safety, transportation resources, and an overall healthy lifestyle – all of which are within the scope of physical therapist (PT) practice, even though physical therapists do not consistently receive referrals for these skills.
Evidence exists for positive impacts of focused prevention, but there had previously been no robust evidence to quantify the value of prevention-focused, home-based physical therapy services for those at highest risk of becoming home-bound or hospitalized with advancing age. However, outcomes of a statewide randomized control trial examining the efficacy the HOP-UP-PT program proved to have statistically significant reduction in falls and fall risk indicators for HOP-UP-PT participants as compared to older adults not participating in the program. Specifically, an 8-fold reduction in falls among those identified as moderate and high fall risk using the STEADI classification has been reported.
Goals:
To establish partnerships between community centers and local physical therapists to provide direct referrals for preventative services.
To leverage the skills, knowledge of a physical therapist to provide a bridge between the local community and the medical system.
To improve the health and functional outcomes of older adults participating in HOP-UP-PT.
To provide a strong body of evidence to demonstrate the value of integration of HOP-UP-PT into the standard of care for aging adults.
To establish a community and healthcare provider educational platform to expand the reach of HOP-UP-PT program delivery.
To establish reimbursement models for the HOP-UP-PT program which will ultimately provide older adults with access to providers who can provide strategies and tools to age-in-place (AIP) safely.
To integrate technology and telerehabilitation innovations approaches into the program delivery.
Get Involved
The HOP-UP-PT website was created using funding secured through the 2020 Michigan Health Endowment Fund- Health Aging Award. The site provides details of the HOP-UP-PT program, has freely available community facing resources, and is updated with new content regularly.
Donate to HOP-UP-PT
Show your support of reducing catastrophic age-related events like falls through a financial donation. Legacy donations through estate planning are welcomed as well. Make an online gift.
Senior Citizens and Families
I am an older adult or a loved one interested in receiving preventative home-based services by a physical therapist.
Physical Therapists
I am a physical therapist interested in learning more about providing these services to my local community.
Community Service Providers
I am a community center, community health department or health care provider looking to partner with a local physical therapist to support.

Partner Organizations
City of Auburn Hills
City of Novi
Pittsfield Township
City of St. Clair Shores
Saline Area Senior Centers
Van Buren County
The Helm at the Boll Life Center- Grosse Pointe Farms
Henry Ford Community Care Services
News and Publications
The HOP-UP-PT program has been featured in several periodicals and has been featured in a series of peer-reviewed publications in prominent medical journals. Contact us if you would like to collaborate on an article, press release, or other media.
AARP
Age-Friendly Auburn Hills, Michigan
Oakland University
Oakland University partners with Auburn Hills Senior Services for prevention focused program 
Oakland University expands physical therapy study with Health Innovation Grant funds
Peer-Reviewed Medical Journal Publications

Wilson C, Arena S, Romolino N, Flasher E, Morris E, Deel C. Boright L. Administrative and Financial Barriers to Prevention Focused Programs: A Scoping Review and Initial Administrative Results. (Accepted for publication Home Heathcare Now)
Arena, S.K., Wilson, C.M., Boright, L. et al. Impact of the HOP-UP-PT program on older adults at risk to fall: a randomized controlled trial. BMC Geriatr 21, 520 (2021).
Naccarato A, Wilson C M, Arena S K. Perceptions of Rehabilitation Managers on Implementation of the Home-Based Older Person Upstreaming Prevention (HOP-UP) Program: A Retrospective Qualitative Analysis. Cureus 13(4): e14760. doi:10.7759/cureus.14760
Arena SK, Wilson CM, Peterson E. Targeted Population Health Utilizing Direct Referral to Home-Based Older Person Upstreaming Prevention Physical Therapy from a Community-Based Senior Center. Cardiopulmonary Physical Therapy Journal. 2020 Jan 1;31(1):11-21.
Wilson C, Arena SK, Starceski R, Swanson K. Older Adults' Outcomes and Perceptions After Participating in the HOP-UP-PT Program: A Prospective Descriptive Study. Home Healthcare Now. 2020 Mar 1;38(2):86-91.
Wilson CM, Arena SK, Adcock K, Colling D. A home-based older person upstreaming prevention physical therapy (HOP-UP-PT) program utilizing community partnership referrals. Home healthcare now. 2019 Mar 1;37(2):88-96.
Leadership Team
Sara K. Arena, PT, MS, DScPT
Dr. Arena is an Associate Professor at Oakland University. Her teaching responsibilities include a focus on the topics of cardiopulmonary interventions and health promotion and wellness. She also continues her clinical practice as a licensed physical therapist primarily in the home health care setting. Dr. Arena's research efforts are focused toward cardiovascular and pulmonary examination, intervention, and practice in physical therapy and its relationship to health and wellness of individuals in the community and at home.
Christopher M. Wilson, PT, DPT, DScPT
Dr. Wilson is an Associate Professor at Oakland University. He is board certified in geriatric physical therapy. His clinical practice is in cancer physical therapy and acute care. Dr. Wilson's research agenda focuses on palliative care physical therapy and the management of late-stage chronic illnesses. He teaches geriatrics, pharmacology, biophysical agents, and acute care in Oakland University's Physical Therapy Program.
Karen Adcock, SDC
Karen is the Director of the Auburn Hills Senior Services Department.  Karen holds an Associate Degree in Gerontology, a Bachelor of Applied Science with a major in Health Care Administration and a minor in Sociology. She has a certificate in Aging and Disability from Boston University, is a graduate of the American Society on Aging (ASA) Leadership Program, and has over 30 years of professional experience in the field of Gerontology.
Lori Boright, PT, DPT, DScPT
Dr. Boright is the program coordinator for the HOP-UP-PT program. She is an Assistant Professor at Oakland University and has clinical cancer exercise certification. Her teaching responsibilities include clinical education, oncology rehabilitation, and acute care/patient management. Her clinical practice expertise is oncology, geriatrics, and acute care. Her research interests include preventative care and prehabilitation in the oncology and older person domains.
Testimonials
One of the first community participants in the HOP-UP-PT program began noticing health benefits right from the start. Participant F.B., 75, wanted to have professional guidance on ways to improve his overall health, safety and balance in order to be able to continue his active, healthy lifestyle so he enrolled in the program after reading about it in the Oakland Press local newspaper.
"I enjoy things like volunteering, hunting and visiting my grandchildren. I know that I'm not getting any younger and I started realizing that I needed to start paying more attention to my health to be able to keep doing these things that I love. I don't want any declines in my health to dictate what I can and can't do."
Karen Adcock, Director of the Auburn Hills Senior Services, said, "there are so many services and programs that senior centers can provide to their citizens. This has been a great collaboration to improve the health of our community members and the collaborative relationship that allows a community center to directly refer people to a physical therapist has the potential to cut down on healthcare costs, avoid unnecessary medical visits, and is another valuable service that the community center can provide." An emphasis of this program is to reconnect the patient with the senior center after program completion to help sustain the gains that the participants made in the program.