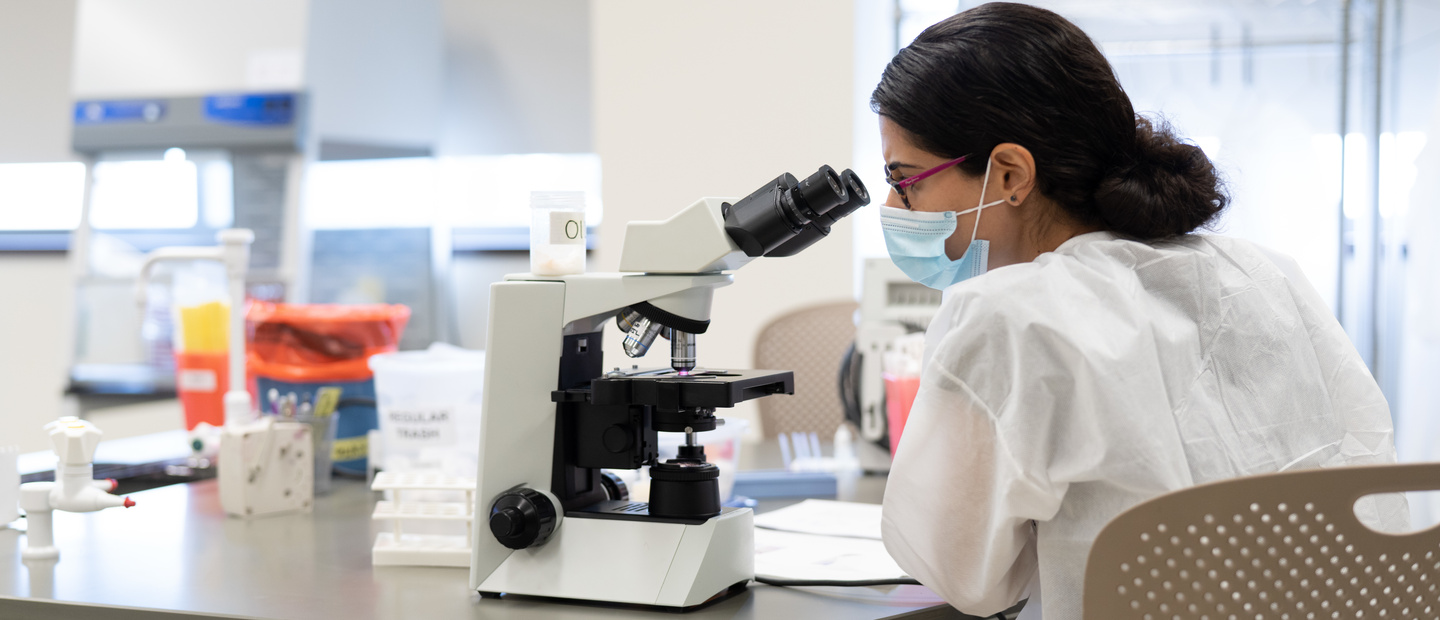 Master of Science in Clinical and Diagnostic Sciences
Whether you are a laboratory or diagnostic scientist, or hold a qualified bachelor's degree, gain the skills necessary to become leaders in a field that is highly valued and continues to grow. Benefiting from the resources in our Department of Clinical and Diagnostic Sciences, you will learn about different aspects of health care, develop further expertise related to your current occupation, and acquire the knowledge and skills required to enter leadership and supervisory roles in your current employment position. Three completion options, sharing a common CDS core curriculum, are offered: traditional, professional development and the combined bachelor's/master's program (coming soon). And we offer a graduate certificate in Pathology Sciences that can be taken as a part of the Master's degree or independently. 
Contact Us:
Dr. Dale Telgenhoff
Associate Professor and Coordinator
Clinical and Diagnostic Sciences
dtelgenhoff@oakland.edu
Career Outlook
Career possibilities include administrative/management, clinical educator, advanced practice specialist, lead technical specialist, technical supervisor.

13% growth in health care occupation employment

7% growth in clinical laboratory technologists and technicians employment

Average annual salary: $65,000 for bachelor's-level Clinical Laboratory Technologist and Technician; $95,310 for graduate level Medical Scientists; compensation for management leadership positions vary in range
Program Goals and Outcomes
The Master of Science in Clinical and Diagnostic Sciences aims to encourage healthcare professionals to obtain additional training and develop critical thinking skills to advance in their profession.
Program Goals
Demonstrate mastery of clinical and diagnostic sciences
Analyze, review and interpret health biomarker data
Apply knowledge of evidence-based practice to critically evaluate clinical case examples
Participate in research projects or independent study designed to expand knowledge within the discipline
Promote diversity and inclusion in research, teaching, public service and training across campus and in neighboring communities 
Upon completion of the program, graduates will be able to:
Apply the advanced knowledge and technical skills needed to serve as active contributors and/or leaders in the clinical and diagnostic science profession
Critically review, appraise and synthesize biomedical sciences literature
Identify and systematically investigate research questions pertinent to healthcare practice
Synthesize new concepts, models and theories through the appropriate application of empirical knowledge and the scientific method to help resolve health sciences issues or problems
Apply current knowledge to evaluate or design more effective ways to deliver clinical laboratory and health-related services
Use a variety of information technologies to address both theoretical and practical problems, enhance communication and disseminate knowledge to applicable audiences and interest groups
Demonstrate proficiency in oral and written communication, using both scholarly and technical formats
Work collaboratively with others to advance the scientific bases of knowledge in laboratory science via ongoing scholarship
Integrate basic principles of ethics and cultural sensitivity within all interpersonal and professional activities
Traditional Pathway (M.S.)
In the traditional pathway, the focus is experience in clinical laboratory research. Complete a set of core CDS courses centering on research methodology and implementation. This pathway includes a capstone project which provides a unique opportunity to conduct a research-based or problem-based project relevant to your career goals.
Professional Development Pathway (M.S.)
Designed for those who already have certification in medical laboratory science or similar health-related areas, this pathway serves professionals seeking management or administrative positions. Take courses in advanced CDS, management, organizational behavior and public administration, and choose from electives in educational theory, leadership, academic affairs and higher education to tailor the program towards your career goals.
Combined Program (M.S./B.S.)
For those enrolled in Oakland's B.S. in CDS program with a specialization in Medical Laboratory Science, the combined program allows completion of both a bachelor's and a master's in less time than if both degrees were completed separately.