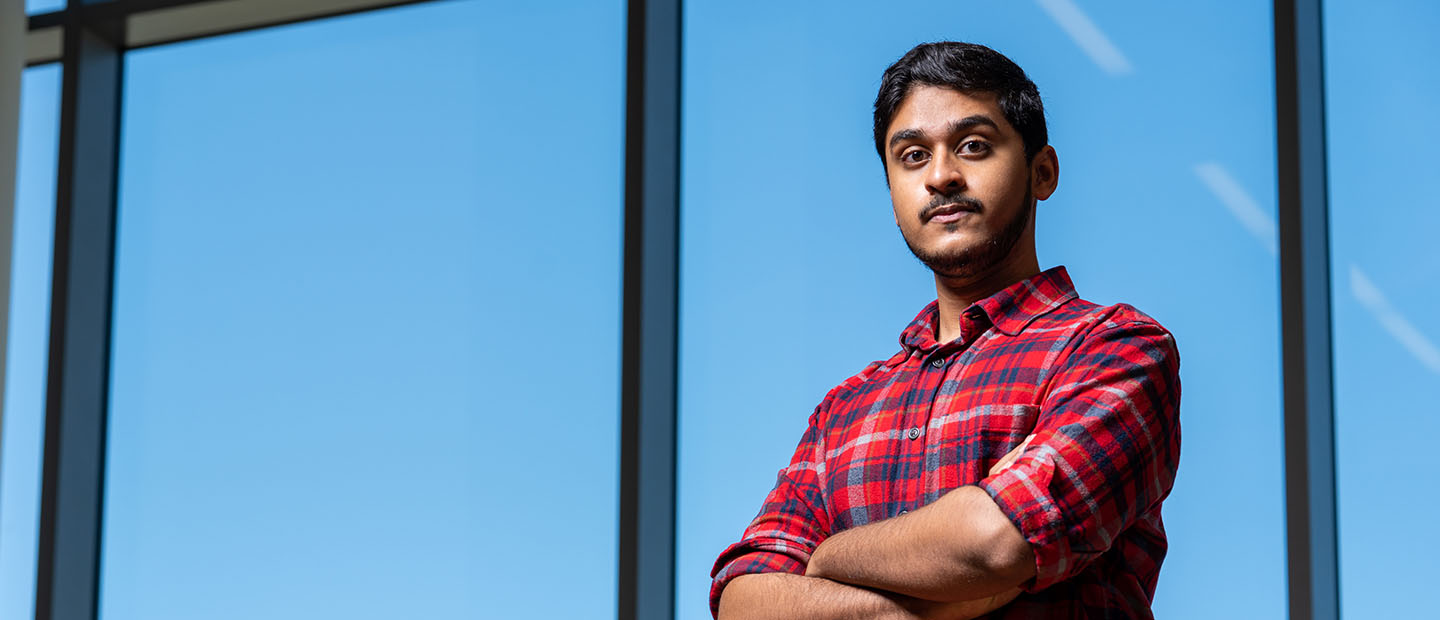 ECLIPSE Leadership Initiative
Explorations in Collaborative Leadership and InterProfessional Education (ECLIPSE)
ECLIPSE is one of only a few health-science specific leadership programs in the country. Unique to the School of Health Sciences, ECLIPSE is a professional development experience for undergraduate students that aims to develop health professionals who impact individuals and populations of people through the power of interprofessional work and collaborative leadership.
"ECLIPSE has connected me with a tight community of caring and ambitious health-focused individuals. Together, we are learning how to become better members of a healthcare team and better leaders in general."
- Nicholas Koshy (pictured above), Platinum ECLIPSE member, Health Sciences (Pre-health Professional Studies) major

Join now

Contact Us
Kelli Dowd
ECLIPSE Program Coordinator
Coordinator for Student Services, Leadership and Engagement
3123 Human Health Building
eclipse@oakland.edu


What is ECLIPSE?
Founded on the ideas of Collaborative Leadership and Interprofessional Education within the field of health, ECLIPSE is designed to help students gain skills in each of our pillars; communication, teamwork, roles, and values, through practice and reflection. By working collaboratively and interprofessionally (multiple disciplines present), our future health leaders can be more intentional and improve patient and community health outcomes.

Our Mission: To foster students' abilities to become leaders within and beyond our communities through diverse, student-centered, collaborative, and interprofessional experiences, in purpose for health.

Our Values: Collaborative Leadership and Interprofessional Education are at the core of leadership in diverse health-related professions. We believe that self-reflection and self-discovery contribute to shaping adaptive leaders' ability to perform effectively in various contexts. We value health-related leaders who positively impact those they serve by:
Understanding that roles and responsibilities evolve and fluctuate
Working independently and in teams
Communicating effectively and responsibly with diverse individuals
Recognizing values and ethics to maintain mutual respect
Our Vision: Through practiced leadership as a collaborative effort, ECLIPSE graduates will be unique assets to diverse health-related professions as they perform with the purpose of improving the lives of others.

As a member of ECLIPSE, you are part of a community within the School of Health Sciences and can learn from peers, staff, faculty, and professionals - in purpose for health.

Participation Information
Through workshops, service and continuous reflection, ECLIPSE encourages you to engage in self-discovery and learn more about who you are and the impact you can make as a leader in your field. ECLIPSE rewards you for what you are already planning on doing (such as attending a lecture, volunteering, or working on a group project in a class) and you earn points as you reflect on these experiences. The opportunity to move up levels and showcase experiences in your leadership ePortfolio will boost your resume and help you to stand out as a leader on campus and in your future career. ECLIPSE has monthly meetings to help you practice skills in each of our pillars and organizes activities for students and mentoring groups. Additionally, our ECLIPSE Activities Board plans a lot of engagement opportunities for participants including our annual bonfire, holiday events, community service, and professional development workshops.


ECLIPSE Levels:
Bronze 100–199 points
Silver 200–299 point
Gold 200–499 points
Platinum 500+ points
* Platinum earners, our highest honor, will receive a stole to wear for graduation.


What does participation in ECLIPSE look like? 
Attend three of four ECLIPSE class meetings each semester. 

Each participant registers for either IPE 1000/1010, IPE 2000/2010, IPE 3000/3010, or IPE 4000/4010
ECLIPSE classes are zero credit hours, but show up on your transcript as "S" Satisfactory or "U" Unsatisfactory
You must remain active in ECLIPSE to receive a "S" 

We will work with those who have a course/work conflict

Meet four times a semester with your peer mentor group (assigned upon entering the program).

Submit four reflections a semester for your involvement on and off campus about the leadership skills you are building around communication, teamwork, roles/responsibility, and values/ethics to earn points towards the next level in ECLIPSE.

Meet individually once a semester with the ECLIPSE program coordinator to review your progress in the program and gain access to resources.

Develop an ePortfolio throughout the program that becomes a digital resume to track your leadership journey and to share with future employers and graduate programs.

Participate in a semester-long Community Health Impact Project in your final year of the program with a group of students from different health majors, in partnership with a health-focused community organization or initiative.

Stay involved in ECLIPSE throughout your entire time as an OU student and gain access to resources, such as research and service opportunities to help you grow as a confident, future leader in health.
Note: If you are a transfer student or were not able to join your first year at OU, you are able to join ECLIPSE and possibly move up levels based on your previous involvement. Contact eclipse@oakland.edu to learn more.
Membership Benefits
Learn skills necessary to be successful in your future career, including: interprofessional roles and responsibilities, effective communication skills, the importance of teamwork, and the ability to recognize and lead with your values. 

Discover your leadership traits through collaboration, understanding and breaking down bias, self-assessment and reflection, and develop an interprofessional leadership ePortfolio.

Practice and build skills, qualities, and aptitudes that are essential to make you stand out and be competitive in health graduate programs and the workplace.

Get matched with a Peer Mentor group to meet new, diverse people who have similar passions as you and might even share some of the same classes.

Gain access and connections to resources such as career coaching, research opportunities, community service, scholarships, jobs, and more to help you be successful in your collegiate journey.
Important Dates for Fall 2022
All ECLIPSE Meetings (hybrid format for Fall 2022 to accommodate all students)
Welcome Back ECLIPSE
September 21 | 5-7 p.m. - 1050 HHB
ECLIPSE Retreat/Orientation (MANDATORY)
October 1 | 8 a.m.-5 p.m. - Location TBD
ECLIPSE Meeting
October 12 | 5-7 p.m. - 1050 HHB
ECLIPSE Meeting
November 16 | 5-7 p.m. - 1050 HHB
ECLIPSE Holiday Gathering
December 9 |  3-4:47 p.m. - 4050 HHB


IPE Course Times for ECLIPSE (all courses hybrid zoom/4050 HHB)
IPE 1000 (43862) - Rising Bronze (incoming first-year students) 
September 30 | 3-4:47 p.m. - orientation for all new members required
October 21 | 3-4:47 p.m.
November 18 | 3-4:47 p.m.
IPE 2000 (43863) - Rising Silver 
October 14 | 3-4:47 p.m.
November 11 | 3-4:47 p.m.
IPE 3000 (43864) - Rising Gold 
October 7 | 3-4:47 p.m.
November 4 | 3-4:47 p.m.
IPE 4000 (43865) - Rising Platinum 
September 16 | 3-4:47 p.m.
December 2 | 3-4:47 p.m.
Students need permission to sign up for the course - please contact eclipse@oakland.edu for more information on how to register.
Student Testimonials
"In ECLIPSE, we learn a lot about how to improve our leadership skills now to better prepare us for our future as healthcare professionals. It is an awesome program that has led me to great relationships with people of so many different backgrounds and opportunities that I would not have pursued if it wasn't for ECLIPSE. I LOVE ECLIPSE!"
- Sofia Mansour, Gold ECLIPSE member, Health Sciences (Pre-health Professional Studies) major

"ECLIPSE has connected me with students that share my interests. We encourage each other on career-related requirements, but we also check on each other as friends."
- Sarah Richards, Silver ECLIPSE member, Health Sciences (Pre-health Professional Studies) major

"Not only does ECLIPSE teach you great leadership skills, it also teaches you great ethics, making you a stronger candidate for med school or dental school. ECLIPSE is a place where you can be yourself."
- Syeda Zaidi, Bronze ECLIPSE member, Clinical and Diagnostic Sciences major

"One of the most valuable experiences of being in ECLIPSE is having the opportunity to serve others before you get into your career, allowing you to build a rapport and get comfortable communicating with people in a stress-free environment." 
- Andrew Duke, Gold ECLIPSE member, Exercise Science major 

"ECLIPSE gave me an immeasurable amount of confidence, in myself and in my leadership skills. When I face the real world, I feel much more prepared as a leader and future healthcare professional."
- Braydon Welch, Platinum ECLIPSE member, Exercise Science major