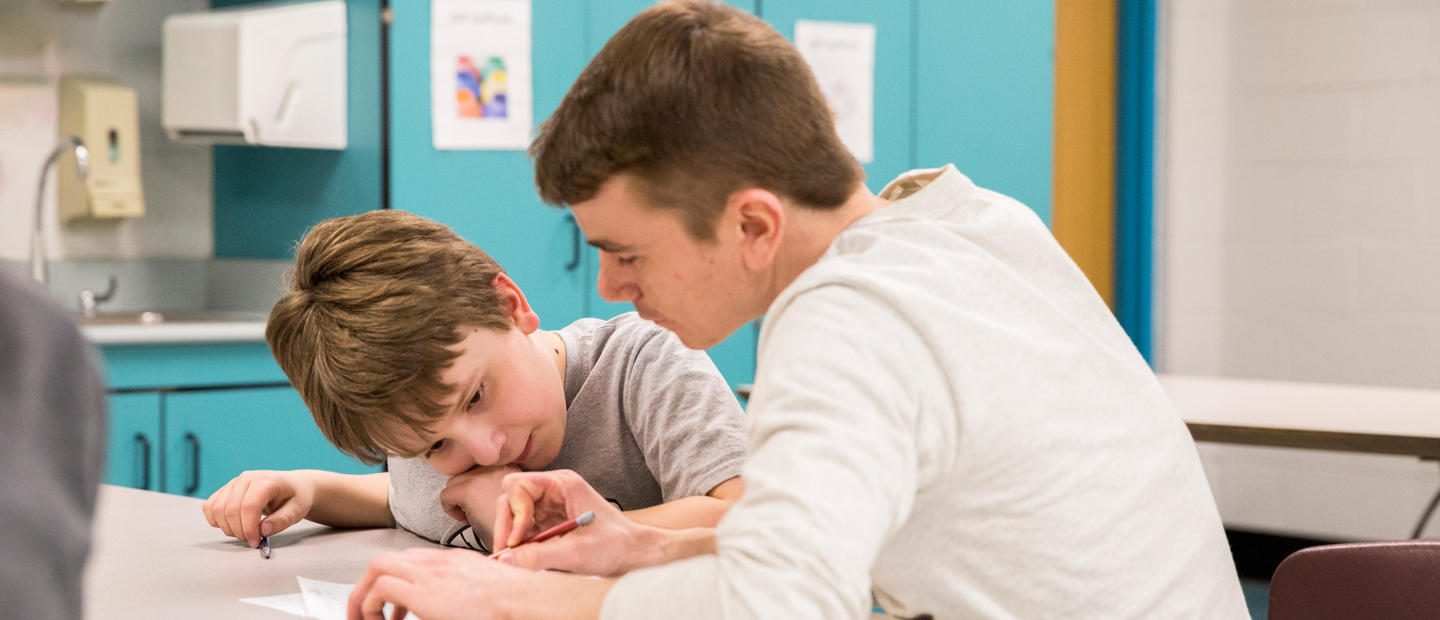 M.A.T. in K-12 Special Education
The Master of Arts in Teaching in K-12 Special Education program is designed for individuals who hold a bachelor's degree and are now seeking a career in teaching K-12 special education. Students can choose between concentrations in emotional impairment (EI) or specific learning disabilities (LD). The program combines teacher education coursework and field placements including a semester-long student teaching experience.
To offer the most flexibility, most courses are held online with some offered through a combination of online and in-person. Any synchronous sessions are held in the evenings. Courses are taken as a cohort group with coursework beginning in the fall semester. At the completion of the MAT in K-12 Special Education program, students will be eligible for a Michigan standard teaching certificate (grades K-12 in), as well as a Master of Arts in Teaching degree. For certification, successful scores on the Michigan Test for Teacher Certification (MTTC) in the selected concentration area are required (MTTC EI Test #116 or MTTC LD Test #114).
Concentrations
Emotional Impairment (EI) Concentration – Focuses on in-depth preparation for working with students with emotional/behavioral disorders.
Specific Learning Disability (SLD) Concentration – Focuses on in-depth preparation for working with students whose conditions affect a child's ability to read, write, listen, speak, reason, or do math. This can include conditions such as perceptual disabilities, brain injury, minimal brain dysfunction, dyslexia, and developmental aphasia that adversely affects a student's educational performance.
Clinical Field Experiences and Student Teaching
One of the primary benefits of Oakland University's teacher preparation program is the field experiences provided working in local school districts. Participants receive varied experiences working with school-age children and have an opportunity to apply coursework to the teaching environment as they learn it.
Students will complete a minimum of 100 hours of field experience to observe instruction, classroom management strategies, work with students, and implement lessons prior to the student teaching internship. These hours are divided into 3 semesters of increasing hours (20, 30, 50 hours). Fields are generally completed as weekly or semi-weekly half-day visits to a classroom during the specified semester.
Field experiences and your student teaching internship are arranged for you by Oakland University and are requirements from the MDE. Applicants should plan ahead to make accommodations to cover these requirements.
The student teaching internship is a full-time, 15 week experience in the classroom and includes all school-related activities.
VIA/SL&L
Students admitted to teacher preparation programs will use VIA Student Learning & Licensure to complete key program assessments, log clinical hours, collect feedback during Student Teaching and prepare their professional portfolios.
To access your VIA Student Learning & Licensure (SL&L) account, visit vialivetext.com. For additional help, visit the VIA (SL&L) Help Site for Students, Faculty, Mentors and Supervisors website.

The recommended browsers for VIA Student Learning & Licensure are Mozilla Firefox or Google Chrome.
Prospective and Current Student Advising
SEHS Advising Office
(248) 370-4182
matinfo@oakland.edu
For additional information, complete the MAT inquiry form.
Faculty Program Coordinator
Erica Ruegg
425F Pawley Hall
matinfo@oakland.edu
In order to be eligible for admission to the Master of Arts in Teaching K-12 Special Education program, you must:
Have a baccalaureate degree from a regionally accredited institution with cumulative GPA of 3.0 or better. Improved grades or a goal statement demonstrating the student's ability for success will be considered.
Have 30+ hours of experience working with children/youth
Complete the online application and all supplemental items
Online Graduate Application

Create an account at gradapply.oakland.edu/apply. After creating your account, select an application type: "Graduate School Application." Open and complete the initial application.

Academic Plans:
Degree Type - Master's Degree
Academic Program and Location - Master of Arts in Teaching – Secondary Education – EI concentration OR LD concentration
Complete 2 Recommendation Requests: Part of online application

Supplemental Items: Return to the Application home screen to submit the additional supplemental items required for this program. Upload or complete the following:

Resume or Curriculum Vita: Include all relevant educational, professional, or volunteer experience with children/youth
Goal Statement: In two pages or less, please include a short biography, your professional goals, and respond to the following: (1) What experiences have led you to believe you would enjoy teaching students with special needs? (2) What grade levels and/or concentration area do you hope to teach and why? (3) What abilities do you have that lead you to believe you can manage a classroom? (4) What do you hope to accomplish in your teaching career?

Other Items

MTTC Test Score(s): If you have already taken your MTTC Test, you can submit official passing test scores to Oakland University for your for concentration area (EI or SLD). Please consult the program coordinator to confirm which test(s) you should complete.
Request official transcripts from all post‐secondary educational institutions from which you earned a degree or that you enrolled in for your prerequisite coursework. Official college transcripts must be sent directly from the issuing college or university to gradinfo@oakland.edu or in a sealed envelope to: Graduate Admissions - Oakland University, O'Dowd Hall, Room 520, 586 Pioneer Drive, Rochester, MI 48309-4482.

Admission Decision
After your application is complete, it can take up to two weeks to hear a decision. To check on the status of your application, you can contact Graduate Admissions at (248) 370-2700 or gradinfo@oakland.edu