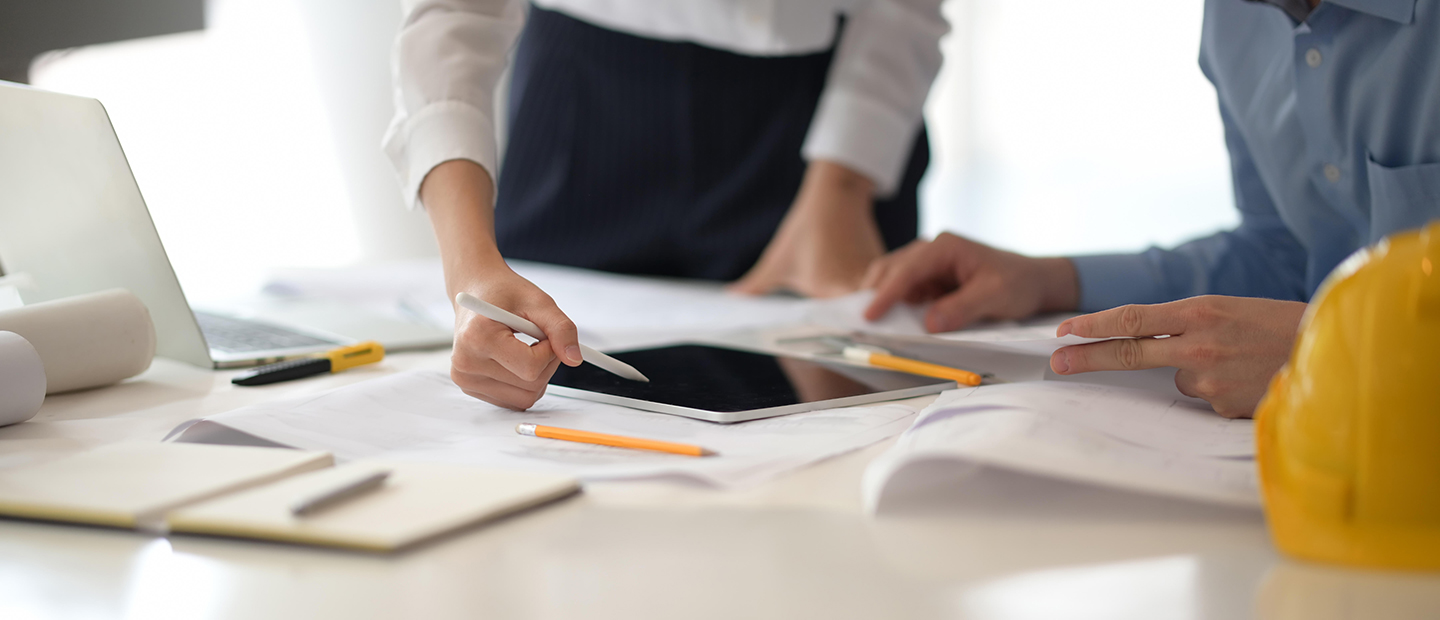 Master of Science in Safety Management
The Master of Science in Safety Management focuses on occupational safety, health and environmental issues in the workplace. Co-designed with the Oakland University School of Business, in this program you will develop the analytical tools and skills necessary for making sound health and safety decisions in the public domain, industry and business. Our curriculum features an effective balance of health and safety classes, business administration coursework, and meaningful applications through safety-related case studies.
The program consists of two concentrations: Technical (new in 2022) and Management. The Technical concentration is designed for those seeking to enter the field, while the Management concentration helps advance the education and career of those already having earned a safety-related bachelor's degree.
The Master of Science in Safety Management is a ccredited by the American Board of Engineering and Technology (ABET).
Curricular Requirements
Apply
Curriculum
Management Concentration
The Management concentration admits those who have earned a Bachelor's degree in Environmental Health and Safety, Occupational Safety and Health, or a related degree. The program is designed for both recent college graduates and in-service safety professionals. Built upon the core of advanced Environmental Health and Safety coursework, this concentration focuses on aspects of managing safety through areas such as safety administration and analysis, research and risk management/loss control, as well as business courses in accounting, human resources, legal aspects of business and more.
With this concentration, you can earn an MBA in only one year after graduating with the MSSM.
Individuals who do not have a safety-related bachelor's degree may be eligible with special permission from the program director if they have four years of safety-related experience, or 22 credit hours of specified undergraduate prerequisite Oakland University EHS coursework. 
Visit the course catalog for more information and contact program director Darryl C. Hill, Ph.D., CSP at dhill@oakland.edu to discuss options for enrollment.
Technical Concentration (new in 2022)
The Technical Concentration of the Master of Science in Safety Management provides a gateway into the field by focusing on occupational health and safety in the workplace. Gain a deep understanding of occupational hygiene and safety standards in addition to safety administration and analysis, research and risk management/loss control.
Prerequisite requirements for the Technical Concentration are the following:
CHM 2010 - Intro to Organic and Biological Chemistry or equivalent

PHY 1200 - Physics of Everyday Life or equivalent

BIO 1002 - Human Biology or equivalent

EHS 2250 - EHS Training Methods

EHS 3380 - EHS Engineering and Technology

MIOSHA Training Institute Level 2 Safety and Health Management Systems Certificate
Alternative academic and practice experiences will be considered. For questions and additional information, contact program director: Darryl C. Hill, Ph.D., CSP at dhill@oakland.edu.
Curricular requirements for the Master of Science in Safety Management can be found in the Graduate Catalog (see Curricular Requirements).
Objectives And Outcomes
The School of Health Sciences has fostered dozens of professionals through the Master in Safety Management program since its launch in 2011. View the current statistics about the program's enrollments and degrees below.
Program Statistics
Master of Science in Safety Management Enrollment and Graduation Numbers
| | | |
| --- | --- | --- |
| Academic Year | Enrollment | Degrees Awarded |
| 2021-22 | 13 | 4 |
| 2020-21 | 7 | 2 |
| 2019-20 | 11 | 5 |
| 2018-19 | 12 | 6 |
| 2017-18 | 15 | 4 |
| 2016-17 | 14 | 2 |
| 2015-16 | 15 | 4 |
| 2014-15 | 15 | 8 |
| 2013-14 | 19 | 1 |
| 2012-13 | 10 | 2 |
| 2011-12 | 15 | 8 |
Program Educational Objectives

Baseline rational question: What should a safety professional be able to accomplish three-years after graduation from the MSSM program? (Revised February 5, 2021)
Collaborate with executive management in an ethical, cost-effective and business oriented manner, and serve as a key contributor to the management team.
Analyze available data and propose effective controls to identify and reduce safety and health risks associated with business systems.
Research, identify and apply leading and lagging EHS indicators to measure and analyze organizational performance.
Effectively analyze loss incidents/hazardous exposures to identify root causes and recommend effective control measure to prevent future events/exposures.
Demonstrate effective oral and written communication skills at all levels of the organization and the community.
Develop and manage safety and health programs including support for the surrounding community in promoting a safe and healthy environment.
Practice and promote professional standards of personal conduct when interacting with others and hold others accountable to do the same.
Continue their professional advancement by practicing life-long continuous learning.
Recognize, analyze and apply where necessary state-of-the art best practices across an organization in both domestic and international locations.
Student Learning Outcomes
In order to meet program Educational Objectives of the Master of Safety Management program, students must be able to meet the following outcomes at the time of their graduation: (Revised February 5, 2021)
Communicate effectively with top management or senior executives and cost justify interventions necessary to protect employees or community, property, and the environment.
Enhance management commitment to workplace improvements in safety and health by increasing management's understanding of safety and health concerns.
Develop increased employee involvement in development of safety and health interventions through better understanding of the business ramifications and needs for safety and health.
Implement safety and health programs/interventions that optimize business and safety performance in unison.
Develop return of investment evaluations that demonstrate understanding for the financial and operational impacts of safety.
Effectively integrate occupational safety and health programs that enhance operational efficiency, productivity, and operational sustainability.
Translate moral, ethical, legal, and operational needs for safety and health program/interventions into terms that enable a business CEO or government agency director to recognize a valid business requirement or public policy.
Identify strategies that align safety and health improvements with organizational priorities.
Demonstrate that safety in the workplace makes good business sense beyond legal requirements and is sound public policy.
Career Information
Graduates of the MSSM program are in high demand, attracting employers from all industries, nationally and internationally.

Safety professionals with a master's degree have higher earning potential. Published every two to three years by the American Society of Safety Professionals — in collaboration with Board of Certified Safety Professionals — the industry salary survey assesses the compensation trends of approximately 10,000 occupational safety and health (OSH) professionals. 
Advisory Board
The Environmental Health and Safety (EHS) Program Industry Advisory Board is composed of EHS professionals from various industries and private sectors who provide input, guidance, and support for the EHS program and its students. These members are key constituents in the continuous improvement process for the program.
Jessica Jannaman, Global Senior Manager of EHS&S, TE Connectivity; Chair, Industry Advisory Board
Dave Andrews, CSP, ARM, Risk Manager, Amerisure
Joshua Boyce, Fire Inspector, Auburn Hills Fire Department
Wendy Burkett, Director, Global Manufacturing Safety, Ford Motor Company
Karly St. Aubin, GSP, EHS Supervisor, Tenneco; Graduate Student Representative, M.S. in Safety Management
Tara Diesbourg, Ph.D., Assistant Professor of Environmental Health and Safety, Oakland University
Oscar Rodriguez Franco, PhD., MPH, MBA, CIH, Assistant Professor of Environmental Health and Safety, Oakland University
Malcom E. Dunbar, CSP, President, MDSC LLC.; Vice President of  Environmental Health and Safety (Retired), Edw. Levy & Co.; Past Chair, Industry Advisory Board
Patrick R. Frazee, CIH, CSP, Past EHS Program Director, Oakland University; Manager (Retired), Health & Safety North America, General Motors
Kathy Glodich, CSP, Director, Loss Control Service, Accident Fund Insurance Company; Secretary, Industry Advisory Board
Darryl C. Hill, Ph.D., MBA, CSP, Senior Vice President of Safety and Security, FirstGroup America; Director, Environmental, Health & Safety Program, Oakland University
John Bolde, CHSP, CHEP, System Director, Safety and Security, Munson Healthcare
Thomas J. Martin, CIH, CSP, Manager, Safety & Industrial Hygiene, Ramboll Environmental
Karen McGuire, Deputy Safety Director (Retired), U.S. Army Tank-Automotive and Armaments Command (TACOM)
Aaron Munoz, Managing Director, ARM Cultural Safety Consulting; ASSP Greater Detroit Chapter, Past President 
Stephen Perrott, Senior Manager of EHS, Assembly, Stellantis
Thomas W. Schenk, Ph.D., MPH, Global Medical Operations and Corporate Epidemiologist (Retired), General Motors; Director (Retired), Environmental, Health & Safety Program, Oakland University
Jennifer Dixon, Air Quality Liaison for the Michigan Department of Environment, Great Lakes and Energy
Deanna Fochesato, Undergraduate Student Representative, B.S. in EHS