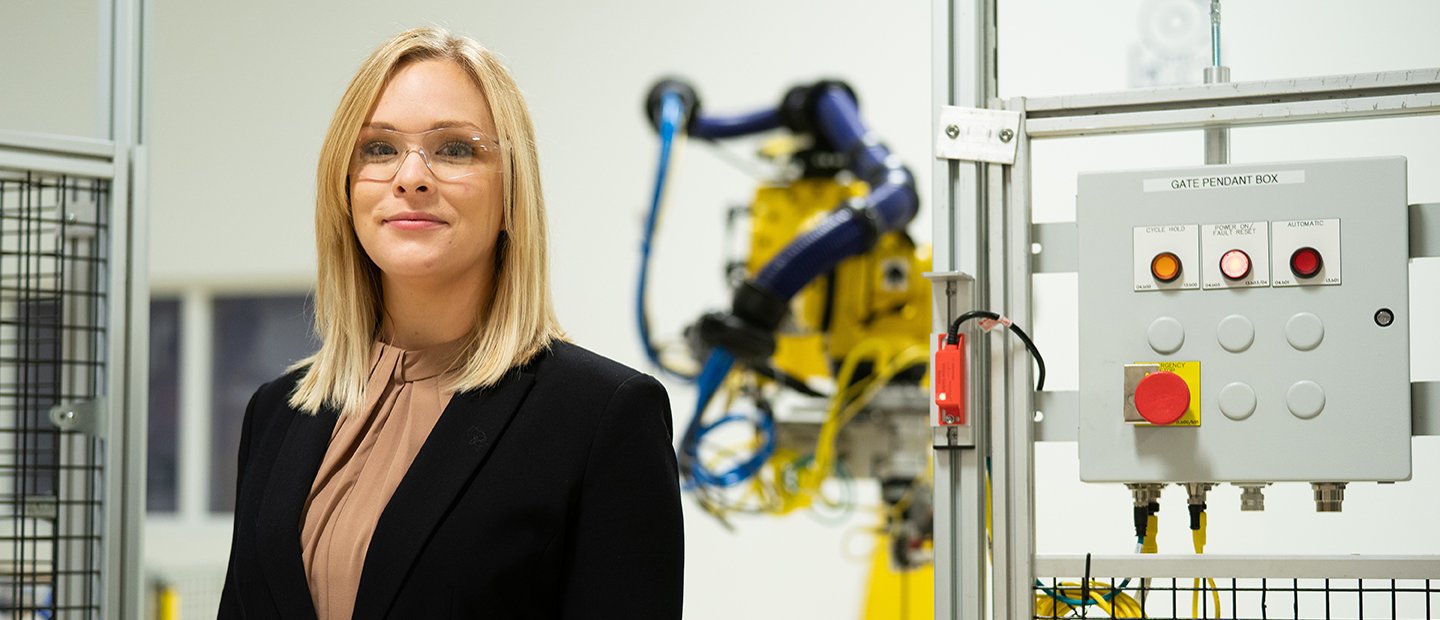 Environmental Health and Safety / Safety Management Combined Program
The Environmental Health and Safety / Safety Management combined program in the Department of Public and Environmental Wellness offers high-achieving students the opportunity to complete a bachelor's and a master's degree in less time than would be required if the two degrees were completed independently. When in the combined program, you can graduate with a Master of Science in Safety Management (MSSM) in about one calendar year after completing a B.S. in Environmental Health and Safety (EHS). View the Master of Science in Safety Management web page for additional details.
Curriculum
Course requirements for the Environmental Health and Safety / Safety Management combined program can be found in the Undergraduate Catalog (see Curricular Requirements).
EHS majors with junior standing that have completed at least half of the major courses and have a GPA of 3.2 or higher may apply to the Graduate School for admission to the combined program.
In the combined program, you will complete 10 graduate level EHS credits at undergraduate tuition rates. After receiving the BS-EHS degree, if you have maintained a minimum overall undergraduate GPA of 3.2 and have earned a final grade of B or higher in each of the 10-credits of graduate courses, you will be reclassified as a graduate student through the Graduate School.
Objectives and Outcomes
Program Educational Objectives for the BS in Environmental Health & Safety
(Revised February 5, 2021) 
Demonstrate effective technical competencies in recognizing, evaluating and controlling workplace EHS risks and hazards. 

Analyze, develop, and evaluate cost-effective EHS programs and safe operating procedures.

Work collaboratively with internal and external stakeholders including labor, management, and the community to build a safe and productive organization.

Apply sound design methodology in multidisciplinary areas to measure, evaluate and analyze EHS performance.

Uphold professional, environmental, cultural, diverse, and ethical standards in EHS practice.

Continue professional advancement through life-long learning opportunities such as graduate study and certification.

Effectively apply appropriate scientific methodologies when utilizing EHS standards, regulations and codes.

Demonstrate effective oral and written communication skills.

Demonstrate commitment to the profession through active participation in EHS organizations.
Student Learning Outcomes for the B.S. in Environmental Health & Safety
(Revised February 5, 2021) 
Baccalaureate degree students graduating from the Environmental Health and Safety program at Oakland University will be able to:
Demonstrate competency in applying concepts and creating programs related to environmental safety, compliance, and stewardship.

Utilize the techniques, skills and modern scientific and technical tools necessary for professional practice.

Demonstrate proficiency in written composition and oral communications.

Apply science knowledge to solve problems using algebra, statistics, human physiology and anatomy, physics, chemistry, and engineering technology as it pertains to EHS practice.

Anticipate, recognize, evaluate, and develop control strategies for hazardous conditions and work practices.

Identify and apply appropriate standards, regulations, codes, and best practices for hazard control and work programs.

Work effectively on diverse teams or team projects.

Design, conduct experiments, analyze and interpret data to provide control solutions to EHS issues.

Know and demonstrate the ethical responsibilities of EHS professionals.

Integrate contemporary EHS issues and the impacts of their solutions within a global and societal context.
Career Information
EHS graduates are in high demand, attracting employers from all industries, nationally and internationally. Safety professionals with  master's degrees have higher earning potential as demonstrated by salary surveys conducted by the National Safety Council and the American Society of Safety Professionals.
Program Support
The Environmental Health and Safety (EHS) Program Industry Advisory Board is composed of EHS professionals from various industries and private sectors who provide input, guidance, and support for the EHS program and its students. These members are key constituents in the continuous improvement process for the program.
Jessica Jannaman, Global Senior Manager of EHS&S, TE Connectivity; Chair, Industry Advisory Board
Dave Andrews, CSP, ARM, Risk Manager, Amerisure
Joshua Boyce, Fire Inspector, Auburn Hills Fire Department
Wendy Burkett, Director, Global Manufacturing Safety, Ford Motor Company
Karly St. Aubin, GSP, EHS Supervisor, Tenneco; Graduate Student Representative, M.S. in Safety Management
Tara Diesbourg, Ph.D., Assistant Professor of Environmental Health and Safety, Oakland University
Oscar Rodriguez Franco, PhD., MPH, MBA, CIH, Assistant Professor of Environmental Health and Safety, Oakland University
Malcom E. Dunbar, CSP, President, MDSC LLC.; Vice President of  Environmental Health and Safety (Retired), Edw. Levy & Co.; Past Chair, Industry Advisory Board
Patrick R. Frazee, CIH, CSP, Past EHS Program Director, Oakland University; Manager (Retired), Health & Safety North America, General Motors
Kathy Glodich, CSP, Director, Loss Control Service, Accident Fund Insurance Company; Secretary, Industry Advisory Board
Darryl C. Hill, Ph.D., MBA, CSP, Senior Vice President of Safety and Security, FirstGroup America; Director, Environmental, Health & Safety Program, Oakland University
John Bolde, CHSP, CHEP, System Director, Safety and Security, Munson Healthcare
Thomas J. Martin, CIH, CSP, Manager, Safety & Industrial Hygiene, Ramboll Environmental
Karen McGuire, Deputy Safety Director (Retired), U.S. Army Tank-Automotive and Armaments Command (TACOM)
Aaron Munoz, Managing Director, ARM Cultural Safety Consulting; ASSP Greater Detroit Chapter, Past President 
Stephen Perrott, Senior Manager of EHS, Assembly, Stellantis
Thomas W. Schenk, Ph.D., MPH, Global Medical Operations and Corporate Epidemiologist (Retired), General Motors; Director (Retired), Environmental, Health & Safety Program, Oakland University
Jennifer Dixon, Air Quality Liaison for the Michigan Department of Environment, Great Lakes and Energy
Deanna Fochesato, Undergraduate Student Representative, B.S. in EHS