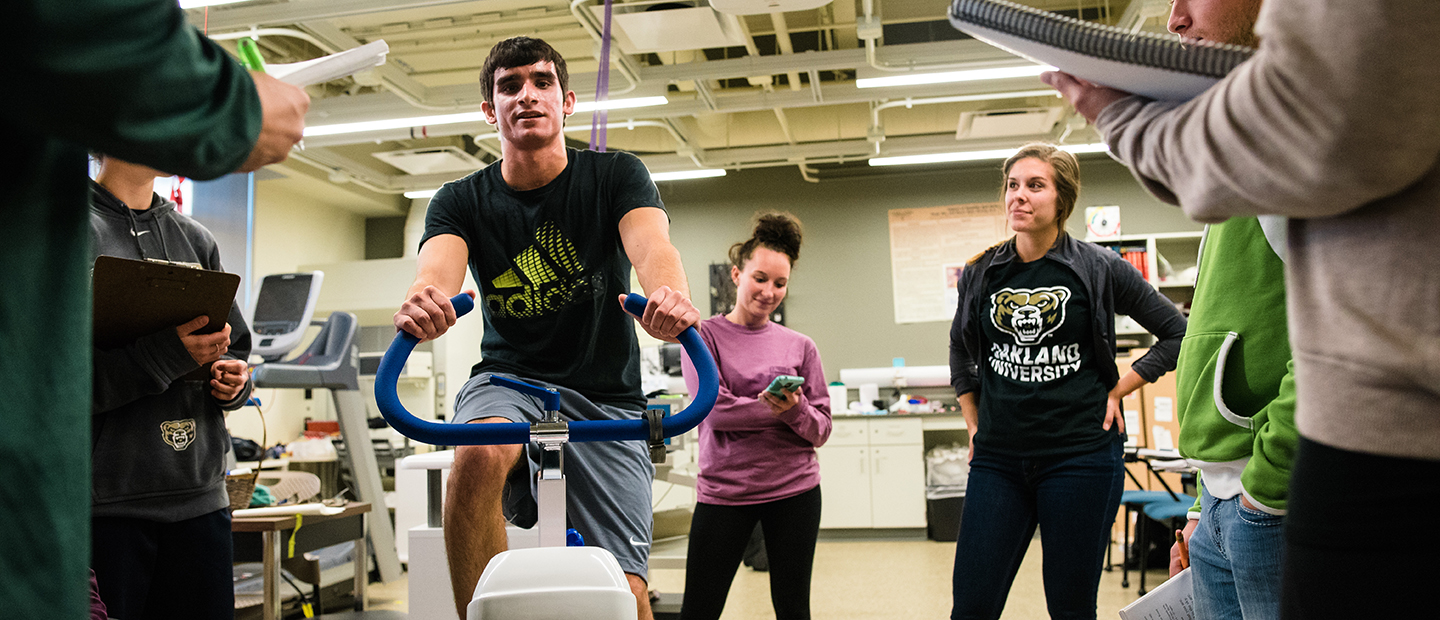 Master of Science in Exercise Science
The Master of Science in Exercise Science program in the Department of Human Movement Science at Oakland University offers a unique multidisciplinary approach, emphasizing deeper understanding of the science of the human body and the key role for exercise in health maintenance, disease prevention, and the improvement of physical performance and overall wellness.

When you graduate from this program, you will be well-prepared to pursue post-graduate degrees and professional certificates in academic (e.g., Ph.D., DSc), clinical (e.g., DPT, DC) and/or professional fields (e.g., ACSM, CHWC, CSCS), and prepared for employment in health/fitness professional, medical exercise specialist, physical rehabilitation, public and corporate health leadership, and academic settings.
This program is STEM designated by the Department of Homeland Security (DHS).
Transcript

I'm a pretty hard worker. It's like a huge personal drive to me. I've always told myself to try, and be better than I was yesterday. My name is Mariah Gleeson, and I'm a masters student studying exercise science. One of the reasons I chose Oakland University was to relocate back to Michigan and be closer to my family. I never expected to be a graduate student, but I gained a lot of insight from my mentors, and they've always pushed me to get a graduate degree. They're getting their PhDs, and they're professors. So they all encouraged me because they enjoyed the field, and I also enjoy the field. I knew if I stopped school after my undergrad, I wouldn't be able to get back into it, and that made me want to continue to graduate school. One of the things at Oakland University I discovered was that I love to teach, and I want to get my PhD to contribute to research. I like being there for the students, and I want them to have a valuable learning experience. If you're on the fence to get a graduate degree, I say if you really love the field, then pursue it. [MUSIC]
Curricular requirements for the Master of Science in Exercise Science can be found in the Graduate Catalog (see
Curricular Requirements
). The curriculum addresses health behaviors and the fundamental exercise processes of physiology, biomechanics and motor ability.
The program consists of 32 credit hours beyond the bachelor's degree.
You will gain practical internship experience in clinical, public or commercial settings, and engage in faculty-supervised research as part of the culminating experiences.
To request a copy of the Internship Requirement Student Handbook,
please contact
Terry Dibble at
dibble@oakland.edu
.
For a copy of the degree plan, please email Dr. Daniel Goble at
dgoble@oakland.edu
.
Admission Requirements

Applicants for the Master of Science in Exercise Science program should hold a bachelor's degree from an accredited institution with an undergraduate cumulative grade point average (GPA) of 3.00 or above. They should have completed the required prerequisite coursework at the appropriate undergraduate or graduate level.
Applicants who are deficient in no more than 8 credit hours, or have less than a 3.00 cumulative GPA, may be considered for conditional admission status.

Admission Procedure
The applicant must complete the application forms provided by the
Graduate School
. Two letters of reference from individuals qualified to comment on the applicant's preparation for graduate study and official transcripts of all academic work are also required. Applicants will be considered for September or January admission.
Admission decisions are made on a rolling basis once all application materials have been received, and may take several weeks.
Admission is selective, with preference given to applicants judged to be the best qualified to undertake the program of study.
For more information or to request a program handbook, please contact Dr. Daniel Goble, graduate program coordinator, at
dgoble@oakland.edu
.
Earning a M.S. in Exercise Science can open up new opportunities that enhance your professional life and increase your income potential. According to the U.S. Bureau of Labor Statistics, careers related to the field of exercise science are growing. Demand is high for exercise science professionals who ensure the safety and health of patients and clients at all ages and skills levels in whatever fields they specialize in.

Potential career pathways include physical therapy, fitness training, coaching, exercise physiologist, recreational therapist, health education, cardiac rehabilitation specialist, or with patients recovering from surgery, cancer, and other serious illnesses.

The master's program is also excellent preparation for post-graduate clinical programs, such as P.T. and O.T.
Upon acceptance into the program, there are several opportunities for students to gain professional experience while contributing financially to the successful completion of the M.S. in Exercise Science degree, including a tuition benefit and stipend.

For information regarding eligibility as well as a list of available positions, visit Financial Assistance. Students must apply for graduate assistantships through Handshake, Career Services' job-search and networking platform for students, alumni and employers.
School of Health Sciences