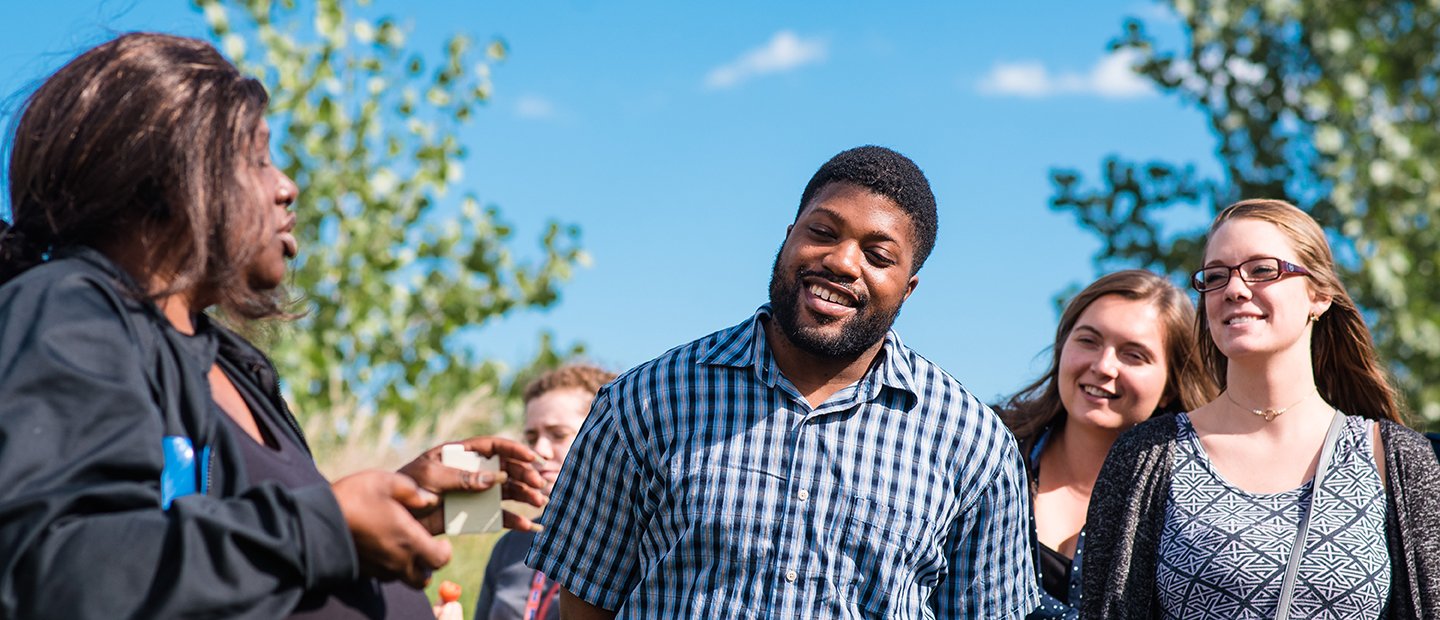 Partnering with local non-profits, health care agencies, corporations and more, you will have the opportunity to determine community needs and develop initiatives that make a positive impact while engaging in public health practices, including needs assessment; program planning, implementation, and evaluation; health policy formation; and health literacy campaigns.
Curricular Requirements can be found in the graduate catalog.
For a copy of the MPH Student Handbook, please email Caress Dean.
Council on Education for Public Health Competencies
MPH Foundational Public Health Knowledge

Profession and Science of Public Health
1. Explain public health history, philosophy and values
2. Identify the core functions of public health and the 10 Essential Services
3. Explain the role of quantitative and qualitative methods and sciences in describing
and assessing a population's health
4. List major causes and trends of morbidity and mortality in the US or other
community relevant to the school or program
5. Discuss the science of primary, secondary and tertiary prevention in population
health, including health promotion, screening, etc.
6. Explain the critical importance of evidence in advancing public health knowledge

Factors Related to Human Health
7. Explain effects of environmental factors on a population's health
8. Explain biological and genetic factors that affect a population's health
9. Explain behavioral and psychological factors that affect a population's health
10. Explain the social, political and economic determinants of health and how they
contribute to population health and health inequities
11. Explain how globalization affects global burdens of disease
12. Explain an ecological perspective on the connections among human health, animal
health and ecosystem health (e.g., One Health)

MPH Foundational Competencies

Evidence-based Approaches to Public Health
1. Apply epidemiological methods to the breadth of settings and situations in public health
practice
2. Select quantitative and qualitative data collection methods appropriate for a given public
health context
3. Analyze quantitative and qualitative data using biostatistics, informatics, computer-based
programming and software, as appropriate
4. Interpret results of data analysis for public health research, policy or practice

Public Health and Health Care Systems
5. Compare the organization, structure and function of health care, public health and
regulatory systems across national and international settings
6. Discuss the means by which structural bias, social inequities and racism undermine
health and create challenges to achieving health equity at organizational, community
and societal levels

Planning and Management to Promote Health
7. Assess population needs, assets and capacities that affect communities' health
8. Apply awareness of cultural values and practices to the design or implementation of
public health policies or programs
9. Design a population-based policy, program, project or intervention
10. Explain basic principles and tools of budget and resource management
11. Select methods to evaluate public health programs

Policy in Public Health
12. Discuss multiple dimensions of the policy-making process, including the roles of ethics
and evidence
13. Propose strategies to identify stakeholders and build coalitions and partnerships for
influencing public health outcomes
14. Advocate for political, social or economic policies and programs that will improve health
in diverse populations
15. Evaluate policies for their impact on public health and health equity

Leadership
16. Apply principles of leadership, governance and management, which include creating a
vision, empowering others, fostering collaboration and guiding decision making
17. Apply negotiation and mediation skills to address organizational or community
challenges

Communication
18. Select communication strategies for different audiences and sectors
19. Communicate audience-appropriate public health content, both in writing and through
oral presentation
20. Describe the importance of cultural competence in communicating public health content

Interprofessional Practice
21. Integrate perspectives from other sectors and/or professions to promote and advance population health

Systems Thinking
22. Apply a systems thinking tool to visually represent a public health issue in a format other than standard narrative
Concentration Competencies
Oakland University's Master of Public Health Program provides its students with a rigorous and community-engaged curriculum that gives them the cutting-edge skills they need to engage in evidence-based public health. This will include translating empirical evidence into public health practice, as well as building the evidence-base through rigorous descriptive and evaluation research. Additionally, students will be able to specifically apply these skills to address health inequities through culturally competent intervention research and practice.
Apply principles of community-based participatory practices in collaboration with a community partner to assess community needs.
Develop an evaluation plan of a public health intervention.
Develop a grant proposal in response to a request for proposal.
Use a community-engaged participatory process to collect, analyze and report the results of primary data in collaboration with a community partner.
Apply the environmental source-disease model to inform hazard prevention and control practices in communities.
Goals
The program's goals addressing instruction, research and service are as follows:
Instruction
Goal: To provide a high-quality, evidence-based and community-focused educational curriculum that prepares students for successful careers in public health.
Research
Goal: Engage in theory-based research, including community-based participatory research, to further knowledge and understanding of core public health issues.
Service
Goal: Faculty will launch productive health-related partnerships with relevant organizations.
Diversity, Equity, Inclusion, and Justice
Goal: Promote an environment that fosters diversity, equity, inclusion, and justice in the program.
No matter where you are on your path to earning a master's degree, OU's MPH program has an option that's right for you. Choose from three flexible tracks to complete the 44-credit program. Students should estimate 10-12 hours of work per week for every 4-credit course.
Option 1: 2-year plan (8-12 credits per semester)
This option is ideal for individuals interested in completing the degree at an accelerated pace, and is not recommended for anyone working more than 20 hours per week.
Option 2: 3-year plan (4-8 credits per semester)
Geared toward individuals who want to pursue the degree part-time, this option allows for flexibility based on personal circumstances.
Option 3: 5-year plan (4 credits per semester)
Designed to fit into your busy schedule, this option enables students to balance work and family life, while pursuing the degree at a slower pace.
Option 4: 6-year plan (4 credits per semester)
Designed to fit into your busy schedule, this option enables students to balance work and family life, while pursuing the degree at a slower pace.
For a breakdown of specific coursework by semester in each option, please email Caress Dean.
Application deadlines:

Fall semester:

February 15 (early), April 15 (regular), July 15 (late)
International student application deadline: May 1

Winter semester:

October 1 (early) and November 15 (regular)
International student application deadline: September 1

Summer semester:

March 1 (regular)
International student application deadline: January 1
Learn more about OU's Master of Public Health Program

We invite you to attend one of our scheduled MPH Info Sessions. These sessions provide an opportunity to learn about OU's Master of Public Health program and hear more from a faculty member as well as a current student.

Click here to register
| | |
| --- | --- |
| Information Session Dates | Delivery Format |
| Wednesday, September 13, 2023 at noon | Online |
| Wednesday, September 20, 2023 at noon | Online |
| Tuesday, October 3, 2023 at 6 p.m. | Online |
| Tuesday, October 17, 2023 at noon | Online |
| Wednesday, October 25, 2023 at 10 a.m. | Online |
| Wednesday, November 1, 2023 at noon | Online |
| Wednesday, December 6, 2023 at noon | Online |
| Wednesday, January 10, 2024 at noon | Online |
| Wednesday, January 24, 2024 at 10 a.m. | Online |
| Tuesday, February 6, 2024 at noon | Online |
| Friday, March 1, 2024 at 1 p.m. | Online |
| Tuesday, March 12, 2024 at noon | Online |
| Wednesday, April 3, 2024 at 10 a.m. | Online |
| Tuesday, April 16, 2024 at noon | Online |
| Tuesday, May 16, 2024 at noon | Online |
| Tuesday, May 29, 2024 at 10 a.m. | Online |
| Wednesday, June 5, 2024 at noon | Online |
| Wednesday, June 26, 2024 at 6 p.m. | Online |

Admission Requirements
The Graduate School application (additional details can be found on the Graduate School's website)
Goal statement of no more than 1000 words describing:

Reason(s) for seeking an MPH degree
Interest in pursuing a master's degree at Oakland University's Master of Public Health program
Public health experiences through work, volunteer, or courses
Long-term public health professional goals
Explanation of life experiences and the circumstances of a low GPA (if applicable)

Official transcripts indicating a baccalaureate degree from a regionally accredited undergraduate institution

Transcripts for any graduate certificates or post-baccalaureate courses in progress or completed should be submitted and will be taken into consideration during the review process.

Undergraduate overall grade point average of at least 3.0

A minimum grade of at least a B- in an undergraduate statistics course and an undergraduate writing or writing-intensive course is recommended.

Three (3) recommendation forms and supporting letters from faculty members, supervisors, or professional mentors

Recommendations from faculty members are encouraged but not required.

A current resume
International applicants will additionally have to meet the University's standards established in the International Student Supplemental Application Packet - additional details on the packet can be found on the Graduate School's website.
Qualifications
Admitted or enrolled in OU's Master of Public Health or public health

combined program

Completed Free Application for Federal Student Aid (FAFSA)

United States citizen, national or permanent resident
Award Criteria
Economic need (determined by applicant's family income reported in the

Federal Student Aid Family application, in accordance with the Health and

Human Services' Federal Poverty Guidelines)

Educational background (first-generation college student - i.e. neither

parent completed a four-year degree)

Environmental background (history of foster care or rural residence)
How to Apply
Email program director Dr. Caress Dean at caressdean@oakland.edu

Complete the Free Application for Federal Student Aid (FAFSA)

Additional

verification will be required
Scholarship Recipient Requirements
Attend mandatory orientation in August

Sign the PHS commitment form confirming understanding of all program qualifications/requirements

Maintain a GPA of 2.7 or higher

Expectation of a minimum two-course load per academic semester

Complete three months of practicum addressing health disparities and health inequities in medically underserved communities

Attend at least one job fair or networking event

Seek employment in medically underserved areas

Report on program experience and post-graduation employment

Maintain active connection as an alum
Additionally, new applicants will be preferred over past Public Health Scholarship awardees.
With an increasing concern for public health needs around the world, the career outlook for individuals with an MPH degree is positive and expected to grow in coming years. Professional opportunities are varied in both the public and private sector, including:
International health organizations (e.g., World Health Organization, Doctors Without Borders)
Federal government agencies (e.g., Centers for Disease Control and Prevention, National Institutes of Health)
State and local health departments (e.g., Michigan Department of Community Health and Oakland County Health Division)
Voluntary and philanthropic organizations (e.g., American Red Cross, Kresge Foundation, Skillman Foundation)
Corporations and worksite wellness sites
Local hospitals (e.g., Beaumont Health, Henry Ford Health System)
Non-profit community-based organizations (e.g., Migrant Health Promotion, Alternatives For Girls)
Job Outlook
According to the U.S. Bureau of Labor Statistics (April 2022), employment of health educators and community health workers is projected to grow 12% from 2021 to 2031. As of May 2023, the average annual pay for MPH jobs category in the U.S. is $116,386 (ZipRecruiter).
Examples of where our alumni work:
Oakland County Health Division
Monroe County Health
Genesee County Health Department
Ascension Health
Greater Flint Health Coalition
MedNetOne Health Solutions
Meridian
University of Michigan School of Nursing
Karmanos Cancer Institute
National Kidney Foundation of Michigan

Southeastern Michigan Health Association

Spectrum Health

Henry Ford Health System

Gleaners Community Food Bank

Michigan Department of Health and Human Services
Comprised of dedicated public health professionals across Southeast Michigan, the OU Public Health Advisory Board (PHAB) plays an integral role in providing counsel on program strategies and objectives, public health priorities, and trends in public health practice. Promoting the program in the community, and advancing professional development and networking opportunities are central to the board's mission.
| Name | Agency |
| --- | --- |
| Andrew Cox, MPH, REHS | Macomb County Health Department |
| Christina Harvey | Oakland Schools |
| Lisa McKay-Chiasson, BS, MPH | Oakland County Health Division |
| Christina Golding-Jewett BSN, RN, CCM | Honor Community Health |
| Krista Willette, RN, MSA | Macomb County Health Department |
| Matthew Stiffler, PhD | Center for Arab Narratives |
| Contessa Rudolph | Henry Ford Health |
| Anthony (Tony) Drautz, DHA, MSA, RS/REHS | Oakland County Health Division |
| Jenifer Hughes | Oakland Southfield Physicians |
| Elijah Olsen | Oakland University |
| Atoysha Bassene, MPH | Oakland University |
| Aleksandra Vucevski, MPH | Oakland University |
| Caress Dean, PhD, MPH | Oakland University |
| Rebecca Cheezum, PhD, MPH | Oakland University |
| Mozhgon Rajaee, PhD, MPH | Oakland University |
School of Health Sciences