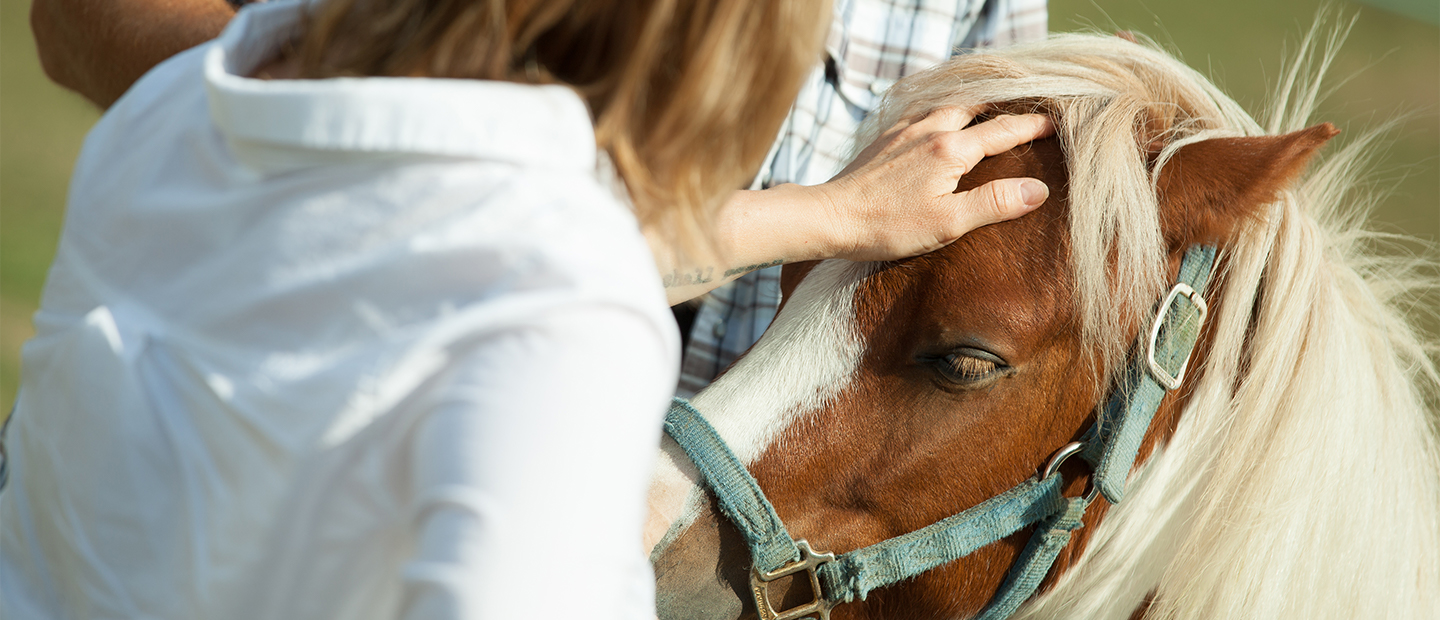 Animal-Assisted Intervention
The Center for Human Animal Interventions (CHAI) is located in the School of Nursing and runs in conjunction with Professional and Continuing Education (PACE). Keeping with the main objectives of the Center, the center will become the primary resource for all things related to the Human Animal Bond and Animal Assisted Interventions and will contribute to research and literature within the area of study. A key component to this program is the implementation and advancement of ethical standards and competencies to be used as an industry standard by both professionals and volunteers in the field of HAB and AAI.
BECOME A BETTER PRACTITIONER 
Competencies related to Animal Assisted Interventions (AAIs) were published and endorsed by the American Counseling Association in 2016, which were the first set of professional competencies in AAI in the country They have since been adapted and endorsed by Pet Partners, Animal Assisted Interventions International and the American Psychological Association's Human Animal Interactions Division 17 Section 13. Oakland's program supports the efforts to ensure that graduates of this program have the knowledge, skills and attitudes necessary to practice AAIs in the safest and most efficacious manner. These competencies were founded on a Grounded Theory study designed to promote the three domains of competencies (knowledge, skills, and attitudes) and identified 9 competency areas (Stewart, L.A., Chang, C. Y., Parker, L. K., & Grubbs, N., 2016). 
These areas include:
1. Formal AAT Training 
2. In-depth animal knowledge 
3. Knowledge of existing ethical requirements 
4. Mastery of professional skills (without an animal first)
5. Intentionality 
6. Specialized skill set
7. Animal advocacy
8. Professional development 
9. Professional values 
While no one program or course can offer everything, this workshop seeks to satisfy the need for education in this area that aligns with the competencies. Check out our CE Workshops and Courses tabs for educational activities that might interest you.  
Mission Statement: "To promote the thoughtful and ethical practice of animal assisted interventions by focusing on practitioner competency, quality client care and optimal animal welfare."

Our advisory committee is comprised of content experts and will help make this mission a reality.
ABOUT OUR FACULTY
Melissa Y. Winkle
Melissa Y. Winkle OTR/L, FAOTA, CPDT-KA is an occupational therapist and a Certified Professional Dog Trainer. She is President of Dogwood Therapy Services, an occupational therapy private practice and dog training facility in New Mexico, USA. Melissa is a founding member and current President of the European based organization, Animal Assisted Intervention International. She has been involved with Oakland University, Center for Human-Animal Interventions since 2014 in several capacities. Melissa is a practitioner, a researcher, a writer and speaks internationally on disability, integrated community based program development, animal assisted interventions, and service dogs. She has published a series of books titled Professional Applications of Animal Assisted Interventions, available on Amazon.
Animal Assisted Interventions
What are AAIs?
Animal assisted interventions offers a positive behavioral support intervention for young people with severe emotional or behavioral problems as well as provides emotional, psychological and physiological support for the critically ill, elderly, physically impaired and more. The difference you will make in the lives of others will be extremely rewarding. Animal assisted therapy has also been effective in nursing homes, counseling centers and hospitals. A diverse range of people can apply animal assisted therapy to their professional careers, including: nurses, teachers, counselors,  physical therapists and sociologists.
Those interested in enrolling should complete an admission application. For those needing financial assistance, there is a payment plan (with a 10% discount) and a CHAI scholarship opportunity. Here are the instructions for enrolling in the Payment (Installment) Plan. For additional questions, please contact oupace@oakland.edu. 



Overview of Oakland's Program
Oakland University's Animal Assisted Intervention Certificate program addresses several health and social issues, including an increased need for alternative, innovative and holistic practices.

Taught by multidisciplinary professionals, Oakland's animal assisted intervention program helps fulfill the need for alternative, innovative and holistic health care practices. In addition, animal assisted therapy addresses several social issues, such as:
providing educational, therapeutic and health benefits for at-risk children and adolescents, the elderly and other special-needs populations
helping patients in nursing homes, counseling centers and hospitals
What is a certificate in AAI?
This Certificate Program focuses on the differences between Animal Assisted Activities, Animal Assisted Education, and Animal Assisted Therapy as well as how to setup a program to achieve the outcomes you'd like to see within the population with which you are working. This program is ideal for people in service professions (teachers, nurses, therapists,occupational therapists, etc.) who want to add AAI to their skill set and introduce either their own animals or other animals or people who want to conduct AAI, start a non profit or become a more credible volunteer. This program focuses on the human side of AAIs. No one program can meet all the needs of a competent provider. Hands-on components and specific animal behavior workshops and courses should be attended. This program does include a hands-on component to help tie in all elements and is working on a mentorship program. 

What types of animals can be integrated into AAIs? 
Cats, dogs, horses, rabbits, hamsters,etc. This program will help you identify what animals/pets would make safe, reliable therapy animals.

100% online:
The program is offered completely online. It runs in a consecutive format. There are deadlines and weekly due dates for assignments, but you can do them and post at your discretion. Most students say that the work is not overwhelming and many work full time jobs or take full time classes along with this program. We offer a capstone project which includes the writing of a full proposal/business-type plan rather than an internship. At the end, you will receive a professional development certificate from Oakland University.

Is the program accredited?
There is no national accrediting body for AAI, but having a certificate will make you more credible. We want to demonstrate how to incorporate AAI into any service field or type of service organization and you will have the chance to create by the end of the courses a plan specific to your needs that can be presented to a supervisor or potential facility for approval to add AAI to the location of your choice. This program will help establish standards and competencies for your work. There are competencies, ethics and best practice guidelines available including Animal Assisted Interventions International, American Counseling Association and the American Psychological Association's Human Animal Interaction Section 13. 

Examples of Goals for AAI:
The goal we want to achieve with each person that enters our program is to help them reach their own goals for their AAI programs.
AAI can assist with these goals and changes:
Physical Changes ( disabilities, body posture, etc.)
Cognitive Changes (Learning, etc.)
Emotional Changes (Feeling, Recognizing, etc.)
Physiological changes (Heart rate, etc.)
Behavioral Changes (Altering behaviors)
Applying for this program at Oakland University will benefit you by reaching for your goals and creating new opportunities. 

What you'll learn: 
Oakland University's academic approach to animal therapy will help you develop an overall understanding of the human animal bond and healing implications with vulnerable populations. You'll learn:
How to incorporate animal assisted interventions in current practices. 
How animal assisted research applies to real-life applications
What the difference is between animal assisted interventions
How to gain a theoretical framework for animal assisted interventions how to start your own non-profit organization
Where to volunteer.
Assumptions:
We are using this in those simplest of terms- a relationship that provides a sense of safety and reduces anxiety or stress
None of these are uniquely human (insel, 1997)- Social dynamics between people and pets have qualities similar to that of human social relationships. 
*The AAI certificate was created in 2007 for the demand people had for the program. A grant from the president's office allowed the program to accept students from all over the world. This program is great for anyone who wants to accept AAI into their work with starting non-profit groups or become a better volunteer for some of these groups. This is an easy program completely online based with 5 Modules throughout a one year span. This online course will give you well-rounded training for your future involvement with AAI. The best part is that the workload is manageable and will teach you great skills involving Animal Assisted Interventions. The workload is at your own pace to work with your schedule of time.
Modules
The program includes six consecutive 5-week modules in the following areas:
Module 1- Intro to AAI (Instructors: Melissa Winkle)
Includes readings on the literature and the learning on what it takes to get started with AAI.

Module 2-  Animal Action Plan (Instructors: Melissa Winkle)
Preparing your animal to work in a therapeutic setting including concepts associated with selection of animals, identifying signs of stress and enjoyment in dogs, using humane training methods, and more.

Module 3- Special Populations (Instructors: Melissa Winkle)
Includes a closer look at vulnerable populations and how AAI will fit in with the populations. 

Module 4- Session Planning and Outcomes (Instructors: Melissa Winkle)
Treatment planning vs. session planning, having intentionality in practice, identifying outcomes for sessions, applying a theoretical framework, and more. 
Module 5 - Administrative Policies (Instructors: Melissa Winkle / Jennifer Cepnick)
Conducting risk assessments and management plans to mitigate risks, insurance for AAI practices, reviewing zoonotic concerns, and more. 

Module 6- Capstone (Instructors: Melissa Winkle)
Includes writing a final paper on introduction, needs assessment, methodology, budget / resources, similar programs, and outcomes.
(optional) Hands On Practicum 
CHAIS Credentials
Upon satisfactory completion of Oakland University's Animal Assisted Intervention Certificate Program, students may use the credentials CHAIS (Certificate as a Human Animal Intervention Specialist) to demonstrate that they have received education specific to AAIs. This program includes six 5-week modules and includes a review of theories, lit review, session planning, policies and legal issues, special populations, therapy animal welfare and a final capstone. Each cohort begins in September.
How to Register/Cost
Complete the online  Admission Application

Once you hear back from the committee, you can register at www.oakland.edu/pace. 

Courses are $499 per course (both in/out of state; in/out of country) x 6 courses plus the costs of books (available on Amazon). Payment of $499 is due prior to the start of each course. Full price for the program is $2,994. Payment plans are available. A discount is available for those who enroll for all modules and participate in the payment plan option. Email Jennifer Cepnick at jecepni2@oakland.edu for more information and for application forms. CHAI also offers the Sydney Zaleski financial award in memory of a wonderful AAI-C graduate.
Read more about whether your dog would make a suitable co-therapist in this article: Considerations for Selection, Evaluation and Suitability for Animal-Assisted Therapy
Winkle, M., Johnson, A., & Mills, D. (2020). Dog Welfare, Well-Being and Behavior: Considerations for Selection, Evaluation and Suitability for Animal-Assisted Therapy. Animals, 10(11), 2188.
ABOUT THIS PROGRAM
This program will help establish standards and competencies for your work. There are competencies, ethics and best practice guidelines available including
,
Animal Assisted Interventions International
,
American Counseling Association
and the American Psychological Association's Human Animal Interaction Section 13.
Goals for the Center include:
Providing a thorough understanding of the theories and intentionality used in the practice of AAI
Providing a thorough understanding of the various populations that benefit from AAI and the types of animals that make the best fit
Determine what animals make the best "therapy" animals and how to register one's animal
Add to the base of literature in order to advance the field
Expand and deepen learning and related academic initiatives and scholarship at OU
Disseminate ethical standards and benchmarks in the industry as determined in collaboration with other experts in the field
To have courses taught by experienced faculty in a variety of disciplines
Have the ability to offer CEUs in a variety of disciplines
Encourage inter-professional collaborations on campus, in the community, around the country and around the world
Member of: 
aaii - Animal Assisted Intervention International
IAHAIO International Association of Human-Animal Interaction Organizations
isaz - International Society for Anthrozoology
IAABC - International Association of Animal Behavior Consultants
Human-Animal Interaction
CE Courses
Staying current on trends, techniques and research is critical in ensuring optimal welfare of the practitioner, animal and client. These short, online courses will provide the necessary information to practitioners or those considering entering the field of Animal Assisted Interventions.
CEOD 20200 HAI OF A DIFFERENT KIND
This educational activity will explore a Human- Animal Intervention as a case study that has been an effective adjunctive intervention to youth already receiving therapeutic services within the Juvenile Detention system. In this course, the instructor will share experiences and best practices with adjudicated youth and  exotic (non-domestic) animals from the Cincinnati Zoo and Botanical Garden for the benefit of both.
(search for CEOD 20200) 
------------------------------------------------------------------------------
CEOD 20300 ZOONOTIC CONSIDERATIONS IN AAIs
Animal Assisted Therapy is a health intervention that incorporates animals as the focus of treatment. The overall goal is to improve the well-being of the population of interest, it is critical that we examine not only the health benefits of this contact but its potential risks to both human and animal. This one hour module will review potential zoonotic risks for handlers, patients and therapy animals. 

1 CE (nursing)