Friday, Aug 13, 2021
White Coat Ceremony follows busy first year for OUWB Class of 2024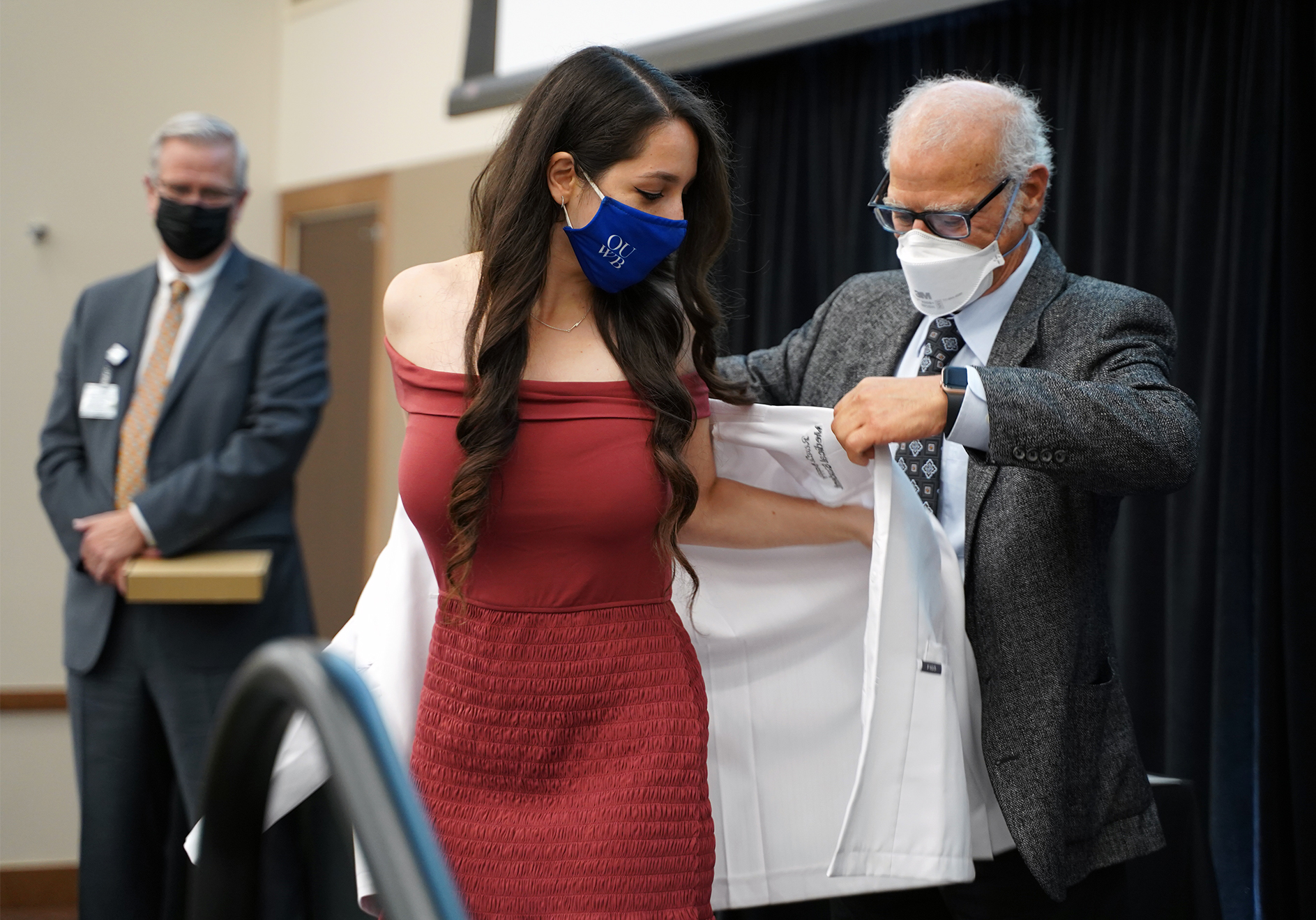 Revelle Gappy receives her white coat onstage from Mark Sinkoff, M.D., her PRISM team mentor.
COVID-19 forced the White Coat Ceremony for OUWB's Class of 2024 to be held about 365 days late — but that hasn't prevented the medical students from having a successful first year of medical school.
That was the overriding message of the special ceremony held Friday on the campus of Oakland University and livestreamed online.
The White Coat Ceremony traditionally is held as students begin medical school, but — like many other 2020 events — COVID-19 forced the event to be rescheduled. Attendees of Friday's ceremony were required to wear masks, and attendance was limited to students and parents.
"Last summer, I told you to circle the date of August 13, 2021, and here we are," said Duane Mezwa, M.D., Stephan Sharf Dean, OUWB. "I am so pleased that we are here…sharing the joy of this ceremony together and with those who mean the most to you."
The White Coat Ceremony centers on the value of humanism as the core of health care, emphasizing the importance of both compassion and scientific excellence. Each student receives a white coat, a symbol of a commitment to the responsibilities associated with the practice of medicine.
The class also recites the Oath of Geneva — the declaration of physicians' dedication to the humanitarian goals of medicine.
Mezwa not only explained the significance of the white coat and oath, but also had the unique opportunity to address students participating in a White Coat Ceremony who already have had a year of medical school.
"I am amazed at how this class succeeded during challenging times…demonstrating resilience and the desire to achieve the academic goals of the first year of medical school," said Mezwa.
Mezwa commended the students for learning remotely while staying in close proximity to OUWB's campus to attend classes in small groups, when possible.
"You made it a productive year in your mostly virtual classrooms and in your engagement with the community," he said. "We have many reasons to be proud."
The class also has been plenty busy outside of the classroom, and Mezwa highlighted many of the achievements involving the class, including:
"Class of 2024, congratulations on making the most of a challenging first year," said Mezwa. "I believe that your perseverance and positivity is only going to get stronger this year."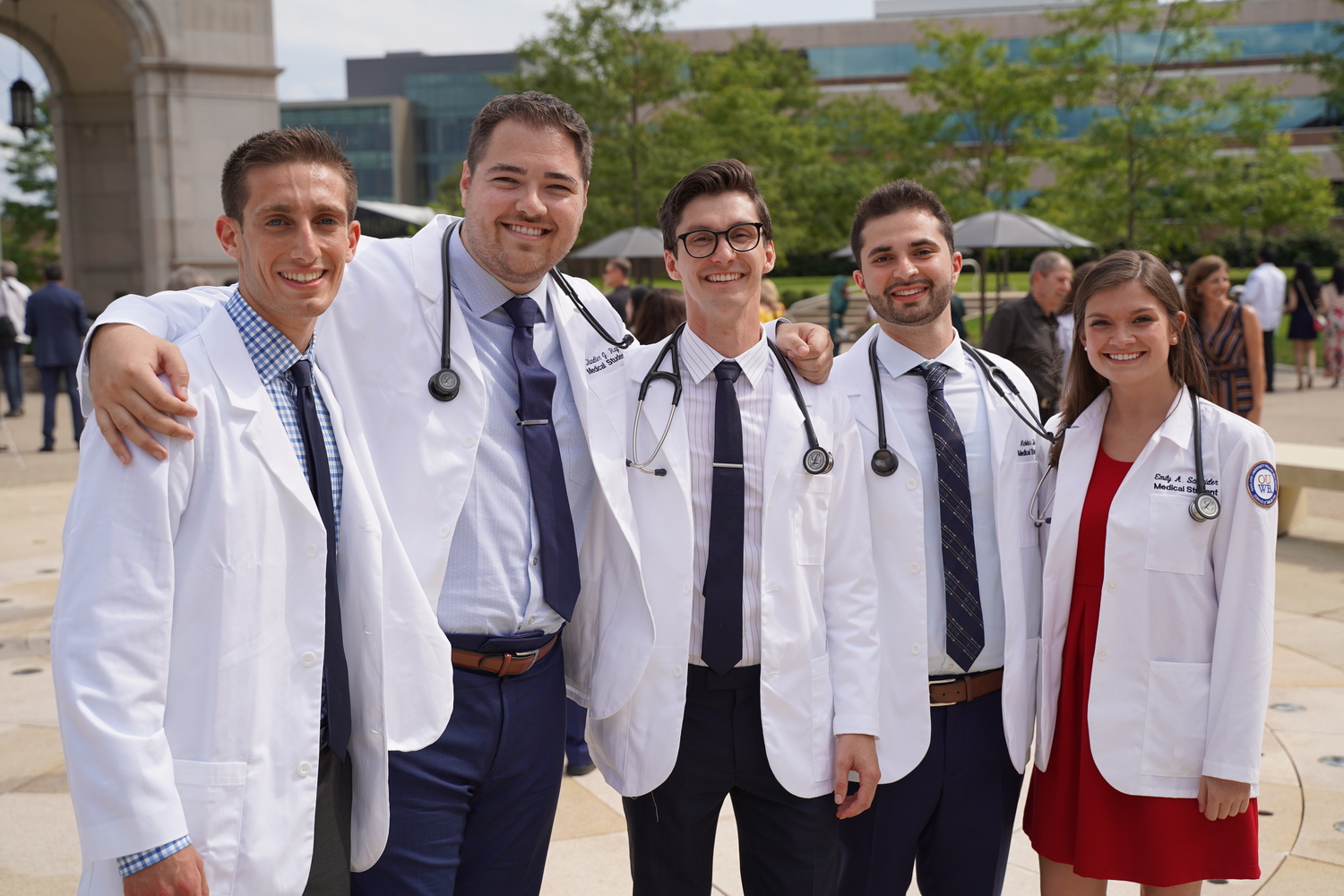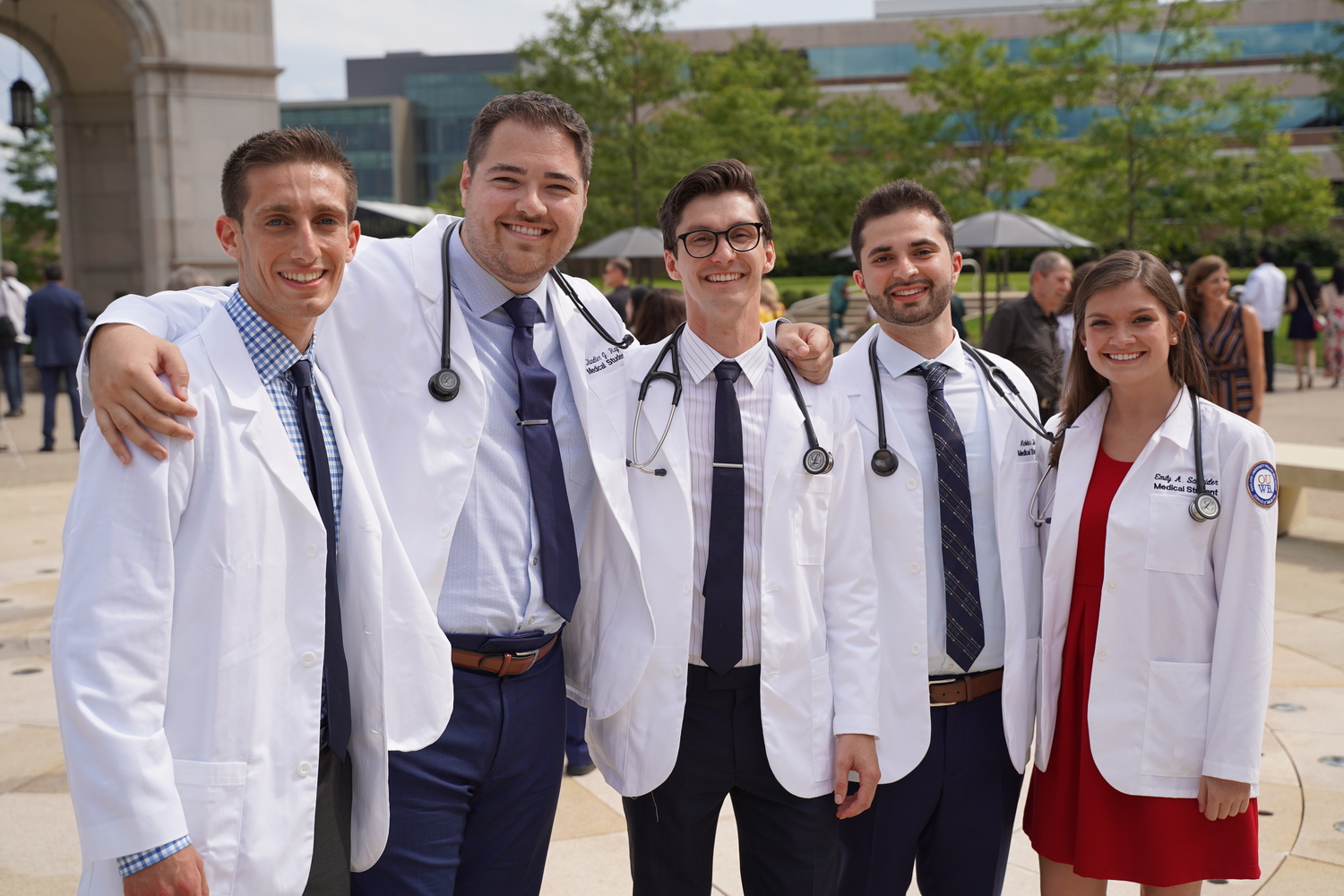 Students celebrated near OU's Elliot Tower after the White Coat Ceremony
Oakland University President Ora Hirsch Pescovitz, M.D., delivered a message to the students via video, as did Britt Rios-Ellis, Ph.D., executive vice president for Academic Affairs and Provost, Oakland University.
Guest speaker was James Robbins, M.D., president of medical staff, Beaumont Hospital, Royal Oak. 
Sandra LaBlance, Ph.D., associate dean for Student Affairs, talked about the unique backgrounds of the students comprising OUWB's Class of 2024. She congratulated the students for forging ahead with their medical school education.
"Our lives have changed drastically and your entry into medical school was uncertain as we all traversed a world of masks, physical distancing, and virtual learning," she said. "You have persevered and found within you a resilience and strength that you will need for the rest of your lives.
'It was great'
Mezwa noted that the 125 members of the Class of 2024 were chosen from about 7,000 applications received by OUWB. They also were among the 475 candidates who were interviewed twice.
Many of the students who participated in Friday's White Coat Ceremony said the event made being in medical school feel "more real."
"I'm excited to get to be together with the whole class and finally celebrate being here at medical school," said Paige Girdley. "It hasn't really felt real with the past year being virtual."
Alex Kessler said receiving his white coat made him feel "more legit."
"It feels more like we are a part of the medicine community," he said. 
Daeun Jeong said she was excited to be celebrating the day with her family. 
"I'm so glad it wasn't cancelled and we still had it in person," she said. "It's a great occasion that I was very much looking forward to."
"It was great," said Eli Tukel. "It's such a quintessential med school experience...and because I've gotten to know so many of my classmates over the past year it felt like a much more personal experience than most classes get."
"It feels really good," said Muhammad Haidous. "I feel like it was great motivation after going through medical school for the first year from home because of the pandemic."
Camila Joy Ramos said she was happy to see her classmates in person, something that has been relatively rare for the class. 
"It was super exciting," she said. "I'm so glad I was able to be with my class for the day to celebrate what we've experienced throughout the last year and celebrate things that will come in the future."
Conner Liddle said he was most excited about participating in what he said "is considered a large step forward for everybody in their medical education. 
"I know that it's more symbolic in nature, but I think there's a lot of merit to that," he said. 
For more information, contact Andrew Dietderich, marketing writer, OUWB, at adietderich@oakland.edu. 
To request an interview, visit the OUWB Communications & Marketing webpage.
NOTICE: Except where otherwise noted, all articles are published under a Creative Commons Attribution 3.0 license. You are free to copy, distribute, adapt, transmit, or make commercial use of this work as long as you attribute Oakland University William Beaumont School of Medicine as the original creator and include a link to this article.