Friday, Mar 26, 2021
OUWB hosts annual memorial in honor of anatomy donors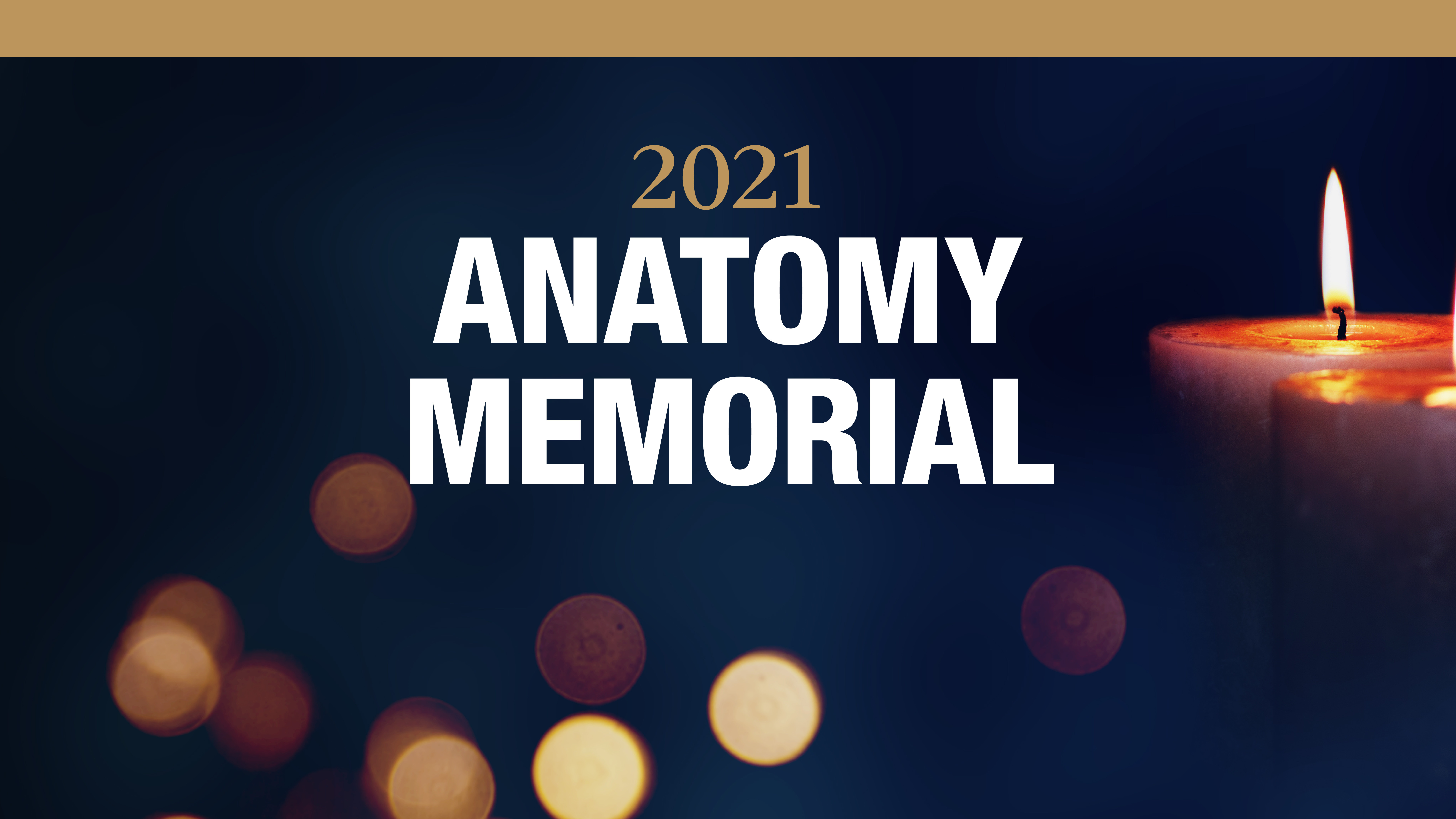 Oakland University William Beaumont School of Medicine collaborated with Oakland University School of Health Sciences Physical Therapy Program to honor the individuals who donated their bodies to medicine, helping future doctors and physical therapists prepare to treat countless patients.
During the 2021 Anatomy Memorial, faculty and students from both schools paid their respects to the 10 donors whose bodies, since the beginning of the school year, have played an integral role in helping understand anatomy in a way that officials said can't be taught in a book or lecture.
Several students expressed their gratitude through art and dance while others spoke in reflection. Among the speakers was OUWB Stephan Sharf Dean Duane Mezwa, M.D.
"Through the gift of these donors we have learned things that textbooks could never teach, and through this ceremony we hoped to celebrate the life and humanity of each of these people," said Mezwa.
"This service reflects our gratitude and respect for all the donors. This service is truly dedicated to those who, in death, have served the living," he continued.
A four-student planning committee organized the memorial, which was held virtually through a Zoom session and featured live and pre-taped performances.
Advisers to the committee were Deborah Doherty, P.T., Ph.D., associate professor, Physical Therapy Program, and Jickssa Gemechu, Ph.D., assistant professor, Department of Foundational Medical Studies.
Gemechu said having real human bodies to study when learning anatomy is crucial. It not only affords students a three-dimensional view of anatomy, but also helps them learn about variations among the bodies and more.
Gemechu
"It's a selfless special gift that essentially will benefit generations of patients," he said. "This ceremony is to honor and recognize the special gifts made by the donors as well as their families."
The memorial was hosted by OUWB first-year medical students Ali Rida and Aubrey Haughn, two of the four members on the memorial's planning committee. The other planning committee members were Emily Soley, a student in the OU Physical Therapy Program, and Conner Liddle, first-year OUWB medical student.
Liddle said he felt it was important to properly acknowledge those who donated their bodies to science.
"It is somebody that decided earlier in life that they wanted to give something to us — complete strangers that they didn't know — for our education," he said. "That's something I wanted to be able to pay back in some small way and I think we did that with our ceremony."
Student performers from the OU Physical Therapy Program were Morgan Shaw-Andrade, Mitchel Huss, Lauren Drwencke, and Adrienne Montgomery.
First-year OUWB medical student Shahrukh Naseer presented a drawing called "Passing Light." He said it was his way of thanking the donors, and said the vibrancy, colors, and hues in the image represented the information learned by students "to advance ourselves in preparation for care for the world."
Nathan Lwo, also a first-year medical student at OUWB, played a piece on piano called "After Sunset." Lwo's classmate Marlee Mason-Maready sang a song called "Godspeed," and later, Chandler Ray, M1, did an acoustic version of the Van Morrison song "Into the Mystic."
Speakers Lori Boright, P.T., visiting instructor, Physical Therapy Program, and Mary Tracy Bee, Ph.D., adjunct associate professor, Biological Sciences recalled their experiences and gratitude for their first donors when they were students.
Malli Barremkala, M.D., assistant professor of anatomy, Department of Foundational Medical Studies, provided the OUWB faculty reflection. Among other things, he expressed tremendous gratitude to the donors.
"Our journey began when their journey ended, and for that, I am grateful," said Barremkala. "These are the people who have donated their bodies for learning anatomy. Our donors help us celebrate life and to never forget the need for humanity and compassion in medicine."
For more information, contact Andrew Dietderich, marketing writer, OUWB, at adietderich@oakland.edu. 
To request an interview, visit the OUWB Communications & Marketing webpage.
NOTICE: Except where otherwise noted, all articles are published under a Creative Commons Attribution 3.0 license. You are free to copy, distribute, adapt, transmit, or make commercial use of this work as long as you attribute Oakland University William Beaumont School of Medicine as the original creator and include a link to this article.