Friday, Jul 02, 2021
Nearly 40 OUWB students participate in summer internships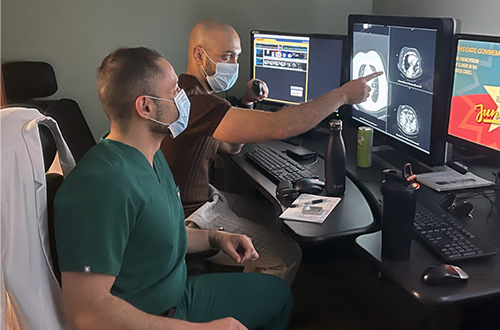 Davit Meliksetyan (green scrubs) had an internship in diagnostic radiology, a first for OUWB.
Nearly 40 medical students who just completed their first year at Oakland University William Beaumont School of Medicine spent the first part of their summer participating in internships.
Internships took place in a variety of settings throughout the community and online, including 25 that occurred in the yearly OUWB/Beaumont Health Systems summer internship program. In August, all of the rising M2s will present posters on their experiences to OUWB's incoming Class of 2025.
Tracy Wunderlich-Barillas, Ph.D., director of Research Training, Office of Research, OUWB, said the internships at Beaumont offered students opportunities to shadow physicians, conduct research in real time, and more.
"The internships also gave them a sense of community as they got a feel for how hospital operations work at Beaumont, and provided opportunities to make connections with others from different health care disciplines," said Wunderlich-Barillas.
Jean Szura, Ph.D., director of Service Learning, Office of Community Engagement, OUWB, said the internships that took place outside of Beaumont also offered "high-quality experiences."
"Those who participated gained either valuable research experience on certain topics, got to help with the formation and implementation of programs, or both," she said.
'An incredible experience'
The four-week program at Beaumont is held every summer and available for OUWB students who have completed their first year of medical school.
The internships are designed to foster personal and professional development. They focus on clinical/patient care, clinical research, basic research, medical education and community-based research.
Wunderlich-Barillas said the "opportunities help foster team-building skills that will become very important as students move from the classroom to the clinic." 
This year, about 80 applications were received for the 25 internships awarded.
"It shows initiative on the student's part in that they are looking for more ways to become better acquainted with some of the clinical duties they'll be performing once they get to the M3 academic year," said Wunderlich-Barillas.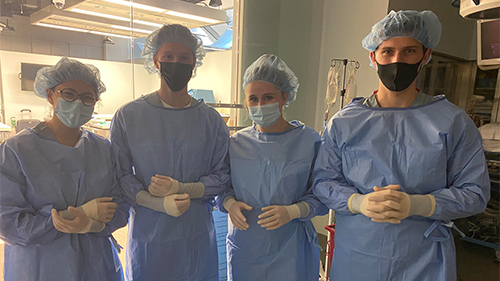 (From left to right) Fried, Nicolaas Schimmel, Maddie DeClercq, and Collin Braithwaite. The group of OUWB students served as interns at Beaumont Hospital, Royal Oak.
Sarah Fried was one of four student interns in orthopaedic surgery. Each week of the internship focused on a specialty: trauma, joints, hands, and sports medicine.
Fried said she appreciated the opportunity, especially after COVID-19 limited learning opportunities throughout the year.
"It's been an incredible experience because we get to be in surgery, helping out surgeons and residents, and learning so much," she said.
"I definitely enjoyed being in the operating room, helping in anyway I could and just being a sponge and absorbing as much information as possible," she added. 
Davit Meliksetyan had an internship in diagnostic radiology, a first for OUWB.
He called the internship a great experience and said he learned "exponentially more than I already knew about radiology."
"It really gave me a lot of insight into what radiologists do on a day-to-day basis," he said.
Meliksetyan worked in information technology for three years before switching to the medical field. With a strong interest in pursuing a specialty in radiology, he said he asked OUWB Stephan Sharf Dean Duane Mezwa, M.D. to explore the possibility of an internship.
Within one day, he said, Meliksetyan was in contact with a representative of the radiology department at Beaumont, working out the details.
"It's incredible what they did and I'm extremely grateful," he said.
'A nice break'
Community and education internships ran the gamut, from studying medical journals' systematic reviews and best practices for educating adolescents with autism in STEM supplemental programs to developing and delivering vaccine education and resources for the community. 
Twelve students had community and education internships.
"It shows how highly motivated our students are that they'd seek out these summer opportunities in what will be their last 'free' summer for a while," said Szura. "They really devote a great deal of time and effort and it's great because they then get to share that with the incoming class."
Because of COVID-19, the majority of the community and education internships were online. Students said that didn't take away from their experiences.
Paige Girdley had an internship with Center for Success, a Detroit-based nonprofit that aims to empower children through literacy. Girdley developed and curated resources related to mindfulness for families, students, mentors, and staff.
Girdley said she learned a lot about mindfulness that she will apply to her own life, and more.
"It's been a good experience to get to practice translating things for patients," she said. "It's been a nice break from the usual school stuff…and it's great to get to work with a different organization in the community that's geared toward promoting literacy and wellness."
Sazid Hasan had an educational internship working close with Serena Kuang, M.D., Ph.D., assistant professor of Physiology and Neuroscience, Department of Foundational Medical Studies, OUWB.
The internship centered on analysis of available literature pertaining to gap junctions in rodent cortical neuronal cultures. Hasan said he had previous experience as an undergrad with research in neurology and translational neuroscience.
Hasan said the experience helped him understand how to approach literature and research in the context of being a doctor.
"As physicians, we will be involved in research and these skills are essential," he said.
Hasan said Kuang was "very supportive" in all aspects of the internship.
"She really embodies the traits of OUWB — compassion, understanding, knowledge, creativity — all traits that I value as a future physician, clinician, and educator," he said.
According to Wunderlich-Barillas student feedback indicates that the internship program is having a positive impact.
"(Students) have reported that they value these opportunities in that it helps prepare them for what to expect in the future."
For more information, contact Andrew Dietderich, marketing writer, OUWB, at adietderich@oakland.edu. 
To request an interview, visit the OUWB Communications & Marketing webpage.
NOTICE: Except where otherwise noted, all articles are published under a Creative Commons Attribution 3.0 license. You are free to copy, distribute, adapt, transmit, or make commercial use of this work as long as you attribute Oakland University William Beaumont School of Medicine as the original creator and include a link to this article.