Monday, Aug 03, 2020
Orientation kicks-off for Class of 2024 at Oakland University William Beaumont School of Medicine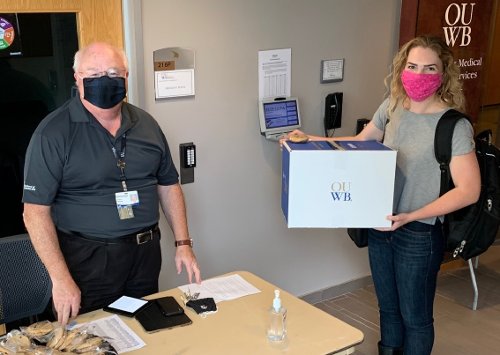 Oakland University William Beaumont School of Medicine Stephan Sharf Interim Dean Duane Mezwa, M.D., greets Gabrielle Rowlison at the OUWB Class of 2024 orientation kick-off. Rowlison was among 125 students who began orientation Sunday.
Oakland University William Beaumont School of Medicine's Class of 2024 kicked off a week of orientation Sunday, with the school's newest class taking a big step toward becoming physicians. 
The week traditionally is jam-packed for first-year medical students and this year is no different — except that the matriculation primarily is taking place online. 
Before that can happen, however, medical students had to pick up their school-issued laptops, backpacks, and other necessities they need to get started. OUWB officials scheduled the 125 students in the class to arrive in a staggered manner throughout the day. Masks and hand sanitizing were requirements, as was social distancing. 
"Today was very successful," said Katie Stotts, coordinator, Student Affairs, OUWB. "The students seemed happy and appreciative to be welcomed by all of us at OUWB. It was a great way to start their M1 year."
Planning for the traditional orientation for the incoming class at OUWB typically begins in January, said Jennifer Root, director, Academic Success, OUWB. However, this year was different as a result of the COVID-19 pandemic. 
"With the turn of events of COVID-19, we have had to continuously plan and change plans since March," she said. "All plans were tentative due to the pandemic and government 'Stay Home, Stay Safe Executive Orders.'"
Root added that "despite rain, (OUWB's) kick-off event went extremely smooth and safe."
Students generally expressed feelings of "nervous excitement."
"I was a little nervous," said Lance Jones, M1. "Everything is so new as I start this new adventure in my life. I feel like OUWB has given me all the resources I need, but somehow I still feel a little nervous."
M1 Amanda Mazzoli had similar feelings. 
"I'm a little nervous, but I'm excited to finally get the process started," she said.
"It's definitely not how I thought I'd be starting, but all things considered, it's not the worst year to have so much happening online."
M1 Megan Moore, who earned her undergraduate degree from Oakland University, said she was especially excited about one thing she picked up.
"I've always been jealous of the backpacks that the OUWB students (carry on campus), I've always wanted one of those backpacks," said Moore, referring to the OUWB-branded backpack issued to each incoming medical student on Sunday. 
M1 Shahrukh Naseer also picked up his orientation packet. 
"I'm excited...kind of nervous but mostly excited," said Naseer. "It's definitely different. I was walking through campus wondering how it would normally be."
M1 Stephen Greenwell said he wasn't affected by the different style of orientation. 
"Honestly, I don't even mind," he said. "I'm just so happy to be here."
For more information, contact Andrew Dietderich, marketing writer, OUWB, at adietderich@oakland.edu. 
Follow OUWB on Facebook, Twitter, and Instagram.
NOTICE: Except where otherwise noted, all articles are published under a Creative Commons Attribution 3.0 license. You are free to copy, distribute, adapt, transmit, or make commercial use of this work as long as you attribute Oakland University William Beaumont School of Medicine as the original creator and include a link to this article.