Monday, May 10, 2021
Oakland University William Beaumont School of Medicine med students lead COVID-19 vaccine educational campaign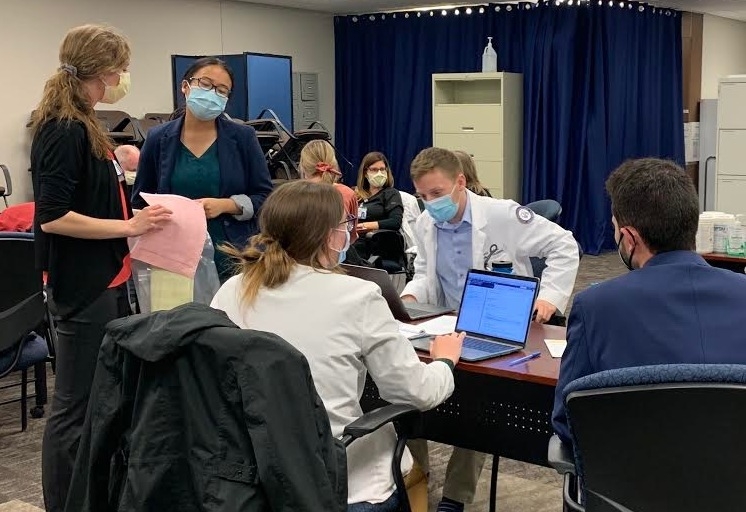 OUWB medical students volunteer at the Gary Burnstein Community Clinic, one of the school's community partners where students have worked to educate people on the COVID-19 vaccines.
A group of medical students from Oakland University William Beaumont School of Medicine is leading a critical mission to educate as many people as possible about COVID-19 vaccines.
Ryan Ko, M1, Mallory Evans, M2, and Brandon Prentice, M1, have led OUWB's COVID-19 Vaccine Educational Campaign, working with community partners such as Baldwin Center, Welcome Missionary Baptist Church, and Gary Burnstein Community Clinic.
With support from Compass, OUWB's office of community engagement, the group of student volunteers has created educational flyers, made themselves available to answer questions people have about the vaccines, and more.
It's exactly the kind of education push that's needed right now, said Jean Szura, Ph.D., director of Service Learning.
""Those who really want vaccines have been jumping out there and getting them," she said.
"Now…more vaccines are available, but the population consists largely of people who don't want them, are scared, or don't have the information they need."
Tiffany Loh, an M1 involved in the student-run free clinic at Gary Burnstein Community Clinic, said the team there is "constantly looking for new ways to expand and promote public health, which is why the COVID-19 Vaccine Educational Campaign was so important for us to participate in."
"There are so many questions about the vaccine from our patients and being able to have our volunteers trained on vaccine education has helped us get more people vaccinated, reduce barriers to signing up, and promote credible information about the vaccine to the community.
Identifying a need
State of Michigan officials reported May 7 that nearly 4.4 million Michigan residents age 16 and older have received at least their first dose of a COVID-19 vaccine, representing 54 percent of the state's residents.
The state's "Vacc to Normal" plan is based primarily on four vaccination-based milestones connected with the percentage of residents who are vaccinated.
Per the plan, for example, in-person work will be allowed for all sectors of business two weeks after 55 percent of state residents are vaccinated. The plan ties lifting of restrictions for other activities — such as sporting events and other gatherings — to even higher vaccination rates.
To help the overall effort to attain those higher vaccination rates, Ko said he and the other volunteers launched their education effort in November.
They were inspired, in part, after participating in the American Association of Medical College's Learn Serve Lead conference.
Executing a plan
The purpose of the education campaign, said Ko, is "to accurately educate the public about the COVID-19 vaccines at any OUWB-affiliated community organization." OUWB has affiliations with about 60 community organizations.
The group hoped by reaching out to the organizations, it would help be part of an overall effort to slow the COVID-19 infection rate.
Volunteers work toward meeting the group's goals by providing informational flyers (available in English and Spanish) that contain information and links to COVID-19-related information from the CDC and Beaumont Health.
Additionally, the team has been handing out free masks, helping people get signed up for vaccines, and answering any other questions that might come up.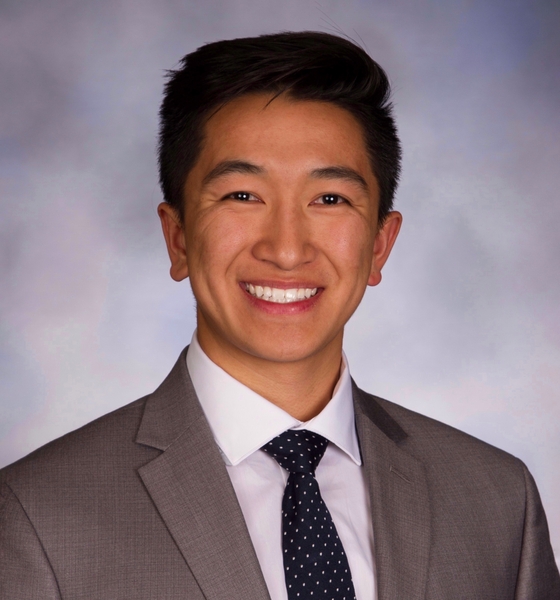 Ko
"As medical students, we have a unique opportunity here to really share the knowledge that we have and hopefully reduce the negative from this pandemic," said Ko.
Prentice said he felt a sense of duty to step up and volunteer for the effort.
"I felt it was a responsibility now that I'm a medical professional," he said. "If there's a health-related issue and I have the means to address it, why not?"
Prentice said he has enjoyed being part of the campaign that marries the technical aspects of being a physician with "the more human side of medicine."
Evans shared similar sentiments.
"I believe that if we — present and future health professionals — can't be present with people and care for their fear, our ability to care for their physical health can be diminished," she said. "I'm hoping to show my fellow citizens attention and care for their questions and feelings, even when I don't understand them. That's why I'm involved."
Looking ahead
Nelia Afonso, M.D., assistant dean for Community Integration and Outreach and professor in the Department of Foundational Medical Studies, said vaccine education has always been important at OUWB, and that it made sense to carry on that tradition with COVID-19.
"Our school has done a good job in integrating what I like to call 'classroom to community,'" she said. "That is, a sense that students are learning in the classroom, but it's not enough that they answer questions on an exam or earn a perfect score. The students need to be able to take it out and translate…they've learned how vaccines work, about the COVID-19 vaccine, they've learned about vaccine hesitancy and so now their job is to bring it to the patient level."
Szura noted that the campaign also falls directly in line with OUWB's approach to community service and values related to self-directed learning and students serving as educators.
"It aligns not only with OUWB's mission, vision, and values, but with our emphasis on medical students being educators in the community and taking on leadership roles," she said. "I've been so impressed with the students because from the onset they wanted to make sure that they were aligning everything with what OUWB believes."
Ko said the immediate plan is to continue the program and deliver its message to as many of OUWB's community partners as possible. The group is looking for more volunteers. Anyone interested in do so can email OUWBVaccineCampaign@gmail.com.
For more information, contact Andrew Dietderich, marketing writer, OUWB, at adietderich@oakland.edu. 
To request an interview, visit the OUWB Communications & Marketing webpage.
NOTICE: Except where otherwise noted, all articles are published under a Creative Commons Attribution 3.0 license. You are free to copy, distribute, adapt, transmit, or make commercial use of this work as long as you attribute Oakland University William Beaumont School of Medicine as the original creator and include a link to this article.