Friday, Aug 07, 2020
Celebration video wraps orientation week for OUWB's 10th class
A video celebrating Oakland University William Beaumont School of Medicine's Class of 2024 was released Friday — the culmination of a busy orientation week for the school's 10th class of medical students.
The 40-minute video featured Oakland University President Ora Hirsch Pescovitz, M.D., OUWB Stephan Sharf Interim Dean Duane Mezwa, M.D., and numerous other OUWB students, faculty, and staff.
The video was produced in lieu of the traditional White Coat Ceremony held the last day of orientation week. The event was postponed until next August as a result of the COVID-19 pandemic.
Sandra LaBlance, Ph.D., associate dean for Student Affairs, said that the overall intent of the video is for the OUWB community to ensure new students know that "we care about them, we are here for them, and that they matter to us" — a message she said holds true no matter how it's conveyed. 
"When you hit hard times, you don't stop caring for those in your community and we can't forget to celebrate those we care for," said LaBlance. "Every student who enters this OUWB community is important to us and deserves to be recognized, celebrated and welcomed as a new member to our community." 
"Connectedness does not have to be physical; care and love do not have to be expressed in only one way," she said. "Our celebration video is meant to convey all of these things as we welcome our students on their journey to becoming physicians."   
In the video, Mezwa addressed the Class of 2024 by explaining the symbolism of the White Coat Ceremony and urging them to circle the date of Aug. 13, 2021 — when the students are set to officially receive their white coats in a special ceremony.
Mezwa also read the Hippocratic Oath, deeming it the most important part of the celebration video and calling the students' "public acknowledgement of the responsibilities of the medical profession."
He also reminded the students of how important they are to OUWB.
"We may have welcomed you behind face coverings, but did you see the smile in our eyes? Did you hear the enthusiasm behind our muffled voices?" asked Mezwa. "I sure hope you did. We are thrilled to have you here. You are hear for a reason because we saw something special in each one of you."
"Be assured that we have every confidence in your abilities," he added.
Pescovitz reminded the new students of how important their work as physicians will be, especially as the world faces challenges such as the COVID-19 pandemic.
She also reminded students to "approach each day with the OUWB values in your mind and your heart."
"Be compassionate, serve with dignity and empathy, in all your endeavors," said Pesocvitz. "Seek partnerships. Be an innovator, and seek answers. Conduct yourself honestly and ethically…and always seek excellence in professional and personal life."
"Welcome to OUWB," she said. "We are just so very proud of all of you and we know you will carry on in the proud OUWB tradition and I cannot wait to follow your wonderful successes."
OUWB orientation turns to tech
Orientation week kicked off on Sunday for the new class when they arrived at OUWB's O'Dowd Hall to pick up orientation boxes that each contained a school-issued laptop, stethoscope, and more.
Starting Monday, the students' days were filled with activities from 8 a.m. to 4:30 p.m.
Students were introduced to all facets of OUWB, from Student Affairs and Compass (OUWB's official address of community engagement) to the school's Office of Research as well as Diversity & Inclusion.
As a result of the COVID-19 pandemic, nearly every session was conducted remotely and done via WebEx or Google Hangouts. Most sessions featured pre-recorded videos that students could watch at their own pace, leaving scheduled time open to question-and-answers.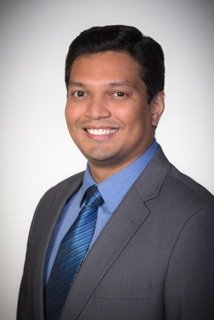 Barremkala
Malli Barremkala, M.D., assistant professor, Department of Foundational Medical Studies, co-hosted a session on Anatomical Foundations of Clinical Practice.
Barremkala said he feels students gained more value from the way it was done this year.
"This year, we streamlined the process of online orientation by sharing the essential information in concise videos," he said. "This resulted in much better prepared student that asked excellent questions during the question and answer session."
Barremkala said he and the other hosts of the session were surprised by the specificity of the questions.
"Almost all of the questions raised were high yield to address important components of the course and we believe the students did take the orientation seriously as this is key to their success," he said.
LaBlance said the success of sessions like the one Barremkala took part in was no mistake. Her team has spent a significant amount of time testing various platforms to ensure students received the best possible experience.
"Our faculty are planning their courses through the WebEx platform so we felt this was our best plan for orientation to engage students early with the technology that they will need to master as part of their educational experience at OUWB," she said.
She said the orientation sessions mirror the process that OUWB's Academic Success Team suggests to all students for their learning to become physicians; pre-read and research before coming to lecture and have questions prepared that you need to have answered in the live session. 
"Our orientation program, using technology and video this year, was designed to encourage our students towards success as lifelong learners," she said.
Engaging in person
Though most of OUWB's orientation week was virtual, there were some opportunities for the new medical students to interact with faculty and their classmates.
On Monday, a Faculty Engagement Event was held outdoors on campus. During the event, student-made pool noodle hats helped with social distancing along with required masks. Eighteen faculty members were spaced far apart and students were able to spend 45 minutes with two of them.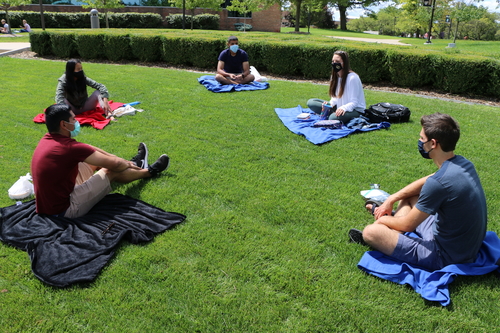 Students enjoyed getting to know faculty and interact with their classmates so much that they said they wanted more. As a result, OUWB Student Affairs created "Lunch On The Lawn" events on Wednesday, Thursday, and Friday. (Social distancing and masks were required.) 
Students said they appreciated the response from Student Affairs and getting to have a little more in-person interaction.
"It was really nice that they listened to our feedback from Monday when we said we really liked doing the in-person session with faculty and any chance to get to meet each other would be really helpful," said Nick Schimmel, M1.
Schimmel said he felt the in-person opportunities helped promote a sense of community among the classmates. Others said they agreed.
"We wanted more opportunity to talk to each other and make connections," said McKenzie Allen, M1. "For a lot of us a big part of why we came to OUWB is because we heard how great the community is."
"With coronavirus, it's hard to meet up with people," said Daeun Jeong, M1. "Every single opportunity I get I want to be sure to take that up."
Overall, students said they feel ready to begin class on Monday.
"The school has done a nice job of getting us ready and I feel really supported, but I'm ready to get to it," said  M1 Paige Girdley.
"I'm really happy that we've got a lot of time with classmates and everything online has been really well-organized," said Eli Tukel, M1. "It's exciting."
"It's been really nice to hear about everything that OUWB is doing to make this the best situation it can," said Macy Kurth, M1. "It's starting to get real…this is happening and we're about to start and we're all in this together."
For more information, contact Andrew Dietderich, marketing writer, OUWB, at adietderich@oakland.edu. 
Follow OUWB on Facebook, Twitter, and Instagram.
NOTICE: Except where otherwise noted, all articles are published under a Creative Commons Attribution 3.0 license. You are free to copy, distribute, adapt, transmit, or make commercial use of this work as long as you attribute Oakland University William Beaumont School of Medicine as the original creator and include a link to this article.