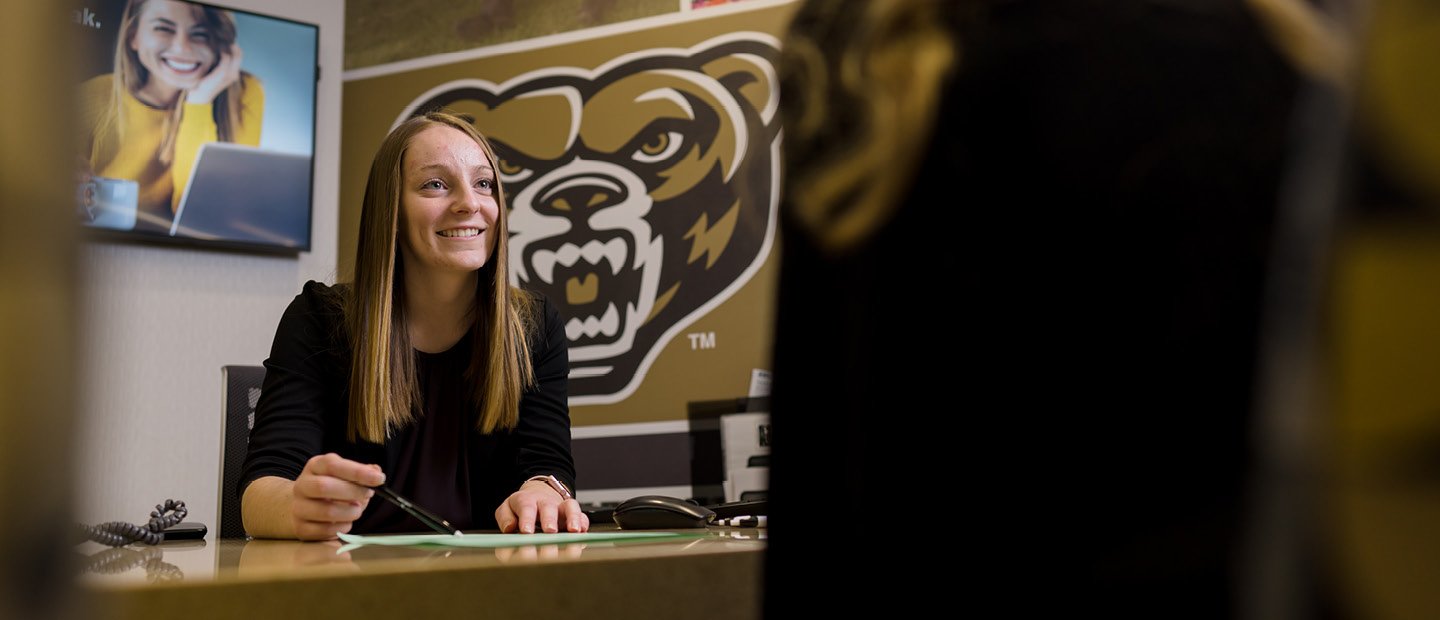 The College of Arts & Sciences Advising Office welcomes undergraduate students with declared Arts and Science majors &/or minors, undecided students who wish to investigate undergraduate college programs, and prospective students considering Oakland University for a Bachelor's degree. We are committed to helping students achieve their educational goals.
Services
Undergraduate navigation and support
Information on your undergraduate program(s), class scheduling, registration, etc.
Declaring an undergraduate major or minor/concentration
Referrals to campus resources
Graduation audits
Career planning
Who is my Academic Adviser
You can identify your assigned academic adviser on your MySAIL account. In the My Details box at the top of the page. You will see a blue ADVISER link right under your class standing. This link will give you the name and email of your assigned adviser. 
In the College, you also have a faculty adviser specific to your CAS major(s) and/or minor(s).  You can find those names here.
Appointments 
Advising appointments are offered virtually via Google Meet or in person. Please call (248) 370-4567 to schedule an appointment. You will receive instructions on virtual appointments through your Oakland University email.  
Drop Ins/Same Day Appointments 
Drop Ins/Same Day appointments ARE FOR CURRENT OAKLAND UNIVERSITY STUDENTS to address scheduling/registering for Summer 2023, Fall 2023 & Winter 2024 only.  
Phone lines open at 8:15am for a slot between 9am and 11:30am. The phone line will reopen at 1pm for a slot between 1:30pm and 3:45 on Monday March 13 through Friday March 24th.
Appointments can be virtual or in person.  In person appointments must be scheduled in 130 O'Dowd Hall. Call 248-370-4567 to schedule a virtual appointment.  
Registration advising is first come, first served with limited availability.
Majors
To request Sample Schedules outlining the course requirements for each major below, email casadv@oakland.edu. They are intended for general information only and are not meant to be a complete description of all Oakland University degree requirements. It is strongly recommended that you meet with your academic adviser to discuss your specific degree program, ensuring the details of your major can be thoroughly reviewed.
The
Occupational Outlook Handbook
provides yearly analysis of numerous careers, reviewing job availability, salary information, required education, etc.
Find the 2022-2023 Catalog
here
.
For Optimal viewing experience, please access this page after logging into your Google account.
If you are viewing this page from a mobile device, please download the Google Sheets app.
Minors and Concentrations
Below is a list of minors and concentrations available in the College of Arts and Sciences. Each link below will take you to the appropriate page of the current undergraduate catalog listing the requirements for the minor or concentration.

Minors are not required for most College of Arts and Sciences majors. However, students will sometimes complete minors or concentrations in addition to their major if they have other areas of academic interest.

Students pursuing admission into the Secondary Teaching Education Program (STEP) must complete a teaching minor in one of the following areas: biology, chemistry, dance, economics, English, history, mathematics, modern languages (Spanish, French or German), physics, political science, or sociology. Teaching minors for these areas can be found in the same catalog sections as the regular minors.

As a general rule, no more than 8 credits of course work used to satisfy one major, minor, or concentration may be applied toward another. At least 8 of the credits offered for each minor must be taken at Oakland University.

If you are interested in any of these minors or concentrations and wish to discuss them in more detail, contact our office for an appointment at 248-370-4567.
Minor or Concentration
Addiction Studies Concentration
Advertising
African and African-American Studies
American Studies Concentration
Anthropology