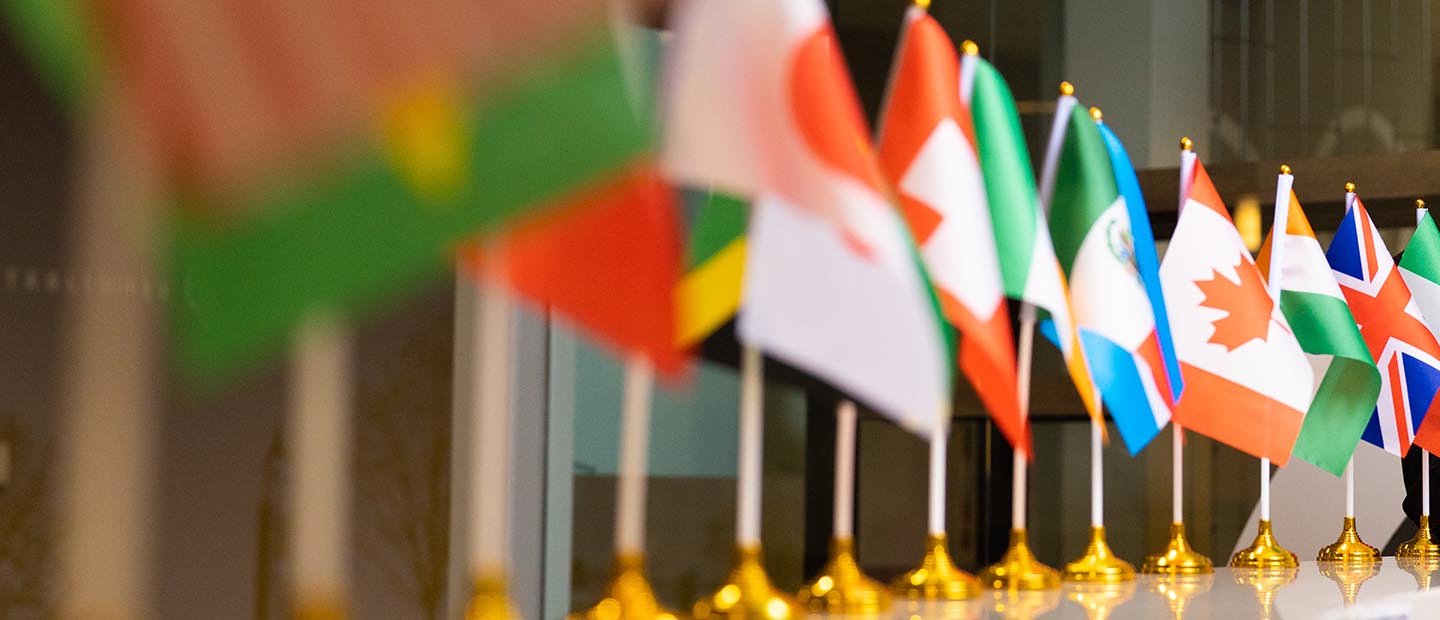 Barry M. Klein Center for Culture and Globalization
The Barry M. Klein Center for Culture and Globalization at Oakland University was established in 2021 through a generous gift from the estate of its namesake. The Center is a realization of Klein's vision to recruit researchers, scholars, and artists to Oakland University, promote national and international dialogue, and create opportunities for students and faculty to experience culture and globalization studies on an unprecedented level. In keeping with the vision of its benefactors, the Klein Center aims to catalyze transformative thinking about current social issues explored through inter- and cross-disciplinary perspectives.
Housed in the College of Arts and Sciences, the Klein Center aspires to promote collaborative synergies across campus to create enriching learning experiences for students, faculty, and the community. Its robust, multi-faceted programs and activities are also intended to inspire constructive engagement with the greater Oakland University community and the world at large.
The workings of the Klein Center revolve around an annual theme led by a prominent researcher, scholar, or artist competitively selected to serve as the resident Barry M. Klein Visiting Chair for Culture and Globalization. Besides pursuing one's own research, scholarship, or creative inquiry in line with the prescribed theme, the Visiting Chair is charged with interacting and collaborating with two Klein Center Distinguished Faculty Fellows and two Klein Center Undergraduate Scholars. Through a mixture of public lectures, presentations, performances, campus forums, and engagement with undergraduates, graduates, student organizations, and the greater Metro Detroit community, the Visiting Chair, Distinguished Faculty Fellows, and Undergraduate Scholars will give life to the annual theme and afford unique opportunities for learning and involvement.

Contact us at Kleincenter@oakland.edu or Director Dr. Chiaoning Su at chiaoningsu@oakland.edu.
Barry M. Klein
Changing Lives Through Philanthropy

Barry M. Klein was a major supporter of Oakland University. He was a devoted alumnus, a steadfast benefactor, and an unwavering advocate for the university. With his passing on January 18, 2020, Oakland University lost a generous and loyal friend. As a final act of support, Klein made a transformative gift through his estate which, in part, has established the Barry M. Klein Center for Culture and Globalization. His legacy and vision will elevate Oakland University's standing in the international academic community and contribute to a more complete understanding of the social and cultural forces that impact contemporary global issues.
In 2003, Klein made an initial bequest gift commitment to Oakland University through his estate. Thanks to his considerable success, the estate was able to make an additional multimillion-dollar gift in 2021 that will further grow the George R. and Helen Klein Memorial Scholarship and support two new initiatives: the Barry M. Klein Scholarship Endowed Fund and the Barry M. Klein Center for Culture and Globalization.
Klein graduated from Oak Park High School in 1964. He was admitted to Oakland University, graduating in 1968 with a bachelor's degree in sociology. As a self-described member of the 1960s counterculture, he said he appreciated the intellectual freedom and diversity he found on OU's campus.
Klein joined the Oakland University Alumni Association shortly after his graduation in 1968 and was a regular presence on the campus thereafter. He served on the OUAA Board and is a former director of the OU Foundation. He received the OUAA Distinguished Alumni Award in 1984 and the OUAA Spirit Award in 2003.
Klein was also a longtime supporter of Oakland University and gave generously to initiatives that advanced the success of students in our community. In an interview with the OU Magazine, Klein explained his decision to give back to his alma mater.
"I really believe that Oakland University is the most important higher education institution in the metro Detroit area. More than 90 percent of our students come from southeastern Michigan and over 90 percent of graduates stay in the area after graduation. Our graduates have an enormous impact on the future of the state's economy. Because of this, I think it's incumbent on anyone with any philanthropic tendencies to consider giving to Oakland," he said.
Klein's generosity is helping to shape the future of Oakland University and the future of the countless faculty members and students who will be touched by his support in the many years to come.
Visiting Chair

dream hampton is an award-winning filmmaker and writer from Detroit. Her most recent works include the LA Opera digital short "We Hold These Truths" (2022) and the award-winning short film "Freshwater" (2022) which debuted at the Museum of Contemporary Art Detroit. Selected works include Frameline feature documentary "Treasure" (2015), the BET documentary series "Finding Justice" (2019) and Lifetime's Emmy-nominated "Surviving R. Kelly" (2019), which broke rating records and earned her a Peabody Award. She co-authored the New York Times bestselling "Decoded" (2010) with Shawn "Jay Z" Carter. Her articles have been published by The New York Times, The Washington Post, NPR, Essence, and in a dozen anthologies. She serves on the boards of the Museum of Contemporary Art Detroit, UCLA's Hip Hop Initiative, and Inside Southwest Detroit. In 2019 hampton was named one of Time magazine's 100 most influential people in the world.
Distinguished Faculty Fellows
2022-2023 Faculty Fellows

Rebecca Mercado Jones, Ph.D.



Rebecca Mercado Jones is an associate professor in the Department of Communication, Journalism, and Public Relations and an affiliate faculty member with Women and Gender Studies at Oakland University. She specializes in critical/cultural communication and her research tends to focus on how economic, political, and social encroachments influence the way women navigate life. Using feminist rhetorical analysis, ethnographic, and life history interviewing methodologies she seeks to understand how women think and speak about home, identity, and embodiment. Her work appears in Departures in Critical Qualitative Research, The Communication Review, Qualitative Inquiry, and Liminalities. In addition to her work at Oakland University, she also serves on the board of Planned Parenthood of Michigan and volunteers for Meals on Wheels.
During her time as a Klein Faculty Fellow, Dr. Jones will examine how the early rhetoric of Margaret Sanger and the Federation of Planned Parenthood can reflect, select, and deflect the public discourses unfolding in our current climate.


Graham Cassano, Ph.D.



Graham Cassano is the Director of Oakland University's Urban and Community Studies Concentration. He teaches in the Department of Sociology, Anthropology, Social Work, and Criminal Justice, where his specializations include social history, racial and ethnic relations, and social theory. He is the author of more than 20 peer reviewed articles and book chapters, as well as books on cinema ("A New Kind of Public: Community, Solidarity and Political Economy in New Deal Cinema"), music ("Eleanor Smith's Hull House Songs: The Music of Protest and Hope in Jane Addams's Chicago", written with Rima Lunin Schultz and Jessica Payette), and urban studies ("Urban Emergency (Mis)Management and the Crisis of Neoliberalism: Flint, MI, in Context", edited with Terressa Benz). He is also a film photographer and printer, currently enrolled in the Master of Fine Arts program at the Cranbrook Academy of Art.
During his time as a Klein Faculty Fellow, Dr. Cassano will lead a project for OU students to record oral histories in Pontiac, Michigan to document local culture and issues.
Undergraduate Scholars
The College of Arts and Sciences invites applications from its undergraduate students for two Klein Center Undergraduate Scholar Awards to be conferred each academic year. These awards will be granted on the basis of submissions aligning with the Klein Center annual theme. Recipients of the awards will work with Klein Center Distinguished Faculty Fellows on undertakings related to the annual theme.  For one academic year, beginning in September and continuing through April, awardees will be expected to participate in Klein Center activities, work on research and/or creative projects (both independently and in conjunction with Klein Center Distinguished Faculty Fellows), and assist with promotion of Klein Center events. Recipients will also have the opportunity to present their work on the annual theme at the Klein Center Annual Symposium, which they will help organize. The Klein Center Undergraduate Scholar Award comes with a $1,000 stipend to be applied towards tuition.
Eligibility:
Open to CAS undergraduates from any major

Junior or Senior standing during the award year and a minimum GPA of 3.0
Selection will be based on the following:
A demonstrated interest in, or familiarity with, the Klein Center annual theme

Ability to perform the tasks required of the Klein Undergraduate Scholar

Willingness and ability to work independently and collaboratively on the initiation, development, and completion of a project related to the Klein Center annual theme 
Application Process:
 To apply, students must submit the following:
One-page personal essay (single spaced) expressing their interest in the Klein Center annual theme and describing their relevant qualifications and background experiences

Letter of recommendation from a faculty member

Undergraduate transcript(s)

Resume or CV
Recipients of the Klein Undergraduate Scholar Awards will be determined by the Klein Center Steering Committee in consultation with the Klein Center Distinguished Faculty Fellows. 
Application Deadline and Announcement:
Applicants should submit their required materials to the Steering Committee prior to Thanksgiving recess each fall semester
Recipients of the two Undergraduate Scholar Awards will be announced March 1 each winter semester with the award commencing in the fall
For further information or questions, please contact Dr. Chiaoning Su at chiaoningsu@oakland.edu
Meet Us
The Barry M. Klein Center Director


Chiaoning Su, Ph.D., is an Associate Professor of Journalism and Public Relations. Her research examines the US-China-Taiwan relations through the lens of diplomatic, journalistic, and social media practices. She is the recipient of OU's 2020 Honors College Inspiration Award and the 2021 Teaching Excellence Award. Throughout 2018 and 2020, she served as president of Association for Chinese Communication Studies. Prior to her academic career, she worked as a communication specialist at Ogilvy Public Relations and for several political campaigns in Taiwan.

The Barry M. Klein Center Steering Committee

Claude Baillargeon, Ph.D., MFA, is a Professor of Art History and an independent curator and writer, who divides his time between Metro Detroit and Toronto, Canada. A specialist of the history of photography, his current scholarship investigates the nuclear era from the perspective of its global visual representation. Throughout 2017 and 2018, he served as chair of the board of directors with the Society for Photographic Education, the leading forum dedicated to understanding how photography matters in the world.

Jon W. Carroll, Ph.D., is an Associate Professor of Anthropology with research interests in cultural transmission, social interaction and integration, political and economic organization, and Geographic Information Science (GIScience) combined with computer modeling and simulation. A Registered Professional Archaeologist (RPA), he is currently researching the use of remote sensing drones in the Near East, Europe, Africa, and North America, and is an FAA-licensed drone pilot.

Sara Chapman Williams, Ph.D., is an Associate Professor of History. She has published a book and articles on political culture and networks in early modern France. Her current research and publications focus on Native American and French/Canadian encounters, and colonial policies in the Great Lakes region in the early modern era, including the establishment of the settler colonies at Detroit in 1701.

Alan Epstein, Ph.D., is a Special Instructor in Political Science at Oakland University with teaching and research interests in contemporary Chinese politics and foreign policy, the political economy of United States intervention abroad, and comparative democratic theory and practice. From 2013 through 2018, he directed the Religious Studies program and is currently exploring commonalities between leadership-centric forms of popular governance in China and the United States.
Call for Positions
Call for applications, Visiting Chair for Culture and Globalization
The College of Arts and Sciences at Oakland University invites applications for a resident visiting fellow to serve as the Barry M. Klein Visiting Chair for Culture and Globalization. This fellowship is open to researchers, scholars, and artists with demonstrated expertise and interest in the prescribed theme. The chosen Visiting Chair will be expected to be in residence at Oakland University for one semester, either Fall 2023 or Winter (Spring) 2024. 
The program provides a $60,000 stipend to pursue research, scholarship, or creative inquiry that will contribute actively and significantly to the campus-wide exploration of the annual theme. This stipend may be combined with sabbatical funding or other stipendiary support. Additional support is available for housing and travel. The Visiting Chair will take an active role in fostering inter- and cross-disciplinary exchanges with the Oakland faculty, student body, and the community at large. In addition to presenting a public lecture, presentation, or performance on their developing work and contributing to other public events related to the theme, the Visiting Chair will take part in monthly forums to discuss work in progress with Klein Center Distinguished Faculty Fellows, other faculty members, and students drawn from the Oakland community. The Visiting Chair will also be expected to engage with undergraduates and graduate students through occasional classroom visits and meetings with student organizations. Interactions with the wider communities of Metro Detroit are also encouraged.
The application deadline for the Visiting Chair is December 2, 2022. The required application materials consist of the following:
a cover letter

a proposal or statement of no more than 1,500 words detailing the research, scholarship, or creative inquiry to be undertaken during the fellowship period.

a curriculum vitae that includes the names, professional affiliations, and contact information for three references  
The shortlisted finalists will be invited to meet for a virtual interview with the Klein Center Steering Committee. Application materials must be submitted by the stated deadline via the Oakland University Human Resources Employment Website.
Theme for 2023-2024 program: Race, Ethnicities, and Identities in Transition
Oakland University is a nationally recognized doctoral university of high research activity located on 1,443 acres of scenic land in the cities of Rochester Hills and Auburn Hills in Oakland County, Michigan. The University has 142 bachelor's degree programs and 138 graduate degree and certificate programs. Academics include programs in the College of Arts and Sciences, School of Business Administration, School of Education and Human Services, School of Engineering and Computer Science, School of Health Sciences, School of Medicine, and School of Nursing. As an anchor institution in southeastern Michigan, Oakland University is committed to building ongoing and collaborative relationships with the surrounding communities. Community and civic engagement enhances the lives of our students and has a positive impact on our broader community.