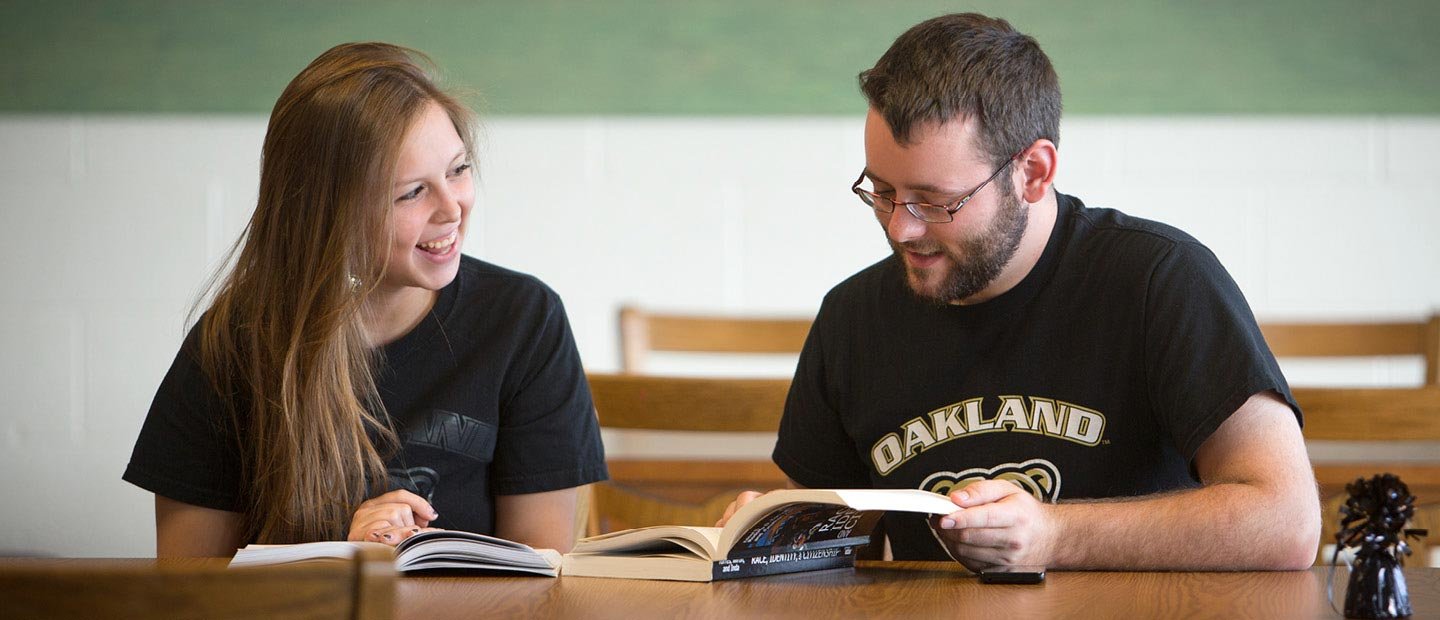 These resources empower first-year students to achieve academic success, get connected to the university and learn how to successfully get back on track academically.
COM 1100 Course
COM 1100 is a first-year seminar course designed to help new students successfully transition to Oakland University. Students who take this course are more likely to excel academically and graduate than students who do not enroll in the course. COM 1100 is a one-credit, graded elective course taught by student services staff. Class size is 25 students to allow for meaningful classroom discussion.
Course Goals
Explore personal strengths, abilities and interests and how they contribute to their college experience.

Learn skills for successfully navigating the college environment.

Learn about OU campus resources and how to use them.

Build positive relationships with peers, faculty and staff.
Student Testimonials
"COM 1100 was an excellent way to start my college career. It really helped me to get to know the campus. It was fun and very informative. The instructors were great! They felt like friends I could go to whenever I needed help."

"This class established a positive atmosphere where all students could feel comfortable with themselves and others. I think it helps students communicate and become more open minded."

"I loved this class! The activities were fun and interesting. It was one class that I always looked forward to. I wish I could keep this class both fall and winter semester. I will truly miss it!"

"COM 1100 was a great experience for me. Through discussions and other fun activities, I learned what it takes to be a successful student at Oakland University. After this course, I knew what I had to do to reach my goals."

"I was able to explore my major and decide further what I wanted to do with my life."
Academic and Career Resources
Peer Tutoring
Tutoring is a free service available to all enrolled Oakland University students currently taking courses at Oakland University. Drop-in and individual appointment tutoring options are available.

Supplemental Instruction
Supplemental Instruction (SI) is a free program that provides organized study sessions two to three times a week for students enrolled in traditionally difficult courses. Sessions are conducted by SI leaders who have successfully completed the course and are trained by the Academic Success Center. 

Academic coaching
Do you want to learn about ways to study so information really sticks? Tired of spending hours preparing for exams only to find a grade you are unhappy with? Feeling overwhelmed trying to juggling countless assignments, exams and your personal life? Then academic coaching is for you!

Writing support
The Oakland University Writing Center is open to OU students, faculty, and staff in all disciplines at any stage of the writing process. The center provides writers with an interested and supportive audience of well-trained consultants who help both novice and expert writers explore ideas, revise drafts, and develop the skills to craft polished works.

Academic Support for students living in University Housing
University Housing's Student Success team helps residents with:
Adjustment to online learning environments
Career and major exploration
Test anxiety
Study skills
Campus involvement and inclusion
Improving academic performance
Certain school supplies for those in need
Career Services
Apply for an on-campus jobs and prepare for your future internship or job search.
Campus Involvement Resources
Office for Student Involvement
OSI offers multiple ways to get connected to other students. Turn your passions into purpose through clubs, events, and leadership opportunities. 
Center for Multicultural Initiatives (CMI)
The mission of the Center for Multicultural Initiatives is to provide support for underrepresented students' success and to foster an appreciation for campus wide diversity.
Peer Mentors Connects CMI scholars to positive academic and social experiences. 
CORE Ambassadors Connects CORE program participants to positive academic and social experiences. 
Diversity Training is offered by CMI for students, faculty and staff, helping the OU community to embrace and value diversity.
Circle of Sisterhood is a CMI group whose main goal is to support young women on campus and provide them with the resources they need to make it through college and lead a successful life, including a solid support group, connections to faculty and on campus leaders, and experiences that will help them gain a greater sense of self and responsibility.
Circle of Brotherhood (COB) is an all male peer mentoring group that meets weekly aimed at assisting young men in reaching their full potential. COB is a student led group that offers young men a venue to be uninhibited and free to express whatever is relevant to them. Topics for discussion are often selected by the students. COB also offers opportunity's to develop a connection with OU staff and administrators who often co-facilitate the discussions. Finally, COB offers young men an opportunity to make new friends, express their opinion, and hopefully have some fun. For more information please contact Christopher Hunter at cahunter@oakland.edu.
University Recreation and Well-Being
Stay strong and keep your health front and center by joining virtual and in-person fitness activities. 
Gender and Sexuality Center
This student-centered campus resource works to celebrate, affirm, and empower LGBTQA+ members of the OU community. 
Student Congress
Learn more, get involved, and help fellow students create the best possible experience at Oakland.
Residence Life Association
Find events, activities, and resources to get connected if you are living on campus.
Veterans Support Services
OU is a gold-ranking support service, promoting the educational, career, and personal advancement of veterans, service members, and their dependents.