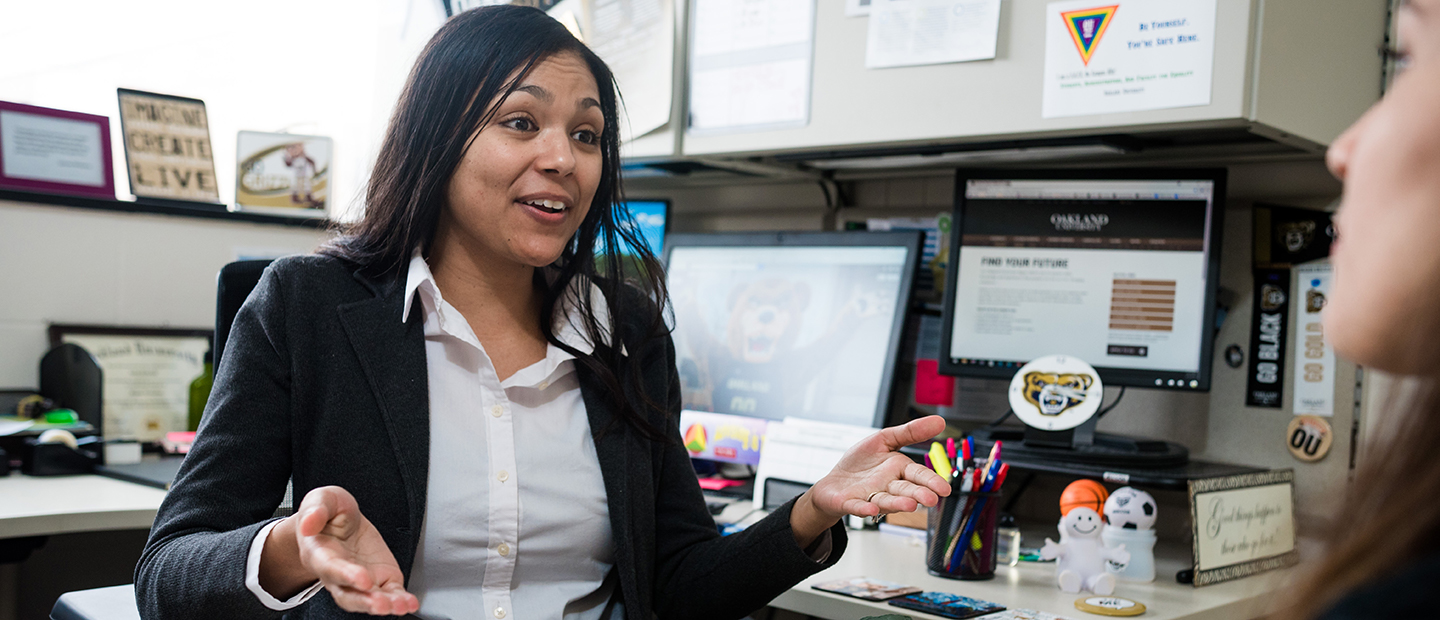 Your assigned academic adviser is your "go to" support system as you navigate your first year of college. Advisers guide and make recommendations to help you to find success. FYAC advisers also work with undecided or re-deciding students as they choose a major and look at career options. 

Have a quick question?
View the Prepare for Fall 2021 eSpace module first for answers to common questions.
Need further assistance?
Start by using FYAC chat, e-mail your academic adviser or call our office at (248) 370-3227. 
Looking to schedule your required appointment?
Review our required appointments tab and follow the instructions.
Required Appointments
Students have two required appointments (one in fall and one in winter) to complete during their first academic year.
How to schedule your required appointment
Before scheduling your required appointment, students must complete the Preparation for Your Fall Advising Appointment module in eSpace.
Prepare for Appointment module
We are offering both in-person and virtual appointment options. Click the button below for instructions on scheduling an appointment with your assigned academic adviser. 
Guest policy
We encourage you to participate in your academic advising appointments independently. If you choose to have a guest join your appointment virtually or by phone, you will need to provide written consent.  Due to the space limitations of adviser offices, guests will not be allowed to join appointments in person.


Late arrival policy
If you are more than 10 minutes late for your appointment, you will have to reschedule.


No show policy

If you do not show for two of your scheduled appointments,
you will need to call (248) 370-3227 in order to make an appointment.


Additional appointments
If you have already completed your required appointment for the semester and want to meet with your adviser again, please call (248) 370-3227.


Transfer Student Orientation
If you need to schedule a Transfer Student Orientation appointment, please call (248) 370-3227 for assistance.
In-Person Appointment Directions  Virtual Appointment Directions
Stay On Track
Earning 28 credits in your first year is important to help you stay on track in your collegiate career. There are 3 key benefits to earning 28 credits. Review them below to stay on the fast track to graduation.
Graduate Faster: 
New students who earn 28 credits will achieve sophomore standing by the start of their second year.

That means, you'll be on track toward graduation in four years.
Save Money on Tuition: 
28 credits is required to renew OU scholarships and to receive new ones. Scholarships = less tuition cost!

And, the faster you finish your degree, the less you pay in tuition over time. 
Other Perks:
With 28 credits you'll be eligible to apply for on-campus jobs that require sophomore standing - like Orientation Group Leaders!

The more credits you earn, the earlier you will be able to register for next year's classes. Earlier registration = better course selection! 
---
Don't withdraw from a course just yet. We can help! Reach out to your adviser via email or phone and make an informed decision.