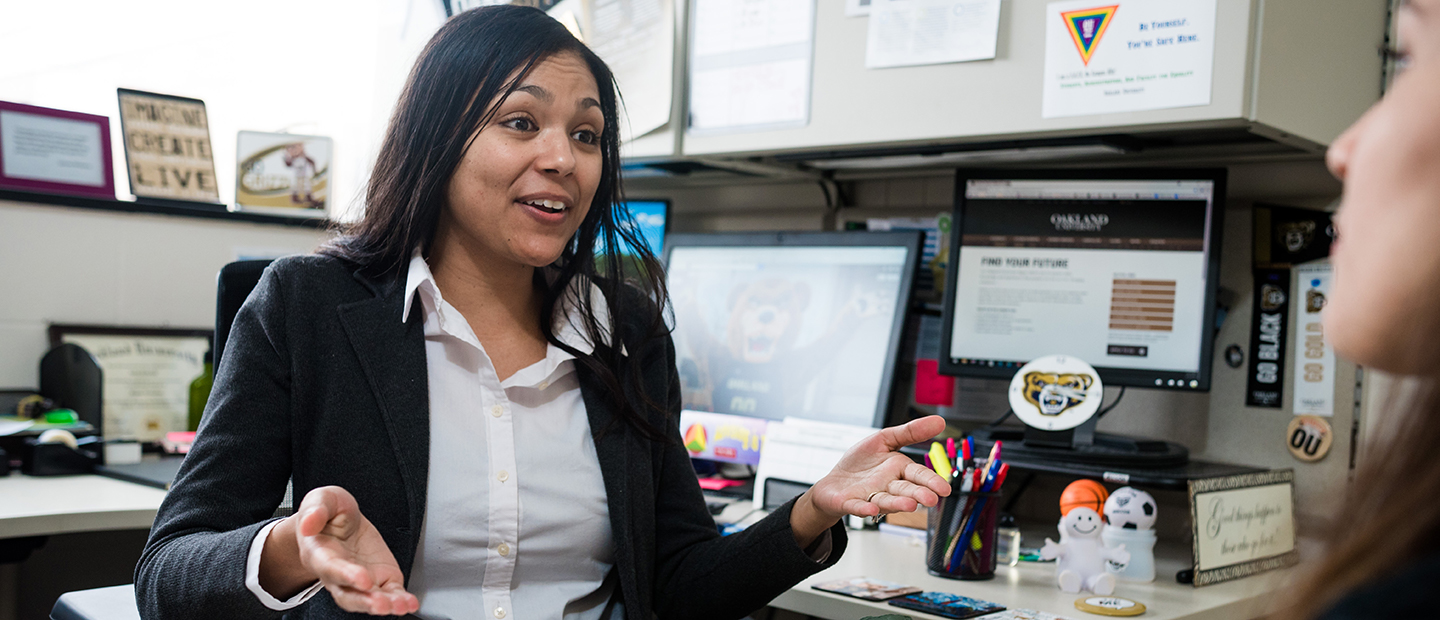 Your assigned academic adviser is your "go to" support system as you navigate your first year of college. Advisers guide and make recommendations to help you to find success. FYAC advisers also work with undecided or re-deciding students as they choose a major and look at career options. Here's how you can reach us:

Have a quick question?
View our FAQ first for answers to common questions.
Questions about class meeting times?
View our Understanding Your Schedule tab for details.
Need help with your schedule?
Connect with our student assistants on Zoom in our Virtual Registration Help Room. Hours are Monday-Friday from 8 am - 5 pm. Be sure to check out our quick how-to videos about using Zoom on a mobile device or desktop.

Need further assistance?
Start by using FYAC chat or e-mail your academic adviser. You can also virtually chat with an adviser during drop-in hours.
Looking to schedule your required fall appointment?
Review our required appointments tab and follow the instructions.
Required Appointments
Required appointments are 30 minutes of dedicated time with your assigned adviser. Students have two required appointments (one in fall and one in winter) to complete during their first academic year. 
How to schedule
To schedule an appointment with your assigned academic adviser,

log-in to the online scheduler

using your NetID and password. 


Select "Search Availability"


Select "First Year Advising Center" in the drop down Center menu on the left of your screen.


Enter date and/or time range based on appointment preferences.  Select "Search."


Select the appointment you would like to schedule



Add your phone number (required) and any notes you want to share with your adviser about the reason for your visit (optional).  Select "Save."
If your current adviser isn't listed or you need to schedule a Transfer Student Orientation appointment, please call our office at (248) 370-3227 for assistance.
What to do before your appointment
After scheduling, you will receive a confirmation email to your OU email account. The appointment time will also appear on your Google calendar which is linked to your OU email account.





You will receive an email reminder via your OU email account

two days

before your scheduled appointment.




To get the link to your virtual appointment, follow these steps in order:



5 minutes before your appointment login to your OU email

At the time of your scheduled appointment

log in to the online scheduler

Click on the blue box labelled "Enter ONLINE APPOINTMENT" to open up your Google Meet with your adviser





If you need to cancel or change your appointment time, log-in to Advisor Trac and

click on the

"X"

after the appointment information in the Upcoming Appointments section on your Main Menu.  You can then schedule a different appointment time if needed.
Guest policy

To ensure the privacy of students,
other participants such as friends and/or family should not be present. We want time to focus on your success and any questions you might have. 


Late arrival policy
If you are more than 10 minutes late for your appointment, you will have to reschedule.


No show policy

If you do not show for two of your scheduled appointments,
you will need to call (248) 370-3227 in order to make an appointment.
Drop-Ins
Drop-ins will be available again at the end of the semester for questions about S/U grading. Check back soon for details. 
Understanding Your Schedule
Classes meeting in-person will show a day, time, and location that includes a room number and building.


Livestream Online (Synchronous) courses will be listed as ONLINE NRM, but have day(s) and time(s) listed. During these scheduled times, you are expected to join the class virtually.


Traditional Online (Asynchronous) courses will be listed as ONLINE NRM with no associated days and times. You are able to complete classwork at any time with regularly scheduled due dates.
Stay On Track
Earning 28 credits in your first year is important to help you stay on track in your collegiate career. There are 3 key benefits to earning 28 credits. Review them below to stay on the fast track to graduation.
Graduate Faster: 
New students who earn 28 credits will achieve sophomore standing by the start of their second year.

That means, you'll be on track toward graduation in four years.
Save Money on Tuition: 
28 credits is required to renew OU scholarships and to receive new ones. Scholarships = less tuition cost!

And, the faster you finish your degree, the less you pay in tuition over time. 
Other Perks:
With 28 credits you'll be eligible to apply for on-campus jobs that require sophomore standing - like Orientation Group Leaders!

The more credits you earn, the earlier you will be able to register for next year's classes. Earlier registration = better course selection! 
---
Don't withdraw from a course just yet. We can help! Reach out to your adviser via email or phone and make an informed decision.
FAQ
How do I get my GrizzID?
You can stop by the ID Card Office anytime they're open to pick up your ID card. If you submitted your photo online your card is printed and ready for you. If you didn't submit a photo the ID Card staff will take your picture and print your ID card on the spot. Be sure you check the office hours at oakland.edu/grizzcard/, know your Grizzy ID number, and have a picture ID before you go.
How do I take the math placement exam/language placement exam?
Math placement: Oakland University has adopted a new Mathematics Placement assessment with remote proctoring which students can take from their own home. The test is now available

here

, and students can follow the instructions to get started and schedule their initial proctored placement assessment. As in the past, students can still be placed into their initial mathematics course by SAT/ACT score, without taking the placement assessment.
Language Placement: A language placement exam is available

on this website

.  Once you complete the assessment, please send your adviser the results so the correct placement may be noted.  Students are still responsible for completing a course from the Language and Culture General Education category.  If you score at a higher level, this requirement can be completed with the level on the General Education document, or the level that you place into.
How do I send my AP scores to OU?
You need to be sure that (1) your adviser has your AP scores and (2) the Office of the Registrar receives your official AP scores. You can do both by logging into your College Board account at apstudents.collegeboard.org. Download your Score Report PDF file and email that to your adviser. To be sure that your official scores have been sent to the Office of the Registrar, view your past score orders. If your most recent scores have already been sent to OU then you're all set. If not, submit a request through the score reporting portal.
How do I send my final high school transcript?
To submit your final high school transcript, review your high school's website or get in touch with your high school guidance counselor to request a transcript. Final transcripts must include your graduation date and are accepted through Parchment. You may also email your final transcript to oakuniv@oakland.edu.
When should I purchase my textbooks?
Many students choose to purchase textbooks before the semester begins, while others wait until the first day of class when they've had a chance to review the syllabus with the professor. Remember, you can find the textbooks needed for your course(s) by logging in to your MySAIL account and clicking on the blue "Buy Books" box in the middle of the page.
Where do I purchase my textbooks?
We recommend utilizing the OU Bookstore, located on campus in the Oakland Center. However, no matter where you purchase your textbooks, just be sure they are the right ones!
It looks like some of my textbooks are required, and others are recommended. What do I need?
Focus on purchasing required textbooks first, as those are necessary for the course. Reach out to your professors before classes start for more info. Or, wait to review your syllabus when it becomes available in Moodle to learn how your instructor will use the book to make a more informed decision. Professor contact information can be found in your MySAIL by clicking "instructor" under each course.
The textbook I need has different formats (bound book, e-book, loose leaf packet). How do I know which one is best?
This comes down to your individual preference and the cost you are willing to spend. Go with whatever will make you feel the most comfortable while studying and fits within your personal budget. You can't go wrong with any of these options!
How do I know if my online class has a required, live meeting time?
Online classes can require specific meeting times just like a traditional in-person class, have no required meeting times, or a mix of the two. This document will show you how to view this information in the schedule of class on SAIL and in your MySAIL.
How do I change my major?
Contact your adviser if you're thinking about changing your major. They will provide you with the document used to adjust your intended major and will also recommend classes based on your new program of study.
How do I drop a class?
Under the summary panel, identify the course you wish to drop. Click the drop down menu to change Web Register to Web Dropped, and click Submit. 
And, should we reference - be sure you've talked with your adviser first.
What if I need a laptop?
Contact the Student Technology Center (STC) to request one. The STC offers free technology loans for currently enrolled students to take to class, home, or off-campus.