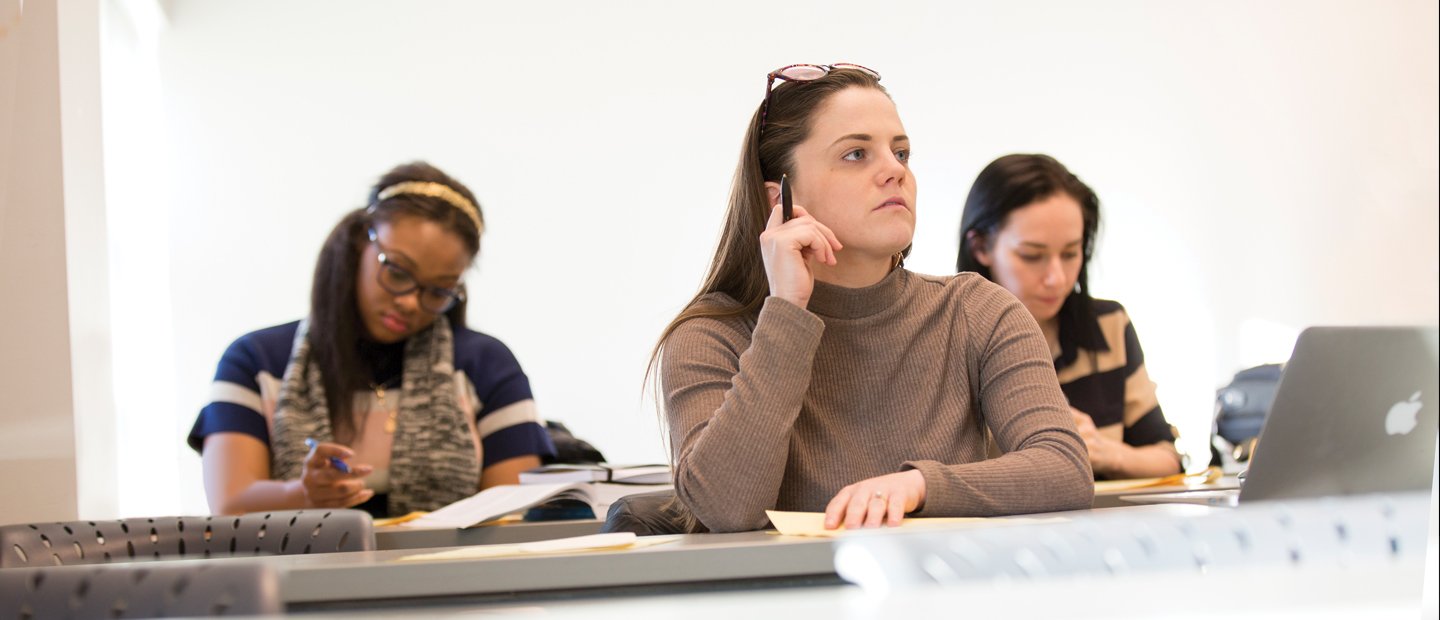 Master of Education in Educational Leadership
Graduates of the Master of Education in Educational Leadership program are well-prepared for building-level leadership positions including principal, assistant principal and dean of students. Those who choose to remain in the classroom will find that they are well-equipped to assume formal teacher leadership roles, e.g. instructional coach, new teacher mentor, grade level or department chair, school improvement chair. As a state-approved principal preparation program, graduates earn a master's degree and are eligible for a State of Michigan Administrative K-12 Certificate.
Overview
The M.Ed. in Educational Leadership is designed to prepare "practice-ready" leaders for 21st Century schools. With the guidance of expert faculty and supported by a program-long internship, students develop the skills needed to lead with a clear vision, build positive relationships, support and guide school improvement, and empower others while managing the complexities of change.
Program coursework is strongly performance-based. As a result, graduates leave the program well-prepared to assume a variety of school leadership positions.
Additionally, all graduates leave the program with an e-portfolio they can share with prospective employers and key stakeholder groups, e.g. parents and students, local business leaders and building teachers.
Program Features:

Relevant coursework provides you with the leadership tools and confidence to meet the challenges of school leadership
Cohort model links you to a professional network of successful school leaders
Distinguished faculty draw on both practical experience and academic research to help you connect theory with practice
School-based internship provides real-life experience; mentorship with a recognized school leader offers extra support
Required 32 credits completed in 22 months
Convenient scheduling combines weeknight classes with hybrid coursework
Graduates eligible for a State of Michigan K-12 Administrative Certificate
Accelerated 13-month format (weekend program) available at the Macomb University Center and Oakland University
Effective Leadership from where you Stand
Oakland University periodically offers an opportunity's to enroll in an Educational Leadership course designed for teachers and administrators who need to fulfill continuing professional certification requirements. Course Details:
6-credits total, cohort course offered over two semesters as two, 3-credit modules
Classes usually meet only one week night per month 
Course open to all K-12 teachers and administrators
Taught by Oakland University Faculty: Robert Martin
Additional Information:
Program Coordinator: 
Robert A. Martin
(248) 370-2772
ramarti3@oakland.edu
480G Pawley Hall
Department Secretary:
Kathleen Kampo
(248) 370-4109
kkampo@oakland.edu
475E Pawley Hall
Admissions Criteria
Future students are asked to demonstrate their interest in building-level administrative roles through a professional goal statement and two letters of recommendation.
Through your goal statement, we are interested in knowing who you are as a person and what you would like to achieve personally and professionally with this degree. A typical goal statement is 2-3 pages in length and addresses the following:

Your career goals, including how the M.Ed. in Educational Leadership will help you reach your goals
The qualifications and experience that prepare you to be successful in reaching those goals
Your vision of school leadership, including your commitment to equity
Any problems or inconsistencies in your academic or professional record
Previous teaching experience is highly recommended, but not required.
Course Requirements
The M.Ed. in Educational Leadership degree program requires 32 credits, which taken within the 22 month, cohort-structured program. Face to face courses are offered on weeknights, with hybrid course offerings during the summer terms. The required internship stretches across the program. As a culminating activity, graduates prepare a web-based portfolio that addresses the ISLLC School Leader Standards.
Year One
Fall
EL 5300: Introduction to Educational Leadership - 4 credits
Winter
EL 5320: Staff and Curriculum Development - 4 credits
Summer I
EL 5340: Law for Teachers and Administrators - 4 credits
EL 6955: Internship for School Leaders I - 2 credits
Summer II
EL 5360: Schools, Students and Educational Equity - 4 credits
Year Two
Fall
EL 6300: Theories and Techniques of Leadership - 4 credits
Winter
EL 6320: School Finance and Business Administration - 4 credits
Summer I
EL 6960: Culminating Master's Practicum - 4 credits
EL 6956: Internship for School Leaders II - 2 credits
In addition to receiving a master's degree, students are also eligible to apply for a Michigan Administrative Certificate.
Apply for Admin. Cert.
Step 1: Sign into the Michigan Online Educator Certification system (MOECS)
Log into the Michigan Online Educator Certification System (MOECS) to apply to the state for your Administrative Certificate. If you are unsure if you have a MOECS account or need help logging in, refer to the "Initial MOECS Instructions" link on the Michigan Department of Education Certification Guidance page.

Step 2: Apply for your new certificate in MOECS
Once you have signed into MOECS, you may be asked to complete demographic information. After saving the information, you will see links on the left navigation panel. Choose the link to apply for your new certificate and follow the directions to complete the process. In this application process, be sure to identify Oakland University as your preparing institution as this moves your MOECS application into Oakland's queue for review and approval.
Step 3: Apply for recommendation
To allow the Certification Office to begin the audit and approval process, you must also submit a request for Recommendation for Administrative Certification or Endorsement.
Applications are typically processed within 2-6 weeks from the date of the application and request form. If your program results in a degree, the degree must be awarded before your request for Administrative Certification can be finalized. If you have questions regarding the status of your application, please contact the Certification Office at certification@oakland.edu.
Step 4: Pay MOECS fee and print your certificate
Once your Administrative Certificate has been approved, MOECS will send an email prompting you to pay the application fee. You can also pay the fee by clicking on the "Pay Fee" link that will appear when you log into your MOECS account. After your payment is processed, you will be able to print your new certificate from within MOECS.

If your program results in a university issued degree or certificate, you will also apply to Oakland for your degree or certificate to be awarded. Please contact the Graduate School or the Department of Organizational Leadership should you have questions regarding this process.
Accelerated Format
Oakland University also offers an accelerated weekend version of the Master of Education in Educational Leadership. This program is offered at the Macomb University Center in Clinton Township and is designed for tenured teachers or those with four or more years experience desiring to assume a variety of school leadership positions.
Beginning fall 2020, the M.Ed. in Educational Leadership (accelerated format) will also be offered on OU's main campus. 
Features of the accelerated program include:
Required 32 credits completed in 13 months

Courses meet one weekend per month:

Friday evening (5:30 - 8:50 p.m.) 

Saturday (8:30 a.m. to 3:30 p.m.)

Additional online assignments are also included

Each course will schedule an optional monthly support session on a Wednesday evening

Intensive summer internship provides real-life experience; mentorship with a recognized school leader offers additional support

Eligible for State of Michigan K-12 Administrative Certificate

The first weekend of the month, class is held at the Macomb University Center

The second weekend of the month, class is held on OU's main campus
FAQs
What is the hybrid format for the program?
The program is mostly face-to-face and meets on campus from 5:30 pm - 8:50 pm on Monday evenings. Students can expect to have 2-4 online sessions per semester, but the bulk of course time is on-ground at Oakland University.
How will completion of this program enhance by career pathway?  
In addition to earning graduate level credit and a Master of Education degree, the M.Ed.in Educational Leadership is a Principal preparation program that provides all coursework required by the State of Michigan for graduates of the program to apply for Michigan K-12 Administrative Certification. We strive to produce practice ready leaders who can step into administrative roles as well-prepared professionals.
How long does it take to complete this program?  
This is a 32-credit program that takes 22 months to complete. Students should plan on attending classes over the summer between the first and second year of the program and finishing in June of the second year.
Can I complete the program while working full time?  
The program is designed for students currently working in full-time employment. Courses are held during the evenings and internship hours are flexible and often completed on site for students currently working in schools.Instructors are sensitive to the needs of graduate students who are also working full time and assignments are often directly related to individual student work.
How do I complete the internship requirement while working?  
Most students will complete internship hours at their own school buildings with one of their administrators serving as their mentor. Interns who are not currently working in K-12 schools have found mentors who are willing to work with them. 
What are the advantages of the OU program over other similar programs?  
We believe that the instruction, course sequence, cohort model and internship structure of the program is superior in providing confident and practice ready leaders. Instructors in the program are current or recently retired school administrators who are well connected to the network of school leaders in the tri-county area. This provides not only real-world instruction by administrators who have been successful school leaders, but also a network that can potentially assist graduates in obtaining future leadership positions. In addition, the cohort model of the program provides graduate students with networking relationships that span the tri-county area and beyond.
What are the financial implications I should consider?  
Completing a graduate degree is a considerable investment and should be thought of as such. Graduates often receive pay increases upon completion of advanced degrees, and ROI can be determined by examining your district contract and pay scale. In addition to level pay increases, advancement to an administrative position can often result in a significant pay increase.Students considering graduate work in this program who work in schools or systems that provide pensions should also consider the impact of higher salaries on their pension amount. Finally, obtaining an advanced degree and/or administrative position that results in a pay increase now allows you to work for more years of your career at higher pay. Depending on individual district contract amounts, the increased salary over the course of a 30-year career can result in hundreds of thousands of dollars accumulated over the same time period without an advanced degree.