Friday, May 05, 2023
President of Corewell Health East to deliver commencement keynote for Class of 2023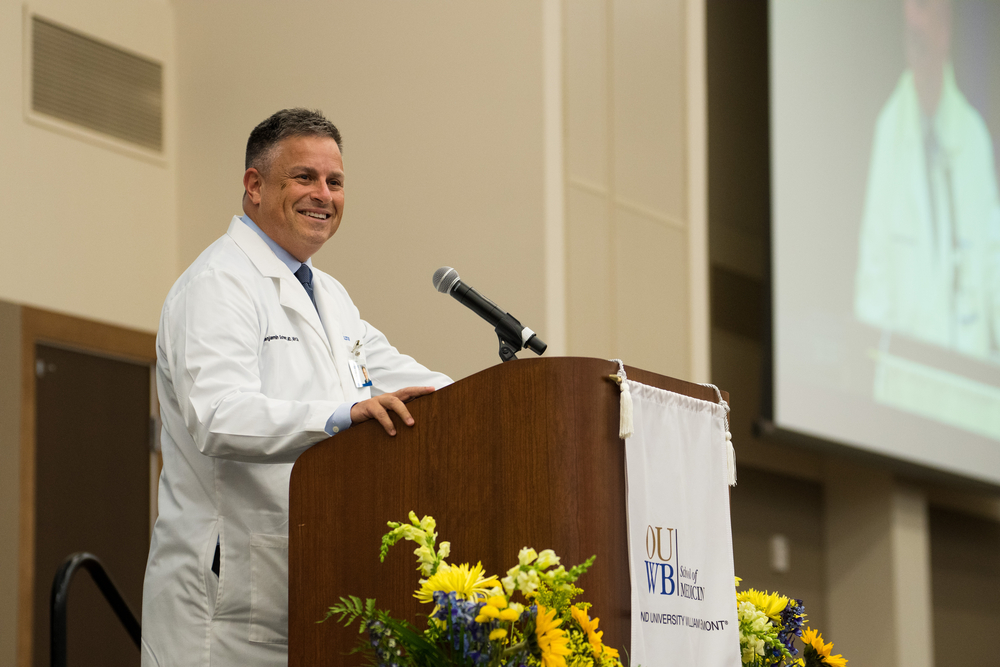 Ben Schwartz, M.D., MHCM, president of Corewell Health East, speaks to the OUWB Class of 2026 at its white coat ceremony on Aug. 1, 2022.
Ben Schwartz, M.D., MHCM, may be busy leading Corewell Health East, but there's one thing he never forgets: the importance of inspiring the next generation of physicians.
The president of Corewell Health East hopes to do just that when he delivers the keynote next week at the Oakland University William Beaumont School of Medicine Class of 2023's commencement ceremony.
To date, the May 12 event will be the culmination of achievements for members of OUWB's 9th class.
Schwartz, who also serves as a professor of OB/Gyn at OUWB, calls being the keynote speaker "a huge honor."
"It's really a special opportunity for me to share with the next generation of doctors my perspective on some of the opportunities for us to embrace humanity and health care," he says.
Duane Mezwa, M.D., Stephan Sharf dean, OUWB, says Schwartz is "a perfect keynote speaker" for the event.
"Ben brings a very supportive and deeply meaningful message to our physician graduates," says Mezwa. "Ben is truly an accomplished physician leader who understands the importance of OUWB and the special kind of physician it creates."
"The choice of Ben Schwartz as a commencement keynote is a natural," he adds.
'Something very special'
With a father who was a physician and OB-GYN, Schwartz says it wasn't a far-fetched notion that he, too, would one day wear a white coat — especially when he saw the "pure joy" his father had in going to work every day.
Schwartz says his career in health care has allowed him to have "real happiness."
"In all of the different jobs that I've had, including this one, I felt like I've had opportunities to be really impactful in helping other people be well, enjoy better quality of life, and to really thrive and succeed," he says. "Whether it's the patients that have been taken care of or the team members I've worked with…there's something very special about being part of a health care community."
Today, Schwartz leads strategy and corporate decision-making for eight hospitals, 155 outpatient sites, nearly 5,000 affiliated physicians, 1,800 advance practice providers, 9,000 nurses, and 2,000 volunteers across three counties in southeast Michigan. He also serves as a member of the Corewell Health leadership team.
Schwartz previously served as senior vice president and the physician executive for the eastern region of Northwell Health in New York.
His 27-year career has increasingly widened his circle of influence — both as a practicing physician and as an administrator and leader. He is passionate about teaching and inspiring the next generation of physicians, serving as an associate professor at several institutions and administering oral exams for the American Board of Obstetrics and Gynecology in Dallas.
It's with an eye on the future of health care that Schwartz says he feels the need to be so involved with OUWB's medical students.
Since joining Corewell Health about a year ago, for example, Schwartz has regularly appeared at signature events for OUWB, such as the Class of 2026 White Coat Ceremony and the Class of 2023's Match Day celebration.
"First of all, I love going," he says with a smile. "Every time I go it's about something that's really happy, fun, and exciting."
There's another reason Schwartz says he wants to be so involved with OUWB.
"We have to get as close to OUWB as possible," he says. "Not only because it's important for us to make sure we're doing our fair share to educate students, but it's also good for them to know us."
Many OUWB graduates move on to residencies with Corewell Health East. From the Class of 2023 alone, 19 students will be participating in residencies at Corewell Health Hospitals in Dearborn, Royal Oak, Taylor, and Grosse Pointe in 12 specialties, with another three students heading to residencies with Corewell Health West at Spectrum Health Michigan State University.
 'Tremendous pride and satisfaction'
Schwartz doesn't want to give away his whole presentation before commencement, but says it will generally be consistent with OUWB's mission, vision, and values.
"A really important concept in health care right now — really important no matter how technical or sophisticated we get, or how many challenges are put in front of us — is to not lose that human-to-human connection with our patients and their families and loved ones," says Schwartz.
"I want to leave everyone with the message that no matter how hard your work is…to never lose sight of why we're doing what we're doing and the importance of those connections," he adds.
The COVID-19 pandemic showed him that the next generation is ready, too.  
"My respect for the younger generation of providers has been exponentially amplified," says Schwartz.
"To see how they stepped up and ran into the fire of the COVID-19 crisis…it gives me tremendous hope for the future and to be part of training them and giving them a launching pad to succeed gives me tremendous pride and satisfaction."
For more information, contact Andrew Dietderich, marketing writer, OUWB, at adietderich@oakland.edu.
To request an interview, visit the OUWB Communications & Marketing webpage.
This work is licensed under a Creative Commons Attribution-NonCommercial 4.0 International License.