Tuesday, Aug 13, 2019
Orientation preps OUWB's class of 2023 for first year of medical school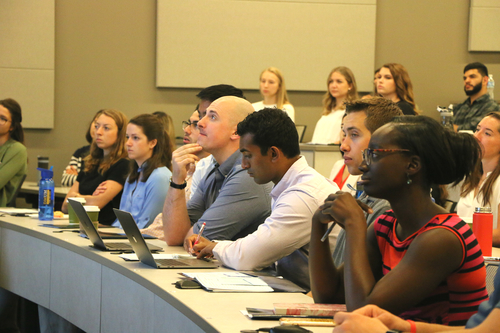 Over the course of a weeklong orientation, Oakland University William Beaumont School of Medicine's newest class quickly evolved from a quiet group of strangers to a tight-knit team ready to collectively tackle their first year of med school.
The 125 members of the class of 2023 were introduced to every facet of OUWB, ranging from curriculum, faculty, and medical student government, to the Clinical Skills Center at Beaumont Hospital, Troy, Embark, PRISM, Diversity & Inclusion, and more.
The week wrapped up on Friday, Aug. 9, with a White Coat Ceremony officially welcoming the students to the school and the health care profession.
Duane Mezwa, M.D., FACR, Stephan Sharf Interim Dean, OUWB, professor, Diagnostic Radiology and Molecular Medicine, addressed the students first thing Monday. He introduced the school and himself, stressing his accessibility.
"We want to make sure that you're enjoying this, that this is what you really bargained for, that you're healthy, you're happy, and you love coming to school every day," Mezwa told the students.
On Tuesday, the new med students spent a half-day at the on-campus TreeRunner Adventure Park at Oakland University that features more than 60 trails with zip lines and obstacles of varying levels of difficulty.
TreeRunner was perfect for the team-building, said OUWB Associate Dean for Student Affairs Sandra LaBlance, Ph.D.
The reason, she said, is that it puts students in an environment where they not only have fun, but work on cementing their respective bonds with each other.  
"Just the trust piece and getting to know each other — it changes the dynamic," LaBlance said. "They go from strangers to companions, essentially. They become a team." 
Later that day, the first-year med students learned about safety on campus, COMPASS (the official address of OUWB's community engagement), and received a tour of OUWB's library.
"If you need help come to us," said Nancy Bulgarelli, director, OUWB Medical Library. "We want you to find your spaces in this library, and other spaces that might be helpful. We want you to be able to find helpful resources on the website. And, we want to you to be able to understand the ways of information mastery."
On Wednesday, lectures were given on "Medical Humanities & Clinical Bioethics" and "Anatomical Foundations of Clinical Practice."
Getting acquainted with OUWB people and places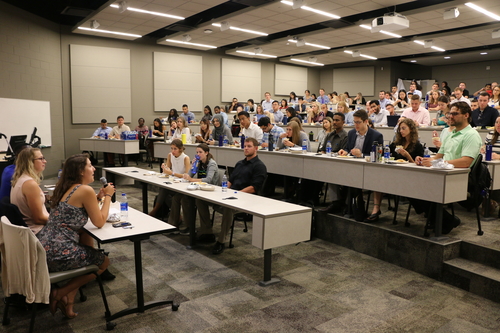 First-year students also were introduced to medical student government. M2s Grace Peterson, Nina Diklich, and Kwesi Asantey talked about the merits of getting involved in the organization.
"It's a really great opportunity to not only represent yourself and your classmates, but the school as a whole from the student perspective," Peterson told the first-year students.
Asantey later said he felt it was important for the new students to hear from those who also are students.
"When I was an M1, the information that stuck with me, and that I thought was most helpful, was information that came from the upper year classmen because they've already gone through it," he said.
Asantey said based on the questions asked during the session, he believes the class of 2023 "is very engaged in the material and you can see they really want to know what's going on at this school."
The day also included a presentation by student affairs and a trip to Beaumont Hospital, Troy. While at the Clinical Skills Center, M1s took part in a session on handwashing, toured examination rooms, and heard Leon Pedell, M.D., and Ida Rubino, M.D., on "The Art & Practice of Medicine (APM)."
"I talk every year to the first years and second years about how it's just so important that they have fun, too," he said.
During the session APM session, students are asked to write four things: how to preserve a sense of personal meaning in the practice of medicine; how to heal with humanity, even when you cannot cure the science; a personal Hippocratic oath; a letter to themselves about the doctor they want to be. The letters are sealed and not opened until given back to the students around the time they graduate.
On Thursday, the students began the day with a presentation from Dwayne Baxa, Ph.D., assistant professor, Department of Foundational Medical Studies, and Kara Sawarynski, Ph.D., assistant professor, Department of Foundational Medical Studies, on Embark, a required scholarly concentration program of OUWB that provides a mentored introduction to research and scholarship.
Baxa and Sawarynski provided an overview of the program, including milestones.
Also on Thursday, students learned more about PRISM (an acronym for Promoting Reflections and Individual growth through Support and Mentoring), a multi-layered system of support, along with a four-year curriculum that focuses on personal growth, wellness, and career development. PRISM mentors are assigned to students for all four years of medical school. 
"Students work very hard to get into the right college, and medical school, and that can be a very isolating experience," said Kurt Wharton, M.D., professor, Department of Obstetrics & Gynecology, and one of the PRISM team mentors for class of 2023. "They're about to begin a very arduous course for the next four years and it's nice for them to have a home base."
Hearing from the M2s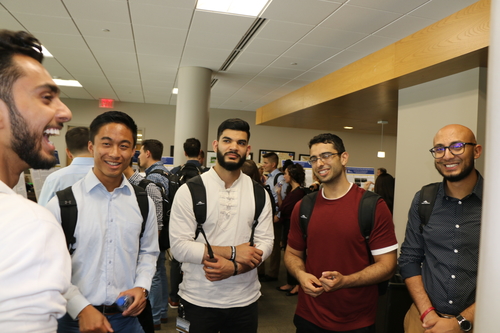 The day wrapped up with poster presentations from the class of 2022, giving them a glimpse at next summer's possibilities, and a jam-packed student involvement fair.
M1 Aiden Naram said the week was full of information, and that he especially appreciated how the structure of orientation helped him engage with his classmates.
"With the all of these activities, they try to mix every single student with the other students so you end up knowing most of the class," he said, adding that the full week of orientation made him feel like OUWB "really cares for its students."
M1 Taj Al-Hasani said the week of orientation left him feeling "a sense of family" exists at OUWB — and that he felt more prepared to start medical school.
"I benefited a lot from the information given," he said. "It's a real orientation to the school and I feel like I'm ready."
For more information, contact Andrew Dietderich, marketing writer, OUWB, at adietderich@oakland.edu.