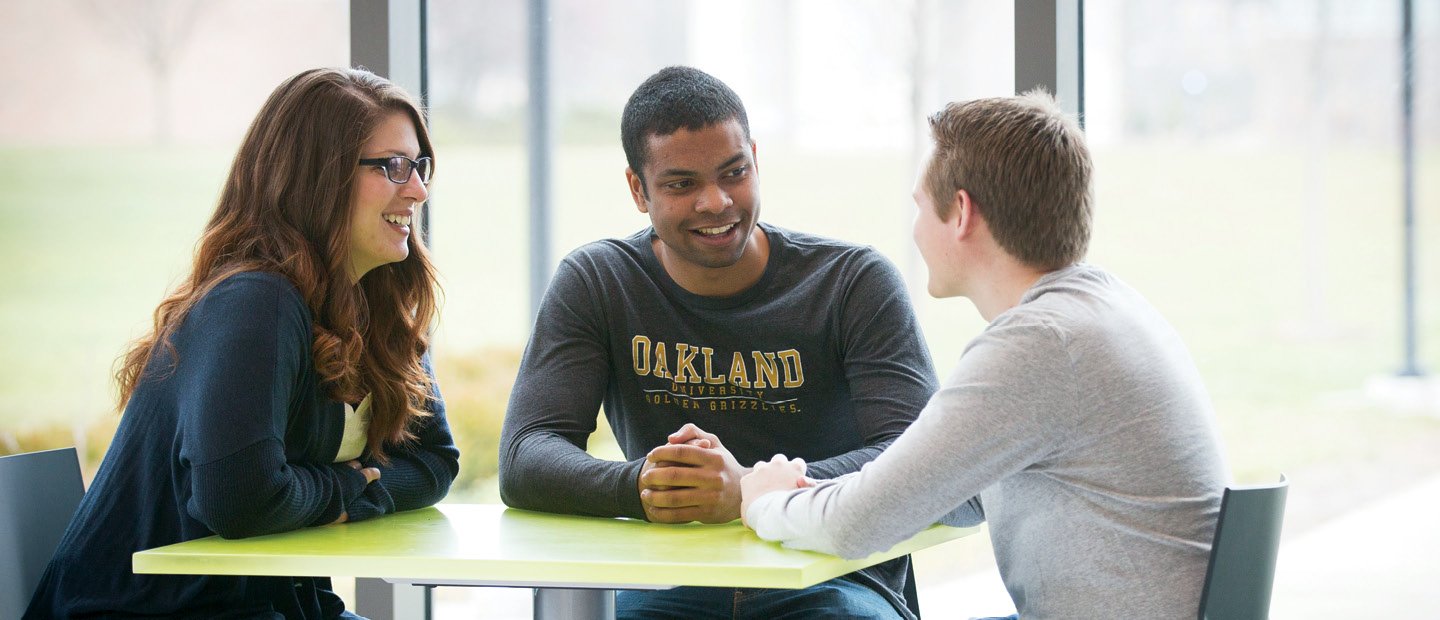 The mission of Oakland University Housing is to provide a safe living and learning experience that promotes a sense of community, civic responsibility, and an appreciation for individual differences.
In keeping with our recognition of personal well-being as a critical component of each students' residential experience, we are pleased to offer a Gender-Inclusive housing option. Gender-Inclusive housing provides the opportunity for two or more students to share a room or suite regardless of the students' sex, gender, gender self-identity, or gender expression.
Gender-Inclusive housing is available to both new, incoming residents and returning residents, and provides students the option to reside with a person of a different gender or sex in order to achieve a welcoming living environment. This type of housing option may be especially important for: 
Students in the process of discovering their gender identity

Students who do not wish to identify themselves by gender

Gay, lesbian, bisexual, or transgender students

Students who feel more comfortable with a roommate of a specific gender self-identity
Students who are interested in participating in Gender-Inclusive housing will have the opportunity to choose that living option while completing the online contract required of all future residents. Should the student have a known preferred roommate, their roommate should also indicate their interest in participating in Gender-Inclusive housing during the completion of their own contract.
If the student does not select a roommate during the selection period, additional students who have indicated interest in the Gender-Inclusive housing option will fill any remaining space(s) in their room or suite. Students who are uncertain about how to match with a roommate may contact our Assistant Director for Assignments and Summer Conferences, Matt Belanger at mbelanger@oakland.edu for support.
Oakland University Housing discourages residents who are in relationships from living together in the residence halls or student apartments, regardless of their sexual orientation and/or gender identity.
The privacy of our student residents is taken seriously, and it is the student's choice to communicate with parents or other family members about the decision to live in a gender inclusive environment. Open dialogue between students and their families is, however, encouraged, so that those members can be in support of the student's decisions about their housing options.
Students who have specific concerns or questions about gender inclusive housing, roommate matching, and room assignments are able to work directly with University Housing's Assistant Director for Assignments and Summer Conferences, Matt Belanger by emailing mbelanger@oakland.edu. 
To learn about Oakland University's Gender and Sexuality Center, visit oakland.edu/gsc, or contact Blake Bonkowski, the Center's coordinator, at blakebonkowski@oakland.edu. We also have a gender inclusive housing video tutorial available for your convenience.