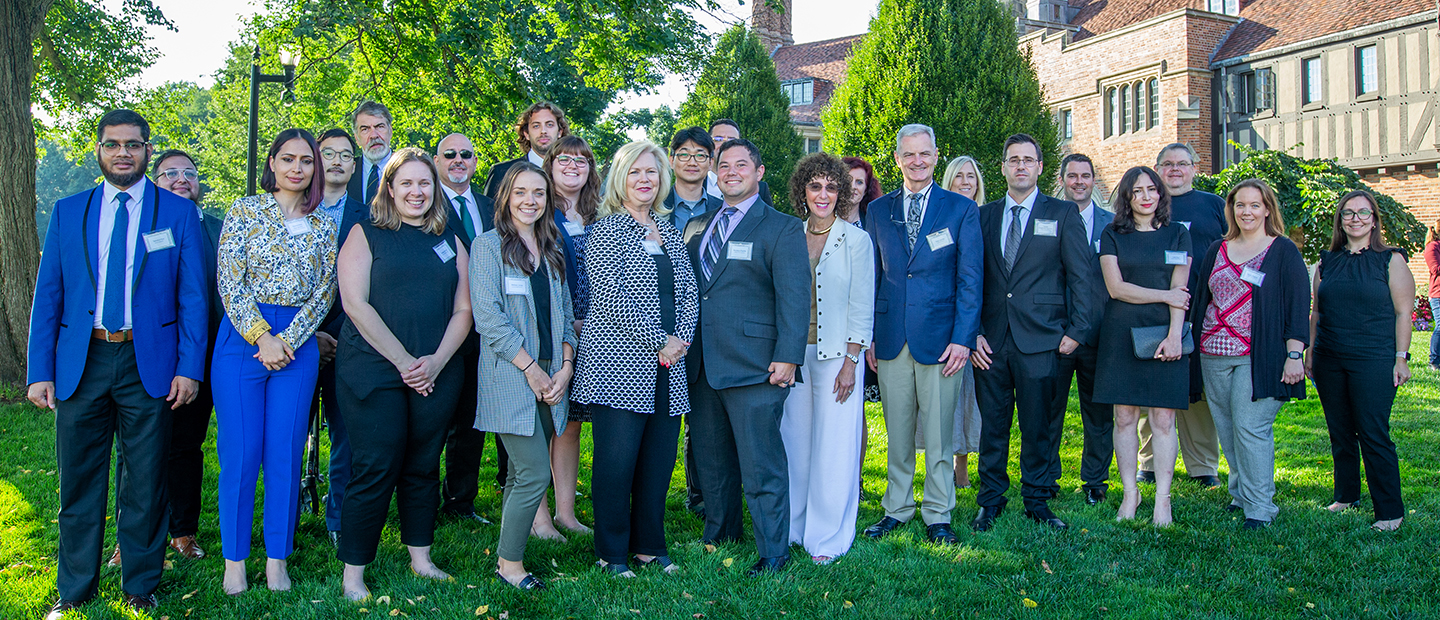 Welcome to Oakland University! Whether you are a tenure-track professor contributing your teaching, research and service or a part-time lecturer teaching a night class, we are privileged to have you join our community.
Steps to Start the Semester Strong
Complete onboarding process with your hiring academic department.
Once you complete this process you'll receive your NetID and password, which you will need to access your OU email, course pages, and more. For more on hiring documents and policies, see HR's New Faculty Resources page. 
Share your photo and bio.
Every year we welcome new faculty, highlighting the expertise coming to Oakland University. Access the new faculty photo and bio form for guidance. (Find out who is your account manager before scheduling your free professional head shot).
Prepare your syllabus.
In our Syllabus Starter Guide you'll gather OU syllabus resources, do some initial tinkering, and further develop your syllabi.
Begin building your Moodle course page. (Or at least learn about Moodle!)
OU uses Moodle as its learning management system, and all courses automatically receive a page. In our Moodle Starter Guide, you'll be introduced to the basics and given a practice space.
Emergency Notification sign up.
Sign up for Emergency Alerts - Oakland University Police Department. You'll need your Grizzly ID number (G##-###-###) to do so. This gives you timely updates if the campus is closed for weather and other emergencies.
---
If you have questions related to these steps, reach out to us at the Center for Excellence in Teaching and Learning (cetl@oakland.edu or in-person/virtual meeting) or to the office related to each step.
Full-Year Orientation
Orientation continues after our August event with the Teaching Toolbox Series
The Teaching Toolbox series focuses on foundational teaching practices, essential for newer instructors but great for all faculty new to OU. Topics will include active learning, motivation, implicit bias, assessment, and metacognition. We'll add these monthly events to your OU Google Calendar. Facilitated by CETL's Sarah Hosch and Christina Moore, unless otherwise noted.
Winter 2024 Events
Fall 2023 Events
Resources
The Faculty Handbook provides an overview of resources and people on campus to help you with work logistics, teaching, research, and overall career progression. 
CETL Library: New Faculty Book List
CETL hosts a library for faculty to check out at their leisure. It has hundreds of books related to many topics relevant to faculty, including these books written specifically for new faculty. View the book list.