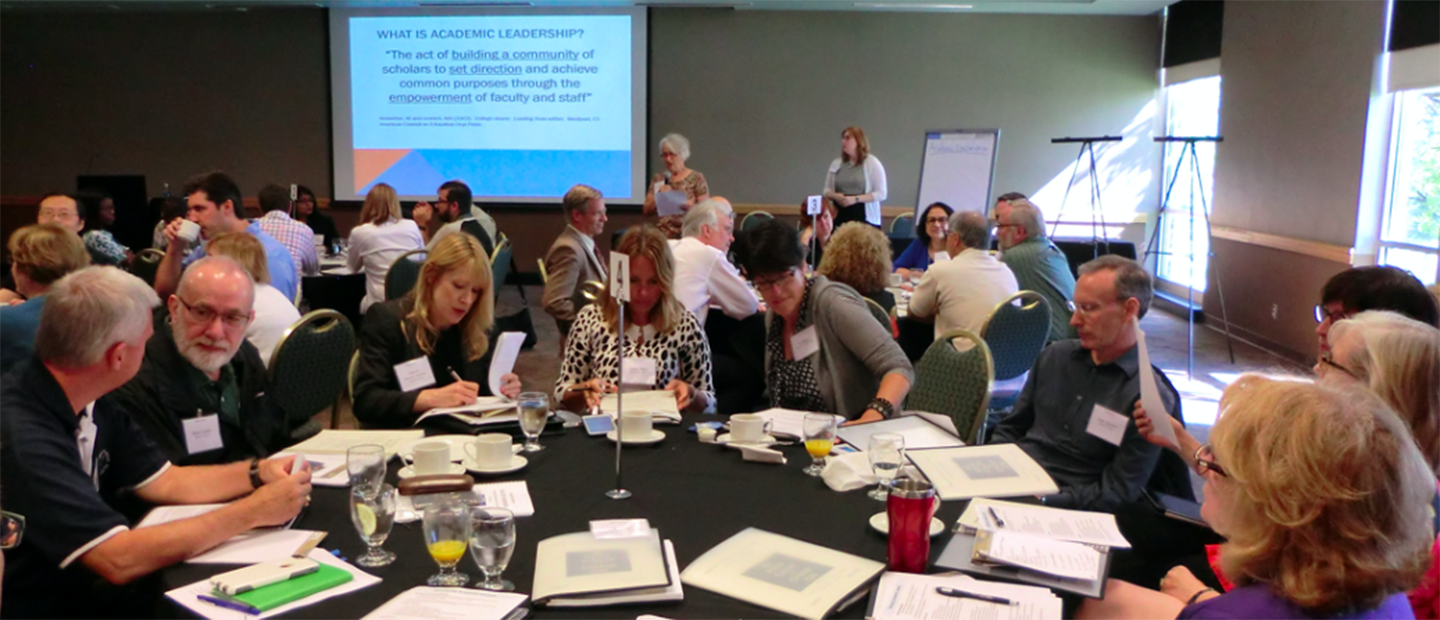 Chair Fellow
2022-2023 Chair Fellow
Jeff Youngquist
Associate Professor, Communication, Journalism, and Public Relations
Jeff Youngquist is an Associate Professor in the Department of Communication, Journalism, and Public Relations.  Jeff has been at Oakland University for sixteen years and during that time he has served as the director of the communication program for two years and as the chair of the department for six years.
While at Oakland, Jeff has served on numerous committees including, recently, the planning committee for the Barry M. Klein Center for Culture and Globalization, the Soundings Series selection committee, and the Senate Planning Review committee.  He is currently serving on the Campus Development and Environment committee.
Jeff's recent writing and research has been focused on communication and academic leadership.  He has published several articles for the journal The Department Chair including: "Oh No! Now What?: Transitioning from Chair to Former Chair", "Adaptability: A Universal Constant of Effective Academic Leadership", "Academic Leadership and Creativity", and "Decision-Making and the New Chair: Guidelines and Principles."  These articles are currently available on the CETL website.  Jeff also has a book chapter in press for the book The COVID-19 Collection which addresses leadership and ethics during the pandemic.  This chapter is titled "Two Contrasting Ethical Perspectives on Leadership and the COVID-19 'return to work' dilemma: Kant's Categorical Imperative and Gilligan's Ethic of Care" and Jeff will also be presenting a paper related to this topic at the International Leadership Association conference in Washington, D.C., this Fall.
You can contact Jeff at youngqui@oakland.edu.
Previous Chair Fellows

2021-2022 
Lori Ostergaard
Professor, Department of Writing and Rhetoric
Lori Ostergaard is a Professor in the Department of Writing and Rhetoric and the current co-editor of WPA: Writing Program Administration. Lori has been at Oakland University for fifteen years, and during that time she has served for four years as the director of the first-year writing program and for six years as department chair.
Lori is currently serving on the AAUP Bargaining Team, and over the past fifteen years, she has served as chair or co-chair of the General Education Committee; the General Education Assessment Committee; the Faculty Re-employment, Promotion, and Tenure Committee; and the College of Arts and Sciences Committee on Instruction.
On the national level, Lori currently serves as an ex officio member of the Council of Writing Program Administrators (CWPA) Executive Committee, and she has served as an elected member of both the Conference on College Composition and Communication's (CCCC) Executive Committee and Nominating Committee. Lori has also served on the CCCC task force that revised the "Statement on Preparing Teachers of College Writing" and she chaired the CCCC task force to revise the "Promotion and Tenure Guidelines for Work with Technology."
Lori is currently chairing a CWPA task force charged with revising the council's statement on "Evaluating the Intellectual Work of Writing Administration." This statement provides guidance to job candidates, hiring committees, tenure and promotion committees, external scholarship reviewers, chairs, deans, and others on how best to evaluate the intellectual work of academic program administrators. In particular this statement identifies five categories of intellectual work that require deep knowledge of research in the field, that can be shared beyond the administrators home institution, and that can be made subject to peer-review: Program Creation and Modification, Curricular Design, Faculty Development, Program Assessment, and Program-Related Textual Production.
Contact Lori at ostergaa@oakland.edu.

2020 - 2021 
Kris Thompson
Kris Thompson is an Associate Professor in the Physical Therapy Program, Department of Human Movement Sciences in the School of Health Sciences. Kris has been at Oakland University for 30 years.  She served as physical therapy program director for 13 years, followed by 3 years as the first chair of the Department of Human Movement Science. While at Oakland Kris has served on school committees including the SHS Executive Committee, the Faculty Personnel Action Committee and the Committee on Appointment and Promotion. Kris has served as a university senator, on Senate Steering and on the Senate Planning and Review Committee. She is currently a member of Graduate Council and the coordinator for the Doctor of Science in Physical Therapy degree program.
Interprofessional Education (IPE) in the healthcare field is an area of research and professional interest. Kris is a member of the Oakland University IPE Taskforce and works with faculty from the College and the Schools of Health Sciences, Medicine and Nursing. The taskforce is working on developing faculty to facilitate IPE, curricular content and several research projects and grants. Kris recently led a
learning community
on developing quality IPE.
Contact Kris at
kathomps@oakland.edu

2019-2020
Lisa Hawley
Professor, Department of Counseling
I am excited to serve as the Chair Fellow for the 2019-2020 academic year. I will be entering my 20th year at Oakland University as a faculty member in the Department of Counseling. I have served multiple department roles including doctoral coordinator, accreditation officer and 9 years as Department Chair. This summer I will be completing a research fellowship to continue my work on the impact of objective and subjective SES measures on counselor and client outcomes. As both a faculty member and chair, I have engaged in curriculum development and have experience teaching both clinical and non-clinical courses. I have served on multiple committees on campus including Senate, Graduate Council, IRB, FRPC and Strategic Planning. I have several goals for this year related to supporting chairs. My main goal for this year is to provide updated and timely training and support opportunities for chairs. One of my first initiatives will be a brief survey to current chairs to inquiry about training and support needs. Next year in CETL, we will also begin a new chair cohort group to provide information, support and problem-solving skills for new chairs. Department chair is a demanding and critical role in maintaining quality educational experiences for our students, valuable support to our faculty/staff and contributing to our OU mission. I look forward to providing programming and support to academic chairs across campus and serving Oakland University in this capacity.
Contact Lisa at
hawley@oakland.edu
.

2018-2019
Jennifer Heisler
Associate Professor in Communication
Jennifer M. Heisler is an Associate Professor in the department of Communication and Journalism in the College of Arts and Sciences. She joined the faculty in 2001 after receiving her Ph.D. in Family and Interpersonal Communication from Michigan State University. Jennifer served as Chairperson of COM & JRN from 2009-2015 during which time the department experienced significant growth including multiple new faculty members, a graduate program, and several undergraduate minors. Her research interests explore how families discuss (or don't) difficult topics such as dating, relationships, gender roles, religion, and finances. Jennifer's most recent work examines work-family balance for faculty members in higher education, including how the role of department Chairperson influences departmental culture for faculty with children.
Contact Jenn at
heisler@oakland.edu
.

2017-2018
Jay Meehan
Professor of Sociology and Criminal Justice
Jay Meehan is a Professor of Sociology and Criminal Justice in the College of Arts and Sciences (CAS) and has been at Oakland University since 1987. From 2006-2016, he was chair of the Department of Sociology, Anthropology, Social Work and Criminal Justice. In his 29 years at Oakland, he has served in various leadership roles on University-wide and CAS committees, including Senate Steering Committee, the Faculty Reappointment and Promotion Committee, the CAS Assembly Executive Committee, and the CAS Committee on Appointment and Promotion (CAP).
He was a co-founder of SurPriSe, a CETL-sponsored faculty learning community which fostered interdisciplinary approaches to understanding Surveillance, Privacy and Security through curricular development and research. He is currently teaching courses on the Police and Society, The Surveillance Society, and a seminar on Police-Citizen Interaction. His current research focuses on police-citizen interaction in traffic stops using camera-car data from police department video archives.
Contact Jay at
meehan@oakland.edu
.
Chairs' Monthly Updates
Every month, Jeff Youngquist, Chair Fellow, sends a Chairs Update via email to keep chairs apprised of programs, services, and other announcements pertaining to their responsibilities.
---