Friday, Nov 18, 2022
Study: OUWB among top feeder medical schools for urology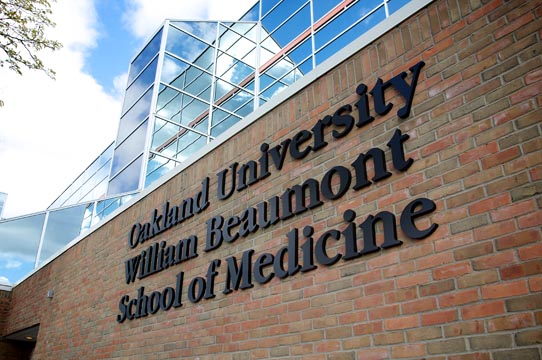 A new study ranks Oakland University William Beaumont School of Medicine among top feeder medical schools in the U.S. for the specialty of urology.
"Characteristics of Medical Schools in the United States Associated with Successful Match into Urology Residency Programs: Analysis of the 2016-2021 Urology Resident Cohort," was released online and is set to be published in Urology.
The study is called a first-of-a-kind by the authors — none of which are affiliated with OUWB or Corewell Health (the new name for Beaumont Health).
Essentially, in light of the highly competitive field, the study sought to determine the characteristics of U.S. medical schools associated with successful urology match applicants.
The study also ranked 177 medical schools based on total number and percentage of graduates who matched in urology during 2016-21. OUWB ranked 15th, with 16 graduates (three more matched in 2022). By comparison, schools that finished above OUWB had just a few more matches, and included Boston University (24 graduates), University of Michigan Medical School (22), and Johns Hopkins University School of Medicine (19).
"I was very happy and surprised when I saw that we've had such a high percentage of students choose urology," said Ken Peters, M.D., urologist at Corewell Health William Beaumont University Hospital and chair of OUWB's Department of Urology.
"I think that it speaks volumes to all the people who put an effort forward from the Department of Urology, both from an educational and research standpoint," he added.
Findings 'important and beneficial'
The study was based on publicly available data that allowed for aggregation of demographics and bibliometrics for 1,814 current urology residents who attend a U.S.-based Accreditation Council for Graduate Medical Education (ACGME) Accredited program. The time period examined was 2016-21.
In short, the authors noted that it's important to study what schools have the most success, especially given the competitive nature of urology. Thirty-four percent of all urology applicants across the U.S. went unmatched in 2022. (Since its launch, OUWB has maintained a 100% match rate for medical students specializing in urology.)
"Our study findings are important and beneficial to all parties involved in the match process," states the study. "Students interested in urology can use this study to be better informed when applying and selecting which medical school to attend."
The overall conclusion is that the presence of a home urology program was the single most significant factor in predicting the percentage of urology residents from the graduating class.
Further, the study states that "program directors and faculty can also see that early exposure to urology of some form, whether through the affiliated hospital or the urology interest group, can be beneficial to recruiting more students and might become a focus in medical student education."
Peters said he believes that's exactly why OUWB is ranked so high on the list.
'Urology is the best specialty'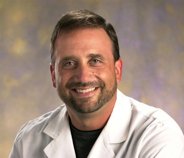 Peters
In general, Peters says he is proud of the field of urology and all that it can do for patients.
There are long-term patients who are regularly seen for elevated PSAs, stones, and/or infections. Also, there are the patients who need surgery. Regardless of why they need a urologist, Peters said a common thread exists.
"These are life-changing things that we do for patients," he said. "If they're passing a stone, we treat it and they're thrilled. If they're leaking urine, we fix it and they're thrilled. If they have prostate cancer, we cure them and they're thrilled."
Peters said the team also aims to be the first — and only — stop for patients who need a urologist.
"I always teach students that they don't want to be the third, fourth, or fifth urologist a patient sees," he says. "They want to be the first. The physicians who is well-trained, thinks things through…and really helps patients."
The ability to continue delivering these services and maintaining such high levels of care rests in the hands of future urologists, said Peters, which is why he and the others from his department place so much importance on working with medical students.
"The more quality urologists that we can get into our residencies and train for the future, the better," he said.
That means high levels of training using the latest-and-greatest technologies (Peters points to the use of robotics in surgery as an example.)
It also means having fun.
"We're always teasing students…telling them that urology is the best specialty and we don't know why they would look at anything else," said Peters with a smile.
"But then they work with us and see how we interact with patients, how we have such a positive impact on the lives of patients, how much their quality of life has changed," he said.
"Medical students quickly understand that, and I think many know in their heart that this would be a good thing to do."
'A great reputation'
When the study came out, several OUWB alumni and faculty took to Twitter and posted comments consistent with what Peters said about the program.  
"I think the combination of (OUWB) exposing our students to urology and (Beaumont Urology Residency) being such a positive learning department has played such a large role in why our school is high on this list," said S. Mohammad Jafri, M.D., urologist and assistant dean, Career Advising Programming and Student Advising, OUWB.
Kwesi Asantey, M.D., '22, OUWB, and Patrick Vecellio, M.D., '20, OUWB, essentially said they couldn't agree more.
Liz Olive, M.D., '20, OUWB, said she "(loves) to see OUWB make the list" and gave credit to the strong mentorship and support for applicants.
"Our urologists did some awesome pre-clinical didactics and have a great reputation as a popular two-week elective within the core surgery rotation," she wrote.
Karis Buford, M.D., '17, OUWB, concurred with Olive.
"Great mentorship and early exposure led me to a field I otherwise never would have considered," she said.
Looking ahead, Peters said he's excited, especially as the department has "just gotten better every year."
He's also encouraged by the recent merger between Beaumont Health and Spectrum Health that has led to the creation of Corewell Health, which includes Corewell Health William Beaumont University Hospital (formerly Beaumont Hospital, Royal Oak).
"Being a university hospital…there's a lot of excitement in our department," he said. "These changes that we are seeing feel very positive and align well with who we are and what we do."
For more information, contact Andrew Dietderich, marketing writer, OUWB, at adietderich@oakland.edu.
To request an interview, visit the OUWB Communications & Marketing webpage.
NOTICE: Except where otherwise noted, all articles are published under a Creative Commons Attribution 3.0 license. You are free to copy, distribute, adapt, transmit, or make commercial use of this work as long as you attribute Oakland University William Beaumont School of Medicine as the original creator and include a link to this article.