Tuesday, Dec 14, 2021
OUWB department chair leads 10th mission to Zambia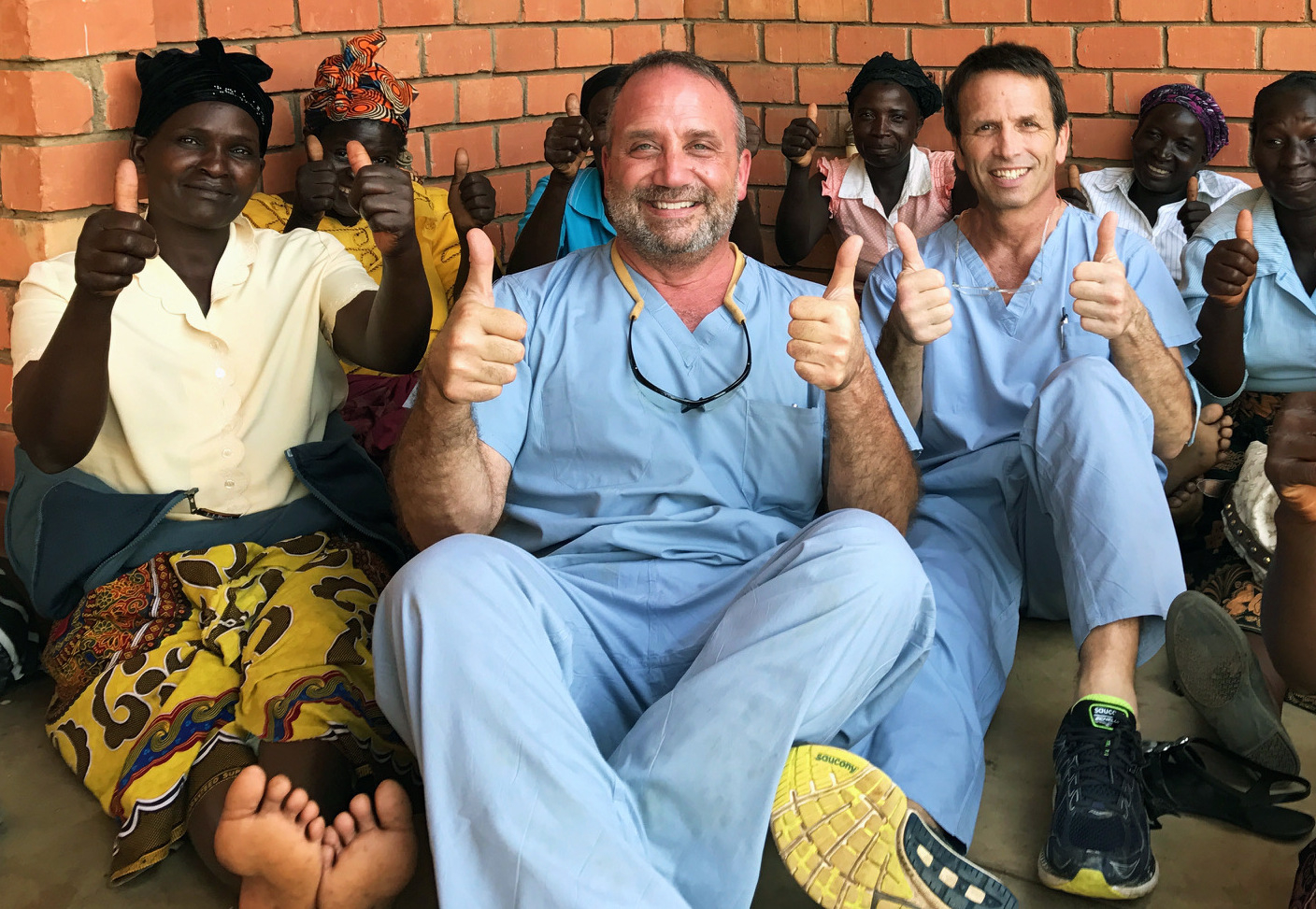 Kenneth Peters, M.D. (center) has been leading a mission to Africa for 13 years, with the last 10 going to Zambia.
An OUWB department chair recently returned from a mission to Zambia and will soon head back — helping those who live there as much as himself and the residents he takes with him.
It's all part of an annual pilgrimage for Kenneth Peters, M.D. He is professor and chair of OUWB's Department of Urology, chair of the Department of Urology at Beaumont Hospital, Royal Oak, and he is the Peter and Florine Ministrelli Distinguished Chair in Urology.
For two weeks every year, Peters takes his expertise more than 8,000 miles from the comforts of home to lead a small group of attending urologists and residents who collectively treat dozens of patients. During the most recent trip in October, the group performed nearly 60 surgeries.
And while Peters says it's the only opportunity most of the people who live there have to receive high-level care for urology-related issues, he stresses that he gets just as much out of it.
"For me, it's a good-for-the-soul-thing that re-grounds me on why I became a physician," he says.
"You just go there and you care for people…the people are so grateful that you're there and they put their trust in your hands, you do the best you can for them, and you feel good about it at the end."
"When I come back, I always come back as a better person," he adds.
'Why don't you do something about that?'
Peters earned an undergraduate degree from University of Michigan, and medical degree from Case Western Reserve University School of Medicine in 1991.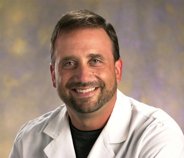 Peters
He's been with Beaumont since — first as a general surgery resident, then a urology resident followed by a urology fellowship. Peters was named the chair of Urology at Beaumont in 2007 and has been with OUWB since it began.
He's gone on a mission to Africa for the last 13 years.
The origins can be traced to a TV show.
"I came home from work one day and my wife was watching Oprah and crying," he says. "She told me the show had been about vesicovaginal fistulas in women in Africa."
According to the Fistula Foundation, an obstetric fistula occurs when a mother has a prolonged, obstructed labor, but doesn't have access to emergency medical care, such as a C-section. The end result are holes known as "fistulae" between the mother's vagina and her bladder or rectum.
The World Health Organization says women who experience the condition suffer incontinence, shame, social segregation, and health problems. 
"They get thrown out of their villages, many of them just die in the bush … my wife said 'Why don't you do something about that?'" says Peters.
Peters was able to secure support for his mission's first trip through a fund established by Michael Ingber, M.D., a former Beaumont resident and urologist who now lives in New Jersey. Funding for subsequent trips was via donations to the Beaumont Foundation from community events, patients, and employees. 
Up to 100 patients a day
For the first three years, Peters led a mission to Mozambique. He says despite challenges caused by language barriers and limited resources, the missions were successful in helping urologists there understand how to treat urology-related issues.
"During our third year at Mozambique we were out on the road with our residents and basically got robbed by the police," he says. "They approached us with AK-47, took all the money we had, and said if we didn't give it to them they would put us in jail. That was the last time we went to Mozambique."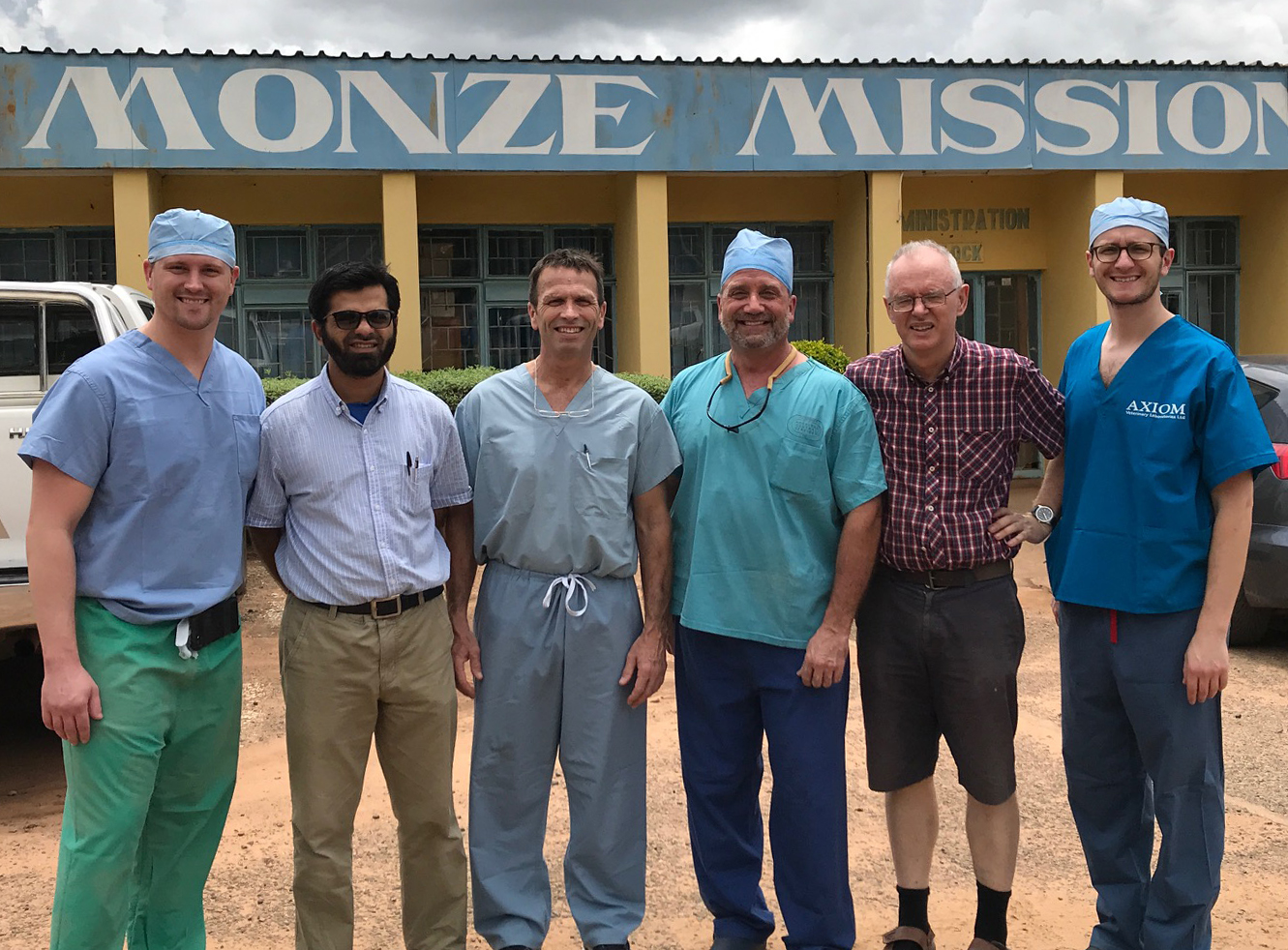 Peters and other members of the health care team take a moment to pose for a photo outside of the mission hospital in Zambia.
Peters became aware of an opportunity to continue making a difference in Africa through a fellow from Zambia who came to work at Beaumont for a year. That eventually led to Peters connecting with representatives of Monze Mission Hospital – a 3.5-hour drive from the Zambian capital of Lusaka. 
Peters has been leading a team to the mission hospital for the last decade. Trips are typically taken in January, during the cooler season and when his schedule at home lightens up a bit. However, in 2021, the team went in October as a result of things being shifted around as a result of COVID-19. Peters plans to lead a team back again next month.
The work his team does in Zambia has evolved over the time.
"Before we were doing a lot of fistulas, now we're doing a lot of general urology," he says.
Peters says he knows what to expect: local residents will line up and his team will see up to 100 patients a day.
Each patient's first stop is one of two rooms, each staffed by an attending, a resident, and a local nurse who is available to help with language issues (English is the second language).
"We evaluate all of the patients…and figure out who we can help," he says. "Those we can help are then admitted to the hospital."
During the course of their time in Zambia, Peters' team members will perform as many as 60 surgeries, treating all things urology-related: kidney stones; urethral strictures; prostate-related issues; and fistulas, just to name a few. The team also oversees post-operative management.
They generally use equipment they previously have taken there and keep locked up along with about 350 pounds of medical supplies they need. There are no computers and everything is handwritten. The team uses WhatsApp to communicate with each other as well as local health care professionals, sometimes after the mission has returned home.
'Just so rewarding'
Peters says getting to and from Zambia is an exhausting process. Last time, it was almost 48 hours from the time the team flew out of Lusaka and Peters arrived at his home in metro Detroit.
Though is takes a lot out of him, he says it's always worth the effort.
"What I've really seen is it impacts the (urology) residents in a very positive way because they get to come and see what it's like somewhere else in the world," says Peters. "So much now is done with robots and high-tech equipment…there you're like circa 1960."
He says it's beneficial for the residents on his team to see the high level of care that can be provided when faced with severe limitations. He says it's about continuing to train residents to use a particular thought process to manage patients.
"It's all about knowing what you should or shouldn't do," he says.
Brian Odom, M.D., a urology resident at Beaumont and OUWB alum (Class of 2017), went on the trip in October.
Odom says he wanted to get out of his comfort zone and that he felt empowered by the ability to provide care without the luxuries provided by a modern U.S. hospital.
"Going to another country and operating is completely night and day," he says. "You don't always have every instrument you need, but you just work through it and find out that you can get through just about anything without the comforts you are normally used to."
Odom says the mission also forced him to deal with unexpected variables, such as when the lights would go out on occasion during a surgery and the health care workers had to rely on only their headlamps before the backup generator kicked on.
He also came to appreciate the differences in culture, temporarily living in a region where he had to sleep under a mosquito net and there was either running water or power, but never both at the same time.
He recommends medical students and residents jump at the opportunity to participate in such a mission, if given the chance.
"It can be kind of crazy, but honestly it's just so rewarding," he says. "It was a life-changing experience…and it's great to make such an impact on a patient's life. They're so grateful for everything that you do."
For more information, contact Andrew Dietderich, marketing writer, OUWB, at adietderich@oakland.edu. 
To request an interview, visit the OUWB Communications & Marketing webpage.
NOTICE: Except where otherwise noted, all articles are published under a Creative Commons Attribution 3.0 license. You are free to copy, distribute, adapt, transmit, or make commercial use of this work as long as you attribute Oakland University William Beaumont School of Medicine as the original creator and include a link to this article.