Wednesday, May 25, 2022
National campaign that includes OUWB med student targets bicycle helmet safety
According to the U.S. Consumer Product Safety Commission (CPSC), there were an estimated 69,400 bicycle and accessory related head injuries in 2021.
With the unofficial start of summer upon us, one OUWB medical student is participating in a national campaign aimed at reminding everyone about the importance of bicycle helmet use — especially children.  
Leah Rotenbakh, a rising M3, is part of the American Academy of Pediatric's Trainees for Child Injury Prevention (T4CIP) program.
In partnership with Nationwide Children's, T4CIP consists of a group of trainees from across the country who are passionate about child injury prevention. T4CIP develops outreach materials and strategies for one-day national advocacy campaigns.
This year, May 25 is one of the organization's Day of Action events (May also happens to be National Trauma Awareness Month). The campaign aims to primarily use social media platforms (and the hashtag #WearAHelmet) to spread awareness of bicycle helmet use.
"We want to get the message out that parents should always encourage their children to wear a bike helmet every time they ride any kind of moving vehicle," said Rotenbakh. "The second goal we have is to remind doctors to educate their patients on how child injuries can be prevented."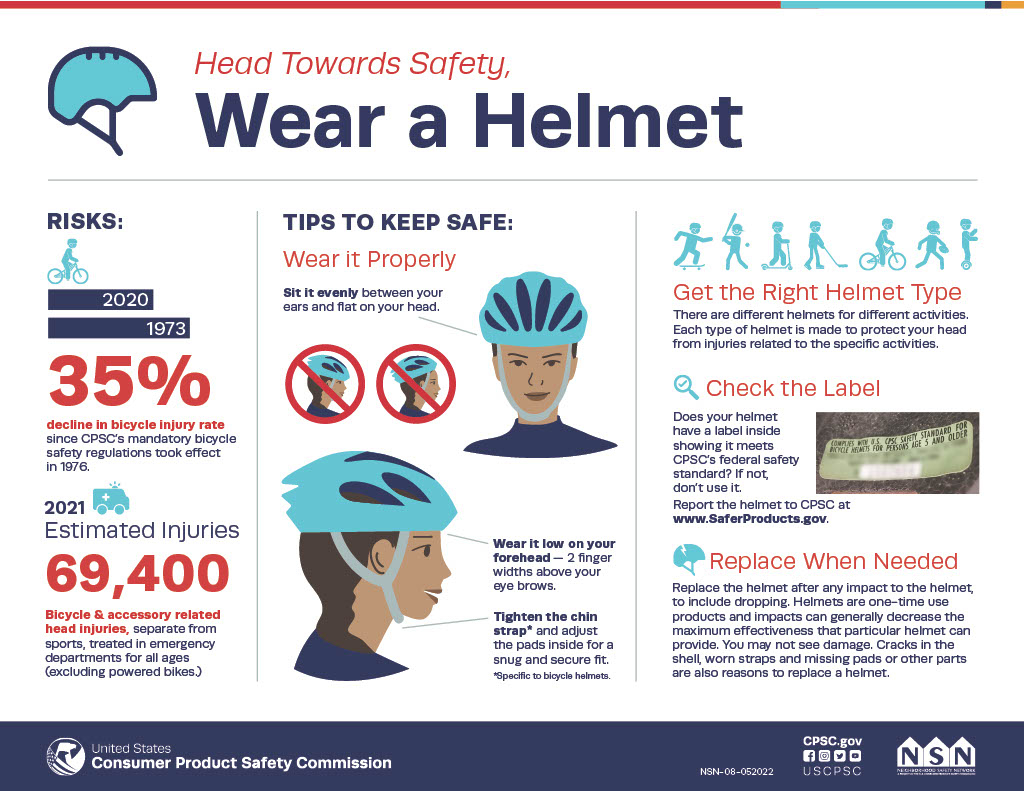 According to the U.S. Consumer Product Safety Commission (CPSC), there were an estimated 69,400 bicycle and accessory related head injuries in 2021.
Wearing a helmet can reduce the risk of a severe head injury, and in some cases, save a person's life, the CPSC says.
The reason is relatively simple: during a typical fall or collision, much of the impact energy is absorbed by the helmet, rather than the head and brain. All bicycle helmets made after 1999 must meet CPSC standards, which provide protection against skull fractures and severe brain injuries when used properly.
HealthyChildren.org says helmets should be worn squarely on top of the head, covering the top of the forehead. A well-fitting helmet should not move around on the head or slide down over the wearer's eyes when pushed or pulled. The chin strap should be adjusted to fit snugly.
Rotenbakh says adults should serve as an example when it comes to helmet use.
"We all should always be wearing helmets (when riding) no matter what, just to serve as an example to younger generations," she says.
This is not the first time an OUWB student has been part of a T4CIP campaign.
Last year, Ben Malamet, M.D., '22, participated in T4CIP's first campaign that was focused on making people aware of the dangers of children ingesting small, high-powered magnets (oftentimes sold under the brand names "Buckyballs" or "Zen Magnets").
As a future physician, and with strong interests in advocacy and pediatrics, Rotenbakh says she benefits from being part of a national campaign.
"I've been involved in smaller campaigns…but this was a really great way to learn about how it works when there's a national scope," she says. "As a future physician who is really interested in advocacy, I think it's really important to learn how to advocate on a bigger scale."
For more information, contact Andrew Dietderich, marketing writer, OUWB, at adietderich@oakland.edu.
To request an interview, visit the OUWB Communications & Marketing webpage.
NOTICE: Except where otherwise noted, all articles are published under a Creative Commons Attribution 3.0 license. You are free to copy, distribute, adapt, transmit, or make commercial use of this work as long as you attribute Oakland University William Beaumont School of Medicine as the original creator and include a link to this article.