Wednesday, May 18, 2022
'Evolution of OUWB' presented as part of OUWB Medical Education Week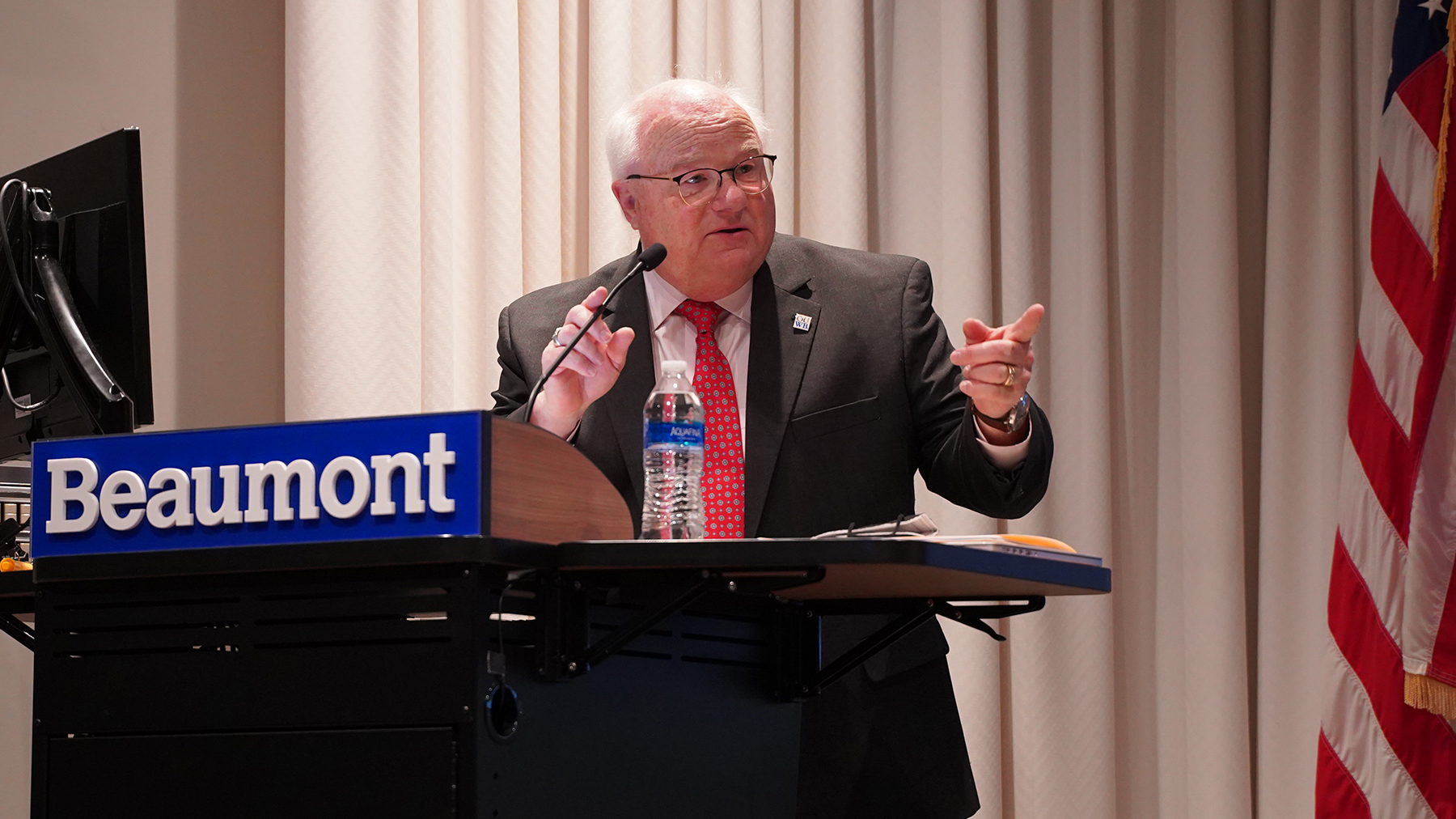 Duane Mezwa, M.D., Stephan Sharf Dean, OUWB, presented the 2022 William Davidson Lecture, part of OUWB's 11th Annual Medical Education Week.
The defining characteristics that have shaped Oakland University William Beaumont School of Medicine into what it is — along with a vision of what it will be — were highlighted Wednesday by its dean.
Duane Mezwa, M.D., Stephan Sharf Dean, OUWB, presented the 2022 William Davidson Lecture, part of OUWB's 11th Annual Medical Education Week.
Mezwa spoke on the "Evolution of OUWB: Building a Path to Continued Excellence" to an audience of about 450 that was in person and online.
Among other things, Mezwa addressed OUWB's 2022-25 Strategic Plan, efforts to continue decreasing student debt while increasing activities in the areas of research, philanthropy, and community engagement, new programs, and plans to update O'Dowd Hall.
"It is truly a privilege to be part of (OUWB's) history as the second dean," he said. "Not only am I grateful to forever be linked to the school, but I am honored to carry on, and build upon, the founding administration's vision."
Mezwa shared how OUWB's commencement ceremony always reminds him of the school's influence on graduates, especially when each class recites its oath.
"Thinking about their future motivates me to lead the current students through their incredible medical school journey, and to lead and encourage our faculty and staff to be innovative, compassionate, and engaged," he said.
Forever grateful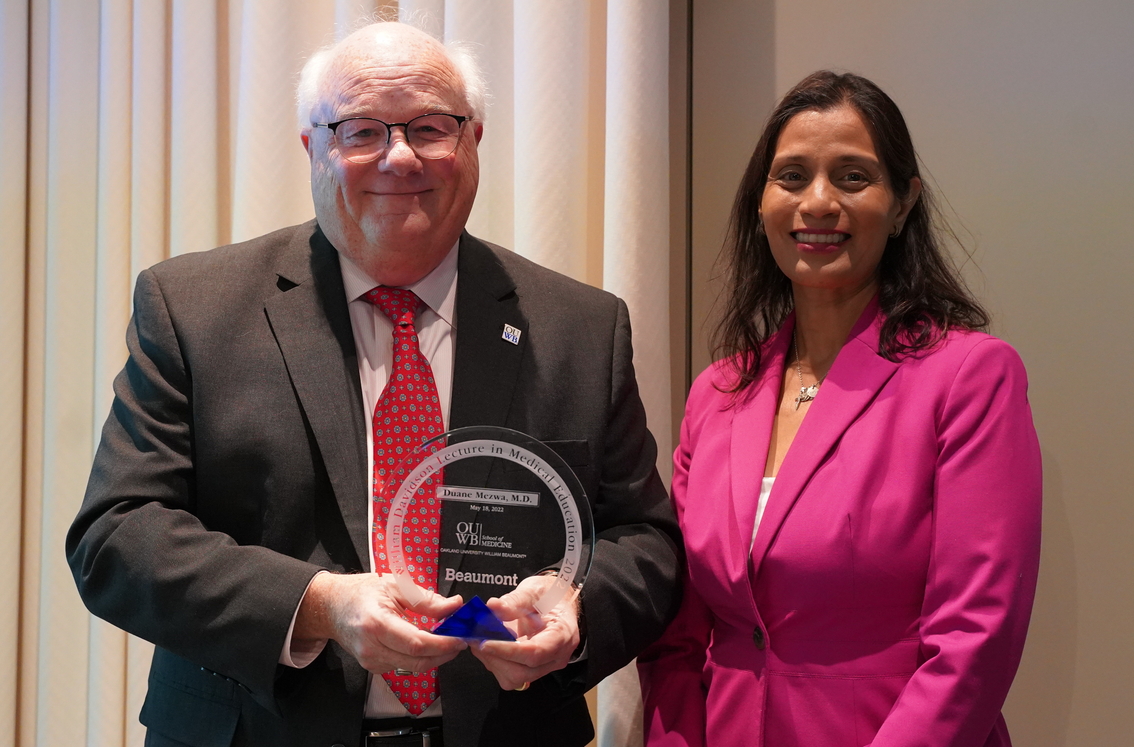 Lynda Misra, D.O., associate professor, Dept. of Neurology, presented Mezwa with a special plaque in honor being this year's distinguished speaker.
Mezwa first talked about the evolution of the school during the last 14 years, starting with the 2008 decision by Oakland University and Beaumont Health to establish the first M.D.-granting allopathic medical school in Michigan in more than 40 years.
He noted that OUWB Founding Dean Robert Folberg, M.D., was intent on developing a curriculum where kindness and focused listening were taught and emphasized. Mezwa also credited the OUWB team of founders with essentially creating a new genre of medical school.
"We continue to build off of their hard work," he said. "We will forever be grateful for their courage to take professional risks and it is our hope that they will always be proud of OUWB."
Recent highlights mentioned by Mezwa included the 20-year extension of the school's affiliation agreement with Beaumont, and OUWB's 2020 reaccreditation from the Liaison Committee on Medical Education (LCME).
He also noted that OUWB students continuously place in some of the most competitive and prestigious residency programs in the U.S.
"Across the country and in Michigan, they are making their mark as chief residents, and fellows, and — just like Dr. Folberg anticipated — being recognized for their compassion," he said.   
Addressing challenges
Mezwa talked about ongoing activities and addressed two issues identified by LCME: the need for more physical space and the trends and trajectory of student debt.
With regard to space, Mezwa said planners are working to create more teaching areas in O'Dowd Hall for small groups. He noted OUWB recently gained 5,000 square feet of space on the first floor of the building and that will allow for 10 new classrooms.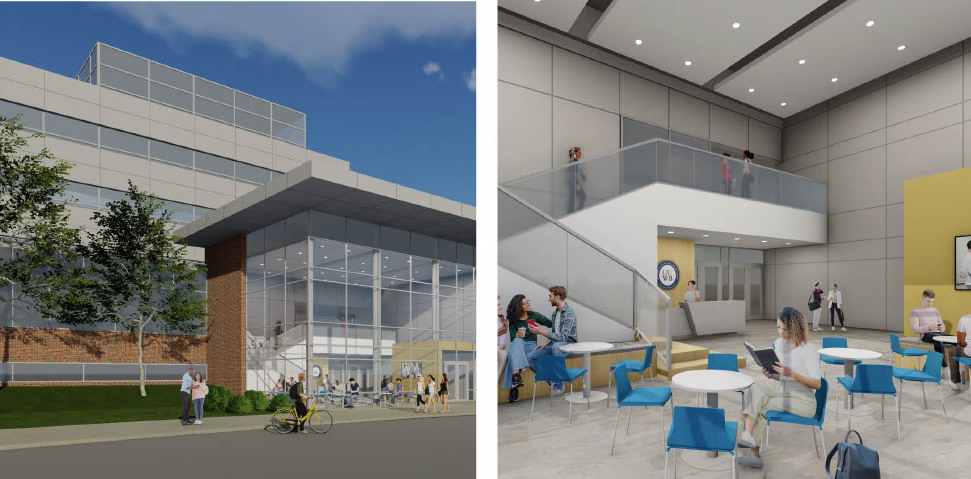 Mezwa showed an early rendering of the kind of entrance being considered for O'Dowd Hall.
Mezwa also revealed an early rendering of the kind of entrance being considered for the east entrance of O'Dowd Hall.
"This will be a very warm, inviting space…a place for congregating (and) where we can have receptions," he said. "This is going to be a wonderful new addition."
Mezwa said that all of the planned construction projects are pending approval from the Oakland University Board of Trustees.
In addressing the issue of student debt, Mezwa noted that he and others are working hard to reduce student and one of the ways is through student scholarships.
Another step taken to address student debt has been to hold tuition flat in two of the last three years. Mezwa also said creating new endowments and growing existing ones is the "number one priority" for the OUWB development team.
Successes already have been seen: the total amount of scholarships received by OUWB students has increased from about $6.1 million in 2019 to about $9.4 million in 2022, as the total number of scholarships increased from 220 to 552 during the same period.
Mezwa said several other ongoing philanthropy-related programs, such as virtual "Dinner with Dean" events and the inaugural OUWB Golf Outing are reconnecting the school with alumni and parents.
Looking ahead
Mezwa highlighted many OUWB programs in place that will serve as the foundation for OUWB's continued evolution.
The Poverty Simulation, for example, is now a component of the Promotion and Maintenance of Health curriculum for first-year medical students. Students engage in a shared experience that illustrates some of the structural barriers, as well as some of the potential personal and emotional repercussions experienced by those who live in poverty.
OUWB also remains committed to engaging with the community. The number of co-curricular community service activity student hours logged has increased from 243 in 2015-16 to 12,644 for 2020-21.
Mezwa also emphasized OUWB's commitment to diversity, equity, and inclusion. He highlighted the OUWB Diversity Liaison and Diversity Champion programs as well as the Diversity Lecture Series.
"OUWB is committed to building an environment where all students, faculty, staff, and invited visitors from varying backgrounds and life experiences, feel a sense of belonging, are engaged, and are valued and respected for their voices and contributions," he said.
New initiatives on the horizon include the Holocaust and Medicine program, OUWB's own body donation program, and establishment of the Center for Moral Values in Medicine.
'Focused on all the right areas'
OUWB's Medical Education week exists in large part because of the late William Davidson, a successful businessman and founder of Palace Sports and Entertainment. In late 2007 Davidson initiated plans to donate $1 million to Beaumont with the express direction that the money be used to support medical education under the direction of his doctor and friend, Sandor H. Shoichet, M.D., FACP, program director, Internal Medicine Residency and medical director of Outpatient Clinics at Beaumont Hospital, Royal Oak, and associate professor of Medicine at OUWB. Davidson died in 2009 at 86.   
Ann Voorheis-Sargent, Ph.D., director, Center for Excellence in Medical Education, and co-chair of Medical Education Week, said Mezwa's presentation was fitting for Medical Education Week.
Her hope is that those who saw Mezwa speak understand that OUWB is "continuously moving forward."
Others who saw Mezwa speak were encouraged about the future of OUWB.
Lewis Rosenbaum, M.D., director, Beaumont Executive Health Services, and associate professor, Department of Internal Medicine, said he appreciates OUWB's approach to medical education.
"The focus not only on scholarship and acquiring skills, but also development of the person to be a better overall person…is the wave of the future," he said. "OUWB's on the forefront of that."
Rosenbaum added that he "can't say enough good things" about Mezwa's leadership.
"He's completely focused on all the right areas, and really making (OUWB) a first-class medical school," he said.
Barry Franklin, Ph.D., professor, Department of Internal Medicine, and director, Preventative Cardiology/Cardiac Rehabilitation, Beaumont, shared similar sentiments.
"The future (of OUWB) is very, very bright," he said. "The resources here are huge…it's just a matter of getting people out of their silos and working together to create a synergy that will take us into the future."
Stefanie Attardi, Ph.D., assistant professor, Department of Foundational Medical Studies, said she appreciated the update from Mezwa.
"(Because of the pandemic) it's been a long time since all of us were together and looking at school outcomes as a whole," she said.  "With my role as a faculty member, it makes me think about where I should go with my teaching, research, and services…to align with the direction the school is going."
For more information, contact Andrew Dietderich, marketing writer, OUWB, at adietderich@oakland.edu.
To request an interview, visit the OUWB Communications & Marketing webpage.
NOTICE: Except where otherwise noted, all articles are published under a Creative Commons Attribution 3.0 license. You are free to copy, distribute, adapt, transmit, or make commercial use of this work as long as you attribute Oakland University William Beaumont School of Medicine as the original creator and include a link to this article.