Monday, Apr 25, 2022
Student orgs team to light up Elliott Tower for breast cancer education at Beaumont
Two OUWB student organizations recently teamed up to host a fundraiser for Beaumont Sharing & Caring Breast Cancer Education and Support.
The American Medical Women's Association (AMWA) and the Oncology Interest Group (OIG) partnered for the fundraiser, called "Light the Path for Loved Ones," where people could donate $5 to have a loved one who died of cancer honored on a personalized luminaria.
On April 21, the two groups decorated the area around Elliott Tower in the center of Oakland University's campus with the luminarias.
This is the first time this event has been held.
"Previously, we've done other fundraisers for Beaumont Sharing & Caring like (restaurant) fundraisers" said AMWA President Emily Babcock, M1. "But this year we wanted to work off of our previous Valentine's (Day) grams fundraiser where people were able to purchase something in honor of someone else or to give a shout out to someone else, and shift it to a COVID friendly gathering style."
There were 80 luminarias that were purchased and set up for the event. They each had either a name written on the front or a message dedicated to cancer victims.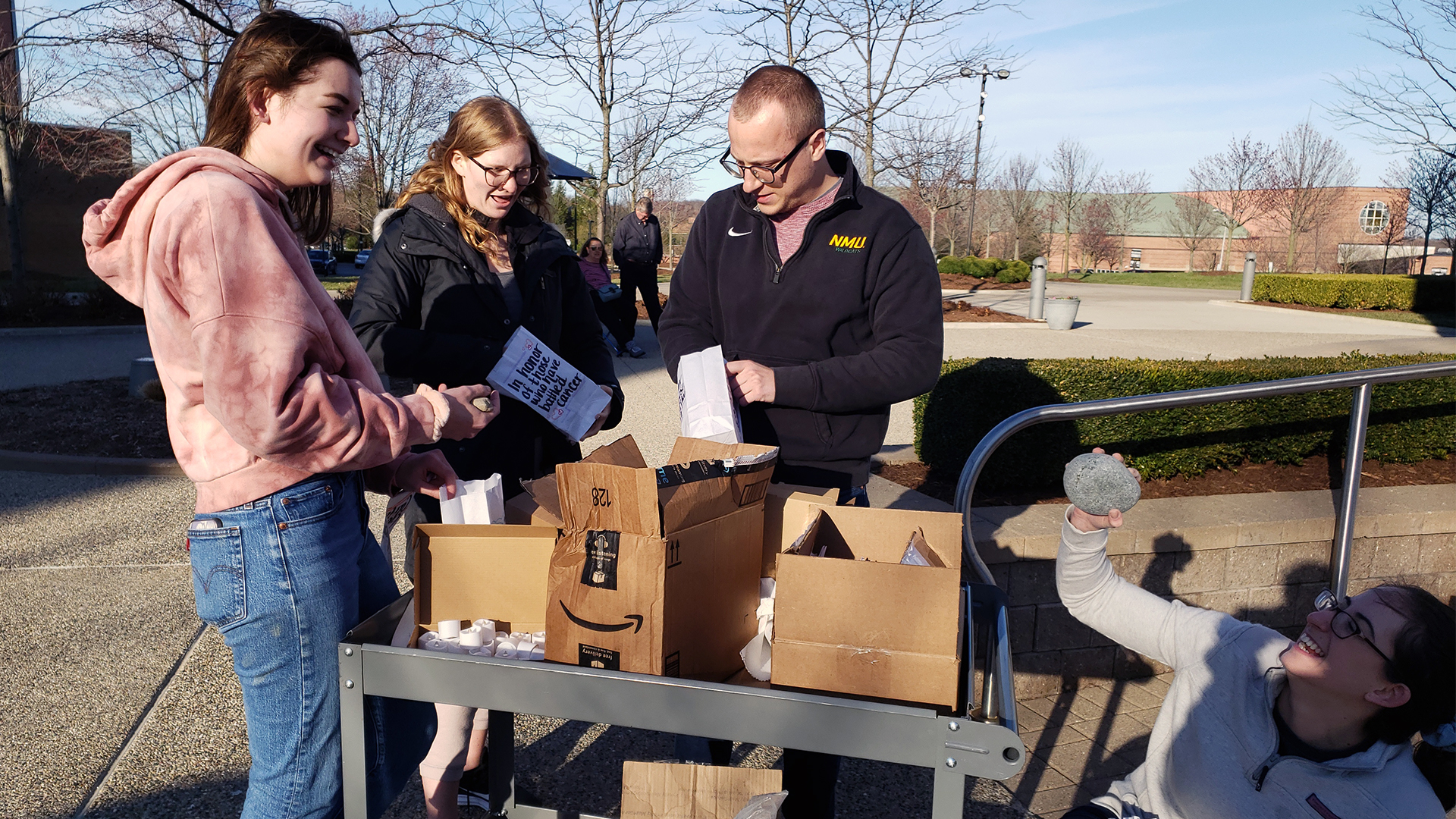 Event participants prepare luminarias on April 21, 2022.
The group filled the bags with rocks to make them stay upright. The luminarias were lined up in several rows and lit up via battery-operated candles after sunset.
The total amount raised surpassed the goal of $500. Babcock said the group really wanted to find a way to hold an event outdoors and not have a virtual event.
OIG President Amanda Mazzoli, M2, said partnering with AMWA for this event was a no-brainer.
"One of our goals this year was to team up on events with as many organizations as possible," Mazzoli said. "When AMWA reached out to partner with us for this event, it just made sense. We could continue to focus on our goal which is to raise awareness, education, and fundraise for cancer research and all cancer initiatives."
Babcock said she hopes to make this an annual event.
"There's a lot of potential for how we can improve it for next year… that would be amazing if we can continue helping this very worthy cause year after year," she said.

To request an interview, visit the OUWB Communications & Marketing webpage.
NOTICE: Except where otherwise noted, all articles are published under a Creative Commons Attribution 3.0 license. You are free to copy, distribute, adapt, transmit, or make commercial use of this work as long as you attribute Oakland University William Beaumont School of Medicine as the original creator and include a link to this article.