Wednesday, Nov 17, 2021
Twenty OUWB students inducted into Alpha Omega Alpha Honor Medical Society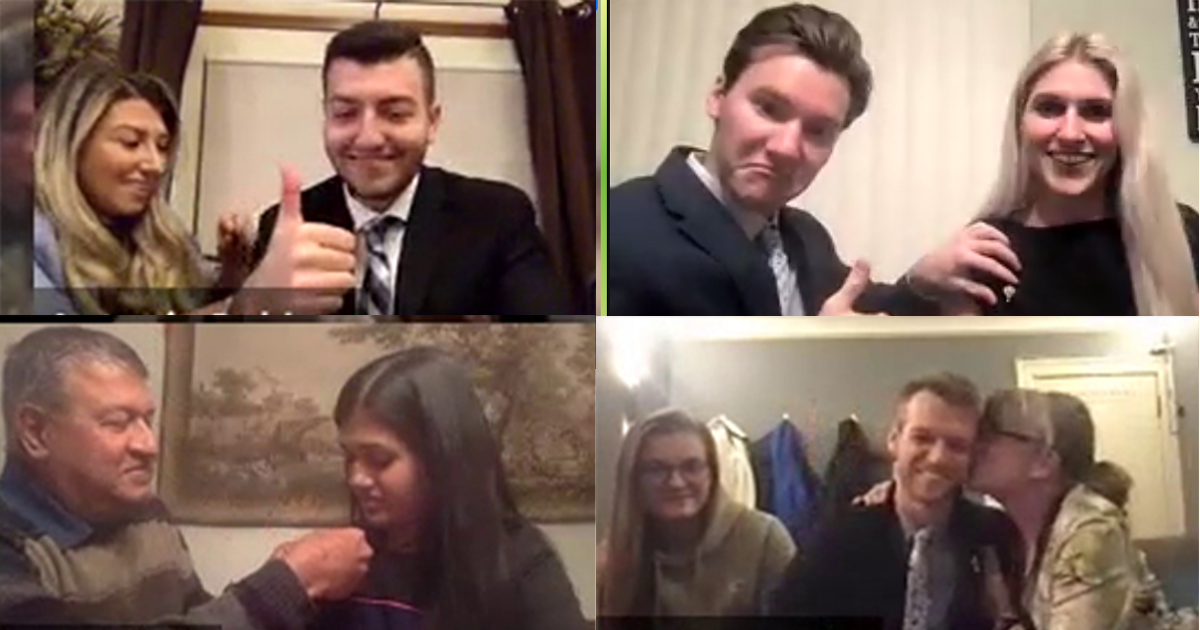 Twenty OUWB fourth-year medical students were inducted into the Delta Chapter of the Alpha Omega Alpha Honor Medical Society during a virtual ceremony. Family and friends pinned the student inductees, which included Antonio Dekhou (top left), Alyssa Heintschel (top right), Maya Desai (lower left), and Ryan Rogers (bottom right).
Twenty OUWB fourth-year medical students were inducted into the Delta Chapter of the Alpha Omega Alpha Honor Medical Society, joining more than 2,000 members nationwide who share the characteristics of leadership, trustworthiness, and proficiency in the doctor-patient relationship.
This year's guest speaker, Beaumont Health Director of Epidemiology and Infection Prevention Nick Gilpin, D.O., shared five key lessons in leadership he implemented while heading up the Beaumont Hospital, Grosse Pointe, health care workers as they treated patients through the early months of COVID-19.
Gilpin, who is also an assistant professor of Internal Medicine, said before setting up the command center, or their version of "mission control," the first lesson he followed was surrounding himself with good people who had diverse skill levels.
"We were making enormous decisions, and the good leaders in the room all had a certain personality — thoughtful, flexible, capable of adapting — and who could also put the hammer down," he said.
Lessons two and three stressed the importance of being visible, and present and being able to communicate clearly and as often as possible. Gilpin explained that people hear the message in different ways, and to combat the negative emotions, along with a quickly changing message, frequent communication was necessary.
'Leadership is hard and leadership in a crisis is next level'
Lesson four's "finding your true north" was the most important lesson for Gilpin. "My true north was to protect the staff and preserve the (Personal Protection Equipment) PPE; one gown was better than no gown." For inductee Ryan Rogers, this lesson's broader message especially resonated.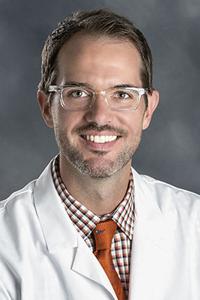 Gilpin
"The phrase essentially meant to establish a baseline set of values/rules for yourself as a leader and to hold strong to whatever those messages may be. By doing that, you are able to rely on a strong foundation when you are faced with challenges to your mission," said Rogers. "I thought this was a valuable lesson that could be applied to all aspects of life and could help anyone when facing adversity on their path."
Practicing self-care and self-kindness was the final lesson. Gilpin explained that he rides his bike, catches up on a good book, and plays golf because "taking care of our minds and our bodies will build compassion."
"Be kind to yourself; you deserve your love and will help you build compassion for your patients," said Gilpin.
Family members attend virtually
Due to the virtual format of the event, Rogers, who was participating from his apartment in Royal Oak, had his mother pin him. While he would have liked an in-person AOA event, Rogers recognized that this made it possible for family members to attend the event who otherwise would not have been able to be there.
"I personally was able to celebrate in the physical presence of my family members, but it was nice to see that some of my classmates had family members sign on to the virtual event from across the country," he said.
All of the inductees were spotlighted, one at time, on the Zoom call as they were pinned.
New this year, the AOA selection committee inducted Beaumont physician Ty Kwaiser, M.D., department of Obstetrics and Gynecology, and assistant professor. Pamela Benitez, M.D., AOA Chapter Councilor, Secretary, described Kwaiser as a "steadfast advocate for medical students" who has devoted much of his career to leadership.
Benitez concluded the event by inspiring inductees to find purpose and passion because that is what will keep them committed. "You're called upon to be of service in this profession – answer that call."
Congratulations to Kwaiser and the following 20 AOA medical student inductees:
Hassam Akram, Mariam Aoun, Nicolas Baker, Antonio Dekhou, Maya Desai, Nina Diklich, Jackson Harley, Rachel Harvey, Alyssa Heintschel, Aimee Hite, Ryan Nierstedt, Ian Penvose, Grace Peterson, Olivia Ray, Ryan Rogers, Zachary Rollins, Jamie Simpson, Benjamin Travers, Hannah VanDusen, and Joshua Volin.
To request an interview, visit the OUWB Communications & Marketing webpage.
NOTICE: Except where otherwise noted, all articles are published under a Creative Commons Attribution 3.0 license. You are free to copy, distribute, adapt, transmit, or make commercial use of this work as long as you attribute Oakland University William Beaumont School of Medicine as the original creator and include a link to this article.