Tuesday, Aug 10, 2021
Seven OUWB medical students receive M3 Clerkship Awards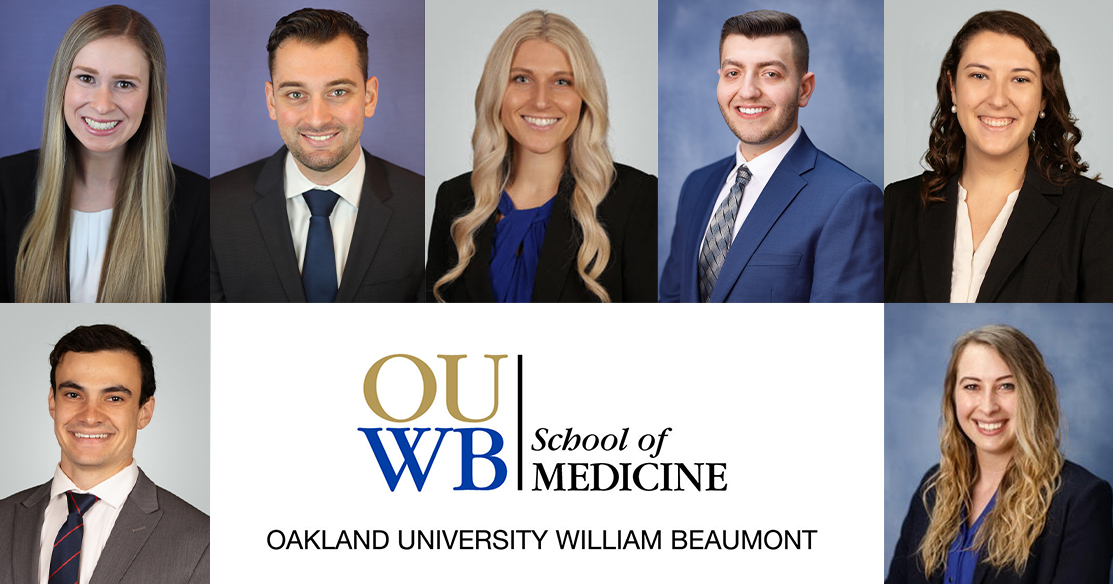 Top row: Kelly Fahey, Ben Malamet, Alyssa Heintschel, Antonio Dekhou, Nina Diklich. Bottom: Kenneth Barker (left), and Grace Peterson (right).
Seven Oakland University William Beaumont School of Medicine students recently received awards for outstanding performance during clerkships in their third year of medical school.
Awards for Outstanding Performance in M3 Clerkship were given to now-fourth-year students Kelly Fahey (Family Medicine); Alyssa Heintschel (Psychiatry); Benjamin Malamet (Pediatrics); Nina Diklich (Neurology); Grace Peterson (Surgery); Kenneth Barker (Internal Medicine); and Antonio Dekhou (OB/GYN).
Recipients are chosen by the directors of each of the required clerkships.  
The process is overseen by OUWB's Committee on Student Awards, according to Committee Chair Sarah Lerchenfeldt, Ph.D., assistant professor, Department of Foundational Medical Studies.
"The intent of the award is to recognize those students who excel academically and who also exhibit those attributes that express OUWB's core values – ethics, compassion, collaboration, teamwork, professionalism and a quest for excellence," she said.
Lerchenfeldt said clerkship directors are asked to consider factors important to their clinical department, such as clinical performance and exam scores.
"Overall, we are looking for a more holistic evaluation of candidates and have been open to the idea of having a broader perspective when selecting students," she said.
M3 Clerkship award winners are recognized annually at OUWB's Honors Convocation. The recognition also is included in their Medical School Performance Evaluation.
Students generally said they were surprised to learn that they had received the clerkship awards.
"I could not believe the news when I found out, especially since I work alongside some absolutely amazing classmates," said Malamet. "It is such a privilege to care for children alongside the Beaumont resident and attending physicians, and am honored to have received this award."
"Honestly, I was surprised but very honored when I found out I had received the award," said Heintschel. "To be chosen among my classmates for this award is such an honor."
"Learning that I received this award was such an unbelievable surprise and amazing feeling," said Peterson. "Third year as a whole was a lot of work that was well-worth it, but to learn that my efforts in the surgery clerkship were recognized by others as well is one of the best honors I could have received."
Barker said "It means the world to me to receive this recognition."
Other recipients expressed similar sentiments with regard to what the award means to them.
"It justified all the hard work I put in," said Fahey. "Not only in this rotation, but in all the rotations through the M3 year. It was challenging at times, but I now realize how much I learned and progressed on my journey to become a physician."
"I thoroughly enjoyed the neurology clerkship as it challenged me to reason through complicated clinical cases and to improve my physical examination skills," said Diklich. "It is an honor to be recognized for my hard work, and it is encouraging to see how all the hours of studying have translated into being able to make a meaningful impact in a patient's life."
"Receiving this recognition reassured me that I embody the characteristics of a budding physician-professionalism, humility, and diligence," said Dekhou. "I will continue to strive to further improve these qualities to serve my patients in the near future."
For more information, contact Andrew Dietderich, marketing writer, OUWB, at adietderich@oakland.edu. 
To request an interview, visit the OUWB Communications & Marketing webpage.
NOTICE: Except where otherwise noted, all articles are published under a Creative Commons Attribution 3.0 license. You are free to copy, distribute, adapt, transmit, or make commercial use of this work as long as you attribute Oakland University William Beaumont School of Medicine as the original creator and include a link to this article.