Thursday, Jul 08, 2021
OUWB students recognized for being 'outstanding' during 2020-21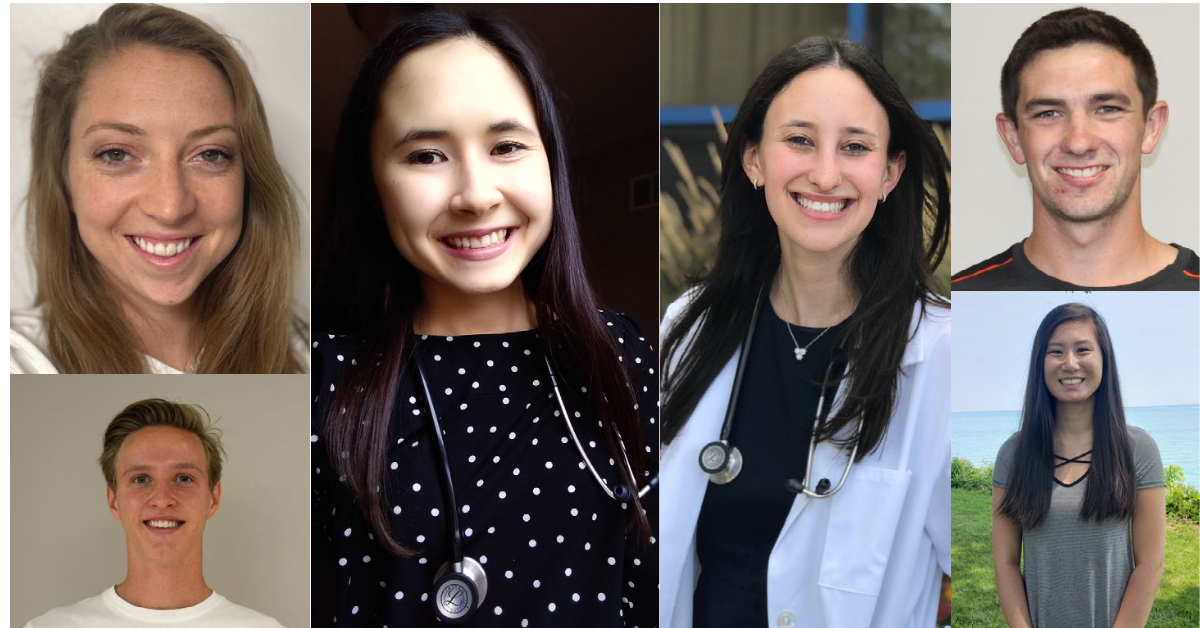 OUWB's six "outstanding students" for 2020-21 were: Elizabeth Seeley (upper left); Nicolaas Schimmel (lower left); Sarah Becker (center left); Brittany Silverman (center right); Brent Yelton (upper right); and Megan Moore (lower right).
Six medical students from Oakland University William Beaumont School of Medicine have received the distinction of "outstanding" for the 2020-21 school year.
The annual awards are given to three rising M2 and three rising M3 students.
The now M2 students named Outstanding Students for 2020-21 were Sarah Becker, Megan Moore, and Nicolaas Schimmel.
M3s who received awards were Brent Yelton, Brittany Silverman, and Elizabeth Seeley. Seeley also received the designation of outstanding student for the 2019-20 school year.
"The outstanding student award winners are remarkable students who have distinguished themselves for excellence in academic performance, leadership, service, and scholarship," said Sarah Lerchenfeldt, Ph.D., assistant professor, Department of Foundational Medical Studies, and chair for the Student Awards Committee.
"Throughout the past year, they have displayed many qualities that exemplify traits of skillful, ethical, and compassionate physicians," she added.
"The committee was impressed by their enthusiasm for learning and genuine desire to help others."
A quest for excellence
The Outstanding Student Awards began in 2012 as course awards. Analogous to the current clerkship awards, an award was granted to a student in each M1 and M2 course. 
Lerchenfeldt
In 2014, it was decided to collapse the M1 and M2 course awards into the Outstanding Student Awards for the M1 and M2 classes. It was determined three students in each class would be selected by the 15-member committee.
Lerchenfeldt said outstanding students must excel academically and exhibit the attributes expressed in OUWB's mission, vision, and values, including compassion, collaboration, teamwork, professionalism, and a quest for excellence.
Students are nominated by course directors using the above criteria.
"The course directors consider many factors when nominating students, including academic performance, class participation, attitude, and attendance," said Lerchenfeldt.
'So surprised and grateful'
Seeley said she was "very surprised" to receive the award for the second time.
"Looking back on the last two years, I am reminded how grateful I am to be a part of the OUWB community," she said. "I owe a very big thank you to my classmates and to the OUWB faculty for supporting, encouraging, and inspiring me daily."
Among other things, Seeley was a member the executive boards (e-boards) for the Pediatric Interest Group and Latino Medical Student Association. She also held positions as student coordinator for the Hispanic Newcomer Outreach (HNO) Program and for Classroom Connection, which are mentoring programs that aim to teach you about health and wellness. She also worked as a peer tutor and volunteered in the COVID-19 antibody study at Beaumont.
Seeley said the events of the past year forced her to "look deeply at the inequities that exist both inside and outside of the medical field and inspired me to focus on how I want to change them."
"There were times that I used studying as a distraction when I was struggling to take in what was going on around me, but there were also times when I used school and my extracurricular activities as a way to try to make a positive impact on my community," she said. "Being recognized for my hard work this year is an honor, but more importantly has encouraged me to continue to learn how to have a meaningful role within the medical profession."
Other award recipients expressed similar feelings.
Silverman said she was "so surprised and grateful" to receive the recognition.
Silverman was on the e-boards for the Jewish Medical Student Association, Latino Medical Student Association, and Oncology Interest Group. She also was heavily involved in the HNO program, volunteered with the nonprofit Kids Kicking Cancer, and served as an OUWB Admissions Ambassador.
"My classmates are all outstanding, and I feel fortunate to have had the support of my fellow students and faculty as we together navigated this past year," she said. "I am so appreciative of our entire OUWB community."
Moore called receiving the award an honor.
"Many thanks to my family, friends, and God for walking with me throughout this first year of medical school," she said.
Among other things, Moore served on the e-boards for the Pathology Interest Group, Radiology Interest Group, Asian Pacific American Medical Student Association, and Christian Medical Dental Association. She also volunteered throughout the year, including as a mentee to preclinical students, an OUWB Admissions Ambassador, a communication liaison at Beaumont Hospital, Troy, and at a local free clinic and food pantry she was involved with as an undergrad at Oakland University.
Becker also is involved in many extracurricular activities, including serving as an officer for the Obstetrics and Gynecology, Family Medicine, Internal Medicine, Neurology/Neurosurgery, Biomedical Ethics, CMDA and CMSA student interest groups. 
Further, she volunteered for the spiritual care department at Beaumont Hospital, Troy, the Health Fair at Chandler Park Academy, to help with COVID-19 testing, and led efforts to prepare nearly 50 care packages for patients who experience early pregnancy loss and, as a result, receive treatment at the Beaumont Royal Oak Emergency Department.
"I'm humbled and honored to receive this recognition, and so grateful to all the wonderful OUWB faculty, staff, and classmates who have accompanied me on this journey so far," said Becker. "Membership in the OUWB community is a privilege, and it has been a real joy to be part of this school." 
For more information, contact Andrew Dietderich, marketing writer, OUWB, at adietderich@oakland.edu. 
To request an interview, visit the OUWB Communications & Marketing webpage.
NOTICE: Except where otherwise noted, all articles are published under a Creative Commons Attribution 3.0 license. You are free to copy, distribute, adapt, transmit, or make commercial use of this work as long as you attribute Oakland University William Beaumont School of Medicine as the original creator and include a link to this article.