Wednesday, Jun 23, 2021
Eight OUWB medical students awarded scholarships via manuscript competition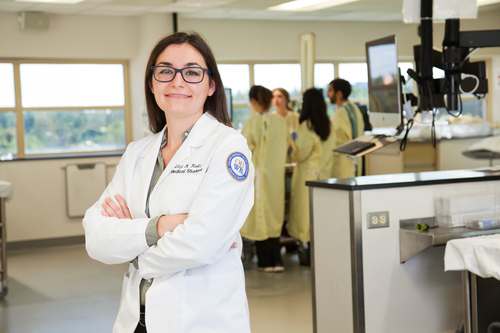 The Kenneth J. Matzick Embark Program Competitive Scholarship Manuscript of the Year 2021 was awarded to Linzi Hobbs for "Pregnancy Increases Platelet Reactivity and Induces a Thrombogenic Platelet Transcriptome in Mice."
Eight medical students from Oakland University William Beaumont School of Medicine have been awarded competitive scholarships based on presentations about their four-year capstone projects.
OUWB's M3 Mini-Manuscript Competition annually awards winning students partial scholarships for their final year of medical school. The mini-manuscripts are 3,000-word descriptions of their capstone projects, the data collected, analyses completed, and conclusions.
The capstone projects are required through OUWB's Embark program — a four-year longitudinal curriculum that consists of structured coursework in research design and implementation, compliance training, research communication, and scholarly presentation, with protected time to develop mentored projects in a wide-range of community and health-related settings.
The Mini-Manuscript competition is open to any third-year medical student in good standing in their Embark courses, and has completed at least one of their Embark project aims. This year, 27 mini-manuscripts were submitted.
Baxa
Dwayne Baxa, Ph.D., assistant professor, Department of Foundational Medical Studies and co-director of Embark, said winning mini-manuscripts generally possess similar characteristics.
"These are manuscripts that have clearly defined rationale for the project," he said. "They also have well-thought-out methods, and have conclusions appropriately drawn from their data. The overall outcomes are adequately placed within the broader context of the topic relative to what is known in the literature."
The manuscripts are judged by a panel of faculty from Oakland University and OUWB as well as Beaumont physicians. Each manuscript has a group of four reviewers/judges.
The Kenneth J. Matzick Embark Program Competitive Scholarship Manuscript of the Year 2021 was awarded to Linzi Hobbs for "Pregnancy Increases Platelet Reactivity and Induces a Thrombogenic Platelet Transcriptome in Mice."
"I was very surprised and happy," she said.
"I put a lot of work into the project and feel very happy that my work was recognized."
Hobbs, who attended Oakland University as an undergrad and is planning to go into internal medicine, said the idea for her project originated with OU Associate Professor Randal Westrick, Ph.D., from the Department of Biological Sciences. Hobbs said she worked closely as an undergrad with Westrick in his lab. He served as mentor on the project.
The project used mice to examine how platelets can change in a body throughout the course of pregnancy.
Hobbs said the project will help her eventually be a better physician via promotion of "complex thinking, being able to come up with differential diagnosis for a patient, and helping determine what type of tests to run…and helping interpret studies done by others."
Other scholarship recipients expressed similar feelings.
Collin Walentine was awarded the Newman Family Foundation Embark Competitive Scholarship for "Impact of polycystic ovary syndrome on cardiovascular disease in obese female youth." He called it "very humbling" and a "tremendous honor" to receive the scholarship.
His mentors were Kristen Nadeau, M.D., and Michael Brennan, M.D.
"One of my big takeaways from the project is that it definitely pushed me out of my comfort zone and my mentors were incredibly supportive," he said. "They told me to get out there, get my hands dirty, dig through the data and really get to know what it's like to get into doing medical clinical research."
Amy Cox was awarded Ravitz Foundation Embark Program Competitive Scholarship, Manuscript of the Year 2021, Honorable Mention. Her project was "The Impact of Previous Healthcare Experience on the Practice of Medicine." Her mentor was Stephen Loftus, Ph.D., associate professor, Department of Foundational Medical Studies.
"I put my heart and soul into this manuscript," she said. "To see it get a scholarship was pretty incredible for me."
Cox said her research found that those who have previous experience in the medicine, such as nurse aides or phlebotomists, essentially have more insight into what they are getting into, which in turn can lead to more resiliency and understanding, among other things. She hopes to eventually publish her findings.
"This was my first time leading a study like this and seeing it through from start to finish," she said. "To get such exciting results and then have it recognized has been really rewarding and cool for me to experience."
Others who received awards were:
Ann V. Nicholson Embark Program Competitive Scholarship, Manuscript of the Year 2021, First Runner-Up
Rachel Harvey, Physician Directed vs. Self-Directed Activity Restrictions in Children After Routine Pediatric Surgery: A Prospective Study
Kenneth J. Matzick Embark Program Competitive Scholarship Manuscript of the Year 2021, Second Runner-Up
Alexander Balinski, Transcatheter Aortic Valve Replacement Temporal Trends: Procedural Volume Impact on Length of Stay and Readmissions
Ravitz Foundation Embark Program Competitive Scholarship 2021
Aimee Hite, Reporting of Concussion Symptoms in High School Aged Athletes
Anet Szatkowski, Relatedness of Urinary Escherichia Coli Strains and Connection Between Strain Type and Clinical Presentation
Benjamin Malamet, Resistance in Gram-Negative Bacteria in the Pediatric Patient Population by Age and Sex
For more information, contact Andrew Dietderich, marketing writer, OUWB, at adietderich@oakland.edu. 
To request an interview, visit the OUWB Communications & Marketing webpage.
NOTICE: Except where otherwise noted, all articles are published under a Creative Commons Attribution 3.0 license. You are free to copy, distribute, adapt, transmit, or make commercial use of this work as long as you attribute Oakland University William Beaumont School of Medicine as the original creator and include a link to this article.