Friday, Dec 17, 2021
OUWB, Hebrew University exchange program marks 10th year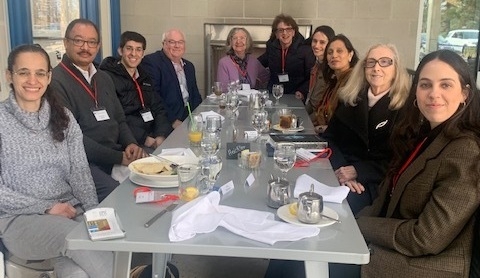 Four students from The Hebrew University-Hadassah Medical School recently had brunch with officials from OUWB and Greater Detroit Hadassah. The students just spent two months at Beaumont Hospital, Royal Oak, via a longstanding exchange program with OUWB.
Four medical students from Jerusalem just spent two months at Beaumont Hospital, Royal Oak, via a longstanding exchange program with OUWB — and recently spoke about what they called a "great experience."
The students from Hadassah were Shir Forer, Karin Horovitz, Yuval Kahila, and Amitai Rivlin.
The opportunity to participate in the program was facilitated via an affiliation agreement that dates to 2011 between Oakland University William Beaumont School of Medicine and The Hebrew University-Hadassah Medical School.
The visiting students participated in a Dec. 9 video session called "A Conversation with Visiting Medical Students from Hadassah University," hosted by OUWB's Global Health Directors Inaya Hajj Hussein, Ph.D., Allison Ball, M.D., and Kala Yedavally, D.O. An overview of the program was provided by Rachel Yoskowitz, BS (Nursing), MPH, retired assistant professor, Department of Foundational Medical Studies and global health director.
Students, staff, and faculty asked questions on everything from what it's like to go to medical school in Jerusalem to why they wanted to come to the U.S.
"I wanted to come to Beaumont because I read about the hospital and the Detroit area," said Kahila. "It's a good experience in general to see how a different health system is working because we get so used to the Israeli hospitals…we're learning a lot here about how things work, and what is different and what is the same."
Forer shared similar feelings.
"We think of the U.S. as a place with an advanced system… (that applies) a good approach to the patient and I was really happy to know that it is like what I thought it was before I came here," she said. "It was a great experience."
An OUWB tradition
The connection between the two schools was established by OUWB Founding Dean Robert Folberg, M.D., who had been a guest lecturer at Hebrew University and collaborated with others there on research projects.
Per the exchange agreement (one of OUWB's Global Health Initiatives), qualifying fourth-year OUWB students have the opportunity to go to Jerusalem, and selected sixth-year students from Hebrew University-Hadassah Medical School (HMS) get a chance to travel to Michigan.
To be eligible to come to the U.S. via the exchange, HMS students must be one of the top 25 members of their class. Interested candidates are then interviewed and selected by a committee at their school. English proficiency also is required.
For OUWB students who wish to go to Jerusalem, the application process starts a full year in advance. Interested students must indicate their intent to participate by March of their third (M3) year and complete the application process six months prior to their date of departure. Participation in the exchange counts as an elective during the fourth (M4) year of school. Not all participants have been Jewish.
Selected OUWB participants travel to Jerusalem and choose clinical electives based on Hebrew University Hadassah Medical School's program for international exchange students. Schedules are based on timing of holidays, vacations, and exams at HMS, as well as OUWB's academic calendar.
Austen Knapp, M.D., an OUWB alumnae (Class of 2018), spoke during the video conference about her experience going to Hadassah from OUWB.
"The program at Hadassah was very well set up," she said. "There were medical students there from all over the world so it wasn't just me interacting with medical students from there but also Germany, Austria, Asia…it was very much a multicultural experience."
She called the medical center "massive and beautiful."
"I was doing a surgery elective so I got to go into the OR and see the technology that they use…it was a different cultural experience, different pathology, but still they were really pushing the boundaries in terms of clinical care and integrating that with high-level research."
Community support
Since the program launched, OUWB has welcomed 23 students through the program. Concurrently, 15 OUWB M4s have gone on elective to Hadassah.
Though facilitated by OUWB, it gets tremendous support from the metro Detroit community.
That support includes financial support via a generous philanthropic gift from The Ravitz Foundation. The gift covers the costs of travel, housing, daily transportation, and other essentials.
For Israeli students who travel to Michigan, additional community support is provided via "host families."
Host families are affiliated with the Hadassah-Greater Detroit Chapter, which has about 4,000 members who are women. Per the organization's website, the group is "committed to innovative, life-changing medical care and research, women's empowerment, education, advocacy, philanthropy and building Jewish identity – in Israel, America and around the world."
Participating students from Hadassah like Kahila say the experience helps them work toward becoming the best possible doctors they can be.
"I'm learning a lot," she said. "It's interesting to see how patients are treated here in comparison…the way doctors speak with patients is different than it is in Israel and it's nice to see different approaches. It contributes to the general way that we see ourselves as physicians in the future."
And despite what they described as an overall positive experience, there was one clear challenge identified by Rivlin.
"The weather," he said with a laugh. "Even though Jerusalem in Israel is considered a cold place it very rarely goes below 32 degrees…so that was a challenge."
For more information, contact Andrew Dietderich, marketing writer, OUWB, at adietderich@oakland.edu. 
To request an interview, visit the OUWB Communications & Marketing webpage.
NOTICE: Except where otherwise noted, all articles are published under a Creative Commons Attribution 3.0 license. You are free to copy, distribute, adapt, transmit, or make commercial use of this work as long as you attribute Oakland University William Beaumont School of Medicine as the original creator and include a link to this article.